As part of the World Around Us topic Fairtrade, P6 McLeod carried out a science experiment to test whether the percentage of cocoa in fairtrade chocolate affected the time it took to melt the chocolate.
15 P6 children from Mrs McLeod's class were invited to participate in a Sky Sports event at St. John the Baptist College. The children were led by the college's students who were developing their leadership skills. Children enjoyed working with children from different primary schools in team games and team building activities.
The children in P6 McLeod made a pop up easter card as part of technology.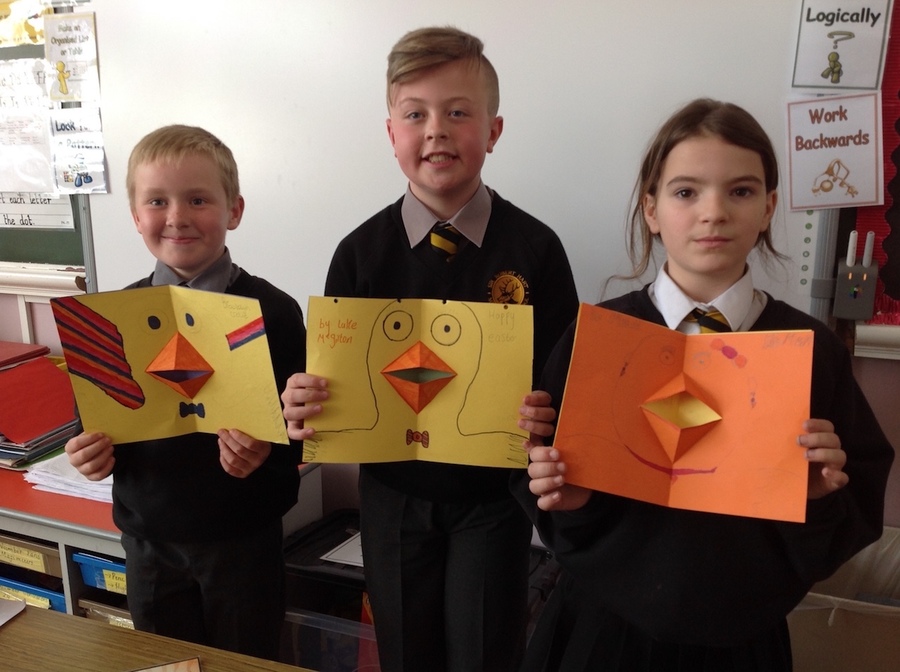 Children from P6 McLeod carried out a series of experiments to test which materials allowed light to pass through them. This was part of the World Around Us Light topic.
Izak 9
P6 McLeod have been using the numeracy resource Izak 9 to explore problem solving activities in mixed ability groups in the classroom. A wonderful resource for all ages and abilities.
Young Enterprise
Elaine from Asda came to P6McLeod to deliver a Young Enterprise activity morning on Wednesday 26th April. Activities included exploring food chains and designing their own product to sell in a supermarket. A very enjoyable and worthwhile programme.
P6 McLeod were learning about 'Naturals Disasters' as part of their World Around Us topic in Term 2b. They had great fun creating a volcano picture during art.
As part of the Digital Storytelling Project P6 McLeod were taught about the different types of camera shots used and what for reason in filming making. They also learnt how film makers storyboard their short film and they did this for the film 'Baboon on the Moon.'
P6 McLeod began the Digital Storytelling Project by focusing on the different types of film genre.
P6 McLeod were lucky enough to be involved in a 16 week Healthy Kidz programme. Children's fitness levels were tested in week 1 through a series of active activities then again on week 16 to see how much their fitness levels had increased. The children loved the weekly circuit activities and were also involved in planning their own activity in groups for the rest of the class to perform. A fantastic programme.
P6 McLeod were given a task to prepare a persuasive argument to present to their class. They had to choose a subject that they felt very strongly about and to persuade their class mates to agree with their point of view. Mrs McLeod was very proud of all the children who put a tremendous amount of effort in to the task. All spoke out confidently and were very persuasive in their arguments.
P6 McLeod participated in an online safety workshop in their classroom. They recorded the things that they learnt or that they felt were the most important things from the session.
P6 McLeod participated in 'The Largest Lesson', an online activity for children to explore throughout the U.K. They focused on fairness and equality for children throughout the world. We looked at Fairtrade and how buying Fairtrade products in the supermarket could benefit villages in third world countries.
P6 McLeod are participating in a 'Healthy Kidz' initative to promote physical activity and well being. Three coaches train them every Friday for 40 Minutes during curriculum time. Children then walk one mile three times a week with their class teacher.
P6 McLeod are exploring effective instructions. Some children treated Miss Camblin to a nice cup of tea. They then wrote instructions for each picture taken on how to make a tea and created a poster in pairs using pic collage. They also followed instructions on how to make their own Viking Longship.