Here is the work that P5DK will be covering this half term.
P5DK had a fantastic day eating ice cream.
They have been busy learning about Dairy Farming in WAU and how to use milk to make ice cream.
The whole class thoroughly enjoyed eating all the different flavours of ice-cream!!!!
P5DK visited two local farms as part of their WAU topic. We visited Mrs Davison's farm first and then on to Mr Haffey's farm. The class had a fantastic day learning all about milking cows and the machinery that is needed on a farm. We even got to have a go at sitting on some of the machinery. Thanks to Mrs Davison and Mr and Mrs Haffey for having us over to visit.
P5DK had a fantastic morning when Rosie from Trocaire came into school to work with the class. They had great fun and learnt lots when they played the World Trade game.
P5DK had a lovely afternoon making Easter buns.
They worked well together in small groups and really enjoyed eating them too.
Numeracy Problem Solving
P5DK have all worked extremely well together completing a variety of Numeracy problems.
They have learnt the importance of reading the question several times and how important it is to show working out for the question they are trying to answer.
Saturday 11th March P4 to P7 children came to school to take part in a Lego fun day as part of British Science Week - a celebration of the best of British science, technology, engineering and maths.
Bricks 4 Kidz come and worked with the children building a variety of different models.
Mums and Dads had great fun coming to see what the children had made and also joined in the fun with the huge bags of Lego.
Mrs Davison would like to thank all the children who took part in the day and to the parents for bringing the children to school on a Saturday.
P5DK took part in the Northern Ireland Science week task that was sent to them by STEM AWARE.
They had to design a catapult using the given instructions and then try to improve the catapults ability to throw the message further. Here are a few photographs showing what the children did.
P5Dk had great fun just before Christmas when they all had fun with baking and decorating Christmas biscuits.
As part of the WAU topic Energy Sources P5DK have been constructing circuits and testing materials to see if they are conductors or insulators. They have also been learning about how to make a complete circuit and what causes and incomplete circuit.
P5DK had a lady called Eleanor from Reim Training Solutions come into class to talk about how to stay safe on the internet. The children learnt lots of ways to stay safe and what to do if they have a problem when online.
P5DK are all having a great time in class this year.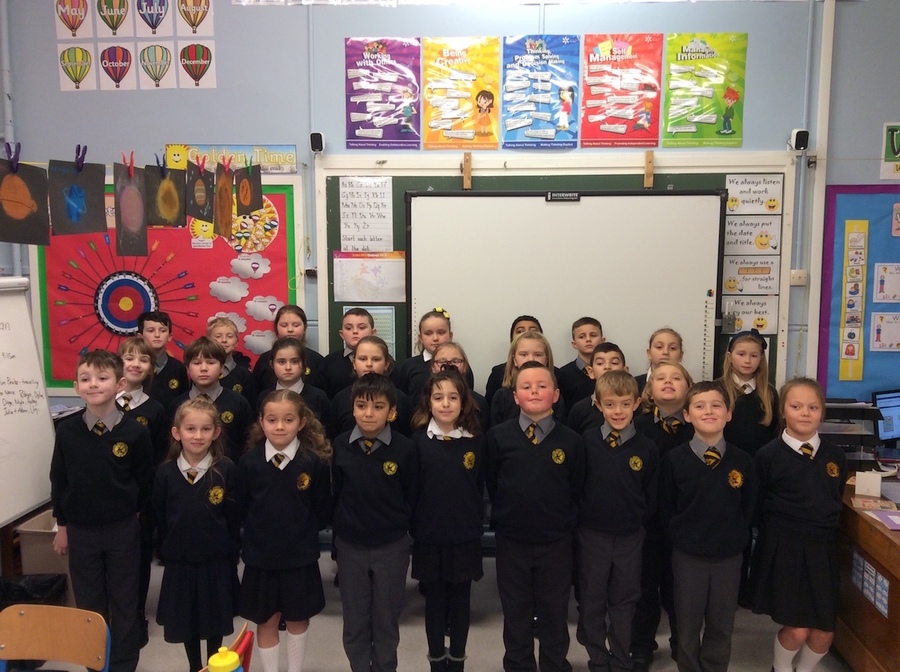 Dylan, Kinga and Sebastian have all worked extremely hard in Mental Maths and have moved up a group. Really well done- keep up the good work!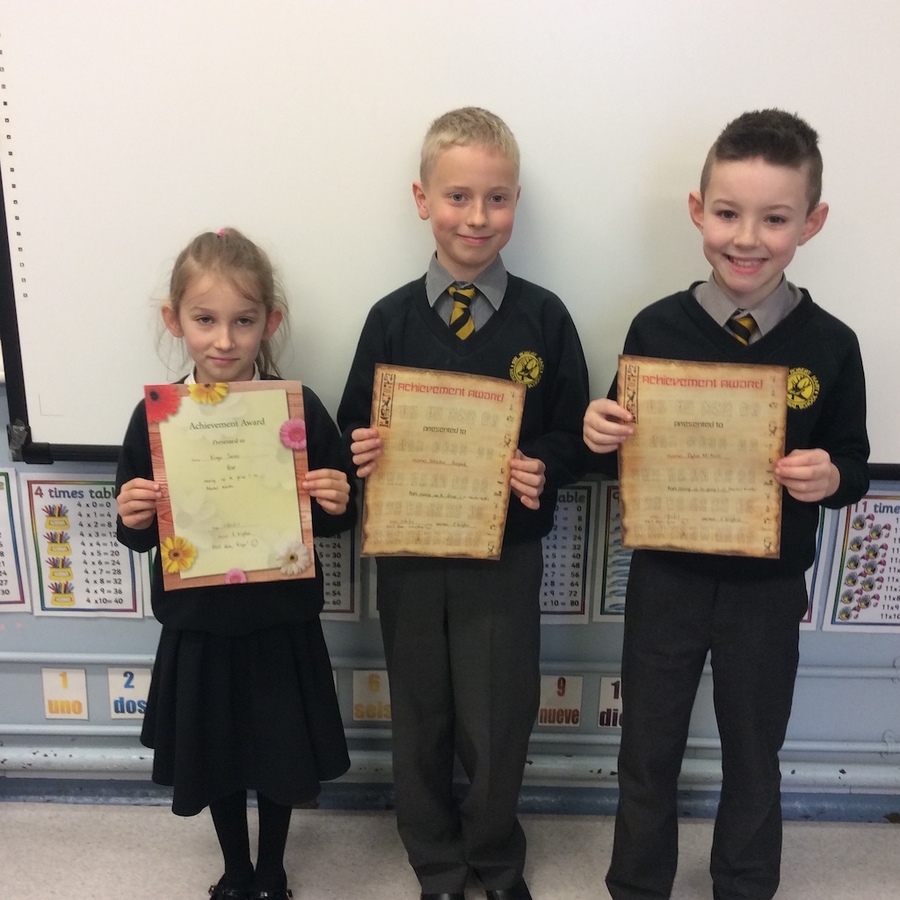 P5DK have had great fun with IZAK 9. The children all worked well together to solve all the problems. They can't wait until we get the cubes out again to have more fun solving Numeracy problems.
In term 2a P5DK have been taking part in the Healthy Kidz initiative. As you can see they have all been having a fantastic time and keeping fit at the same time.
P5DK were trying to mix different potions to launch rockets as part the WAU topic on Space.
On Wednesday 7th December, P5 DK went to W5 in Belfast to learn more about Space. We all had a fantastic time finding out about Space travel, playing in Climbit and playing with the games on each level.
P5DK did their class assembly on Thursday 1st December about Advent. They all did a brilliant job - well done P5DK!
P5DK took part in the Worlds Largest Lesson on Tuesday 20th September.
We looked at how important it is to be healthy by eating the correct foods and exercising. The children had great fun drawing around Calvin and using post it notes to cover the body. They drew pictures and wrote what we must do to keep our bodies healthy and also what we must not do that causes harm to our bodies.
P5 DK have really enjoyed learning all about Ancient Egypt this term.
We sorted the Ancient Egyptian timeline and made pyramids from lots of different materials which was a lot of fun.
P5 DK had an Egyptian day on Tuesday 4th October. We had to make our own costumes and we painted our names on papyrus paper. An Ancient Egyptian called Tutu came in to tell us all about life daily life in Ancient Egypt.
We are making canopic jars in Art and we are looking forward to painting them.
P5 DK have been doing Gymnastics for the last 3 weeks.
They have been having great fun.