School begins at 8.55am and finishes at 2.00pm.
Snack is £1.50/week and dinner £2.55/day or £12.75/week.
All money must be sent to school on a Monday morning in separate envelopes labelled with your child's name. Thank you.
Fun activities retelling the story of The Gingerbread Man.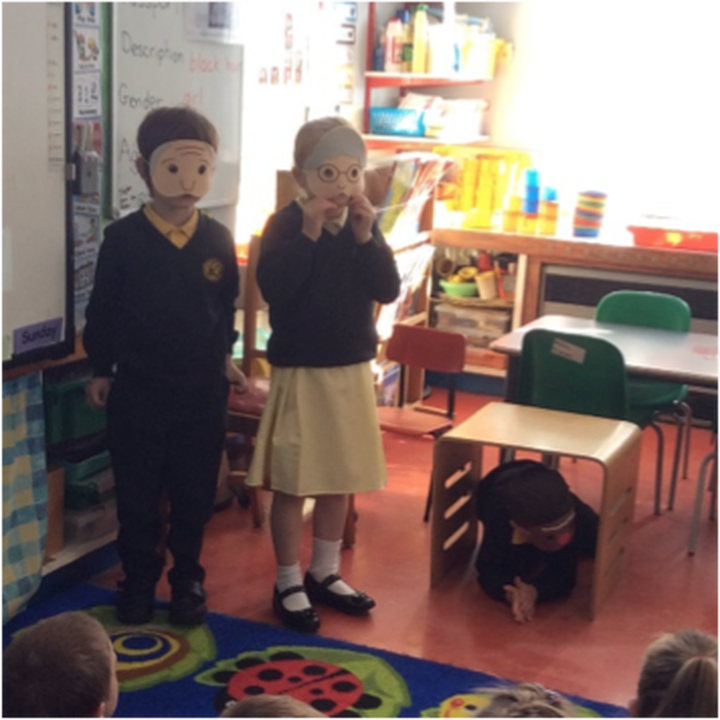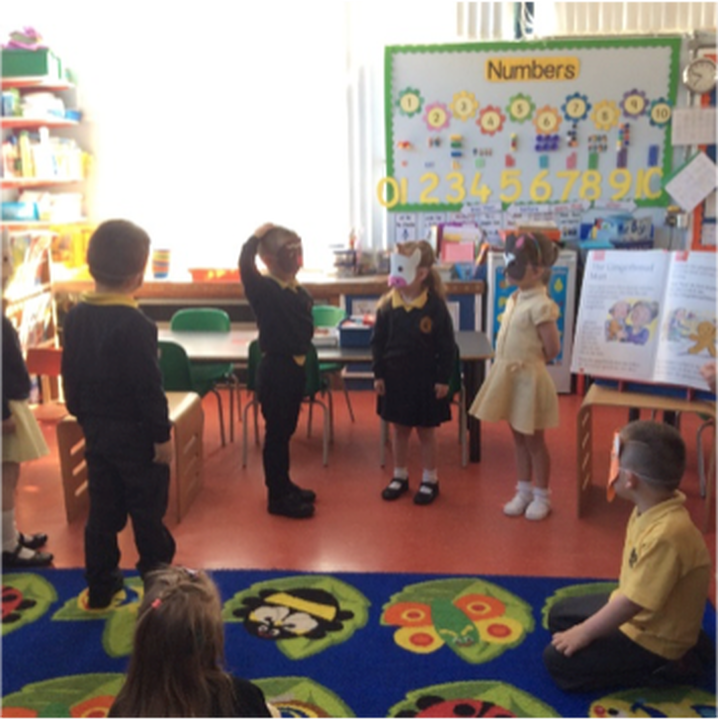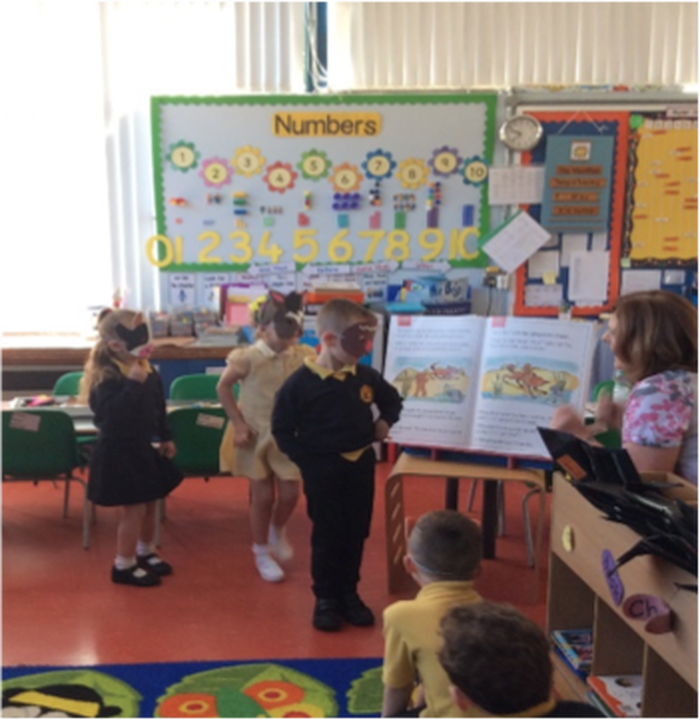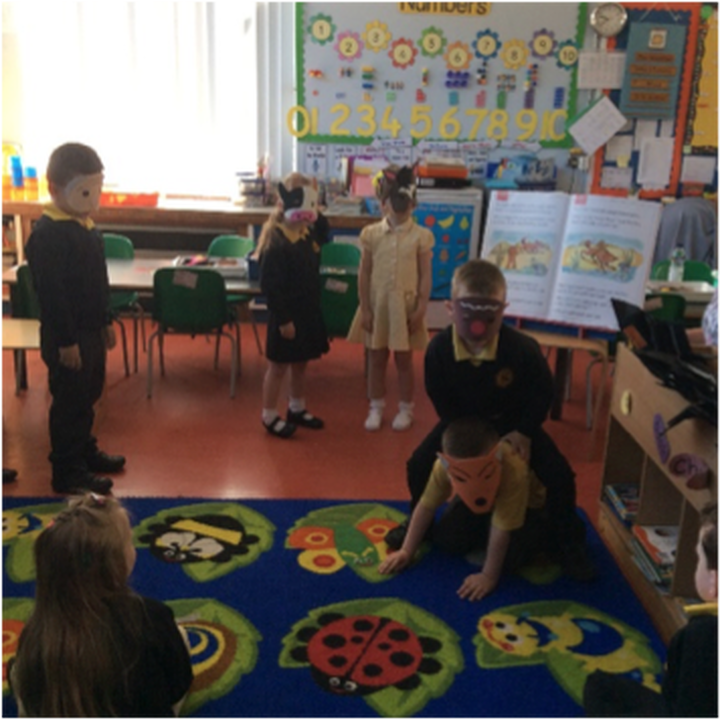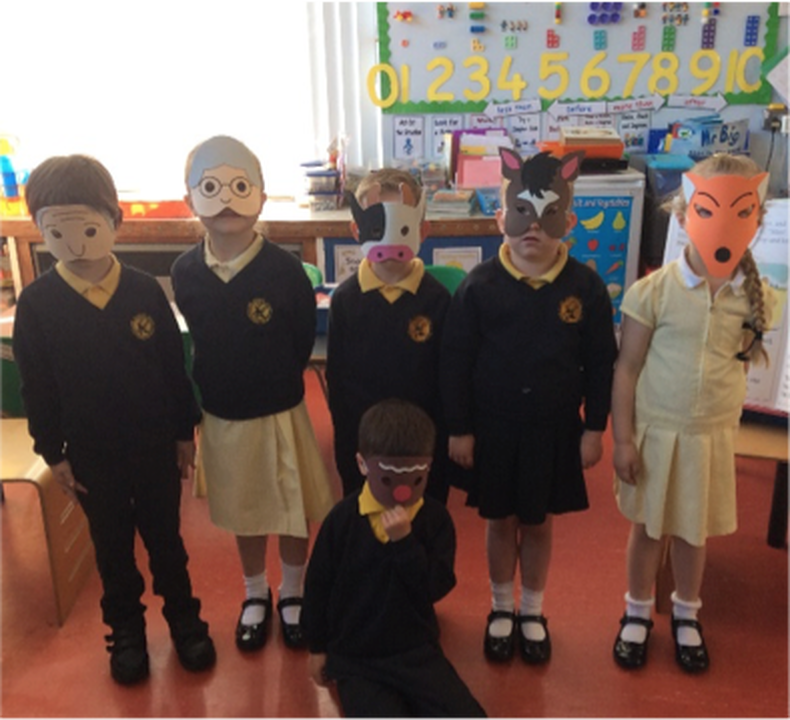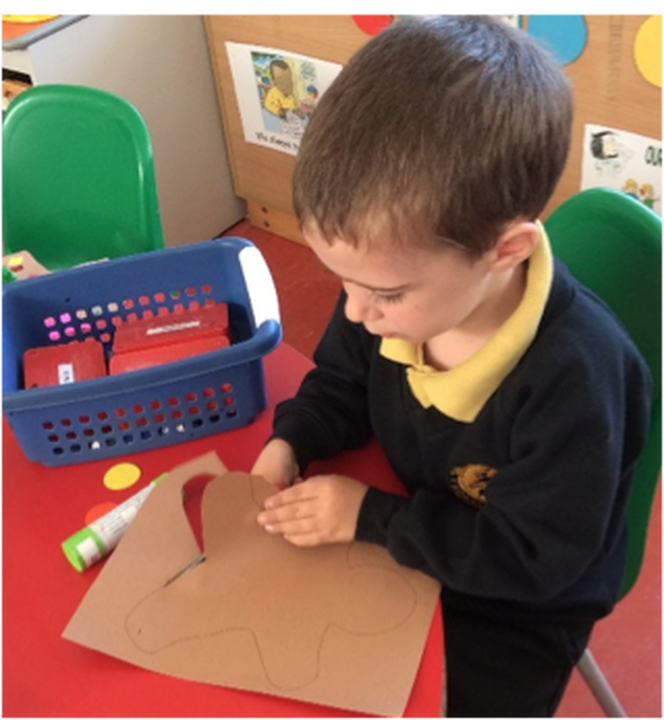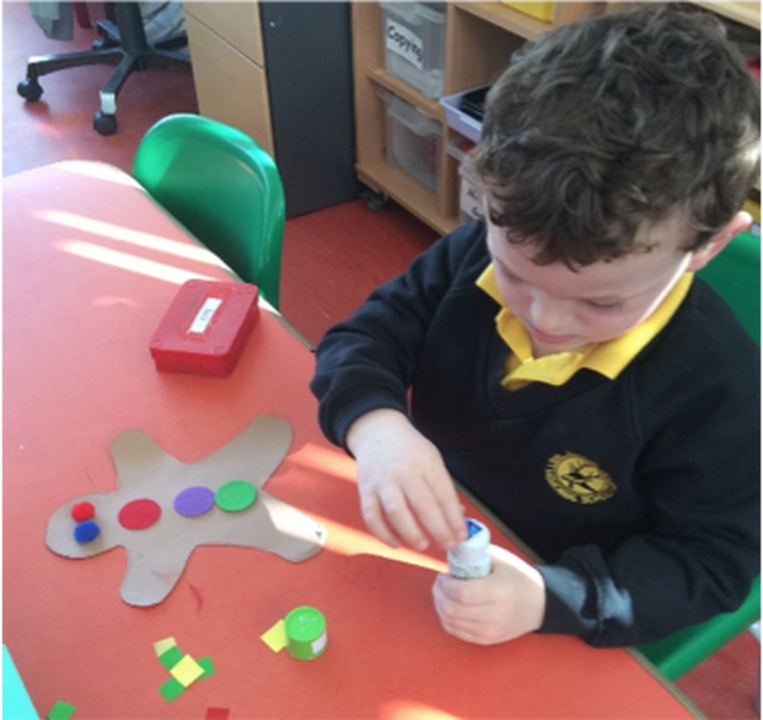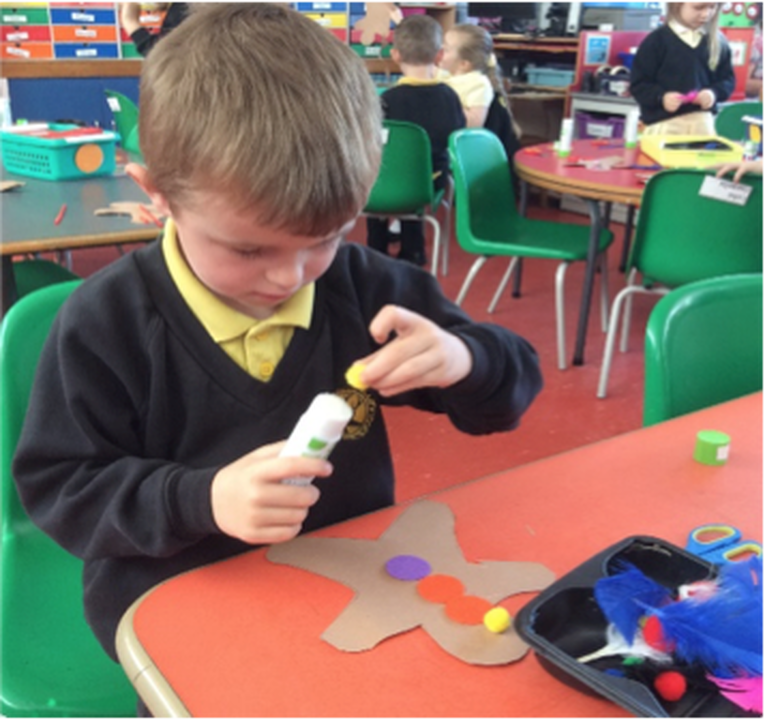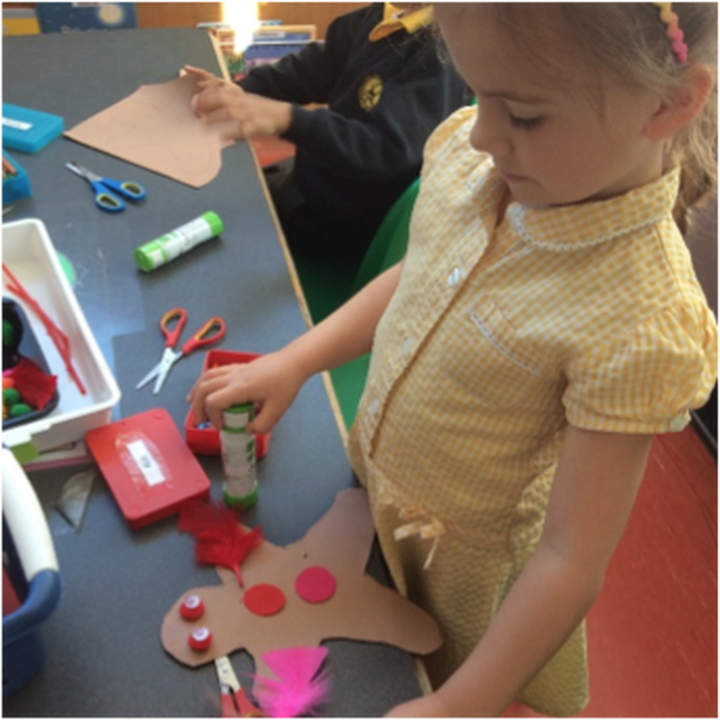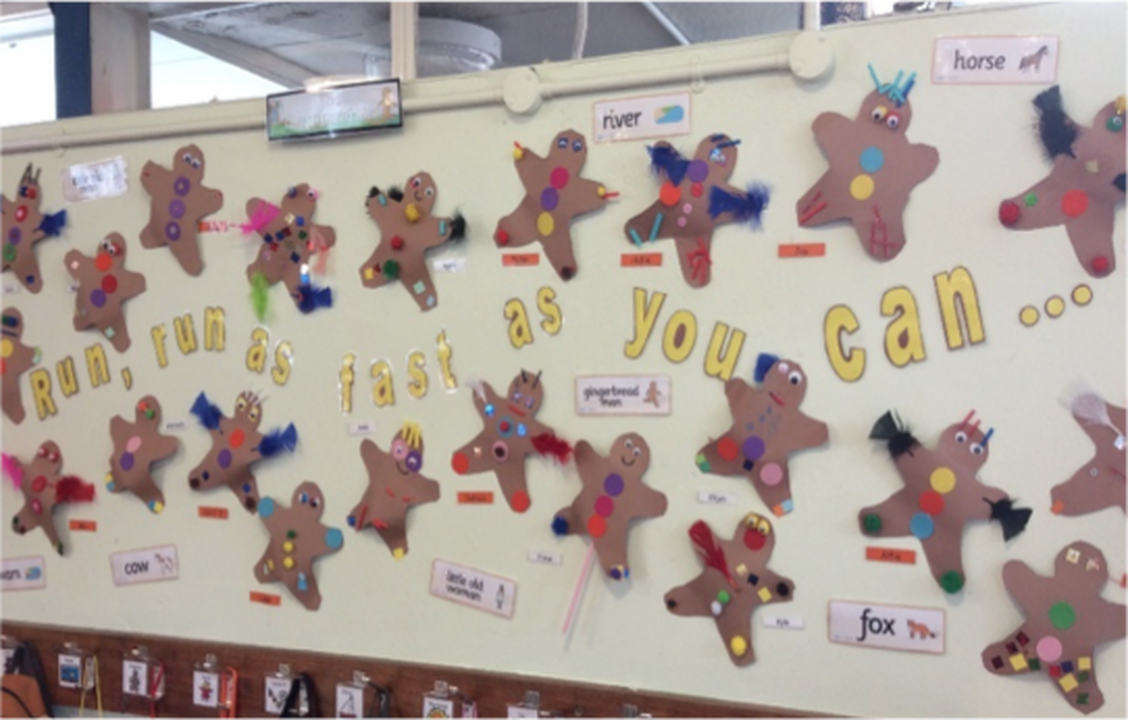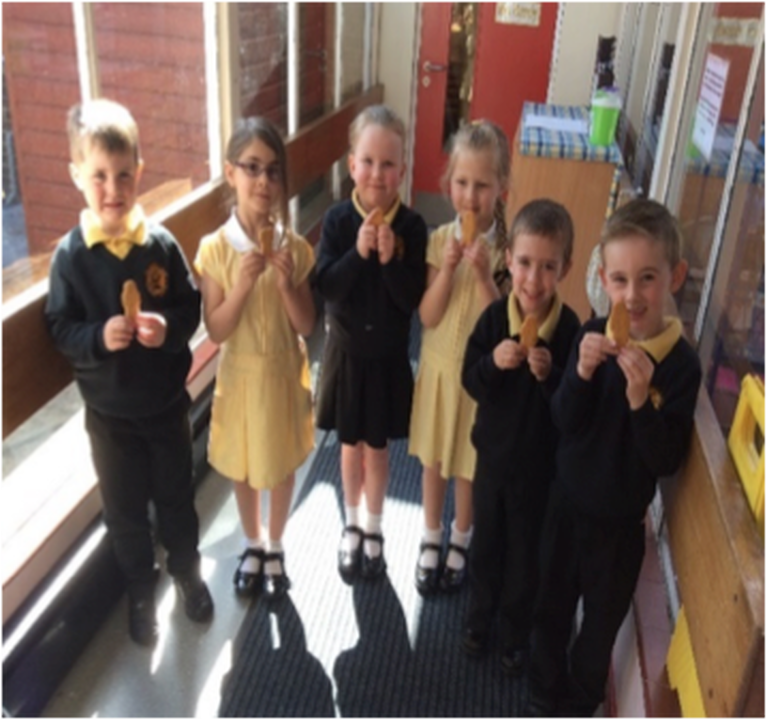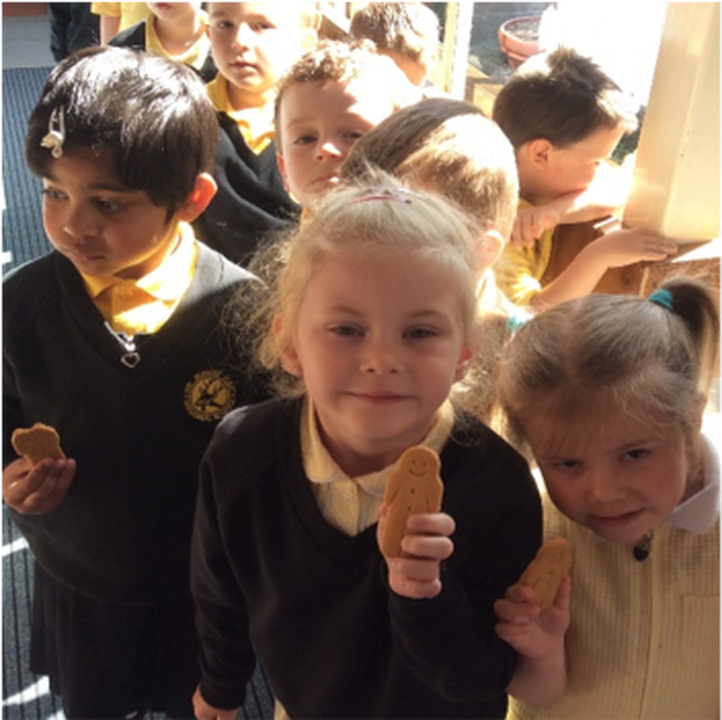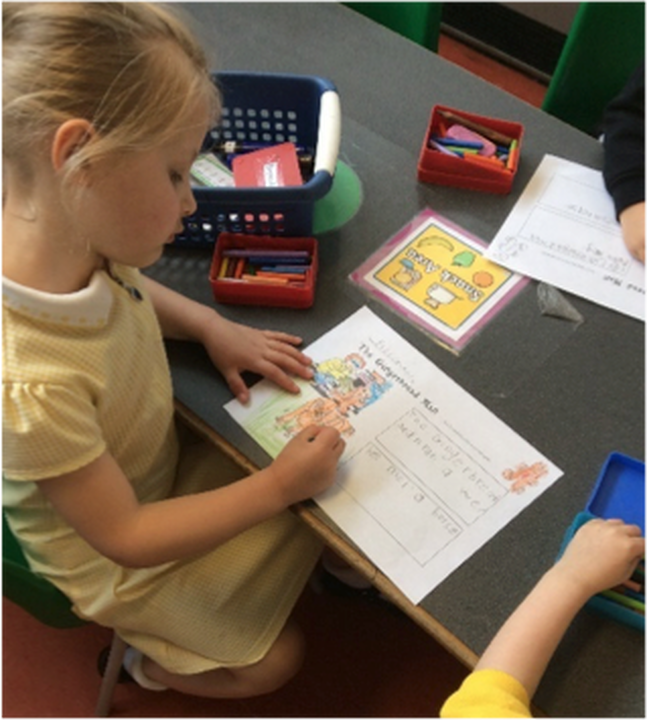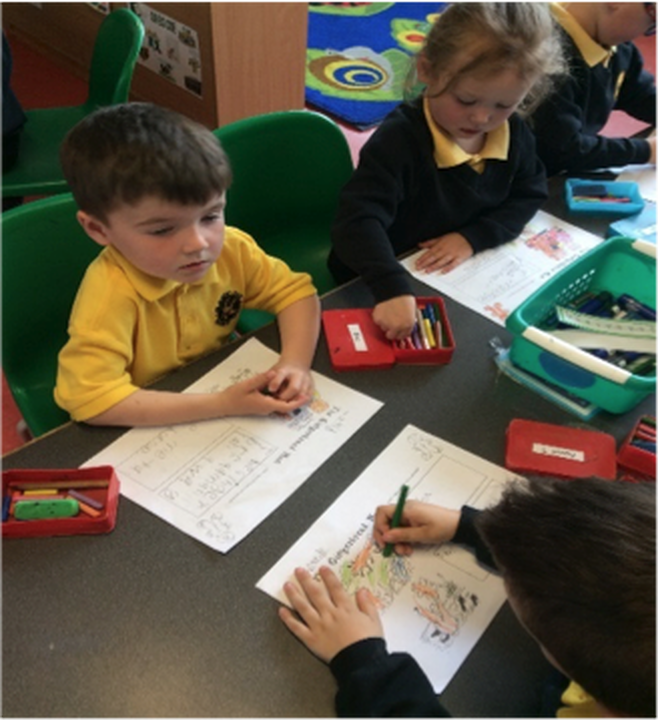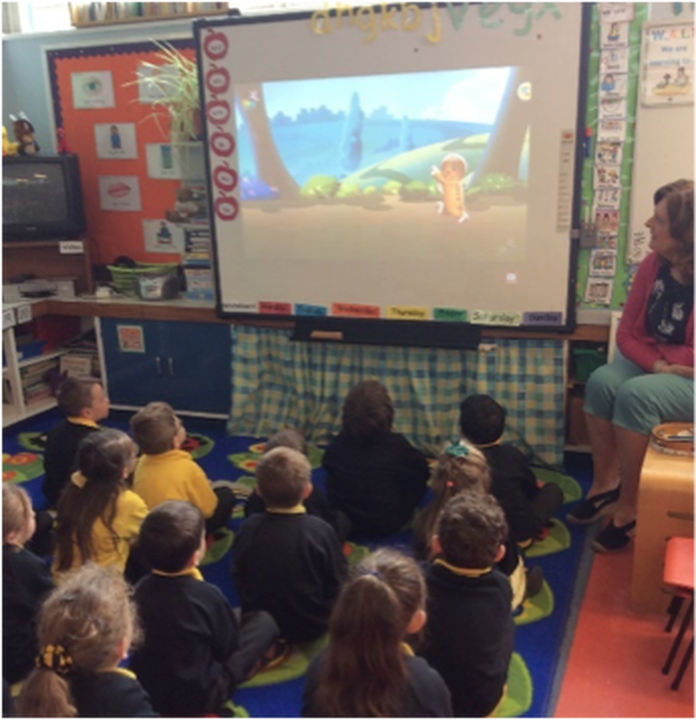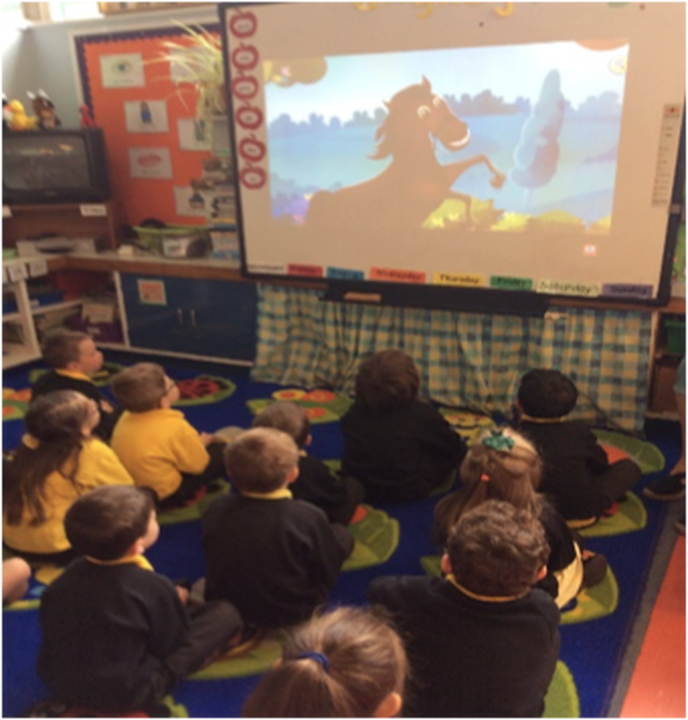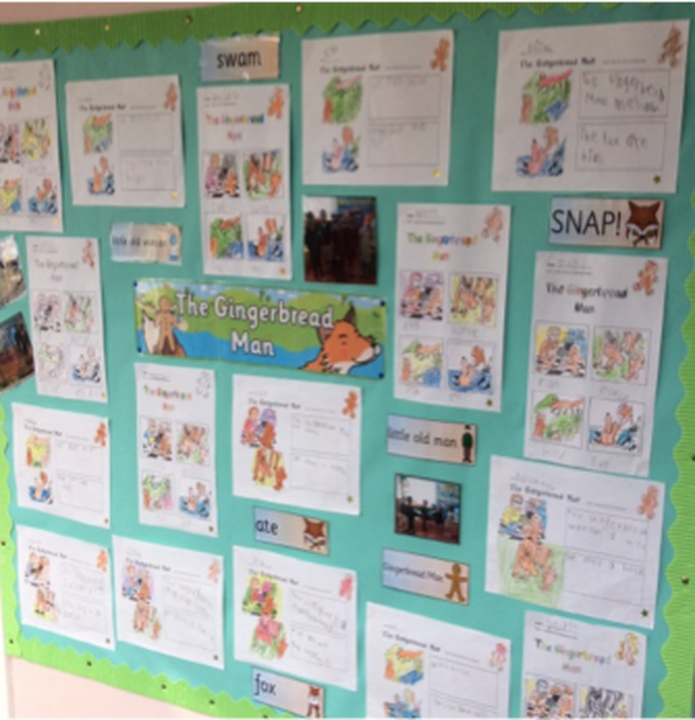 We have been pouring and filling as we learn about capacity.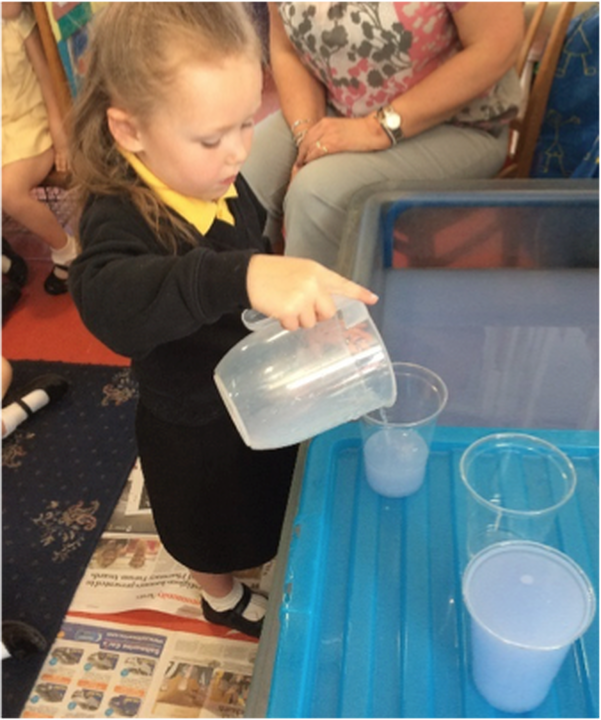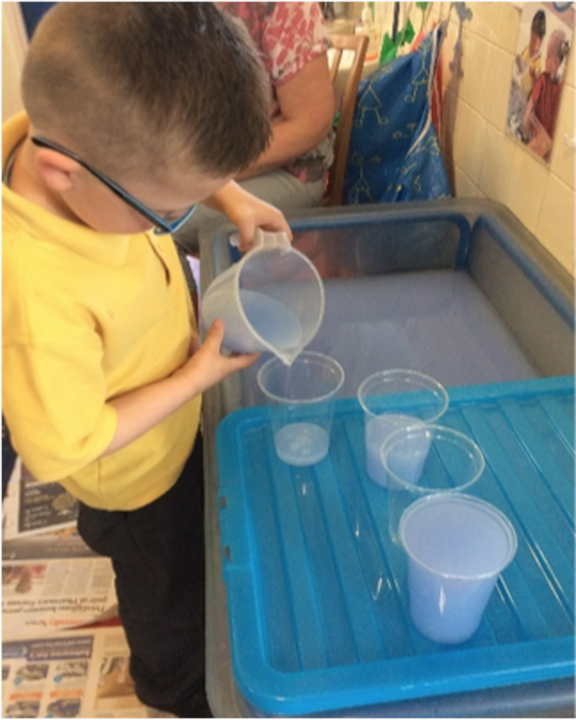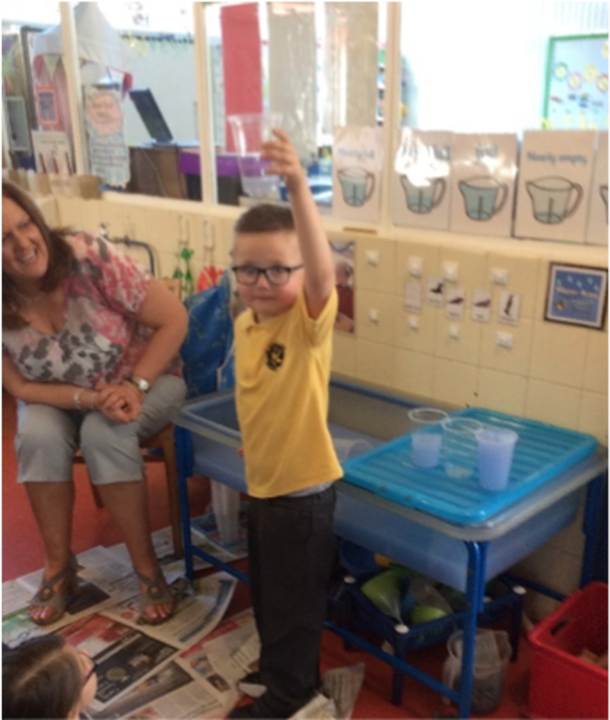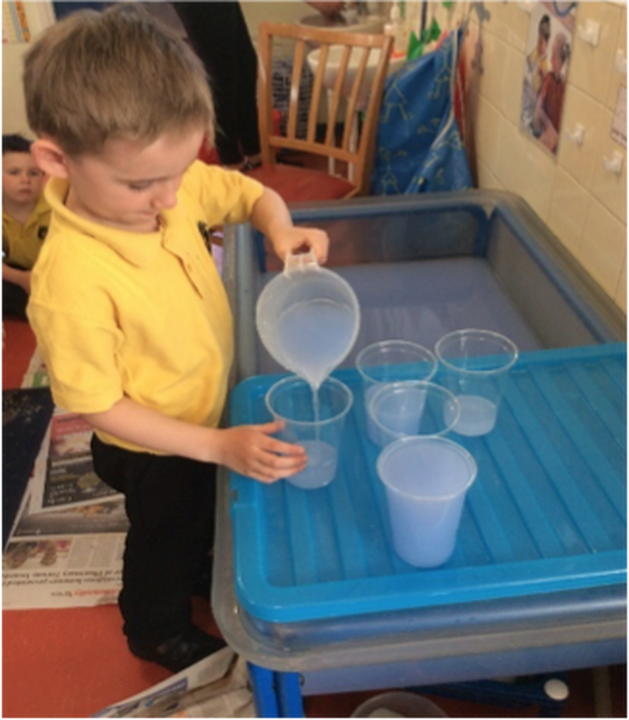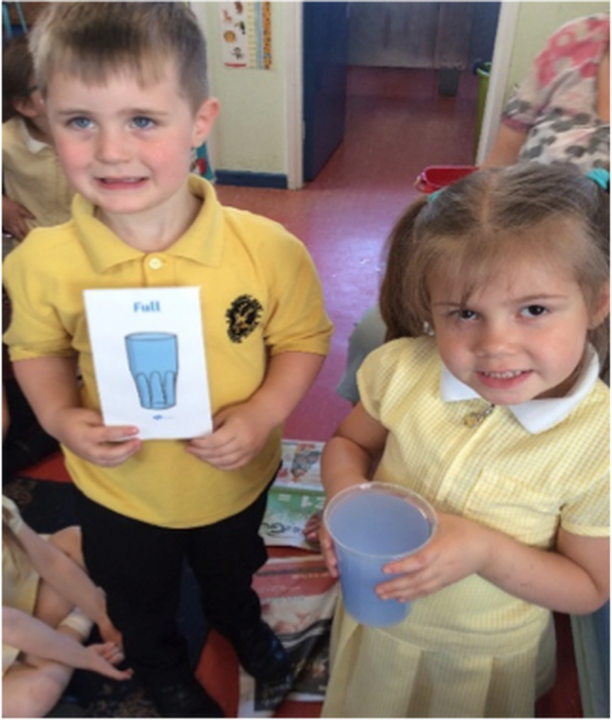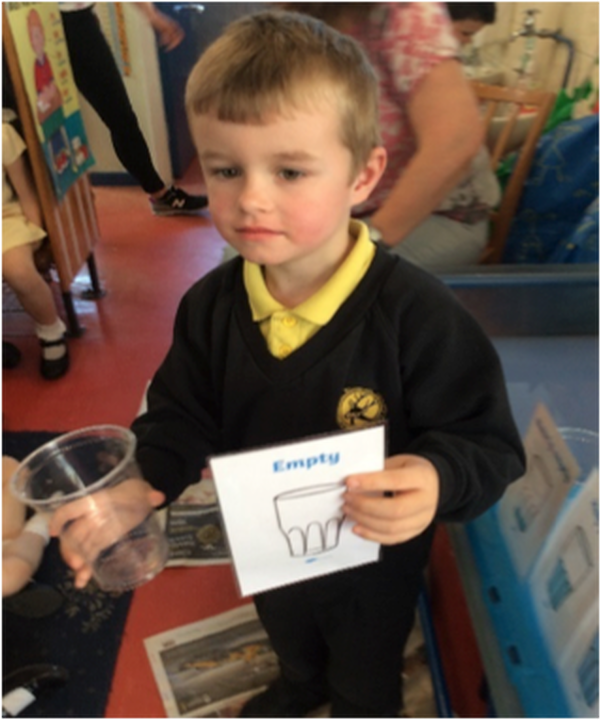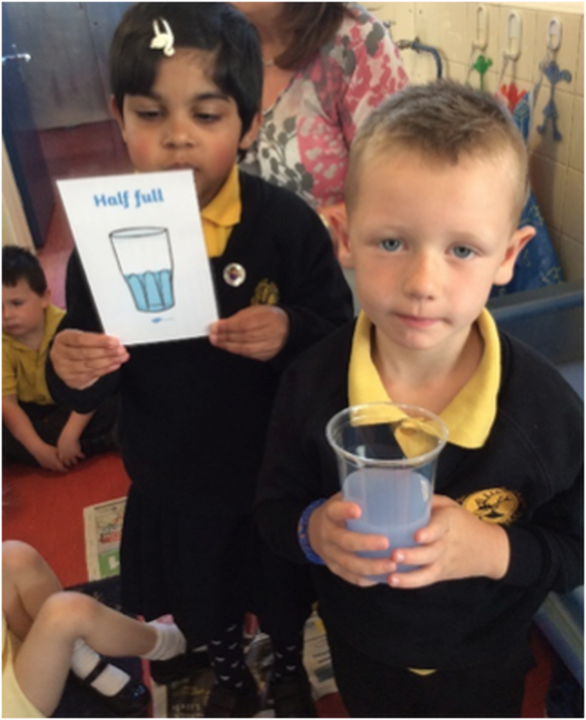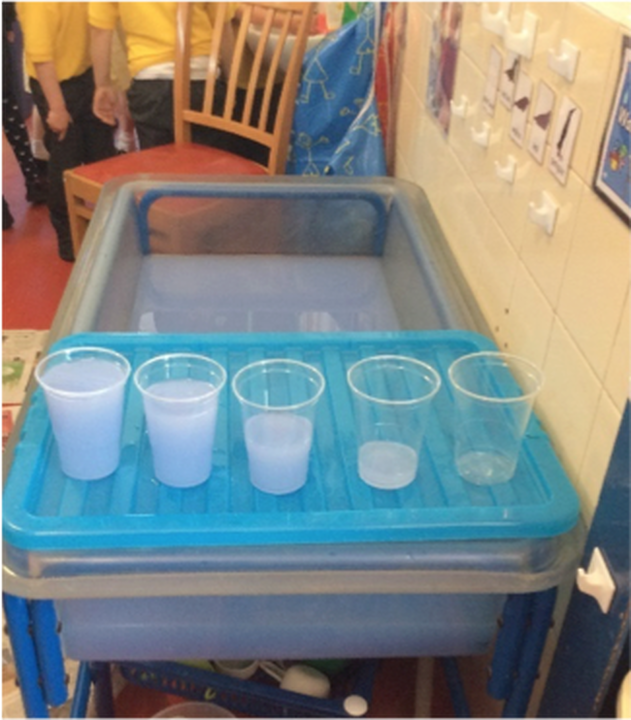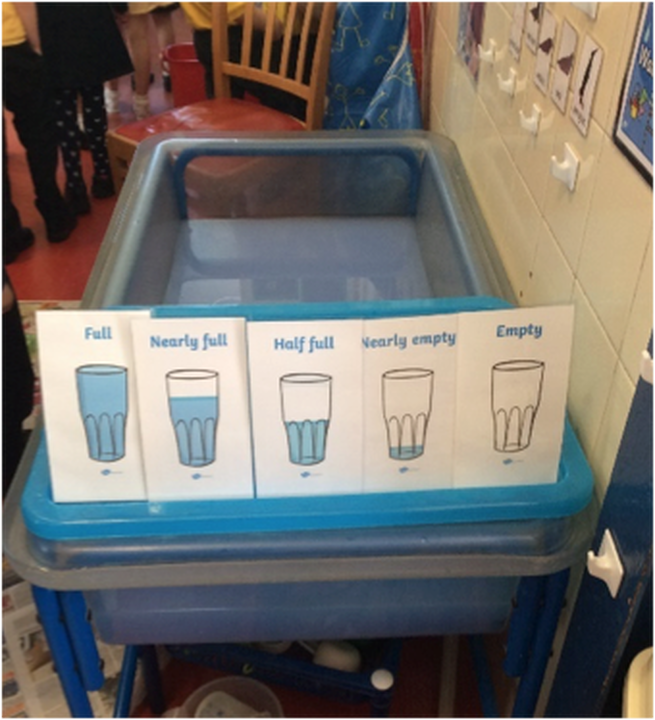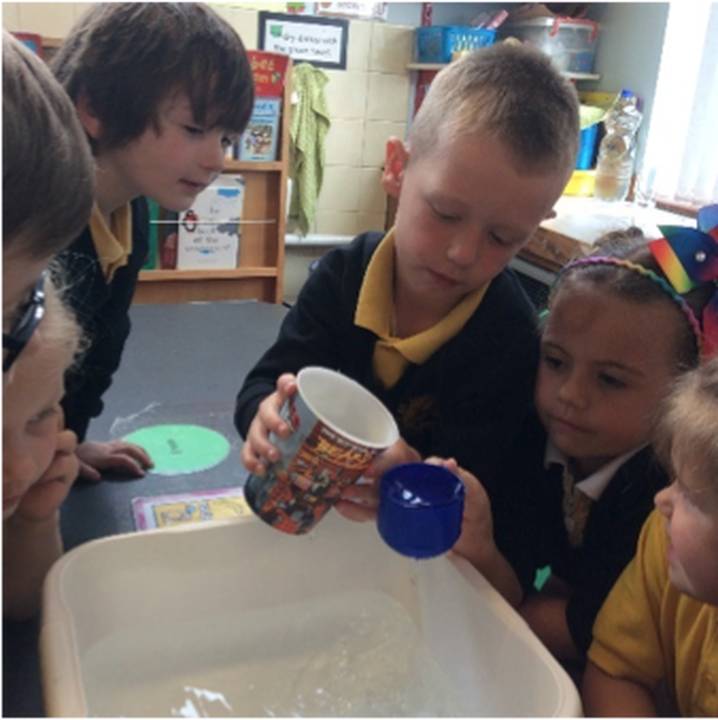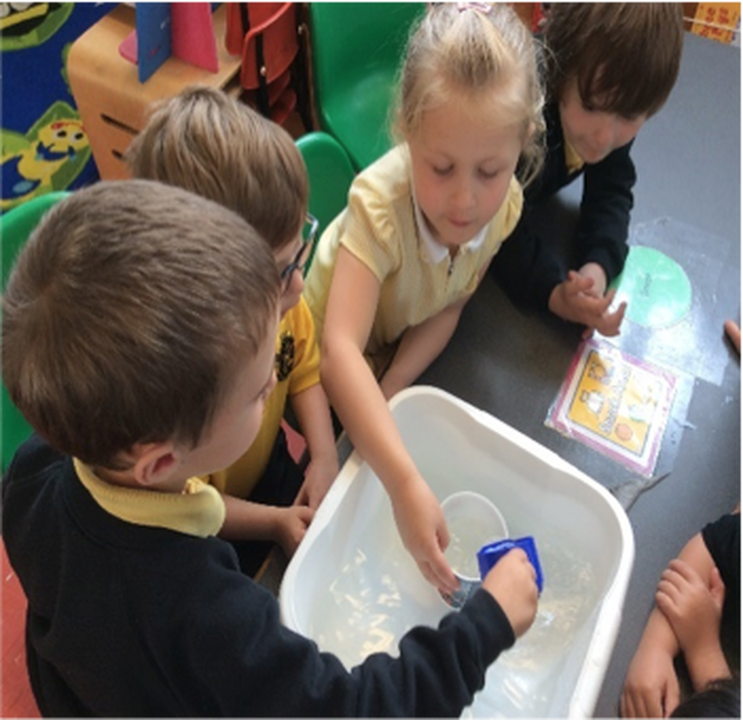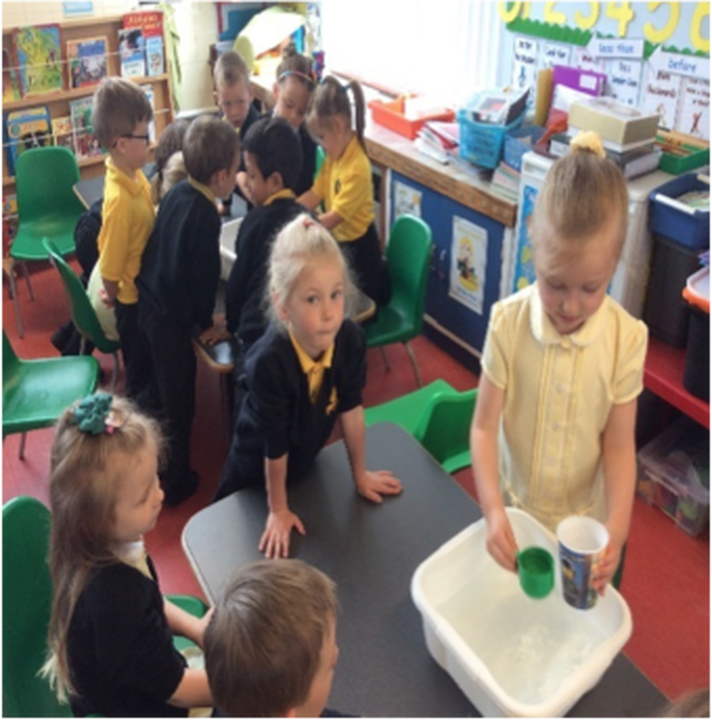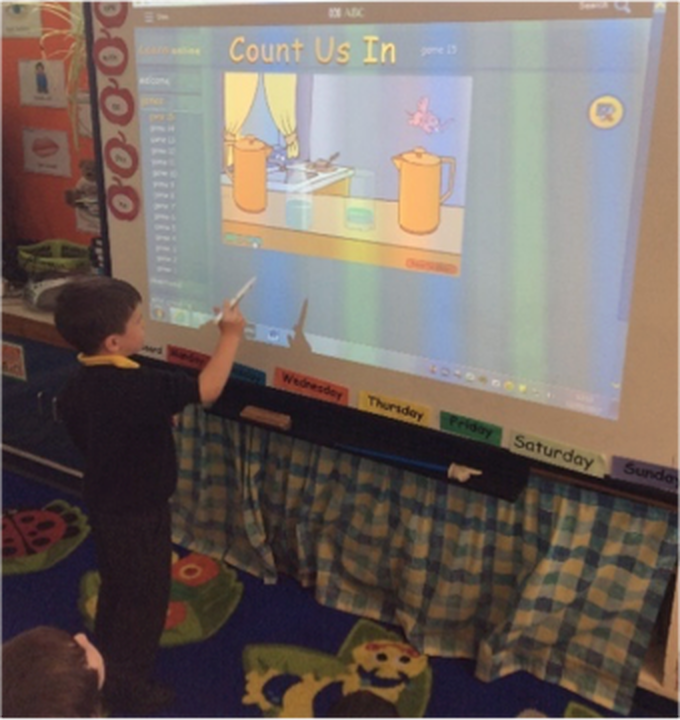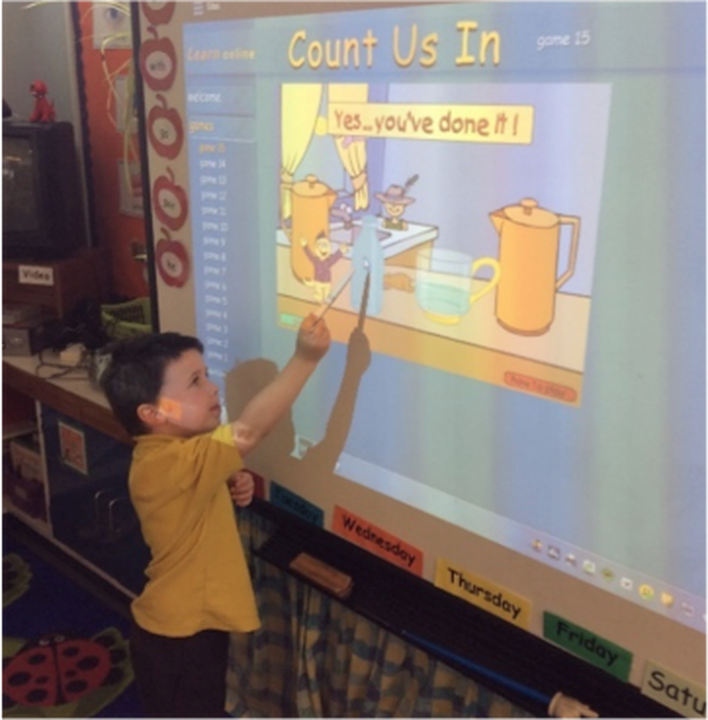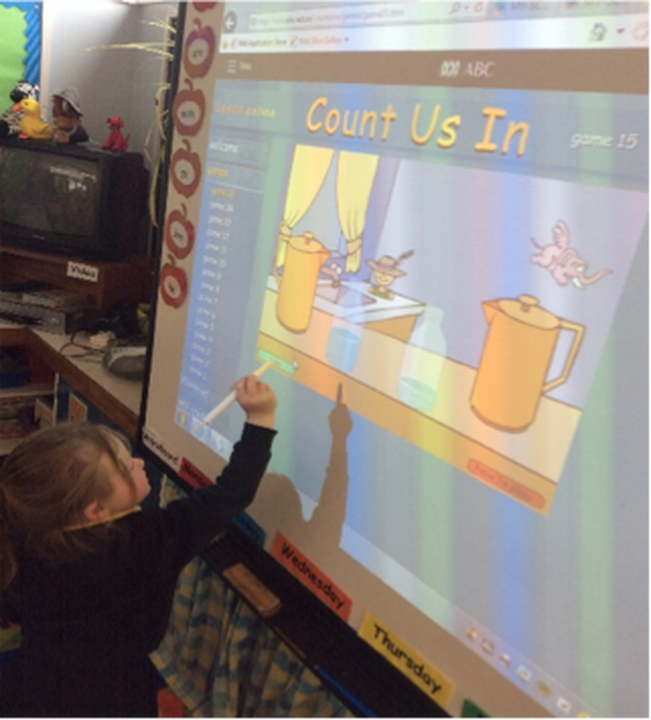 Shared Education - Have a look at us making 'Shape Monsters' with our friends from Presentation P.S.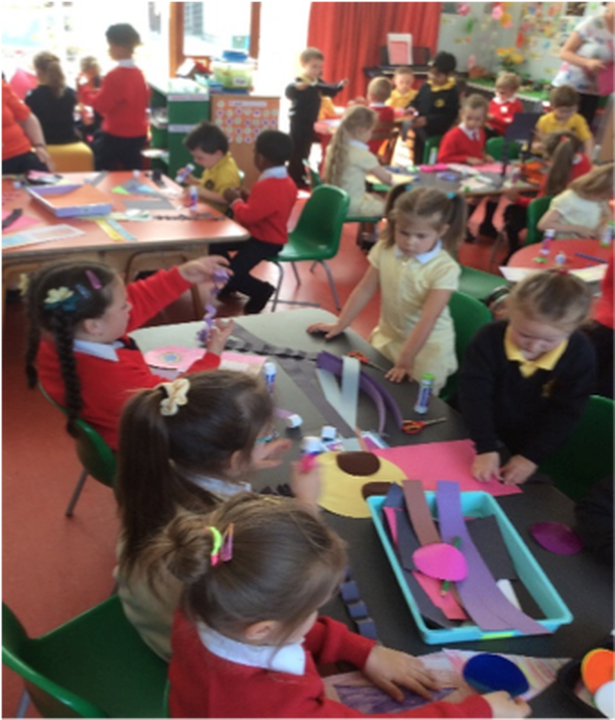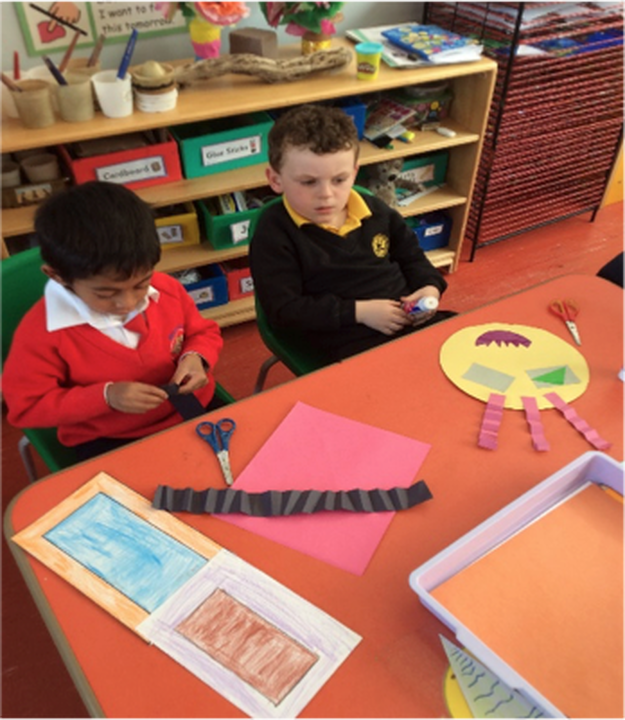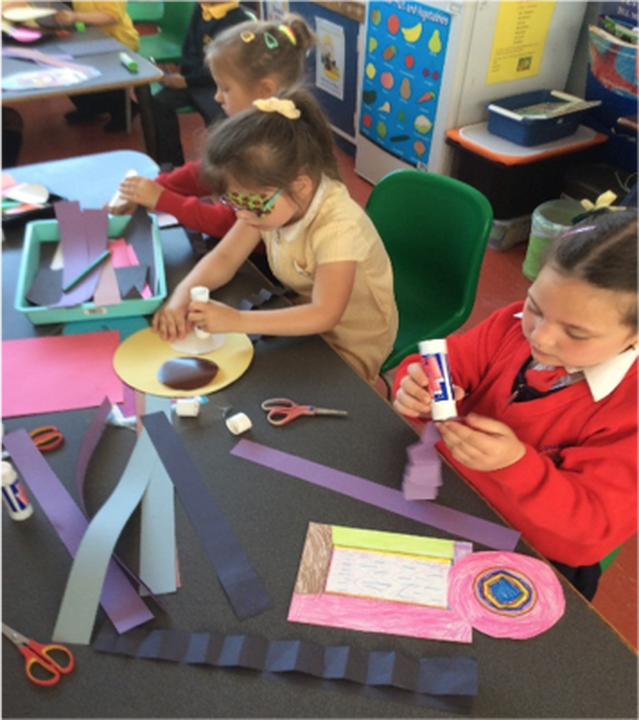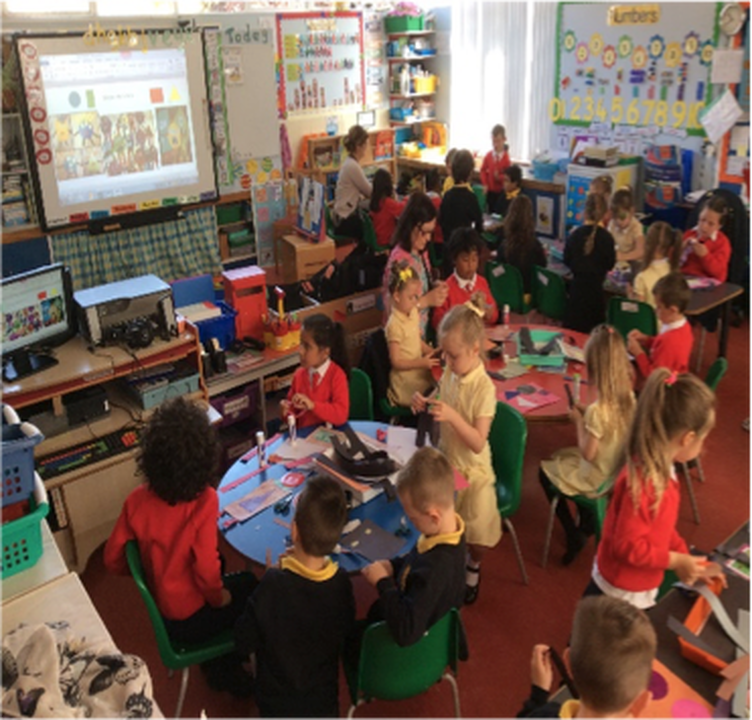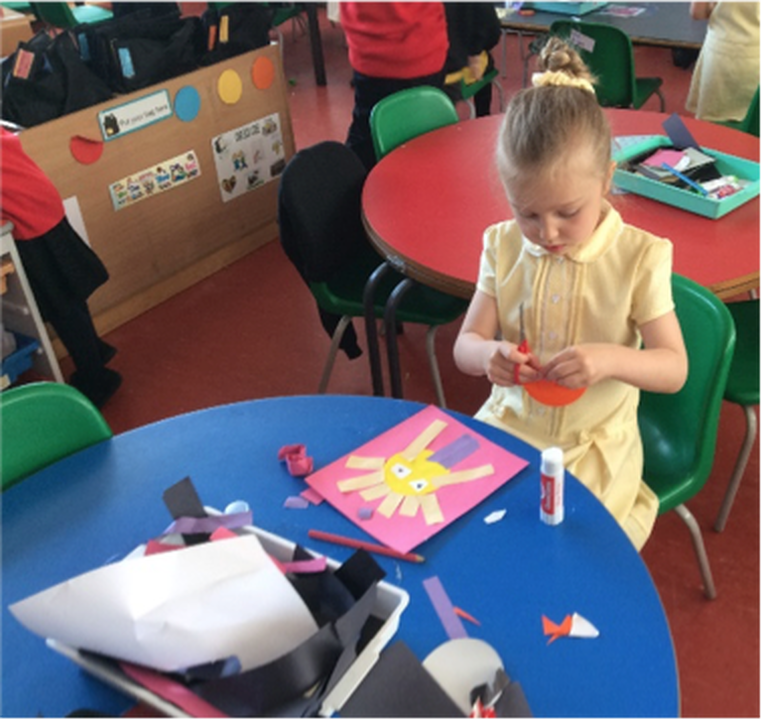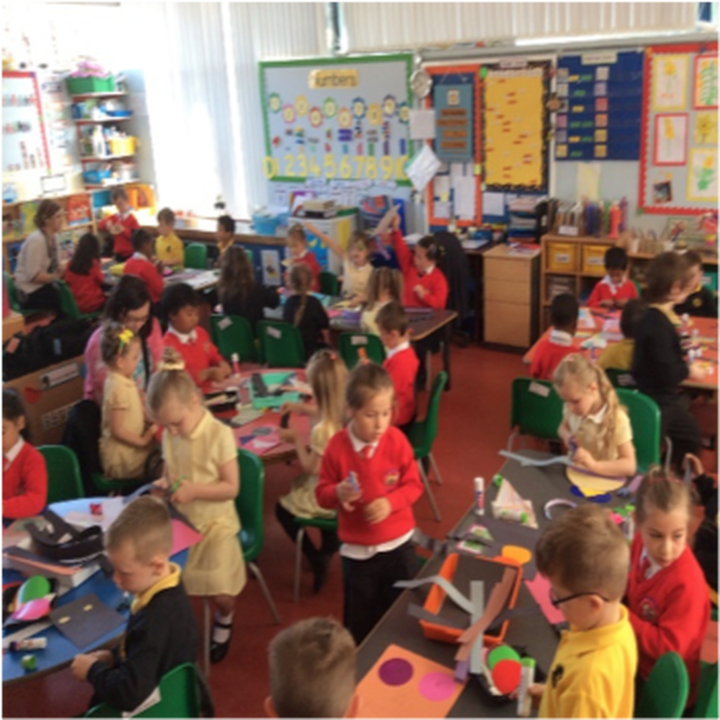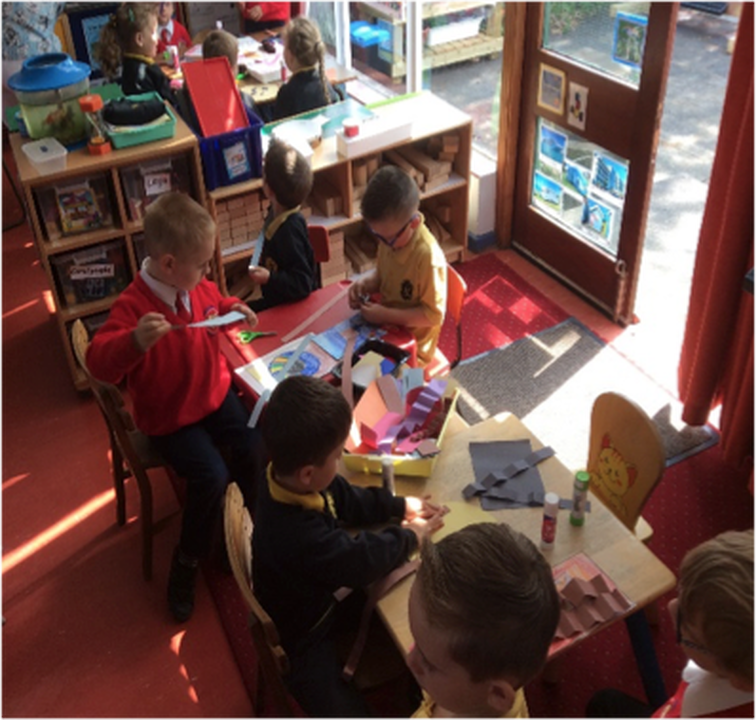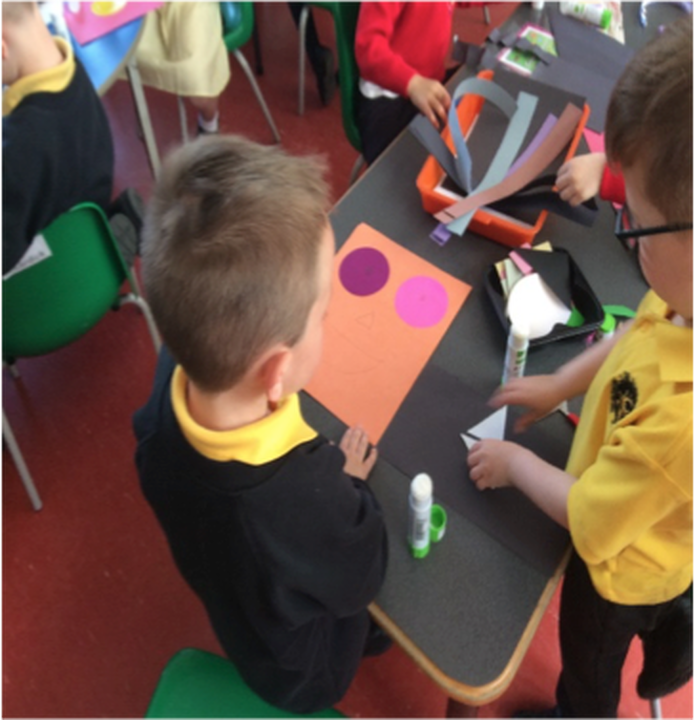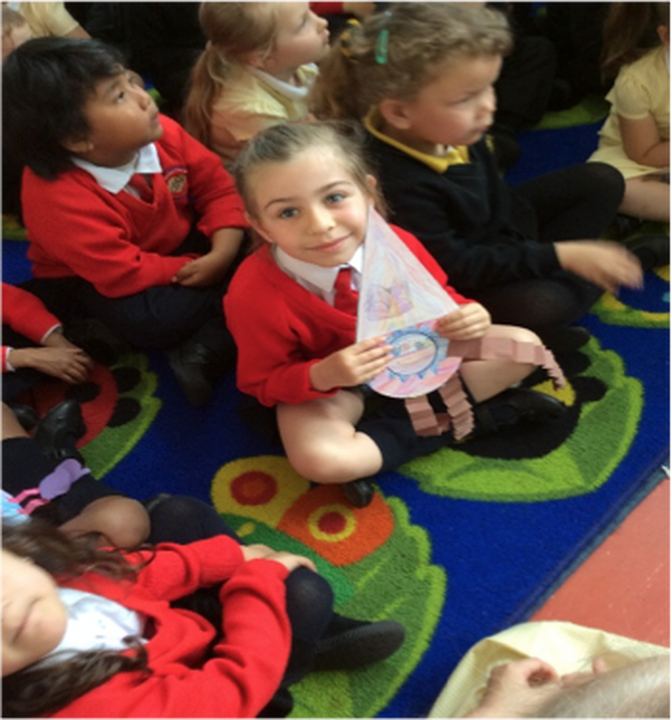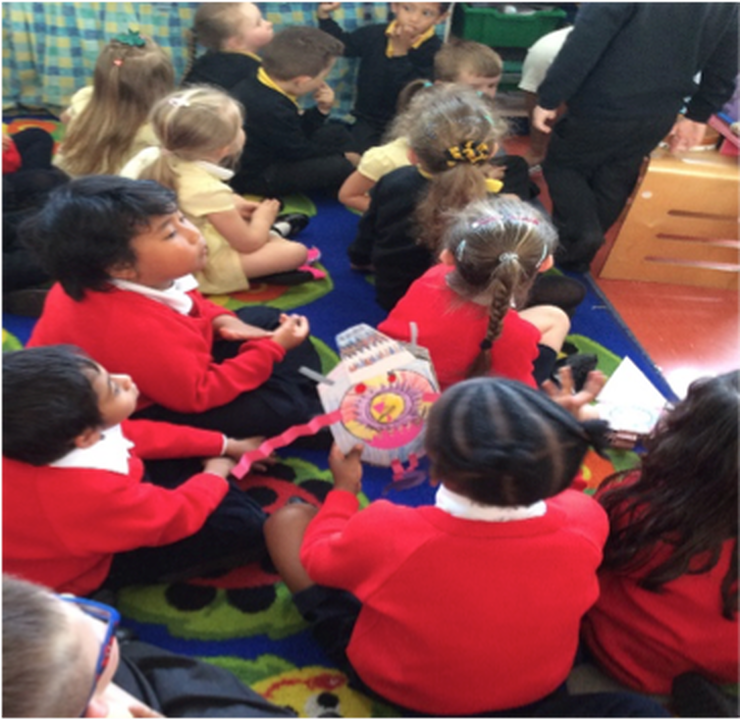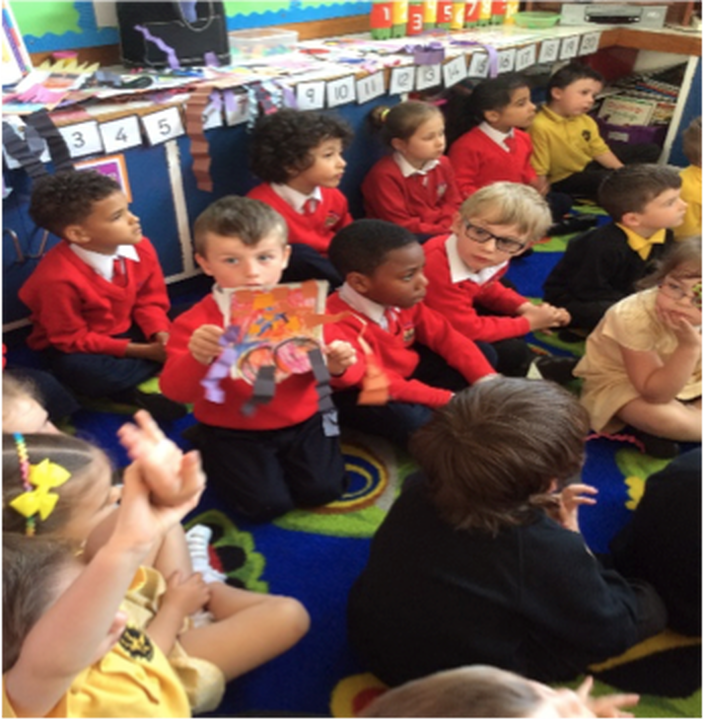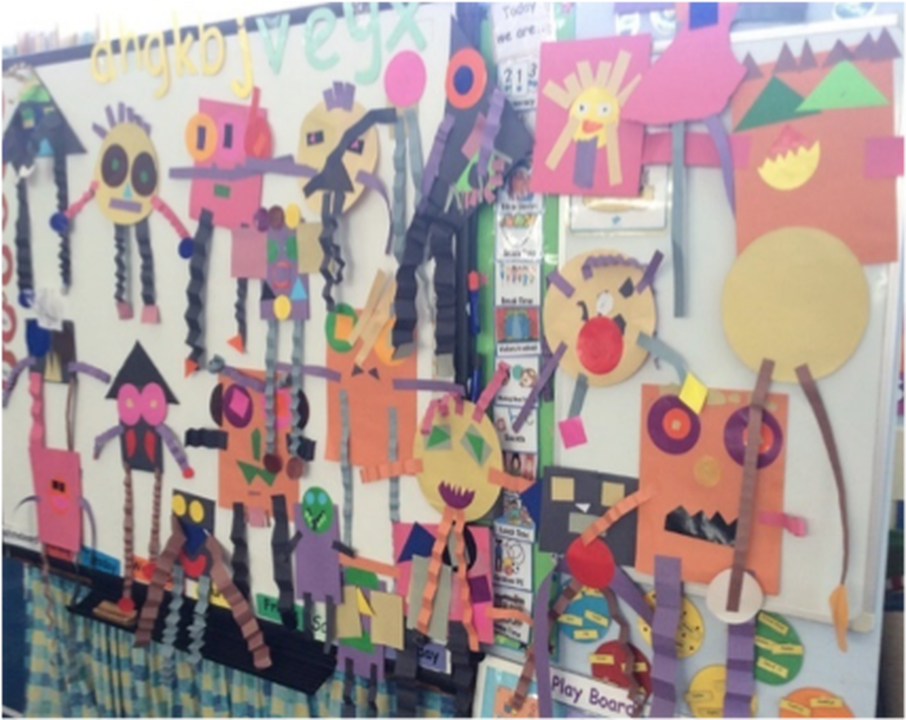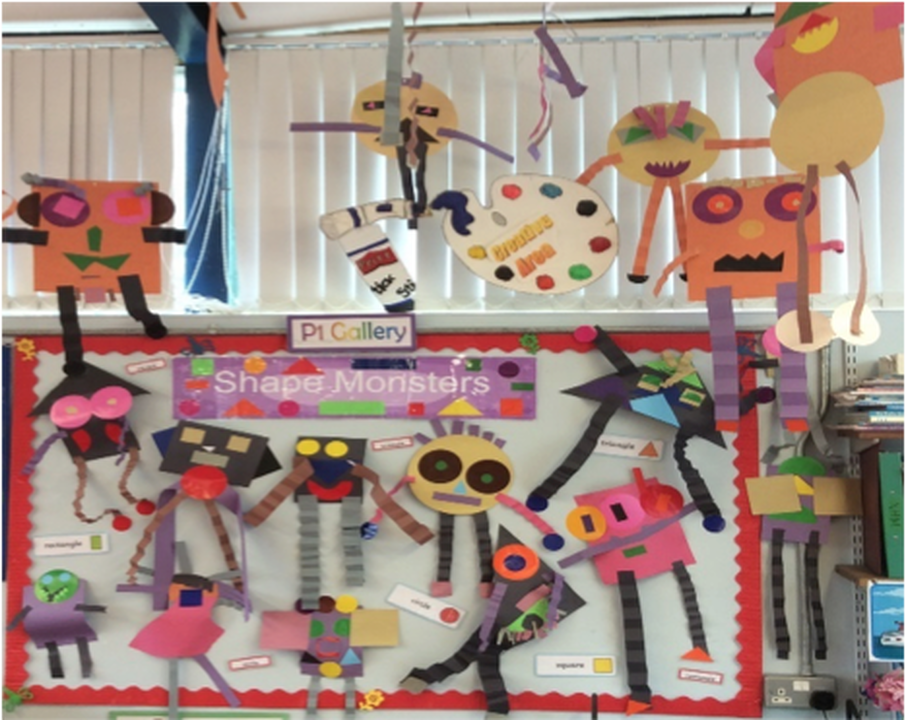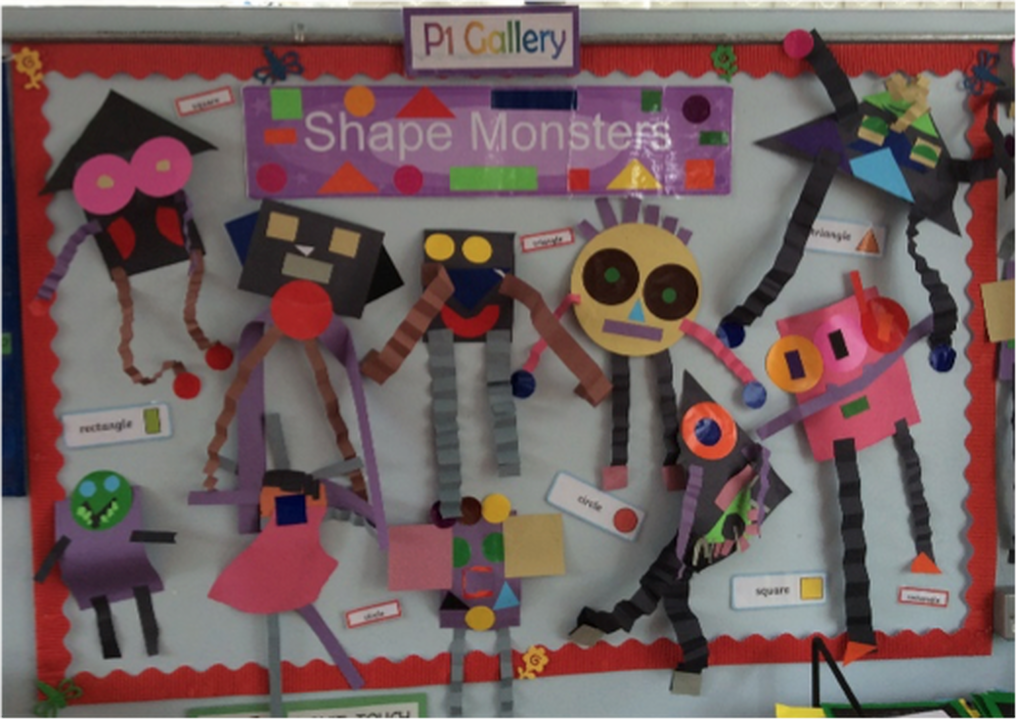 April Play Based Learning
We had fun watching the cast of 'Treasure Island' when they visited our school.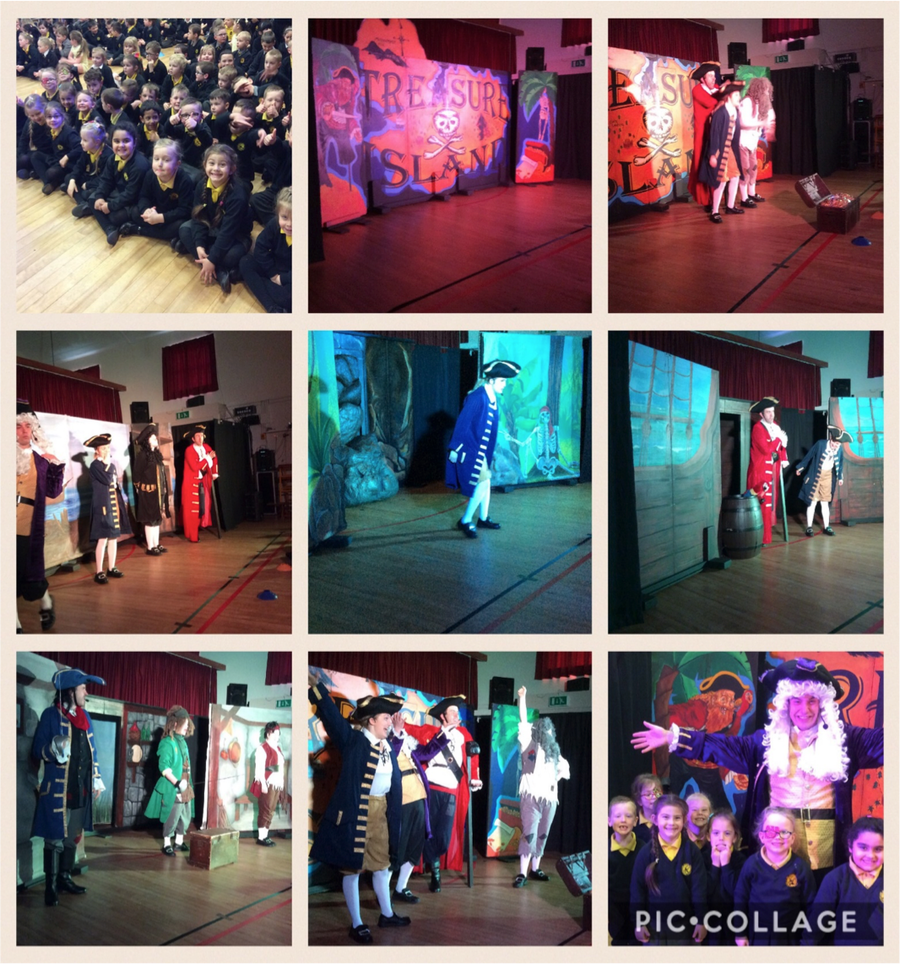 Bean Investigation. We planted beans, watered them, watched them grow and we learned that they also need sunlight and food from the soil to continue to grow.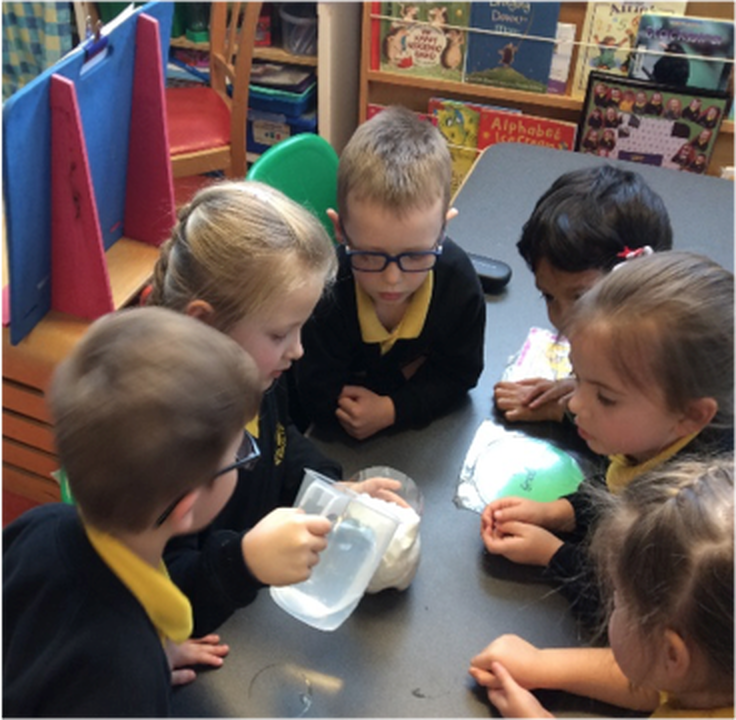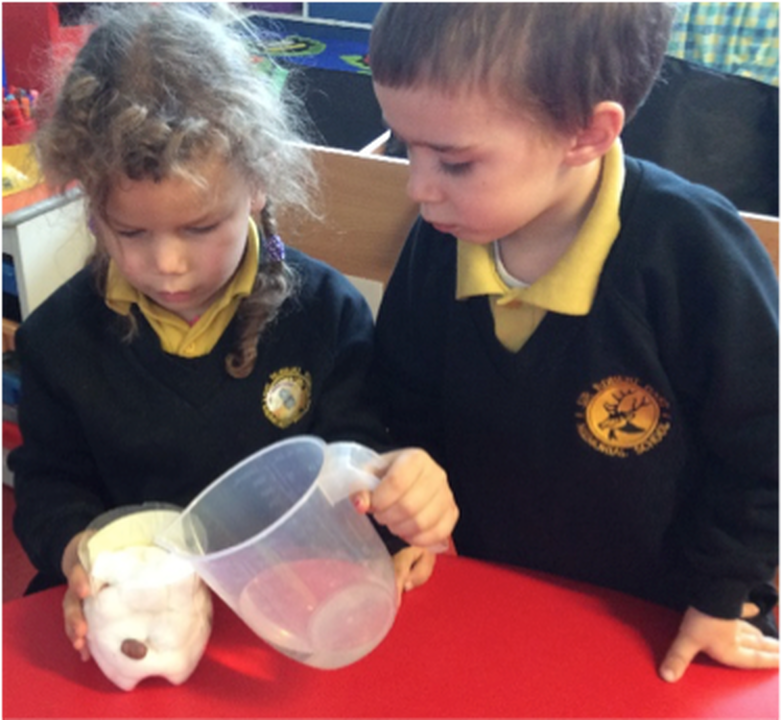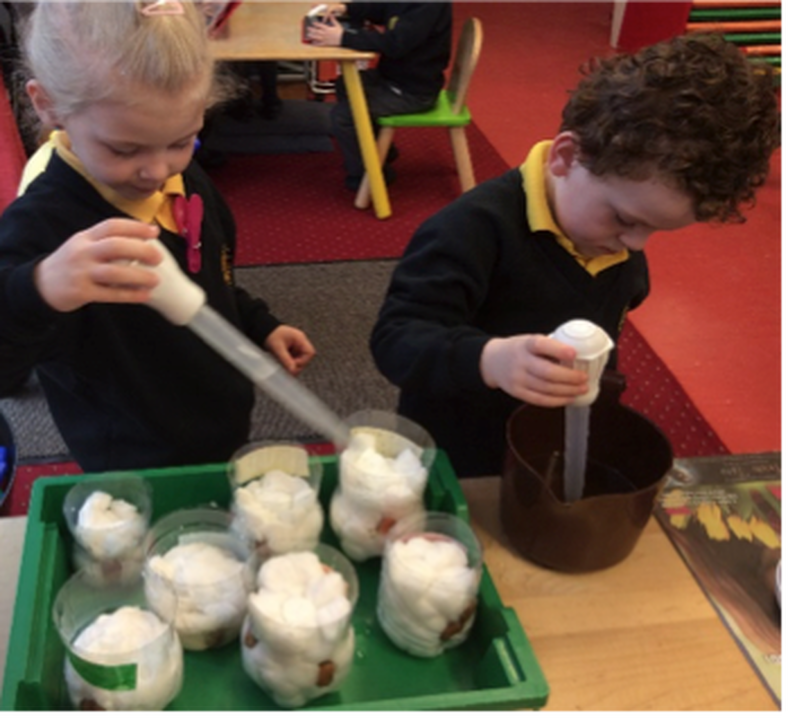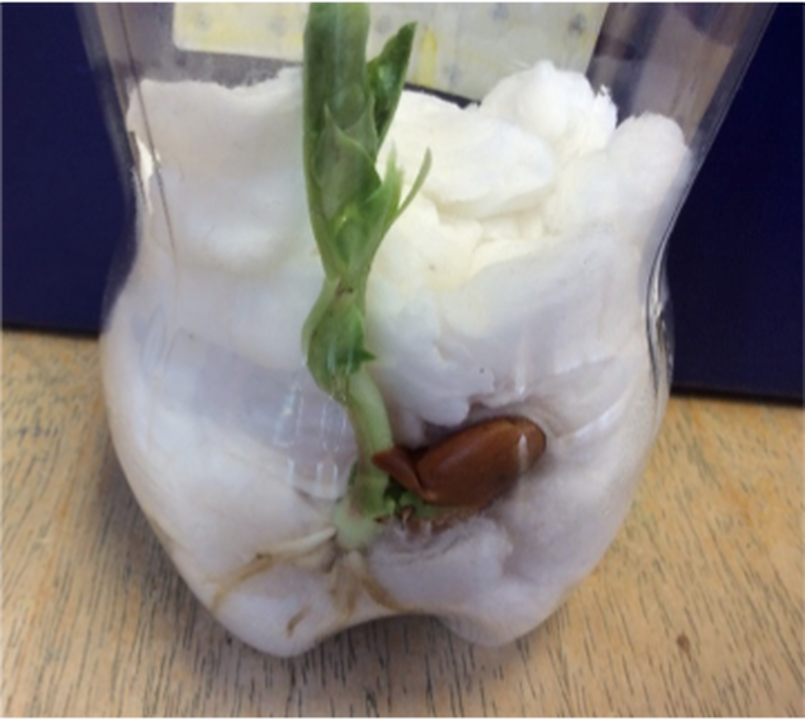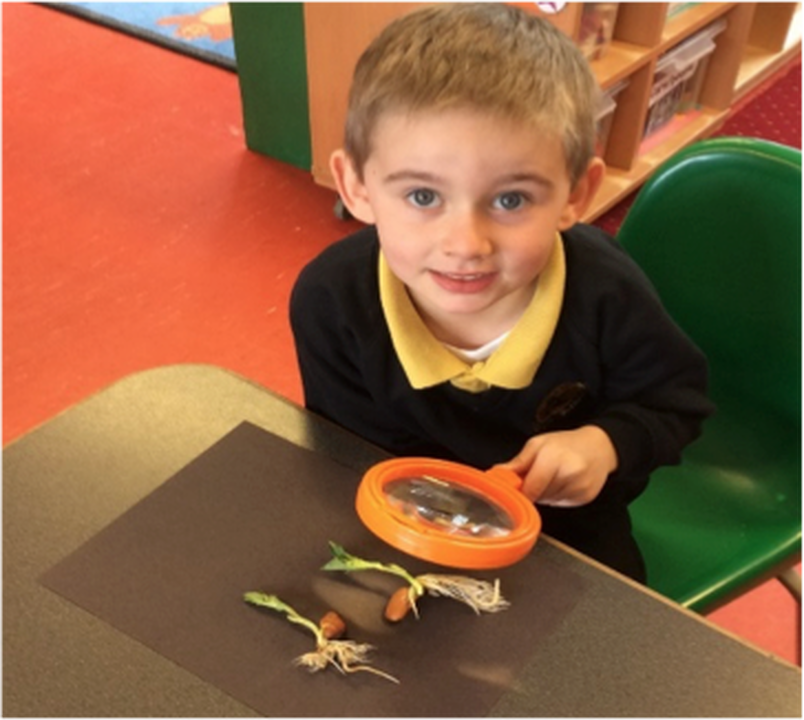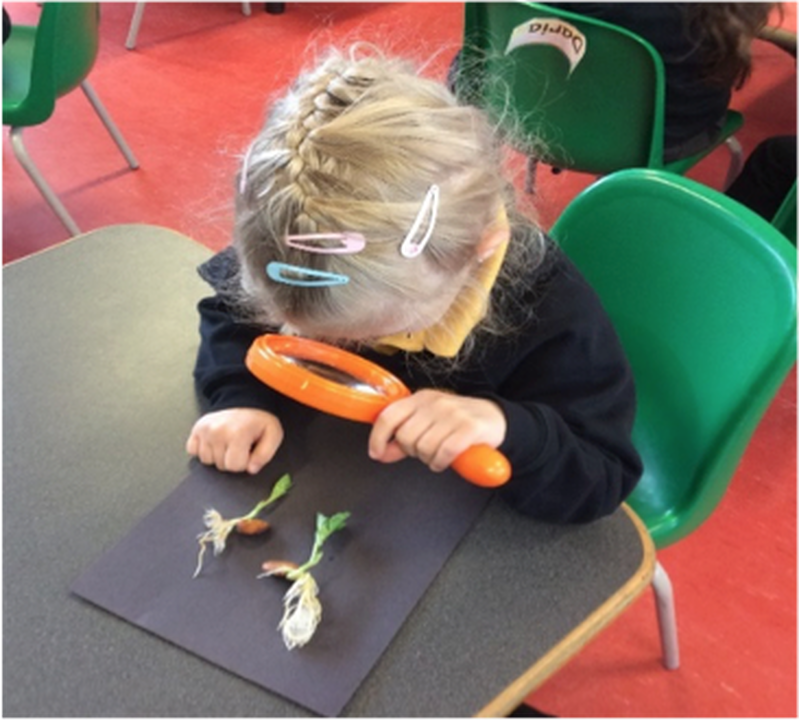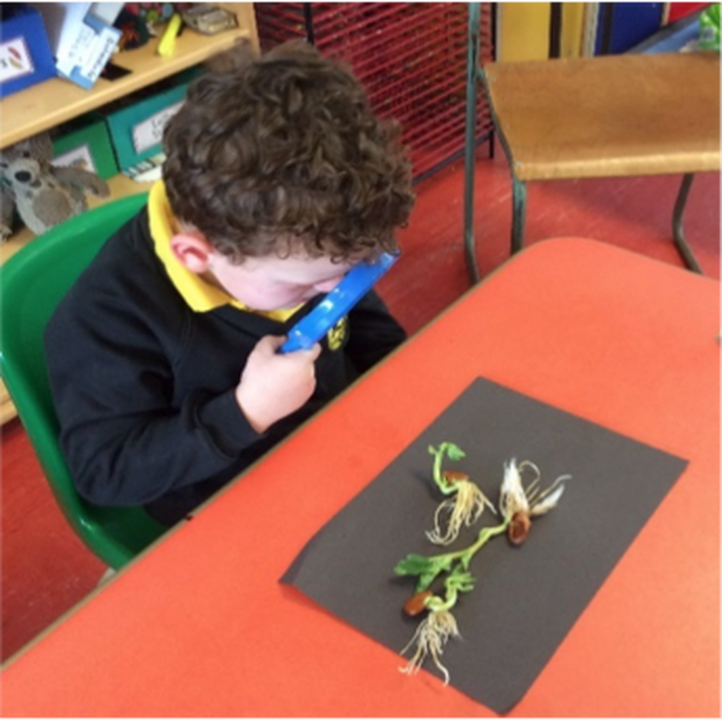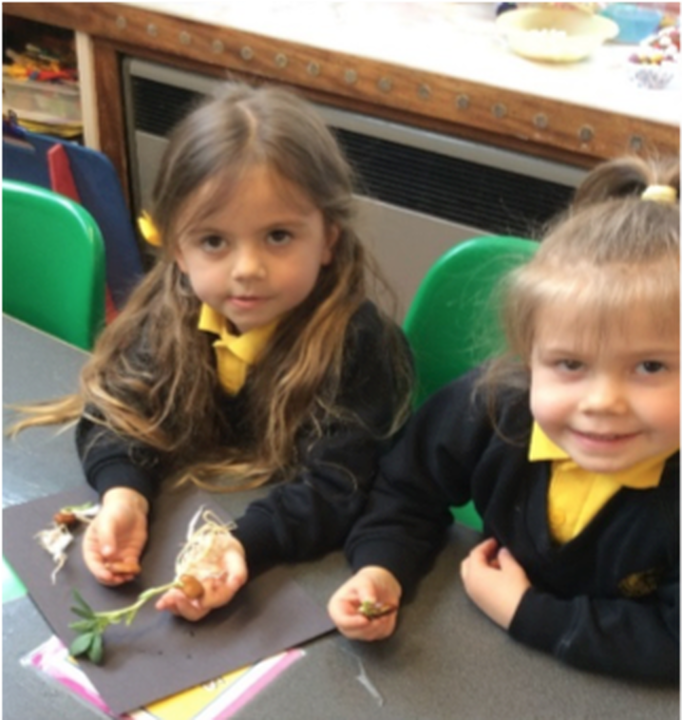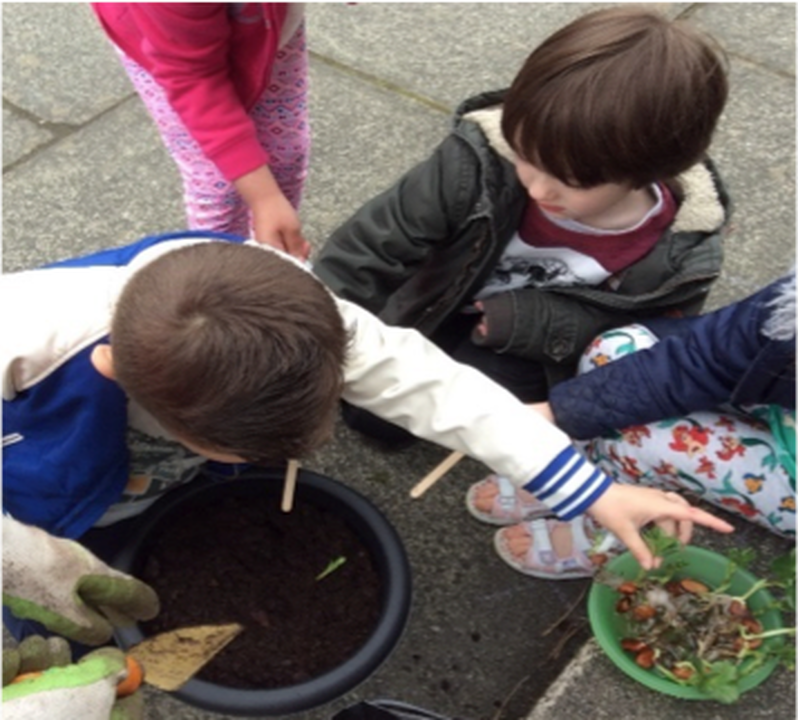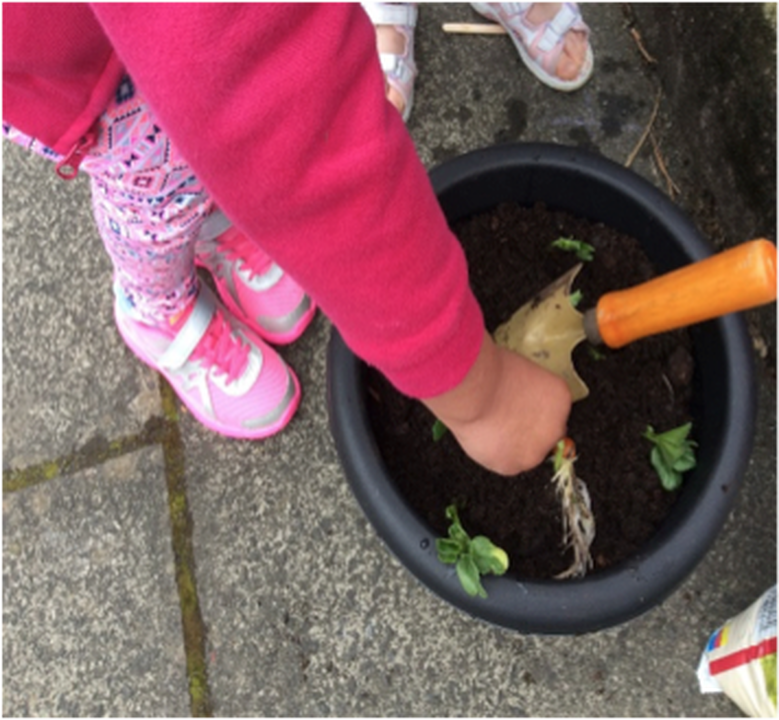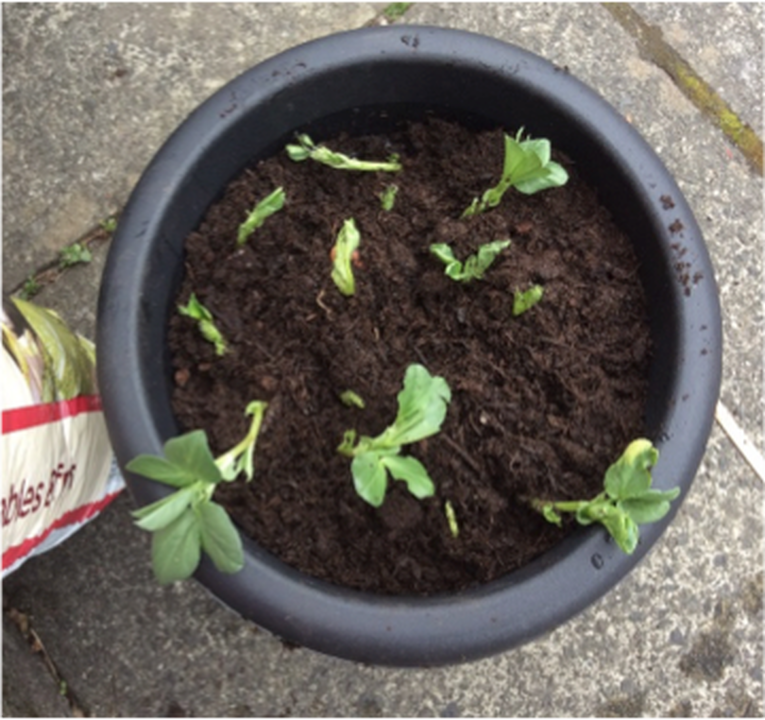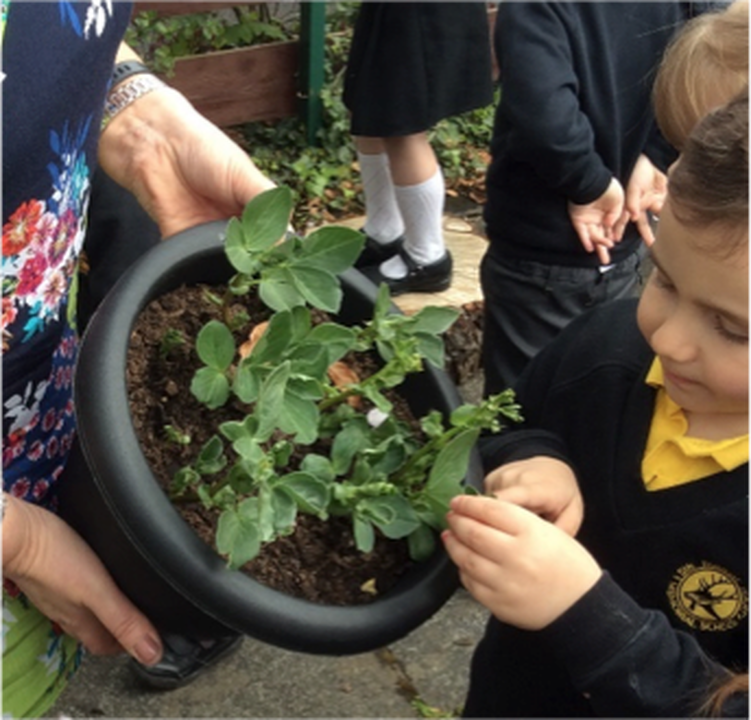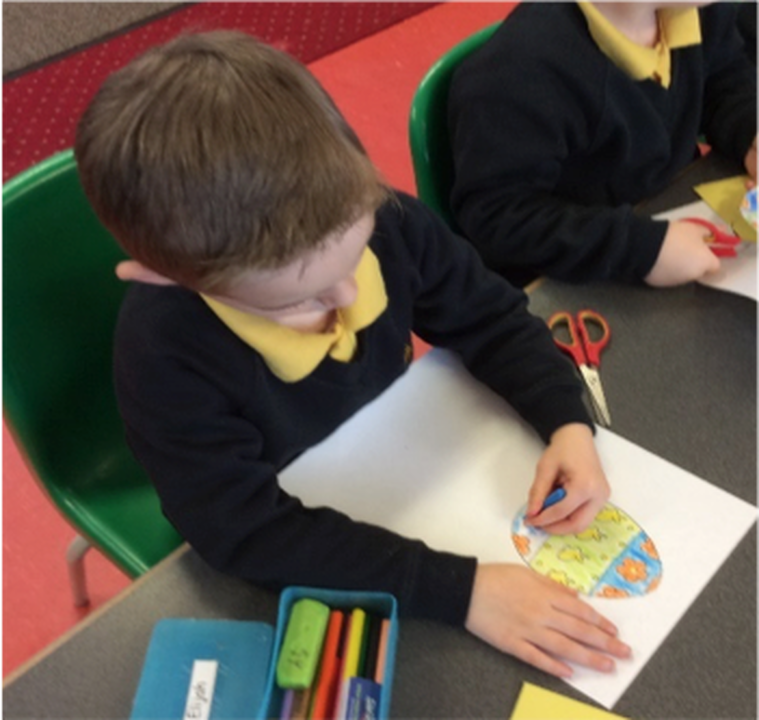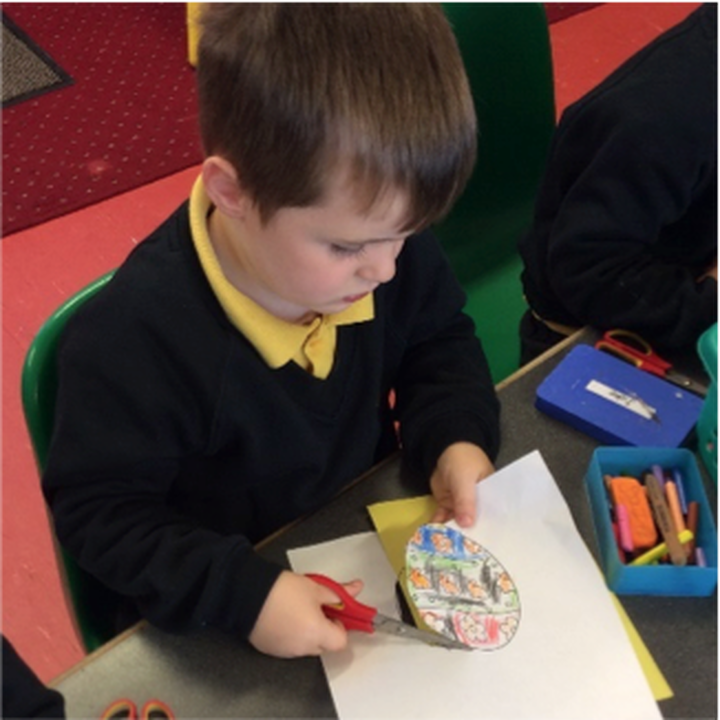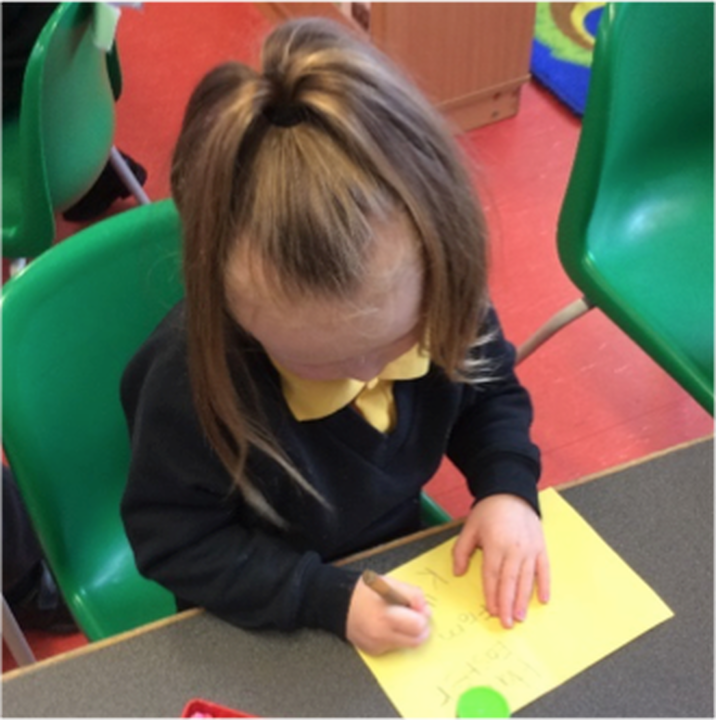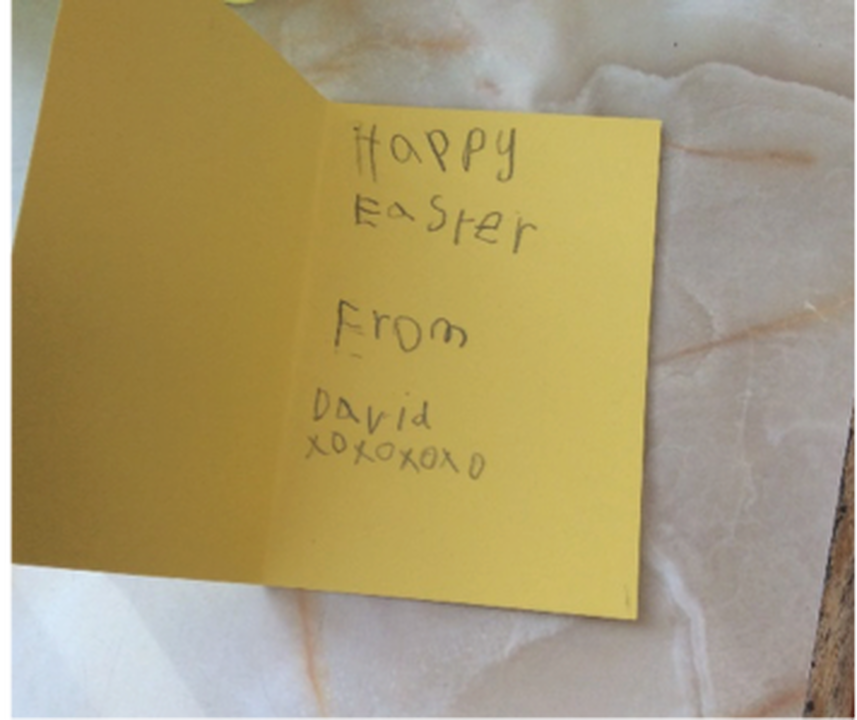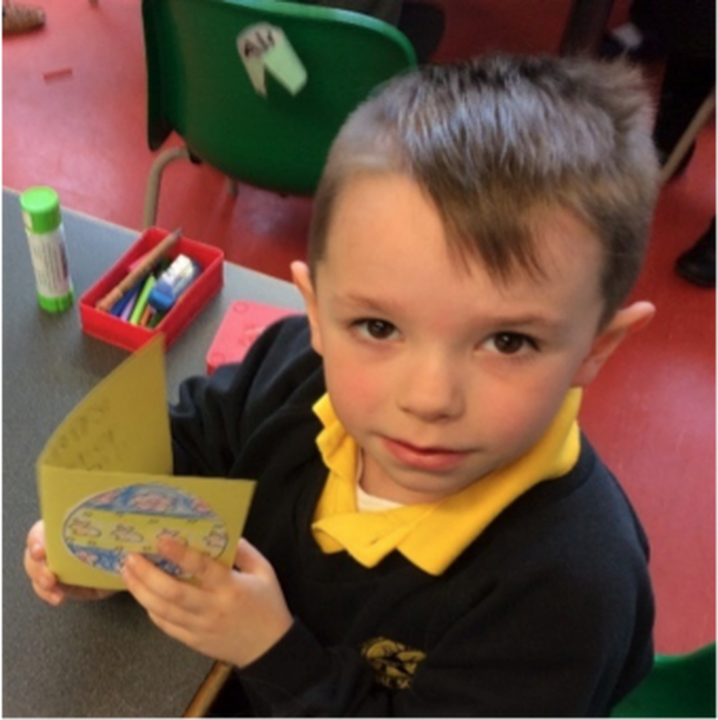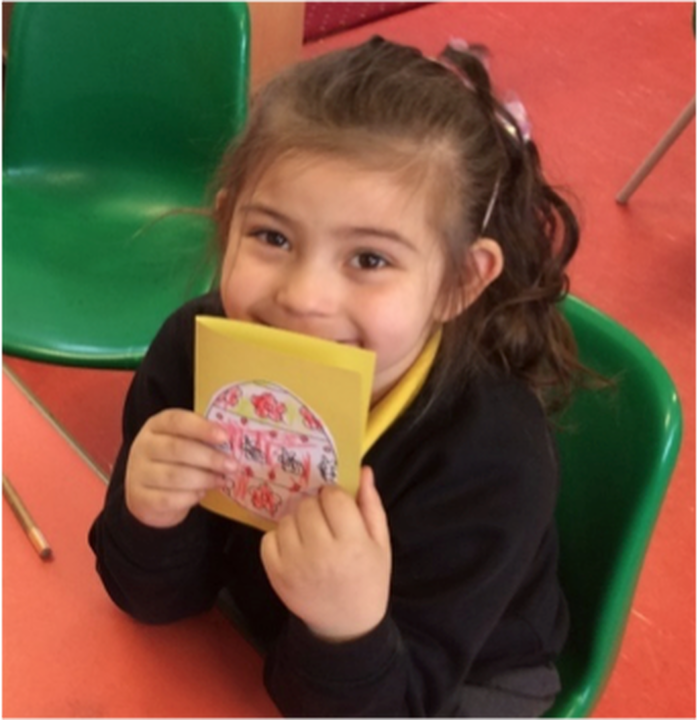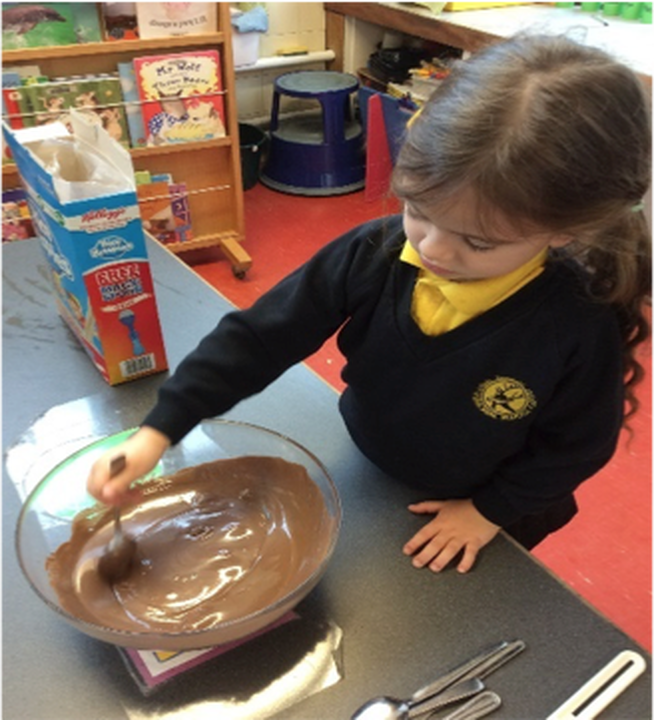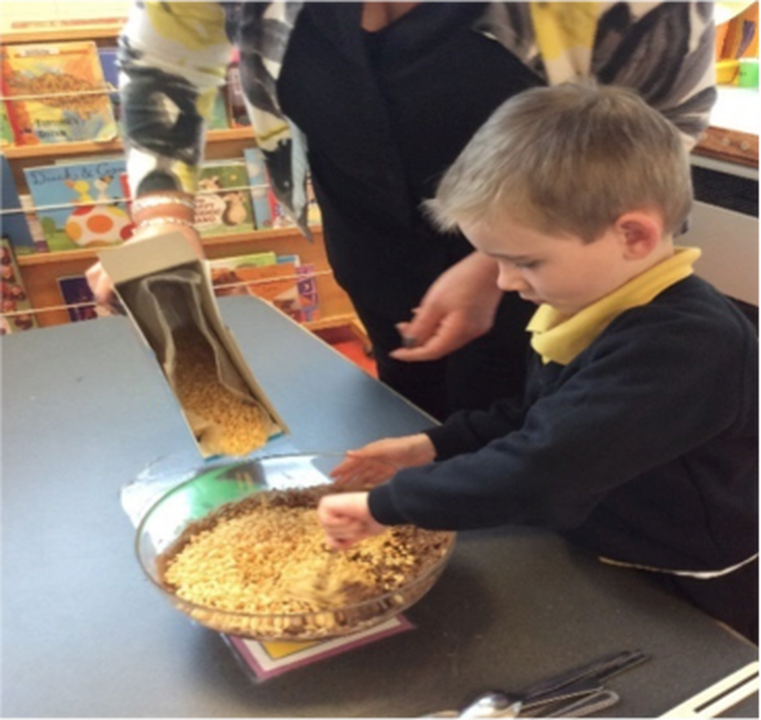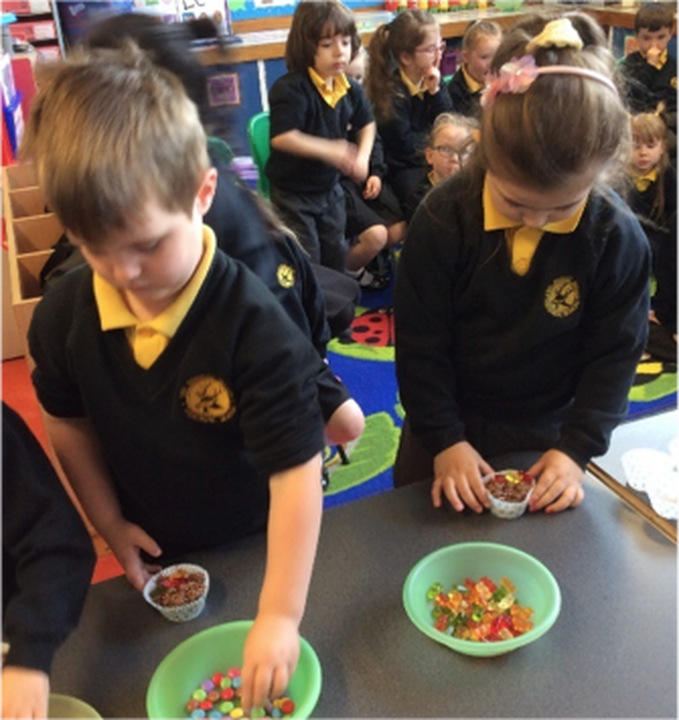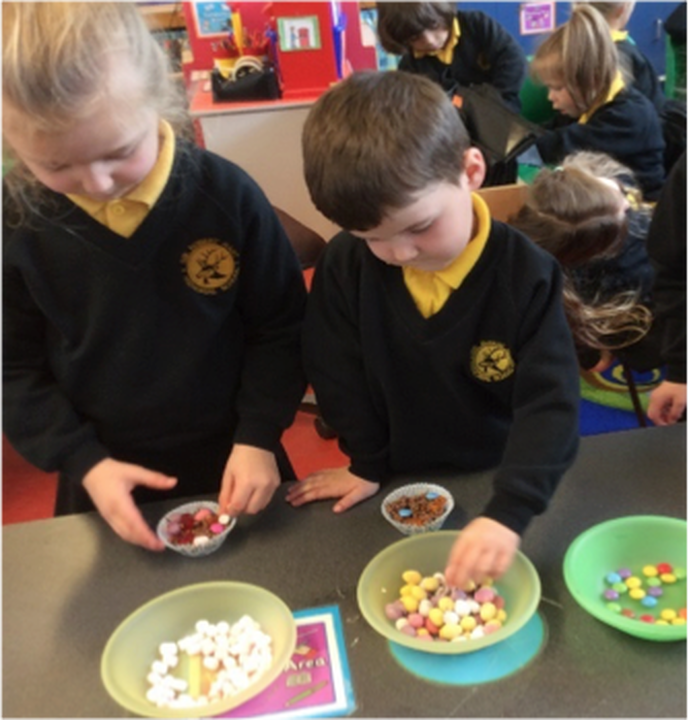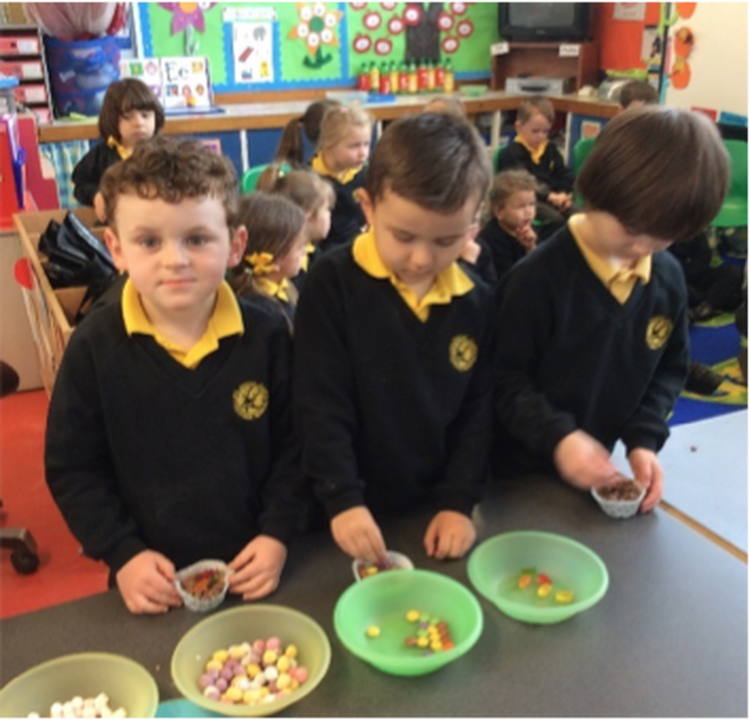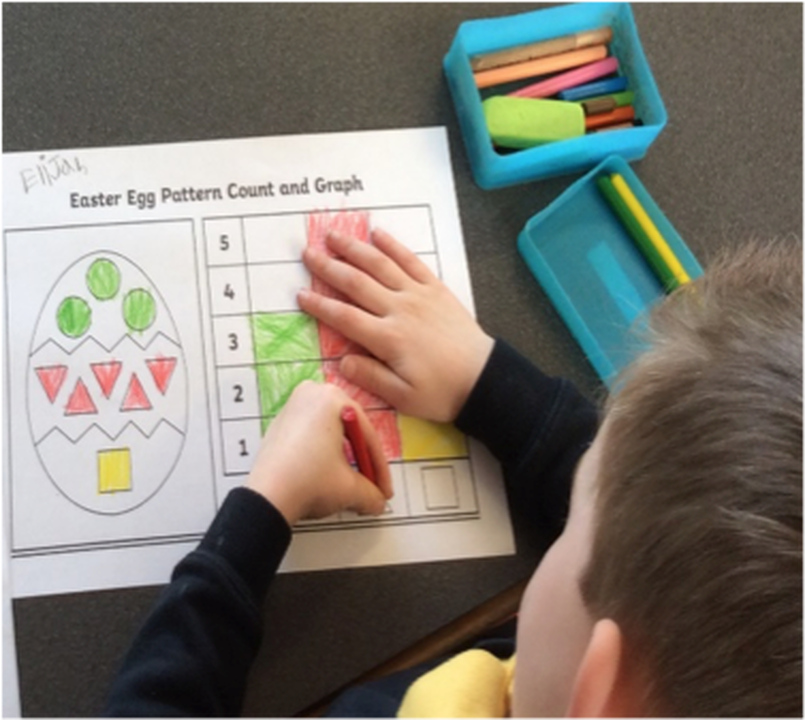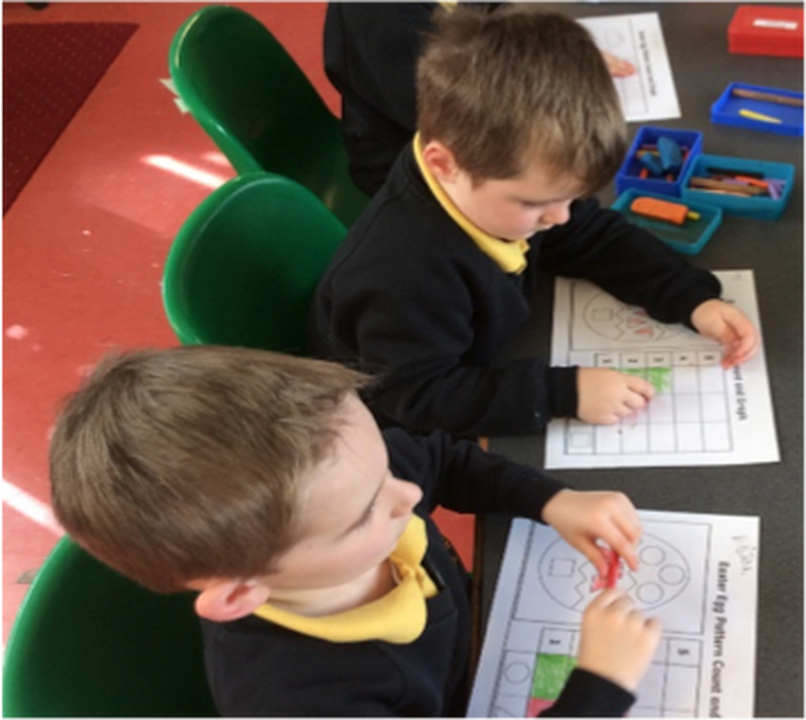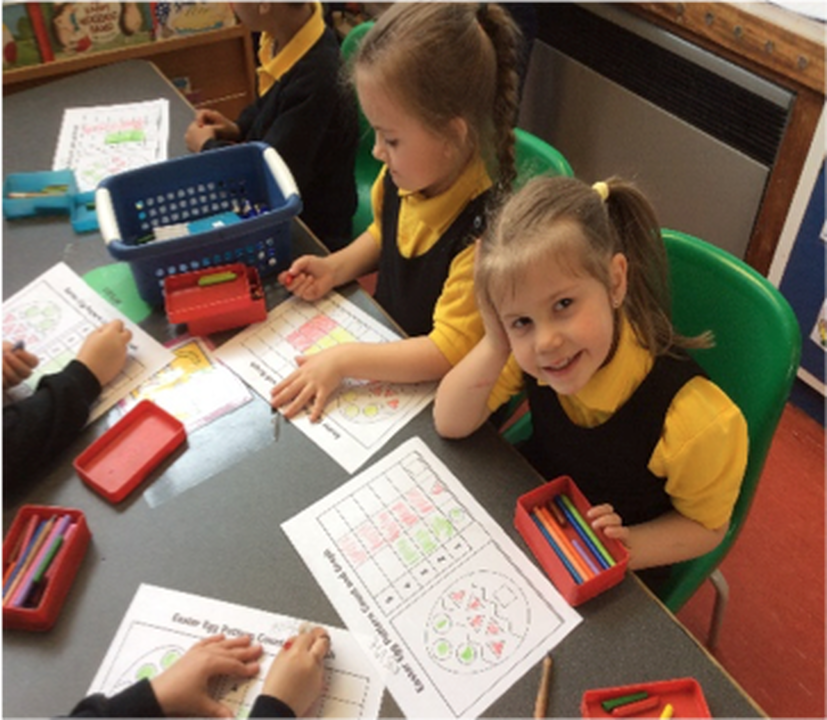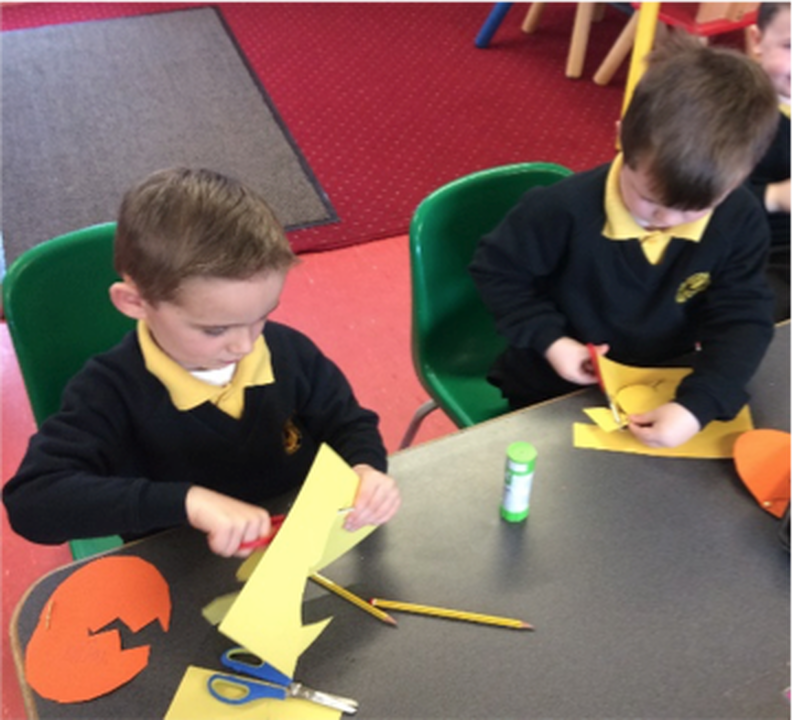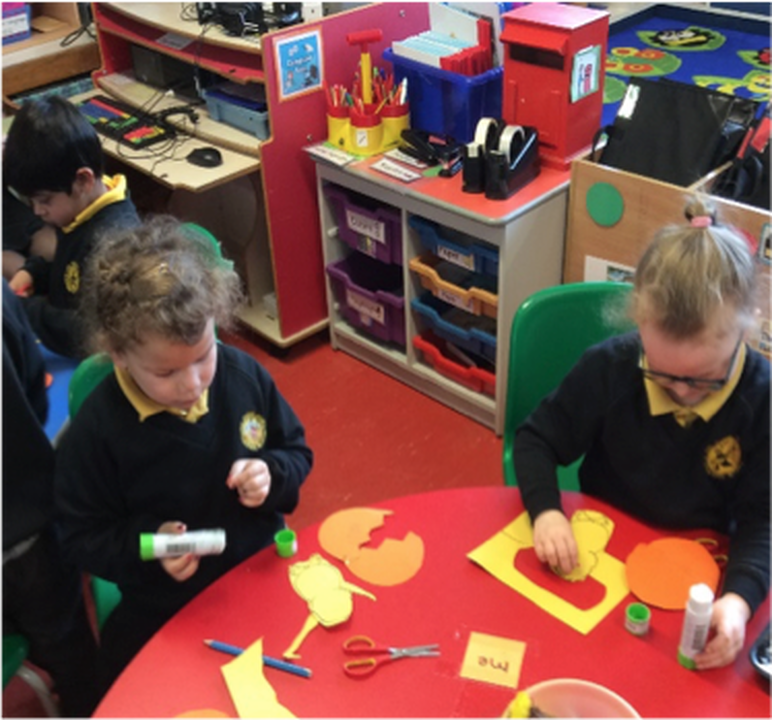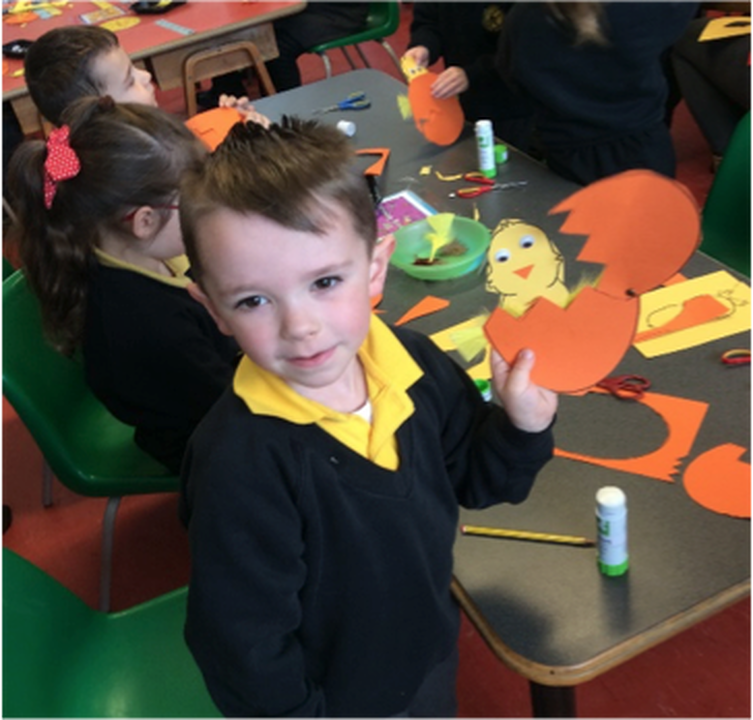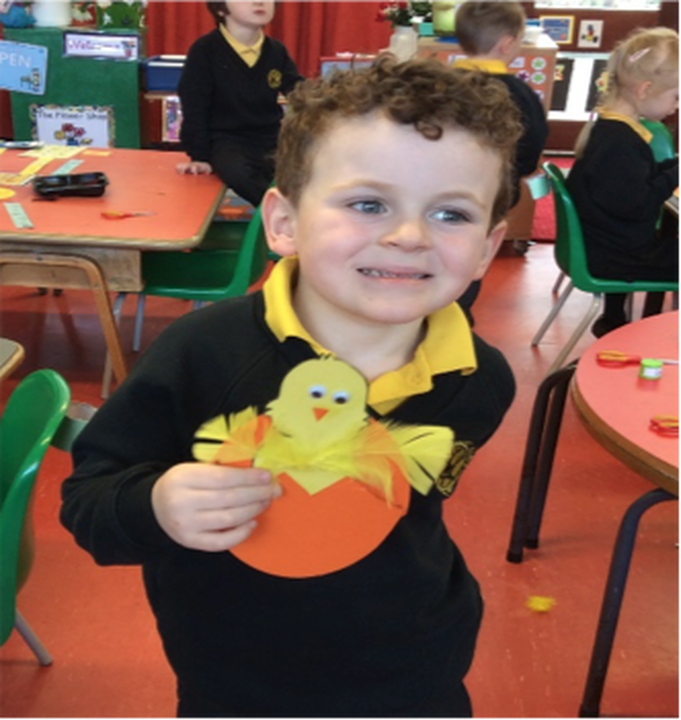 March Play Based Learning
Good times and fun times together during Shared Education including our trip to Tannaghmore Gardens with Presentation P. S.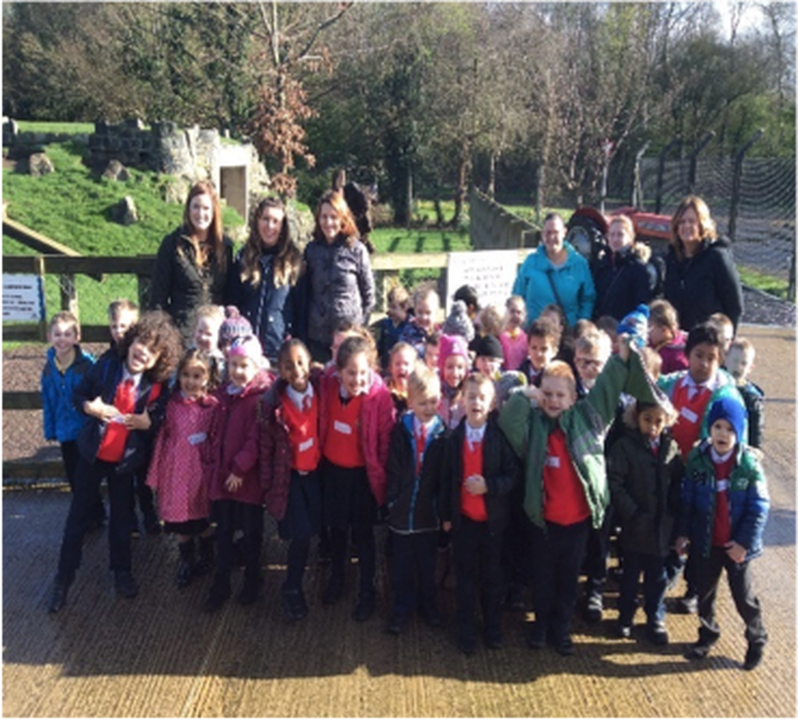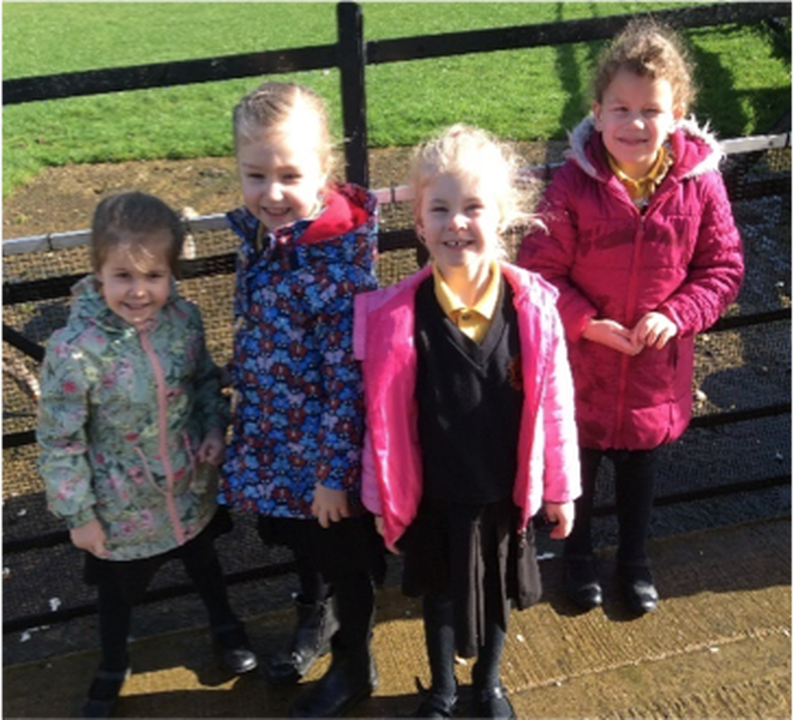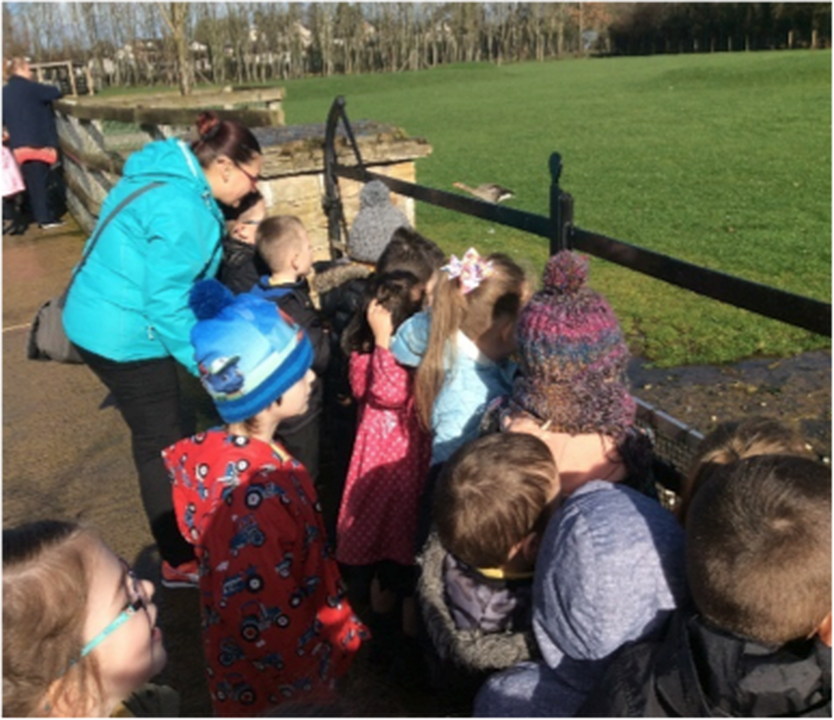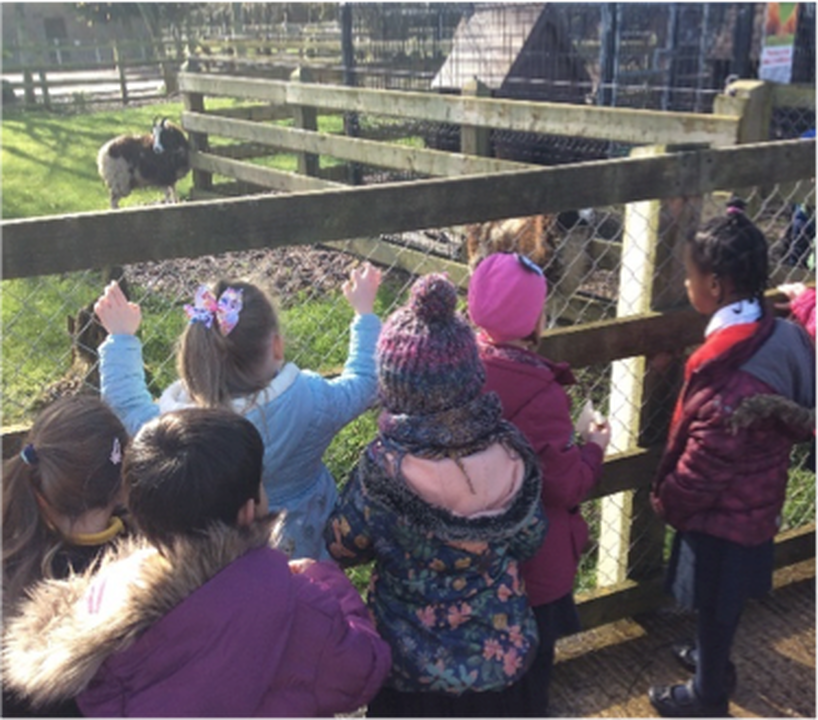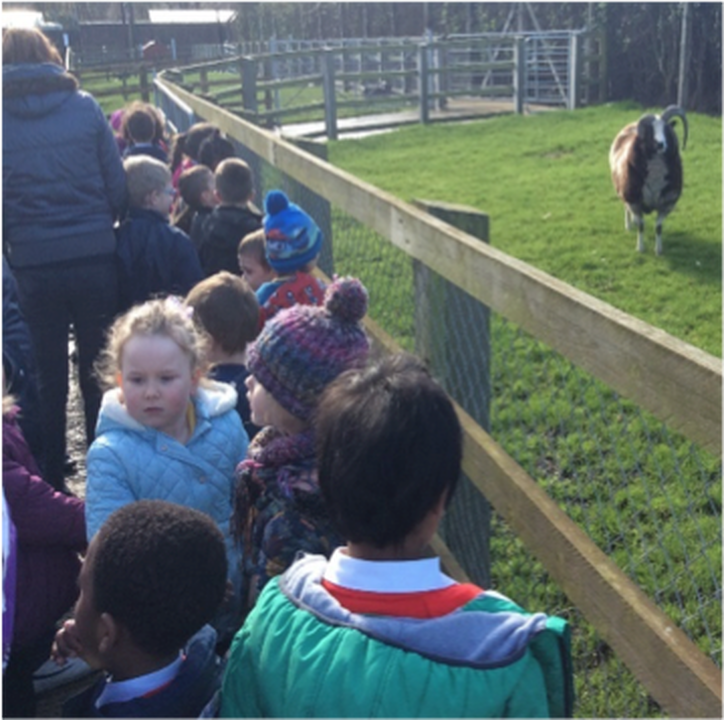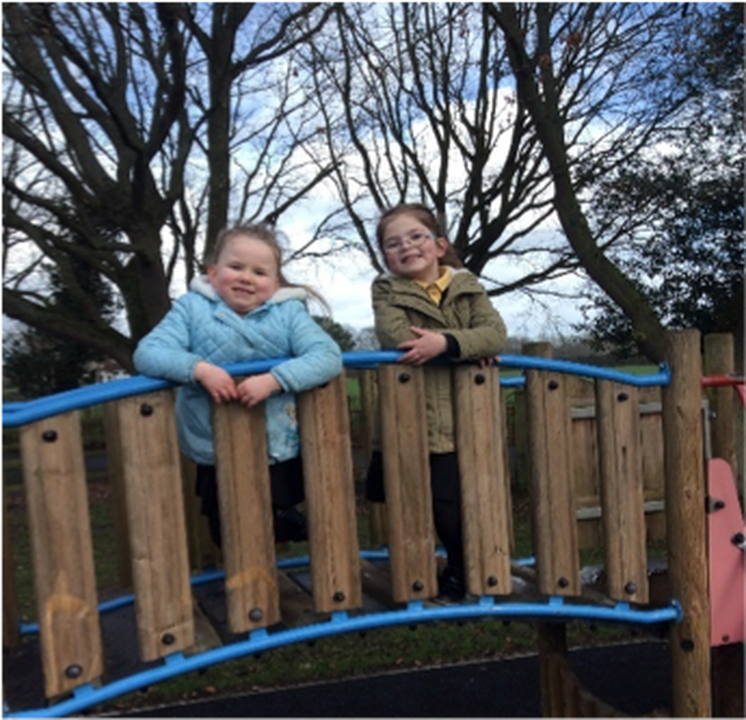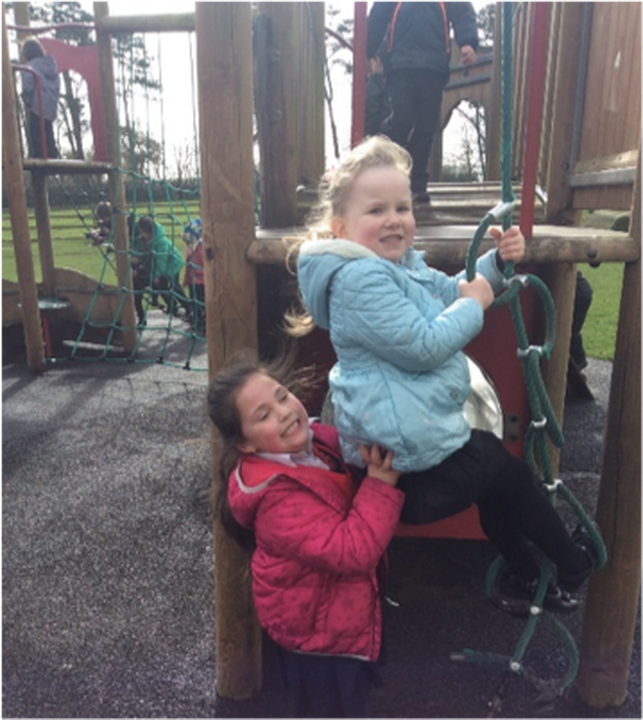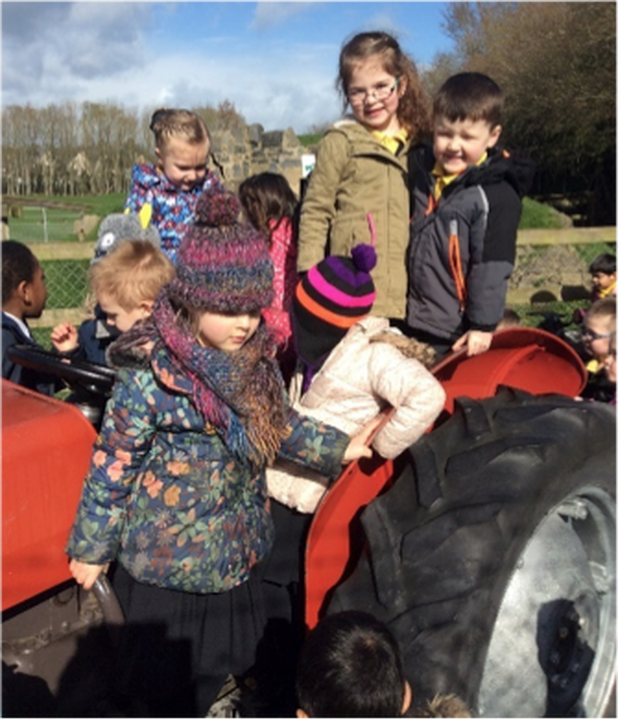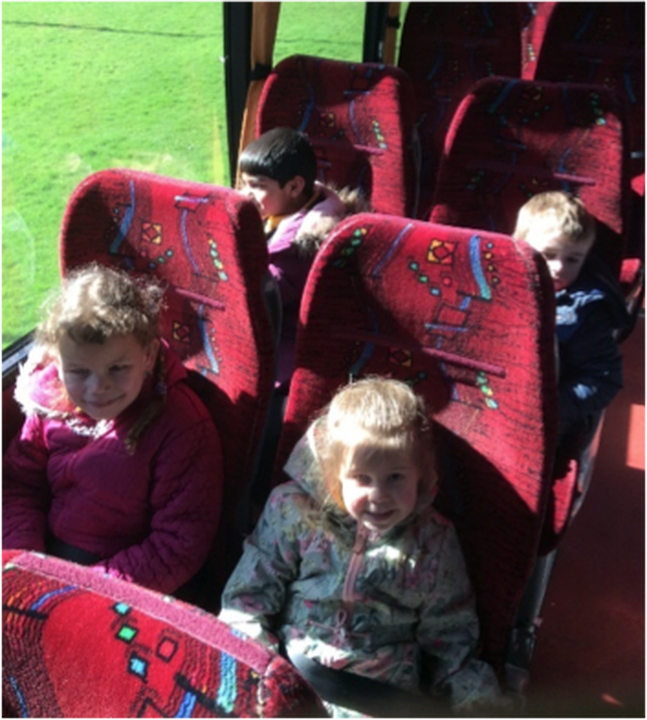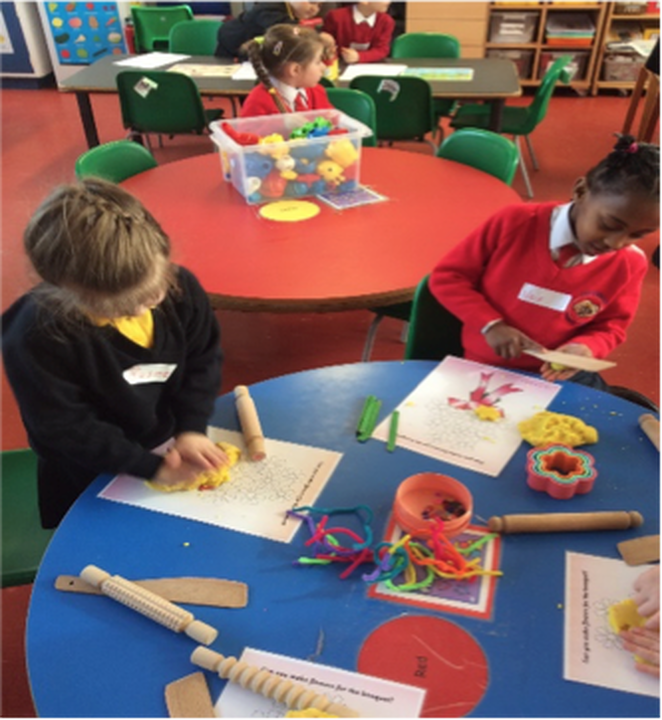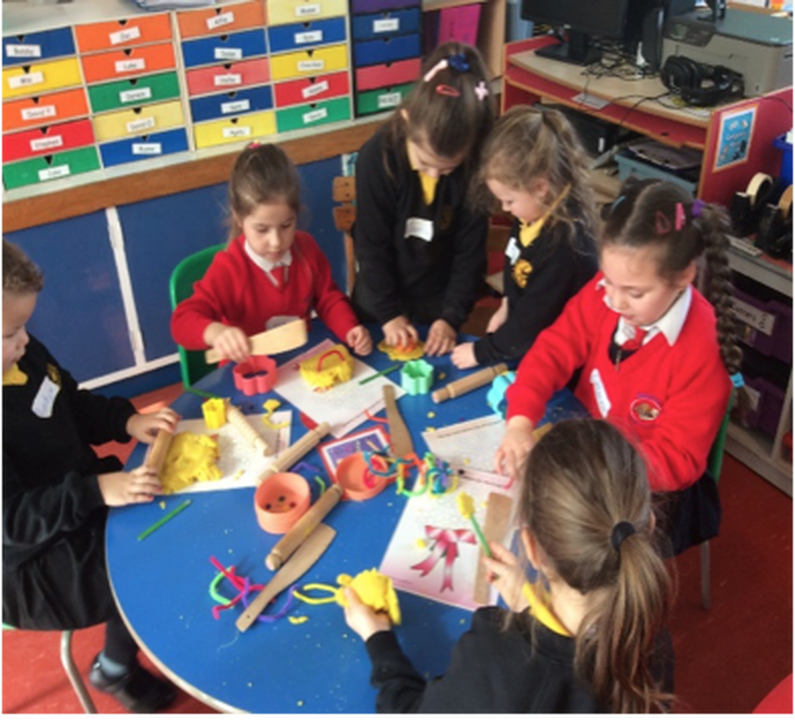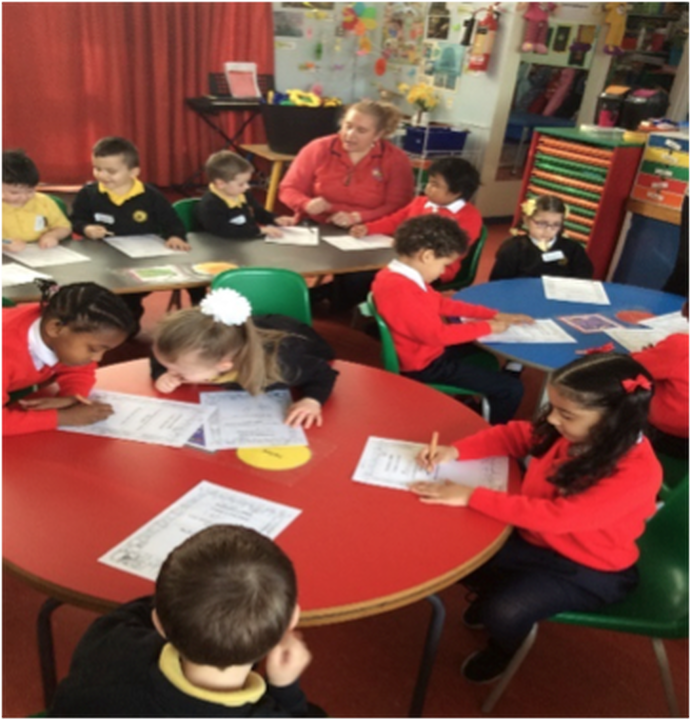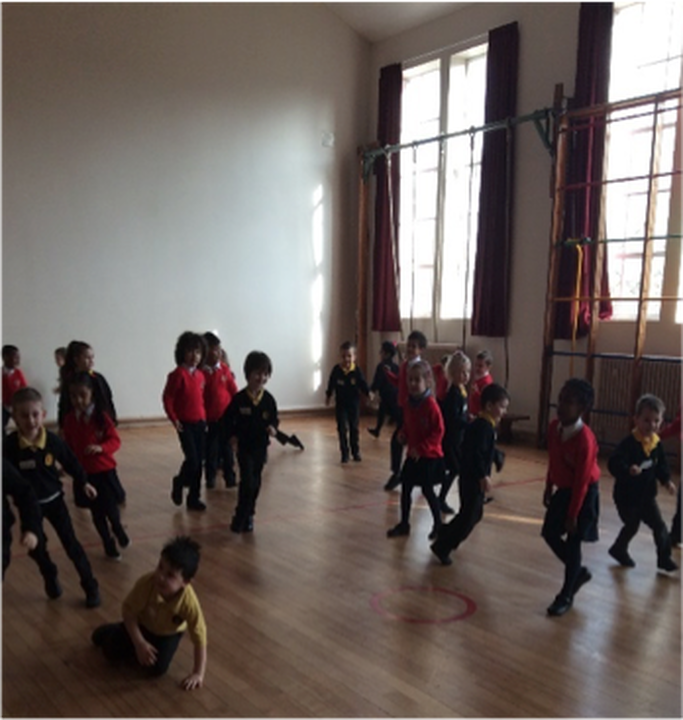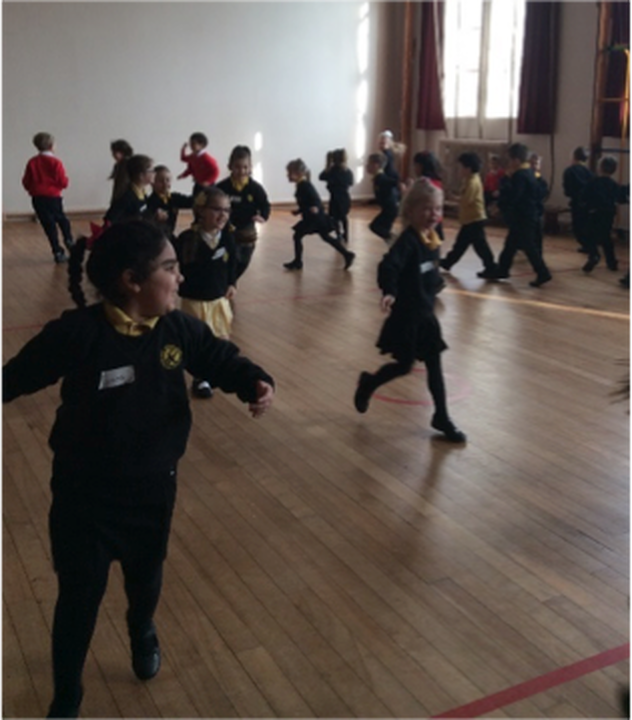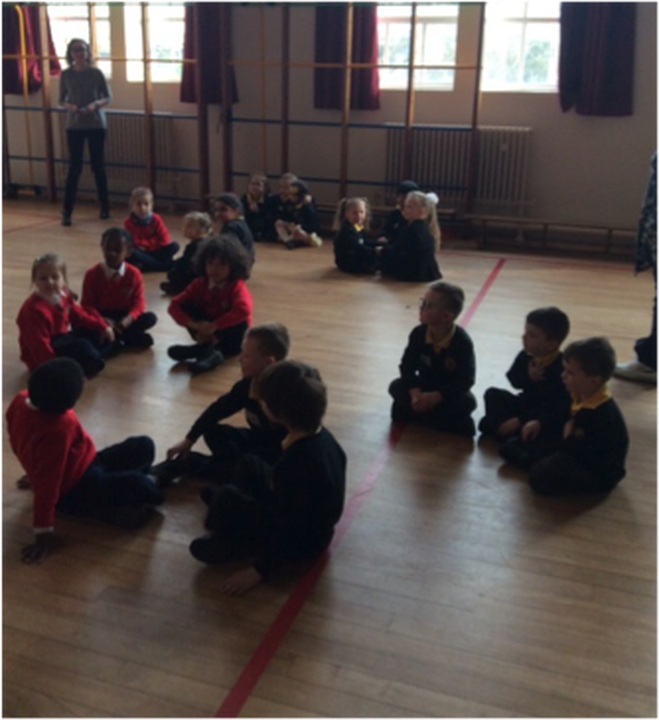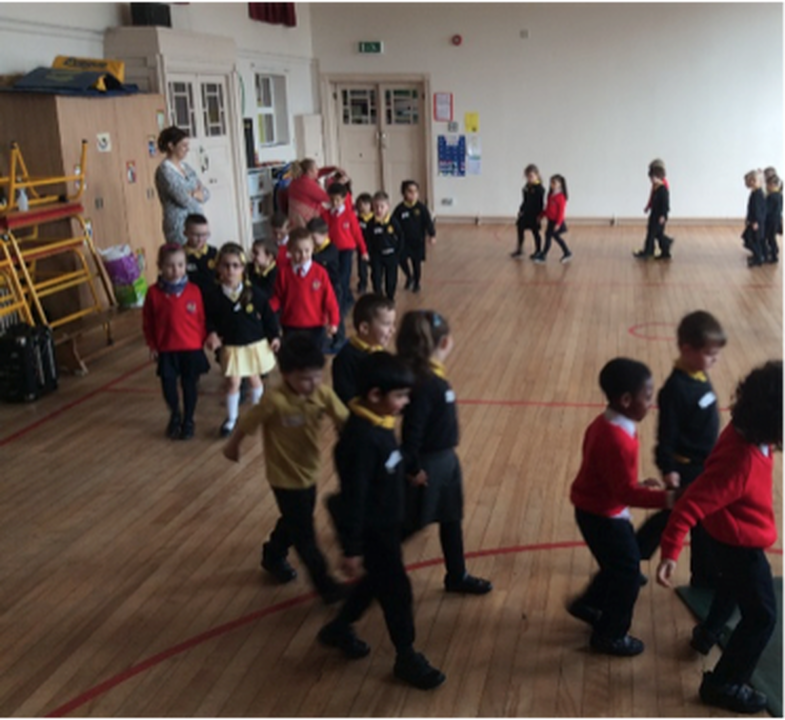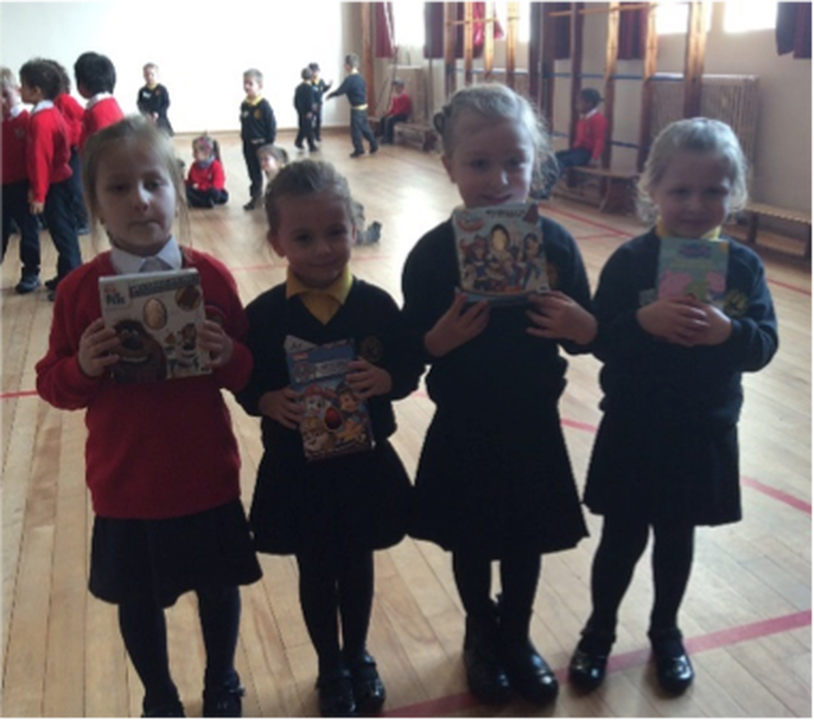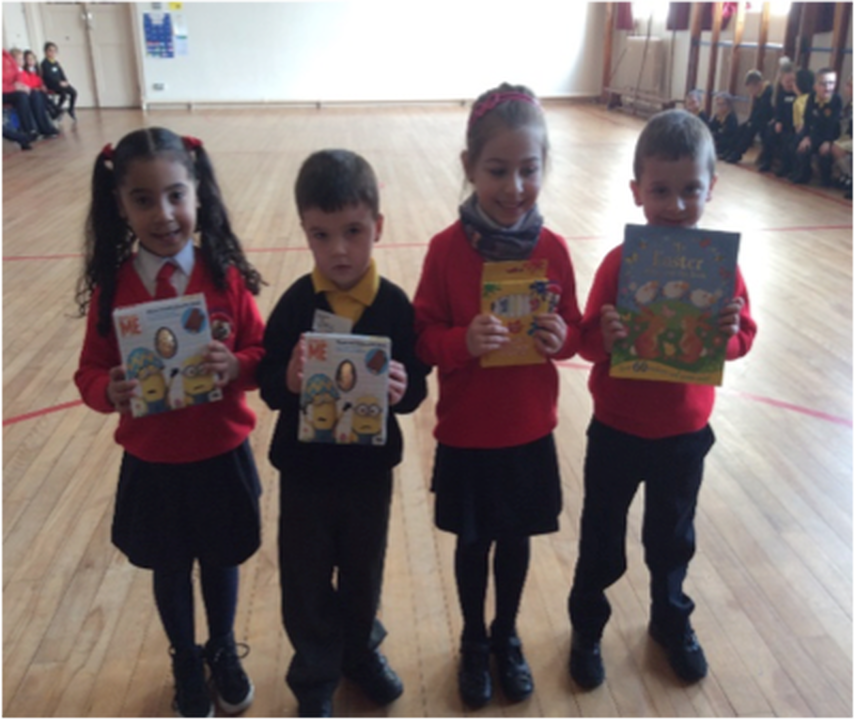 We had great fun re-telling the story 'The Enormous Turnip' through Drama.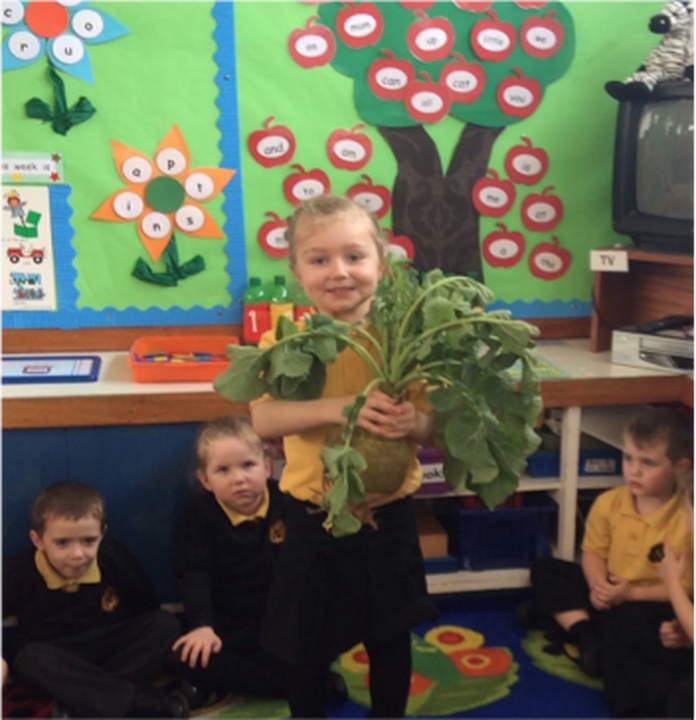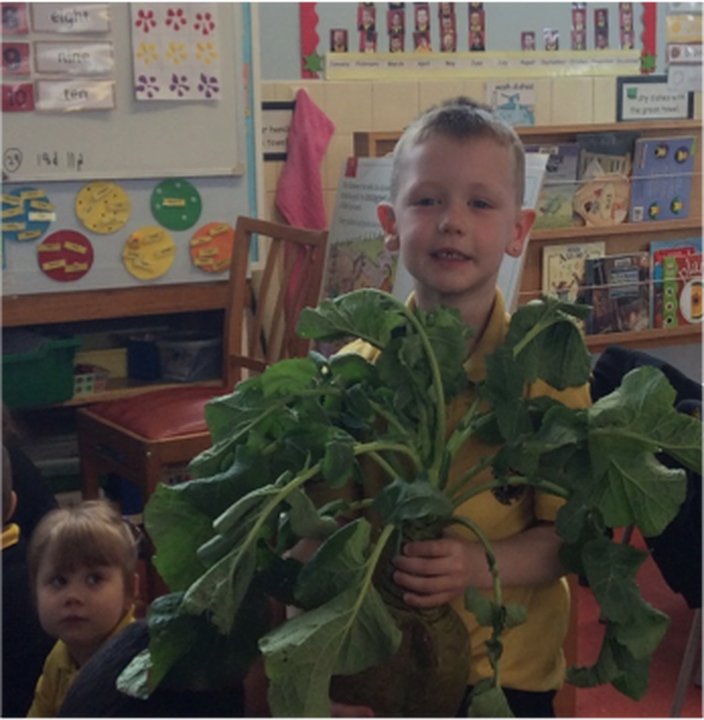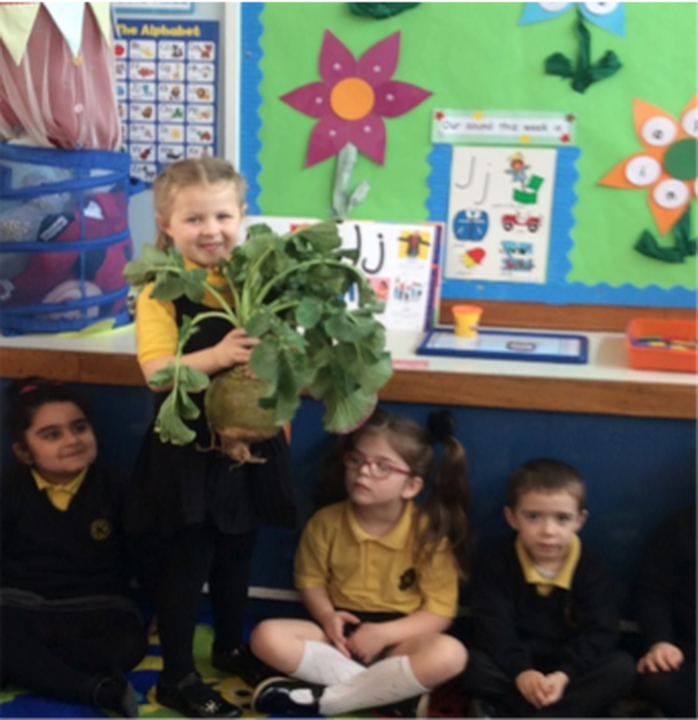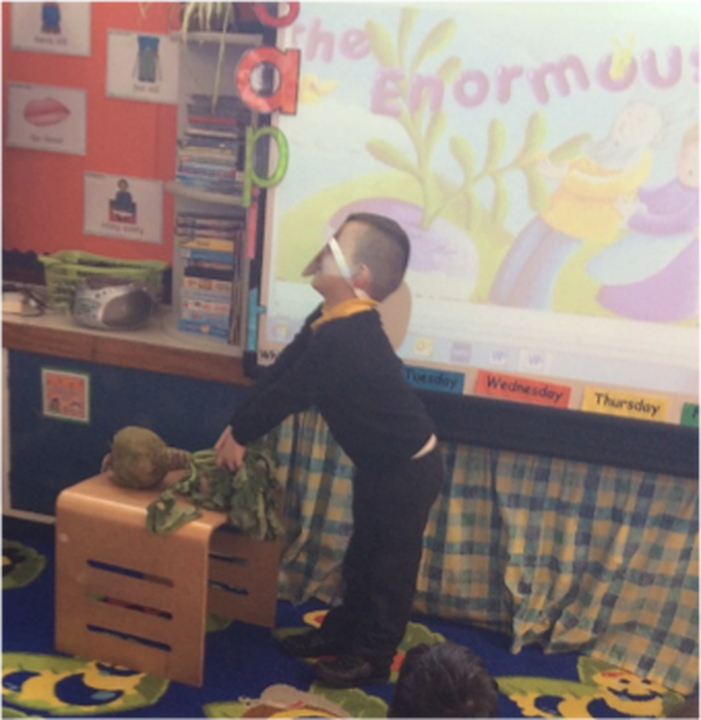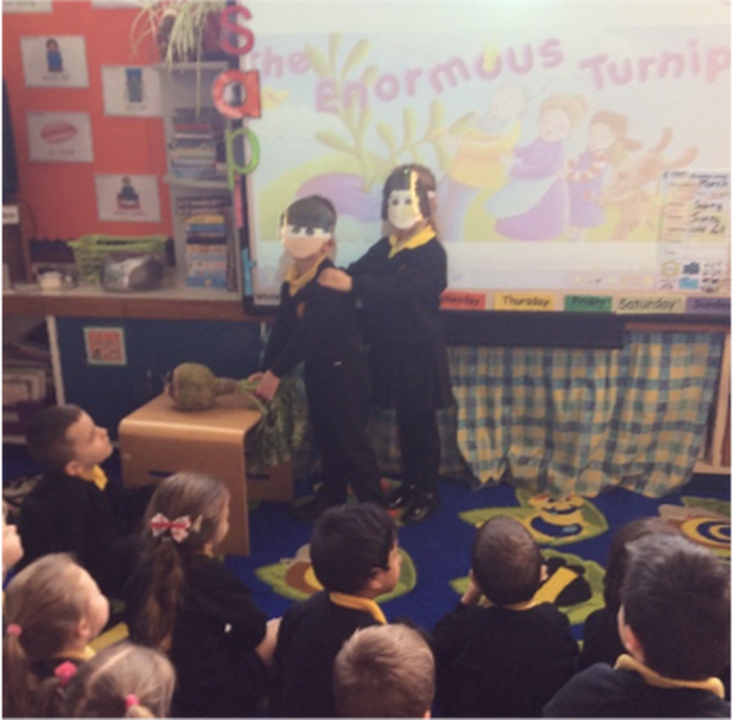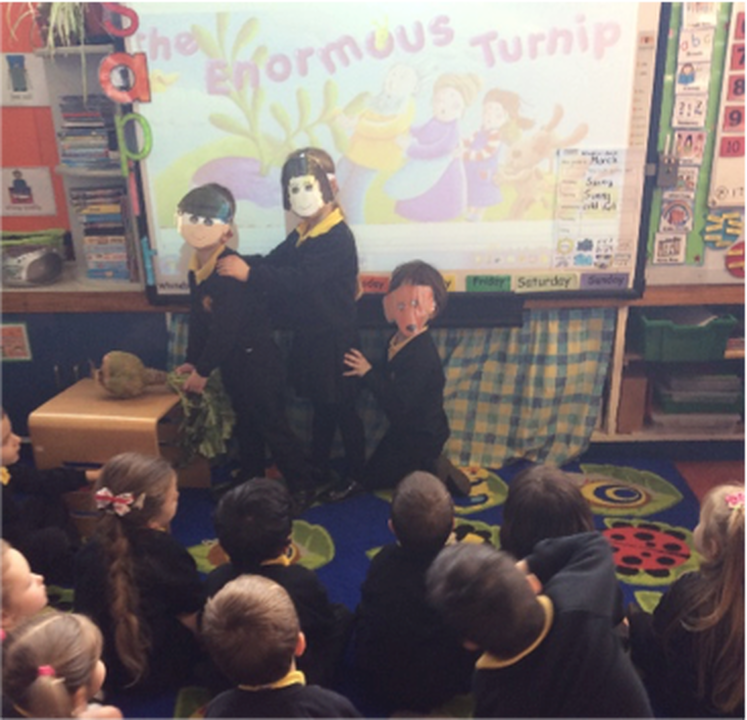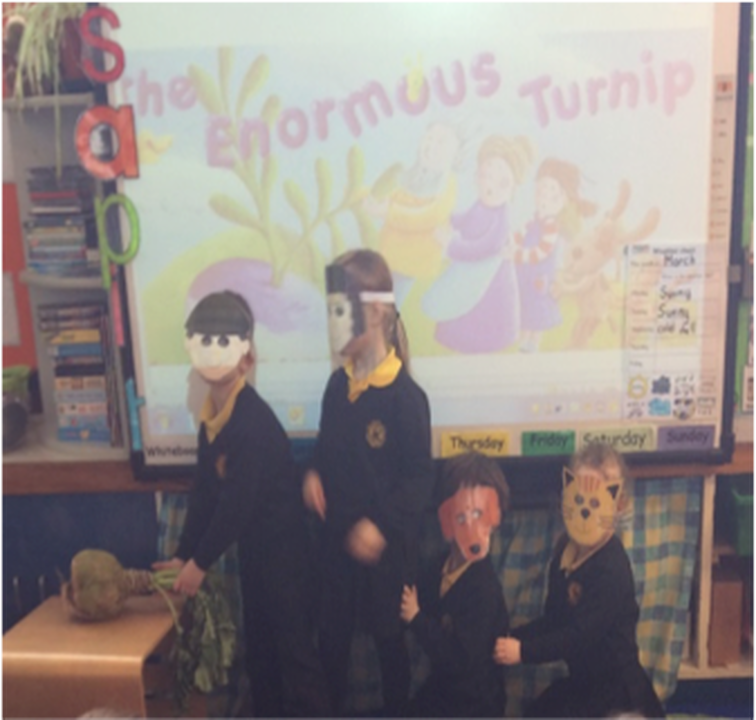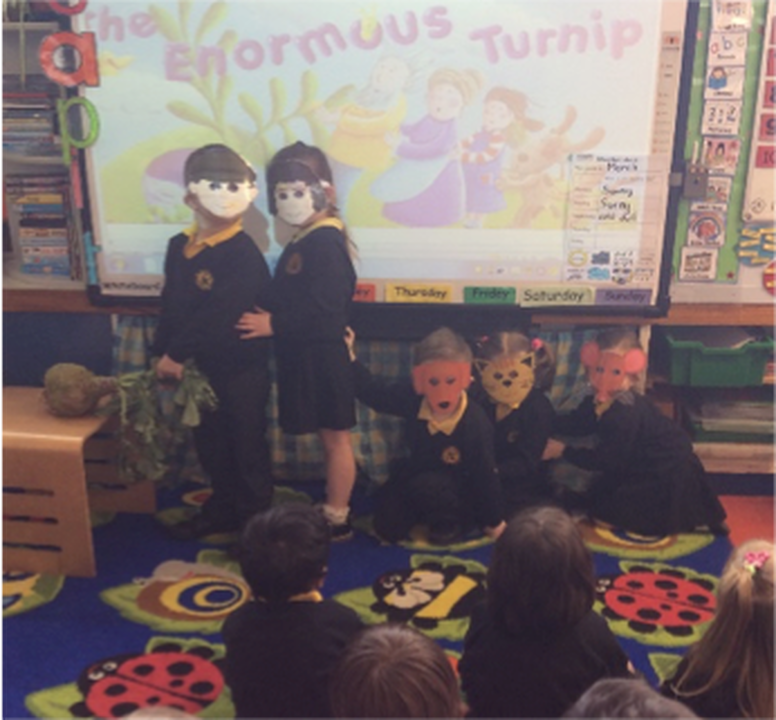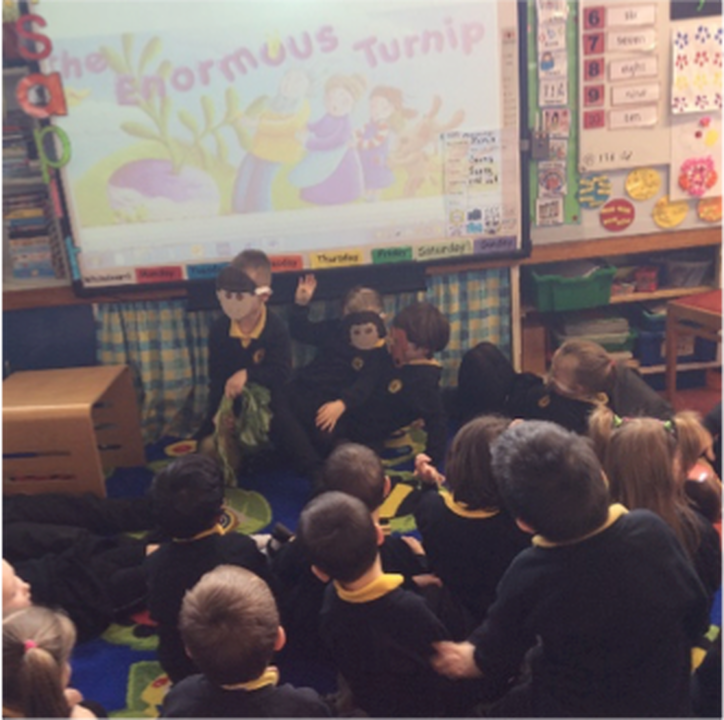 We have been making friends with the boys and girls from Presentation Primary School over recent weeks, we are all looking forward to our trip together next week.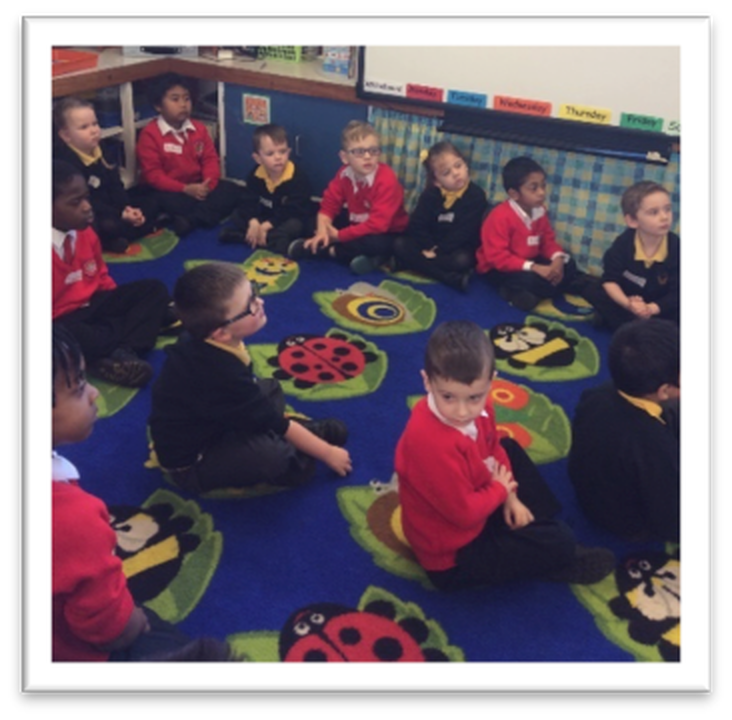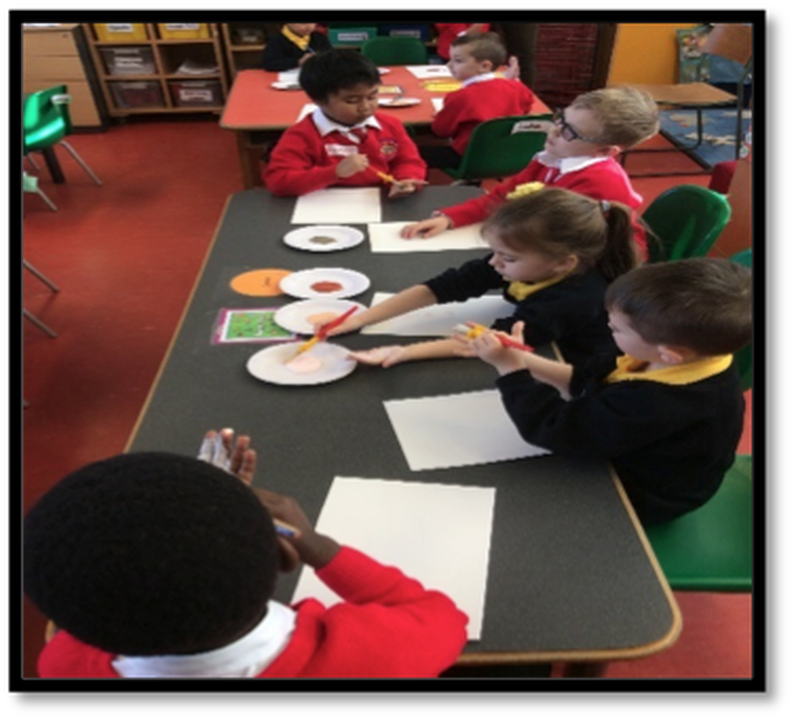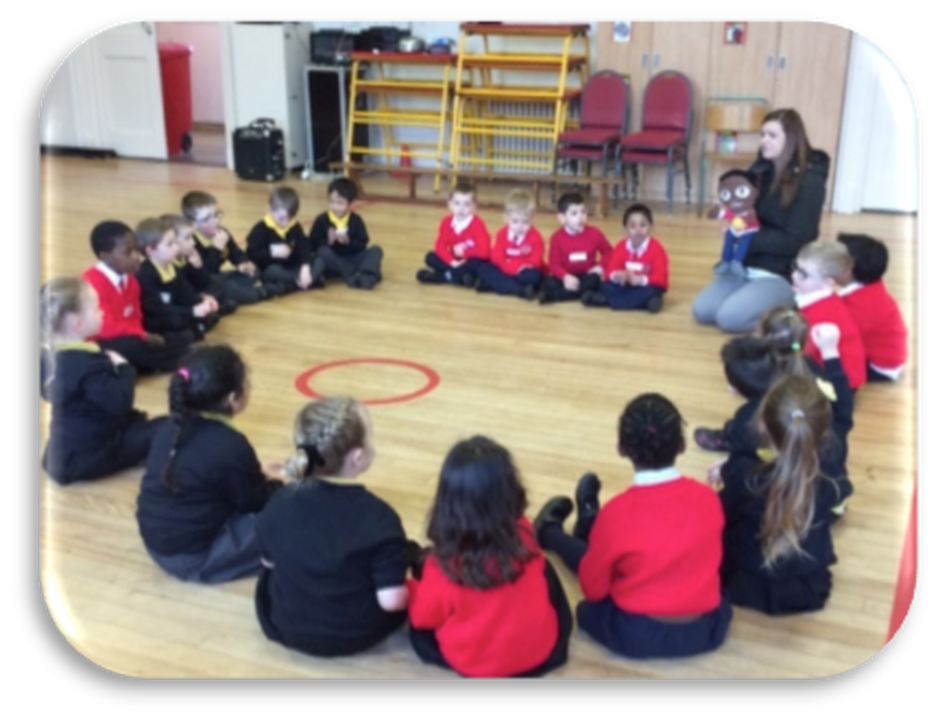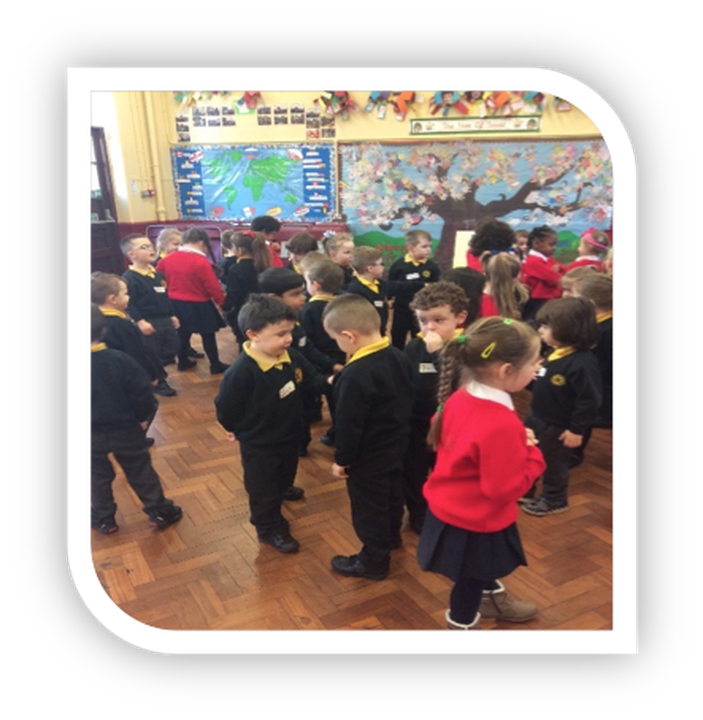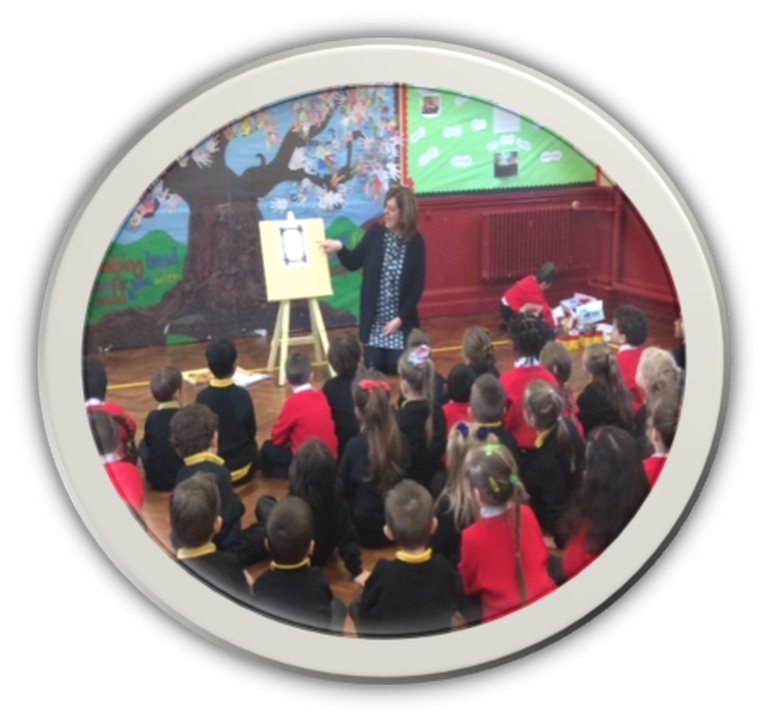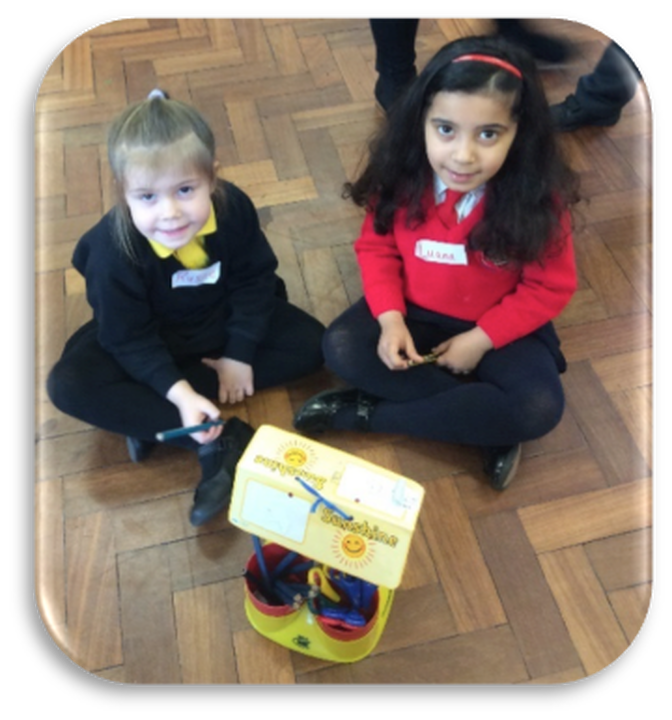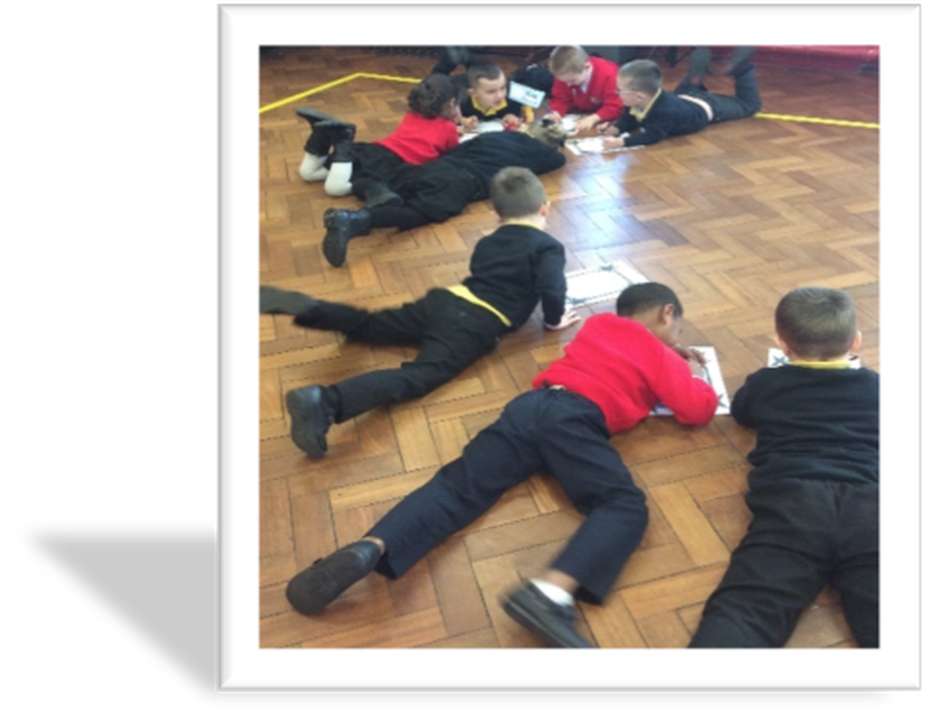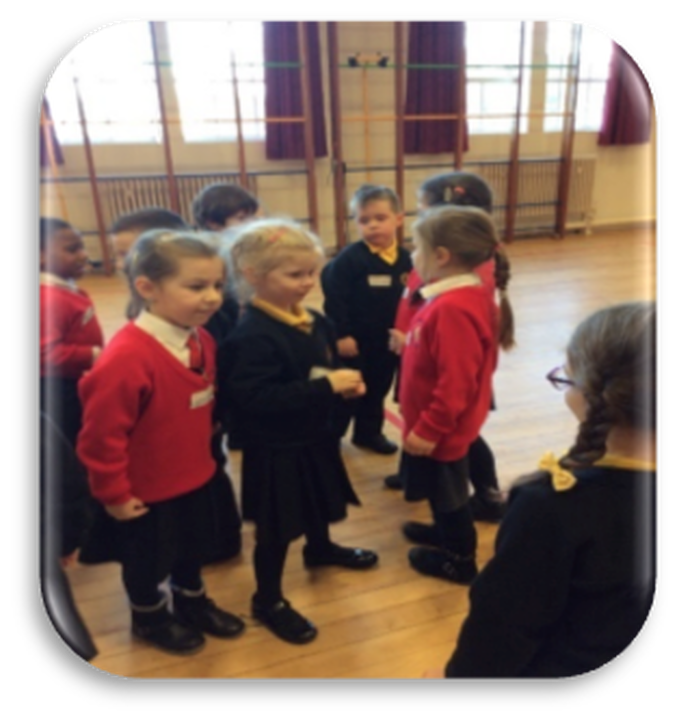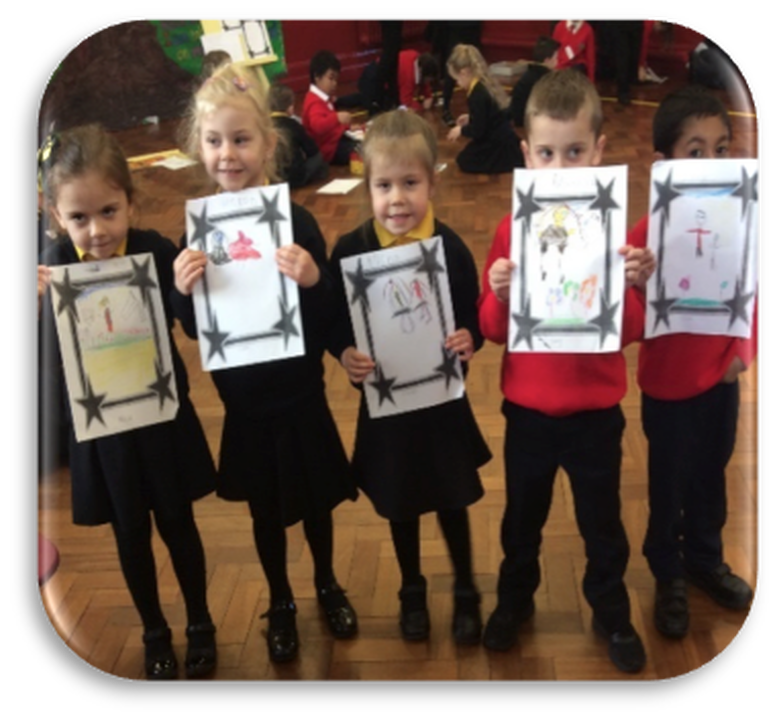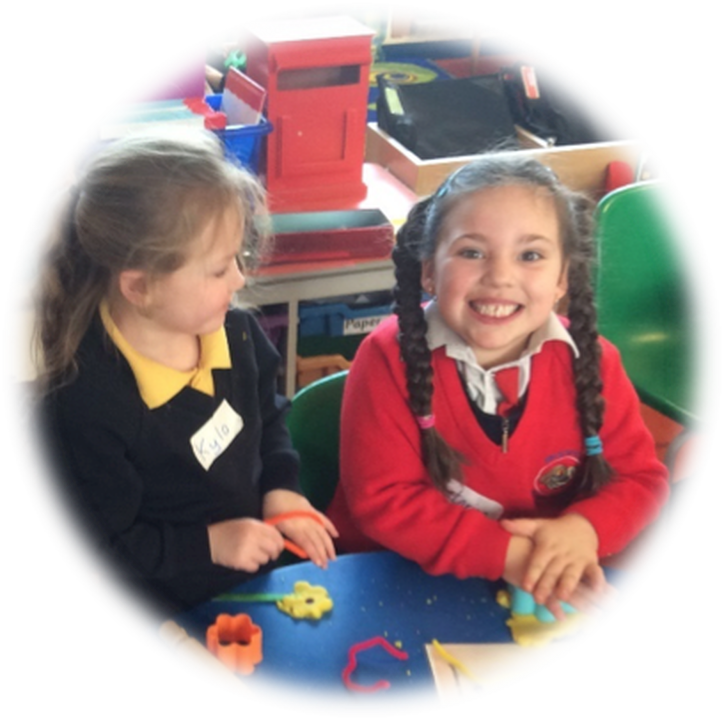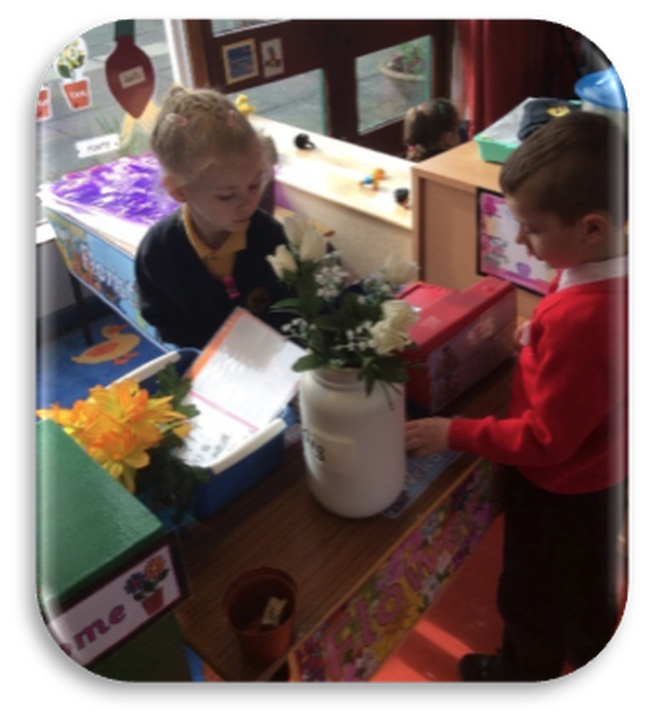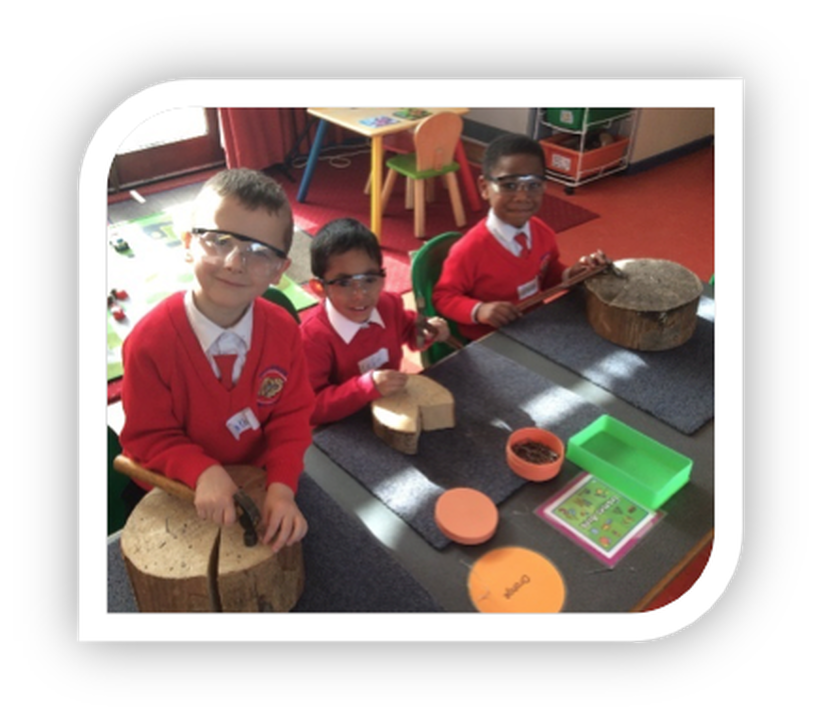 We are enjoying our World Around Us Topic on 'Spring' this term.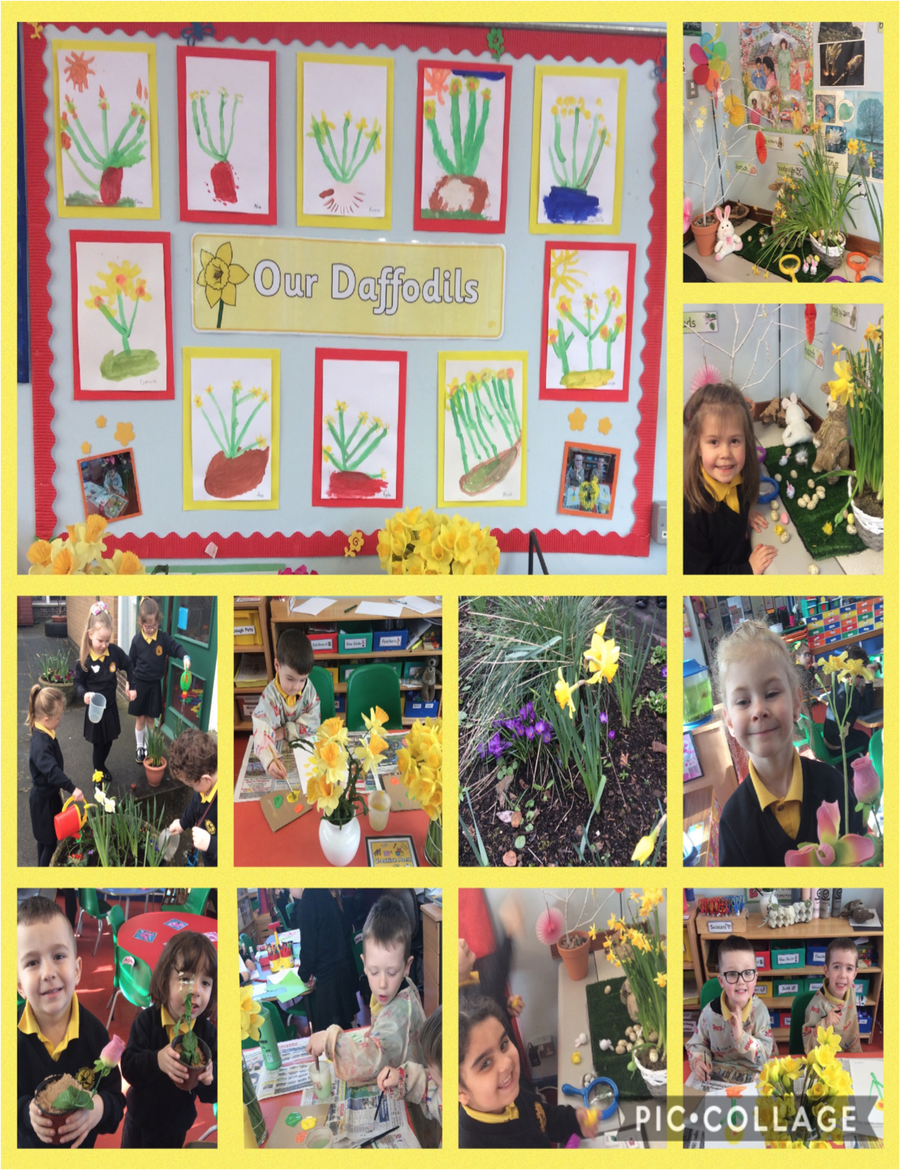 We used magnifying glasses to look closely at the Spring plants before completing our fabulous observational drawings using oil pastels. We later did some planting in the garden.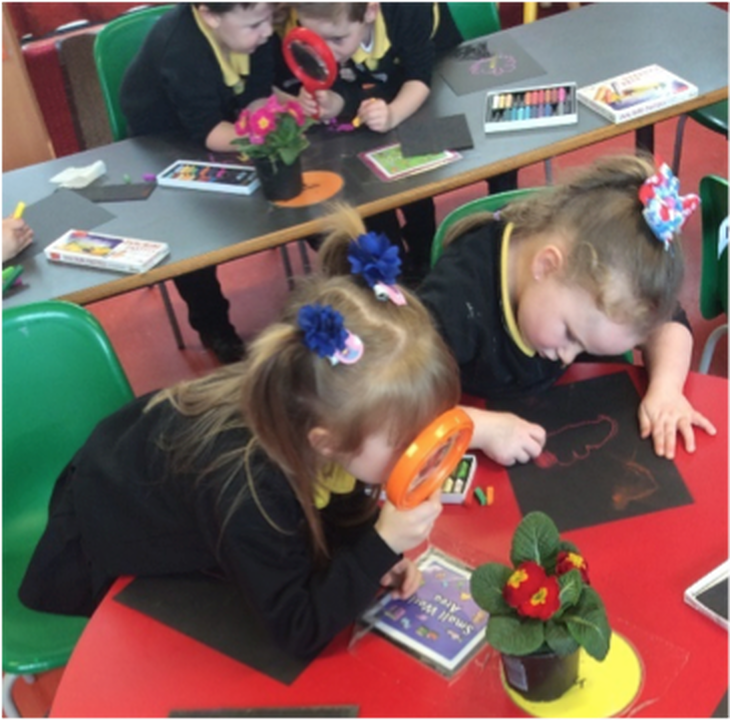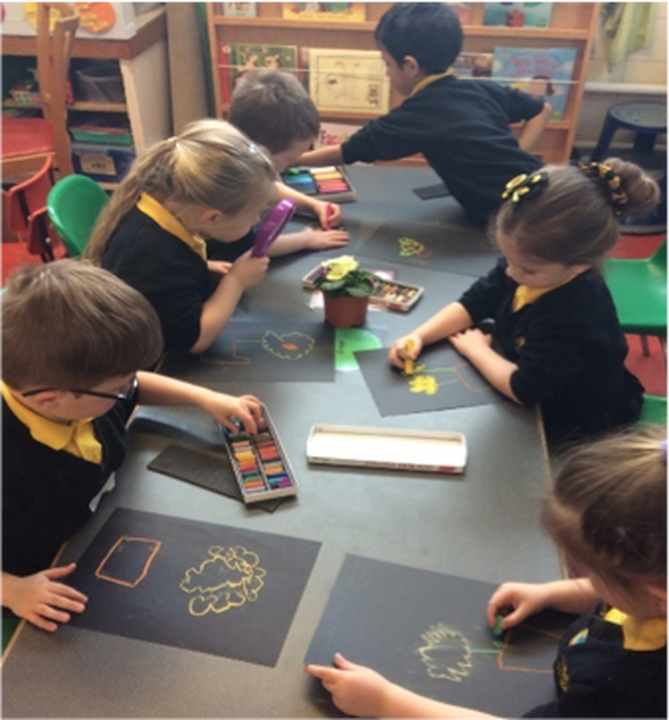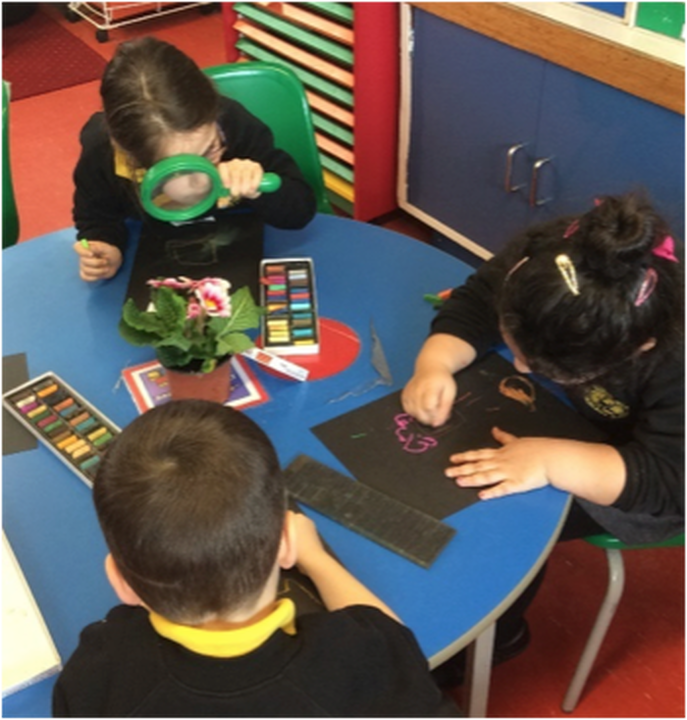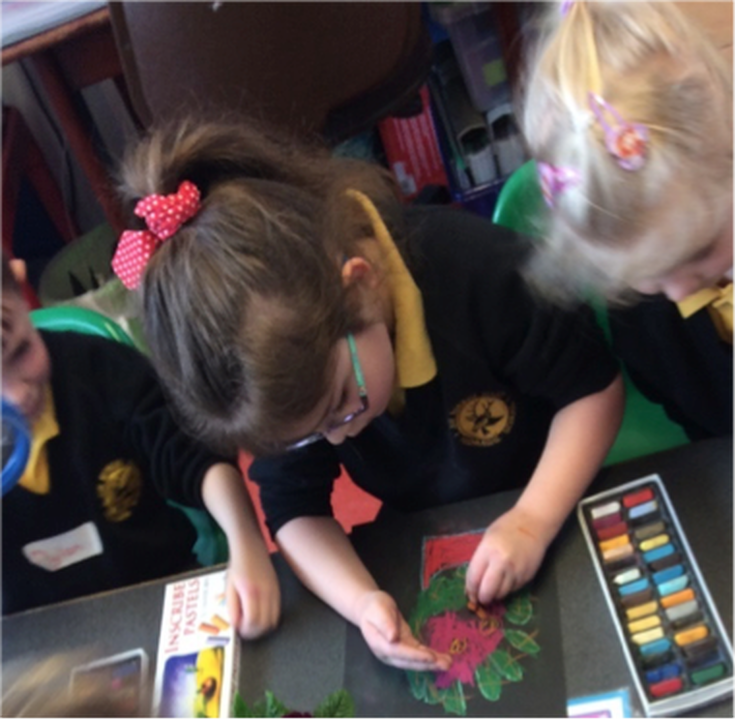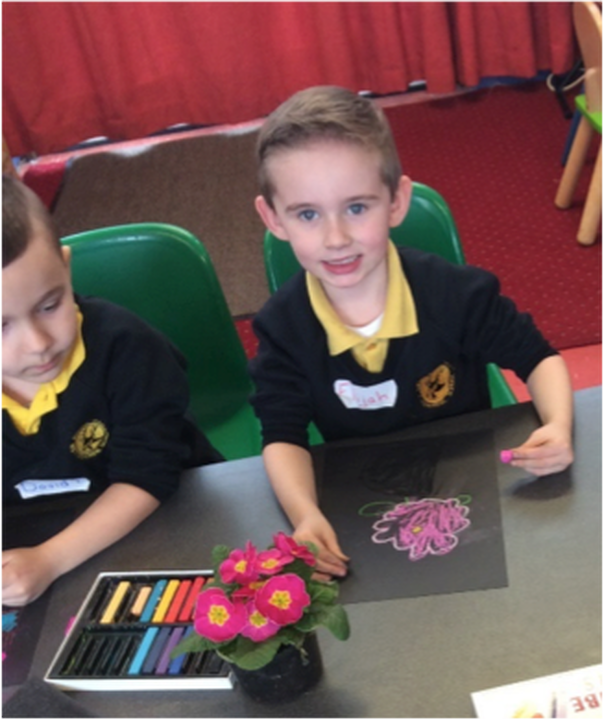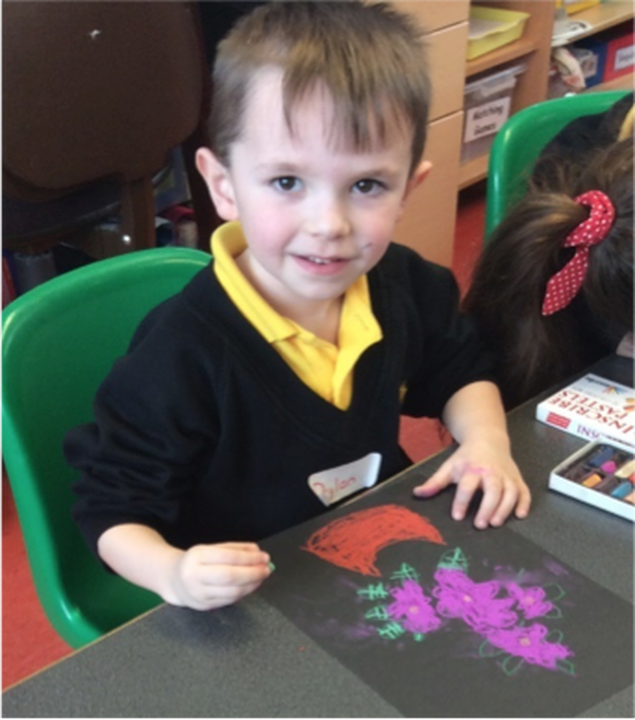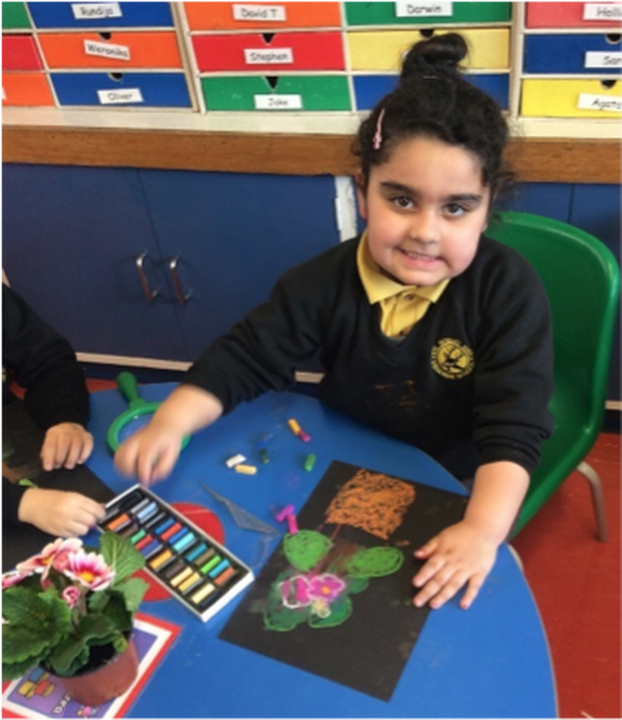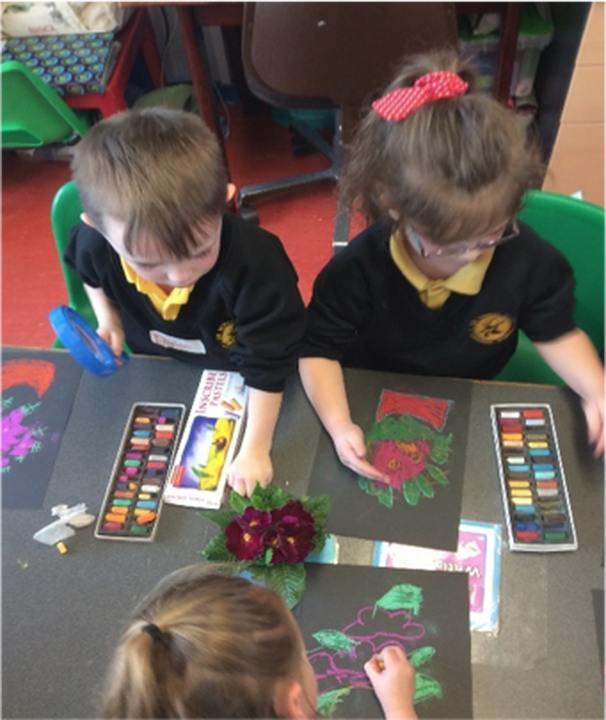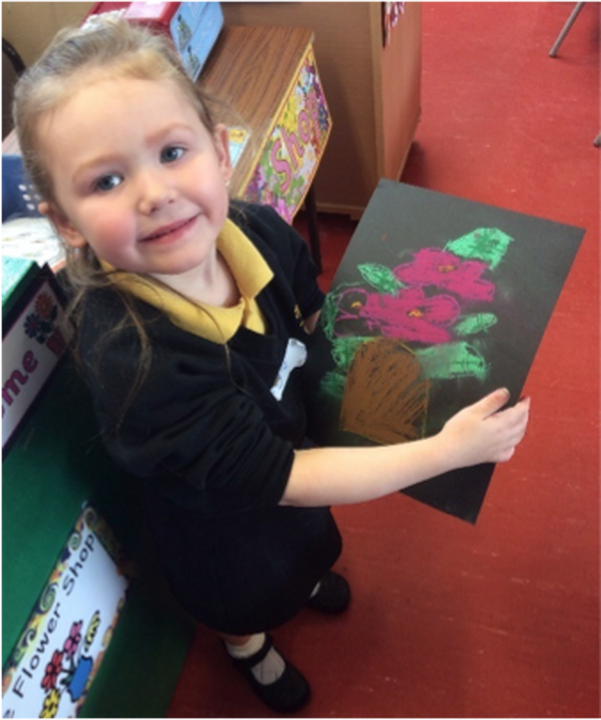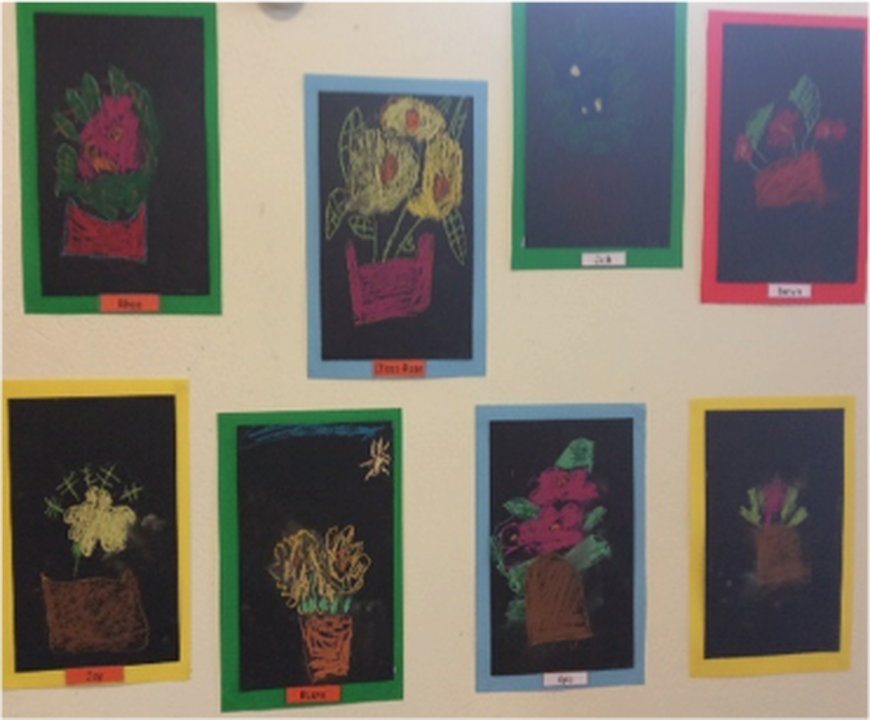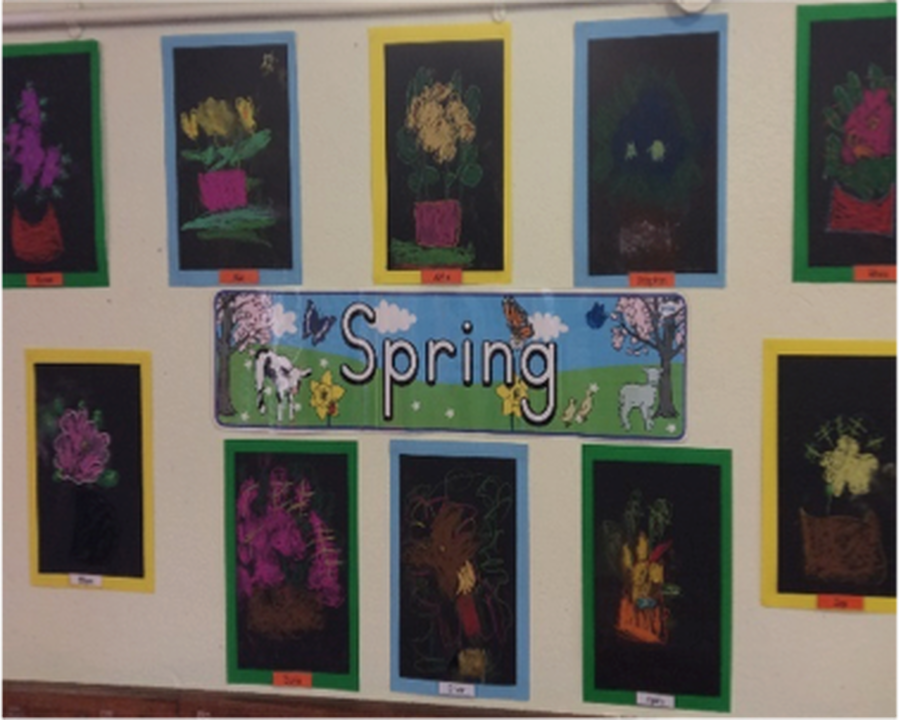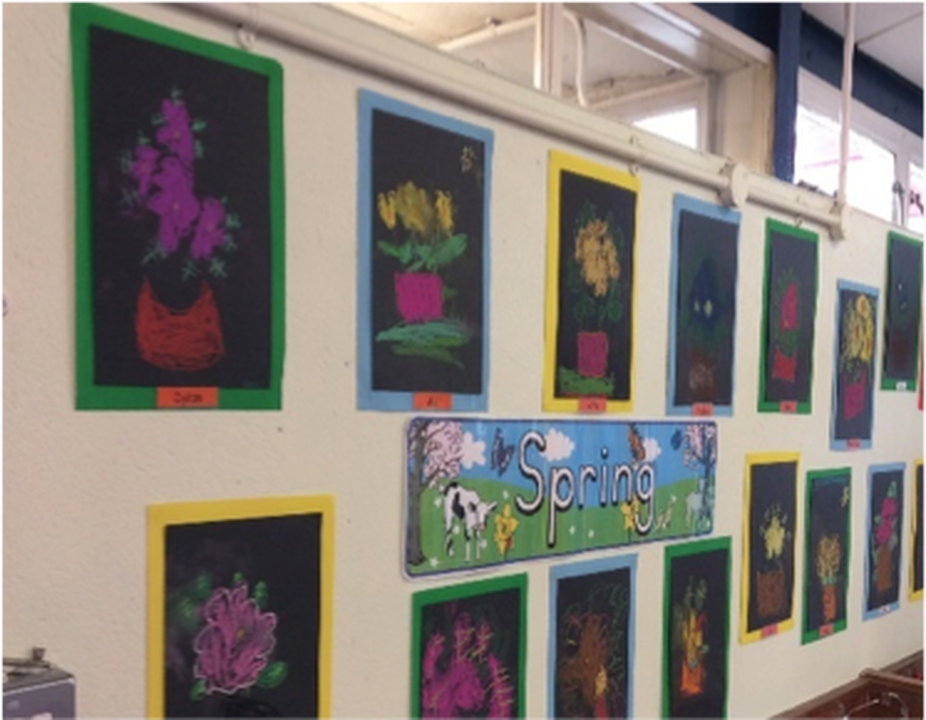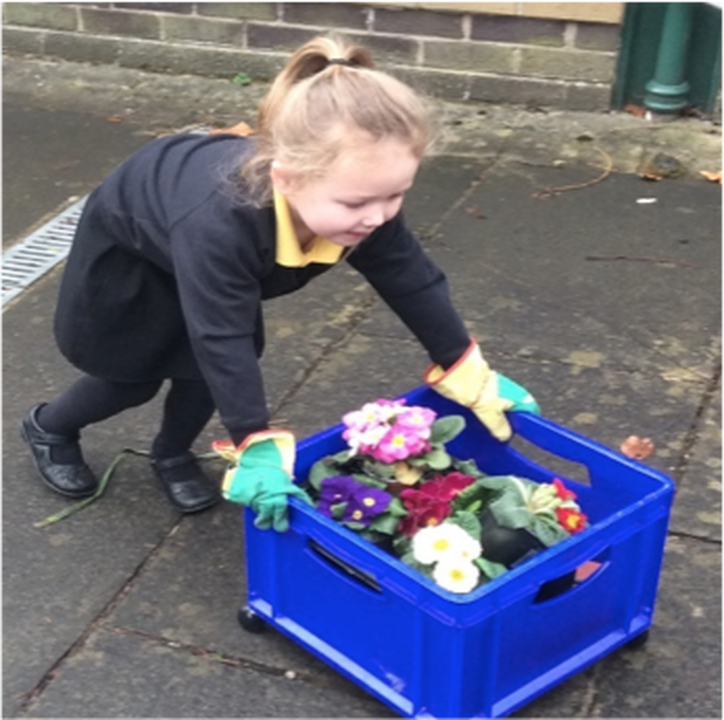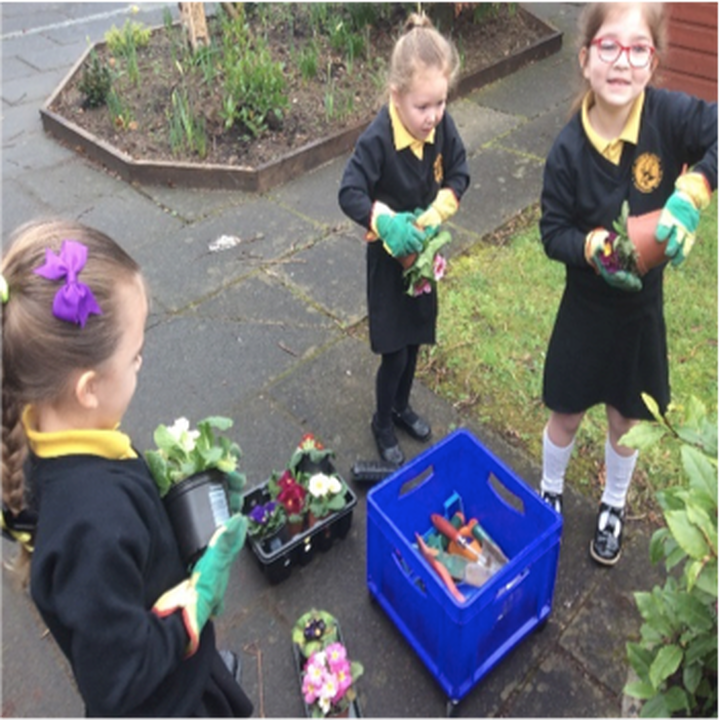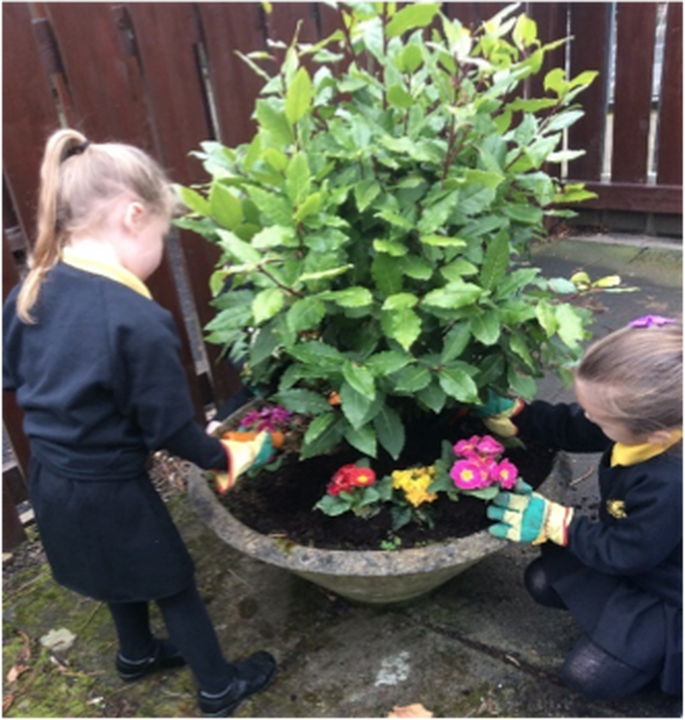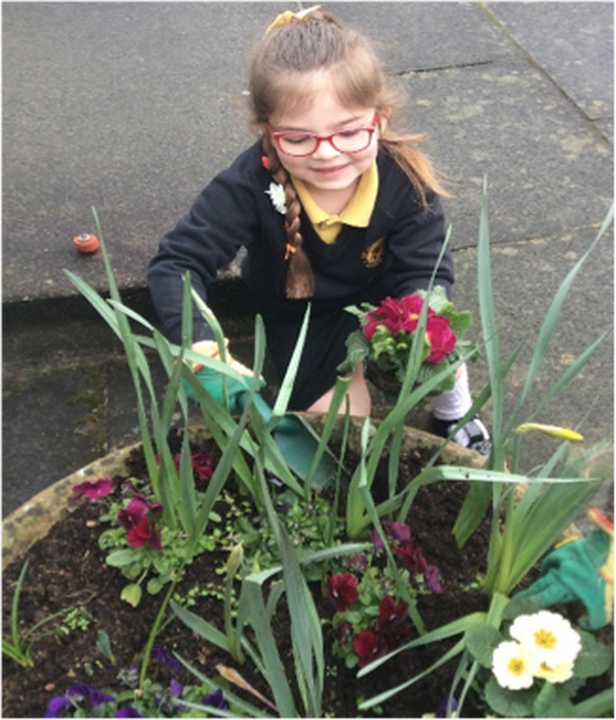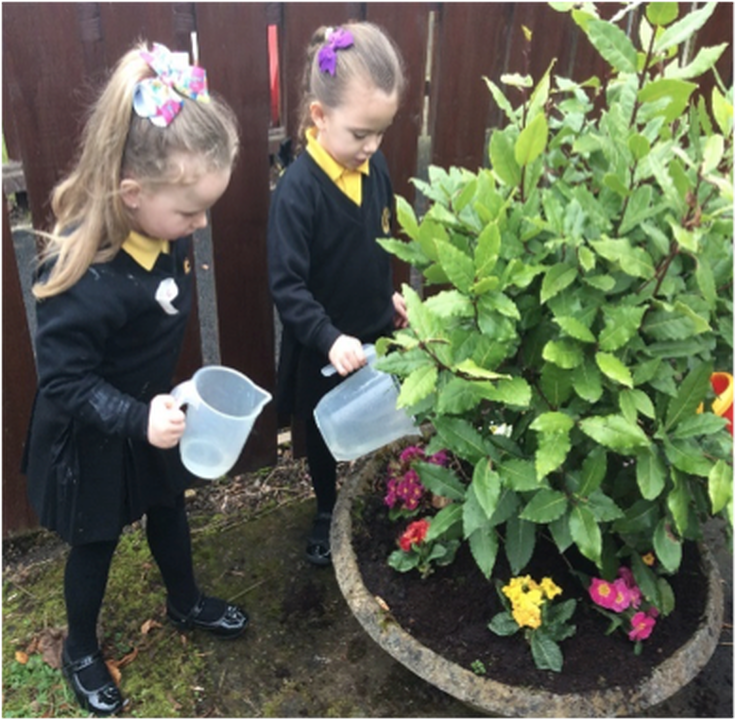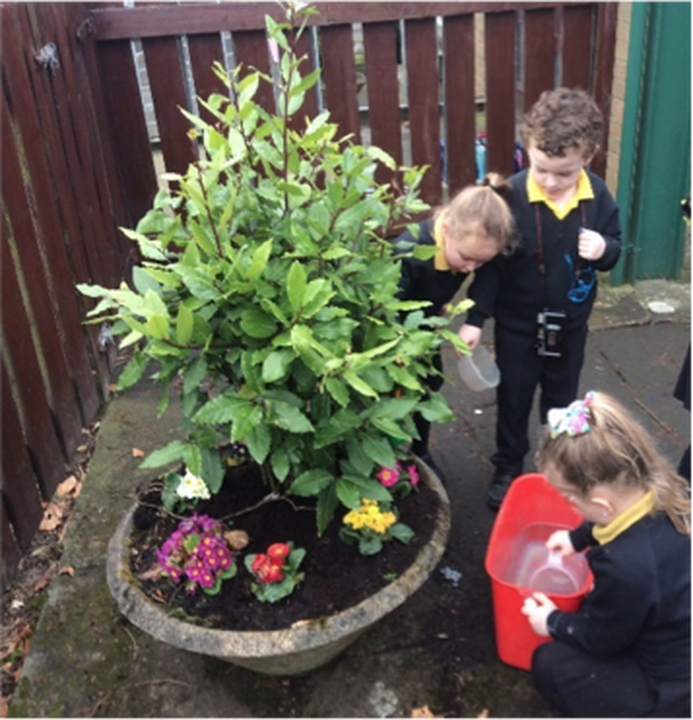 We had great fun using our 'telescopes' to look for signs of Spring during our recent walk.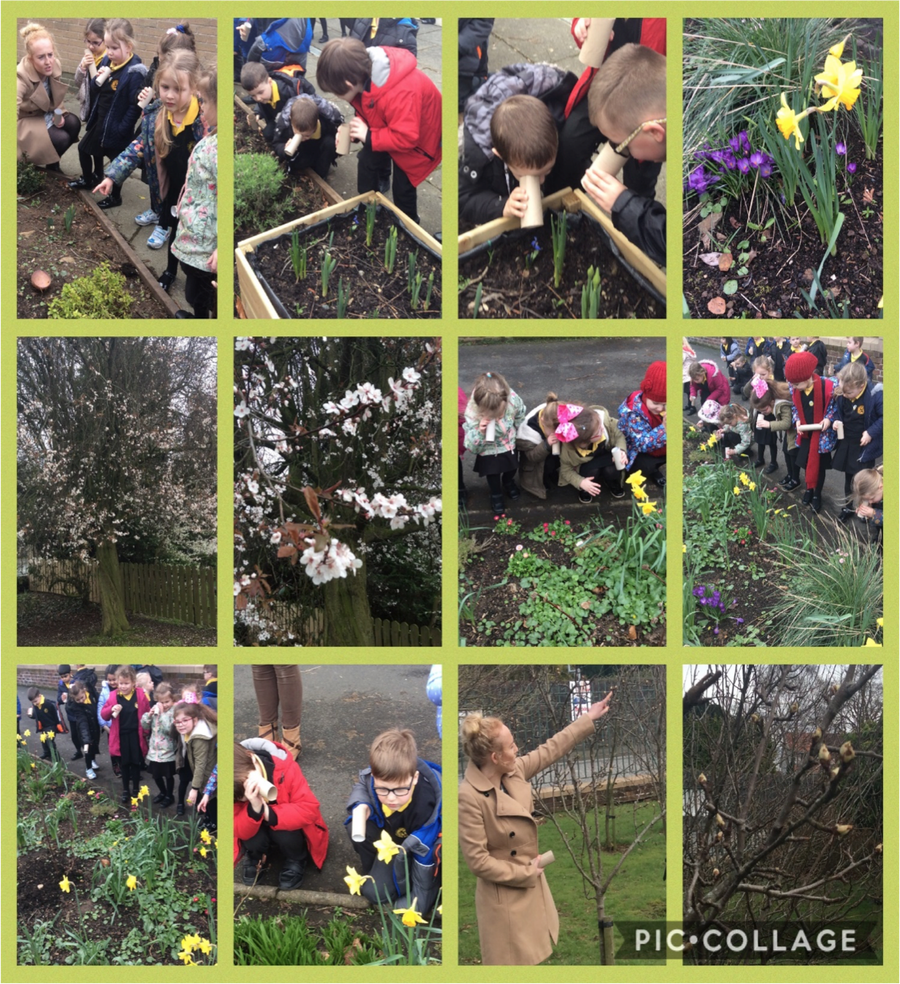 We enjoyed dressing up for World Book Day.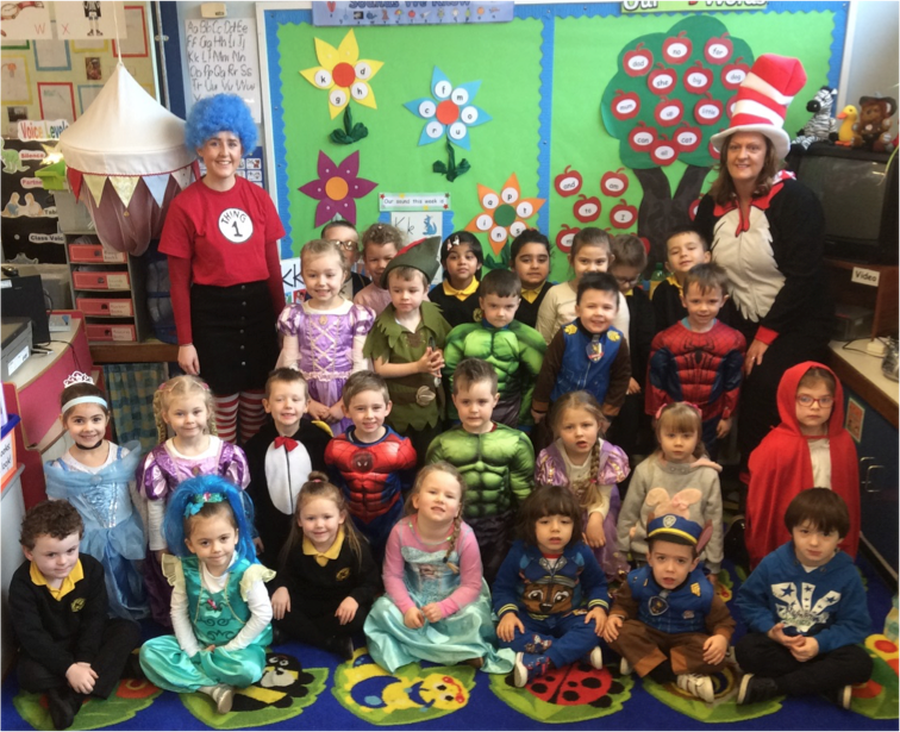 We have been learning about why we celebrate Pancake Day. We enjoyed making and eating yummy pancakes. Thank you Miss Todd, they were delicious.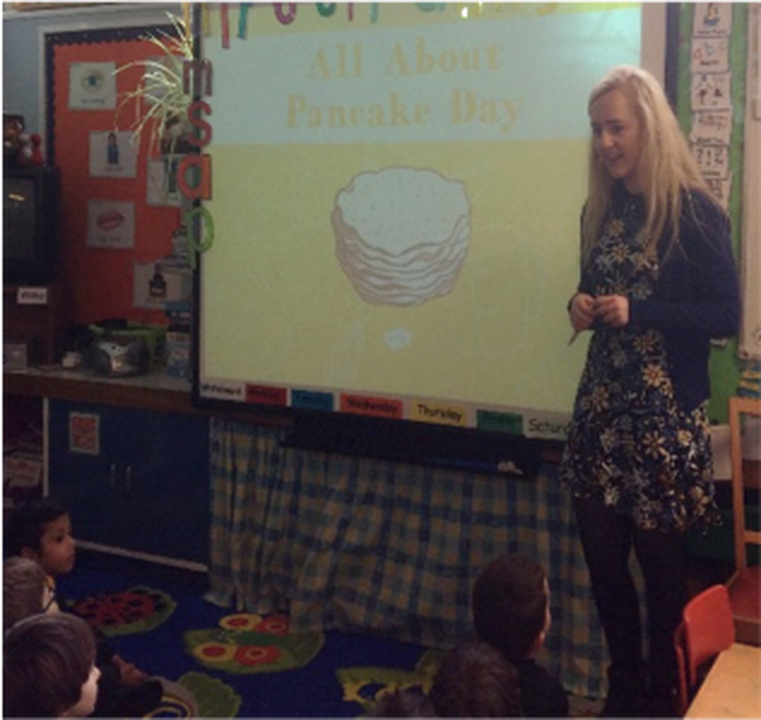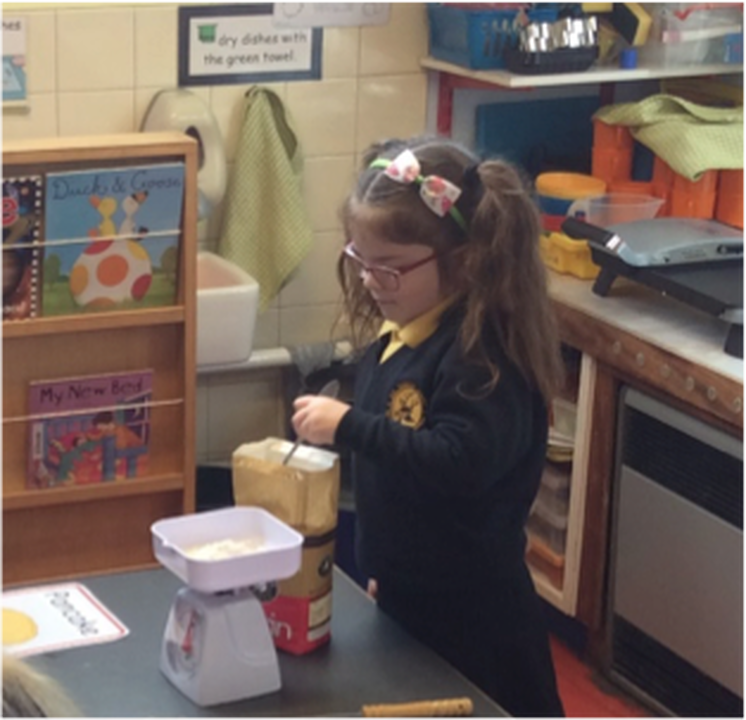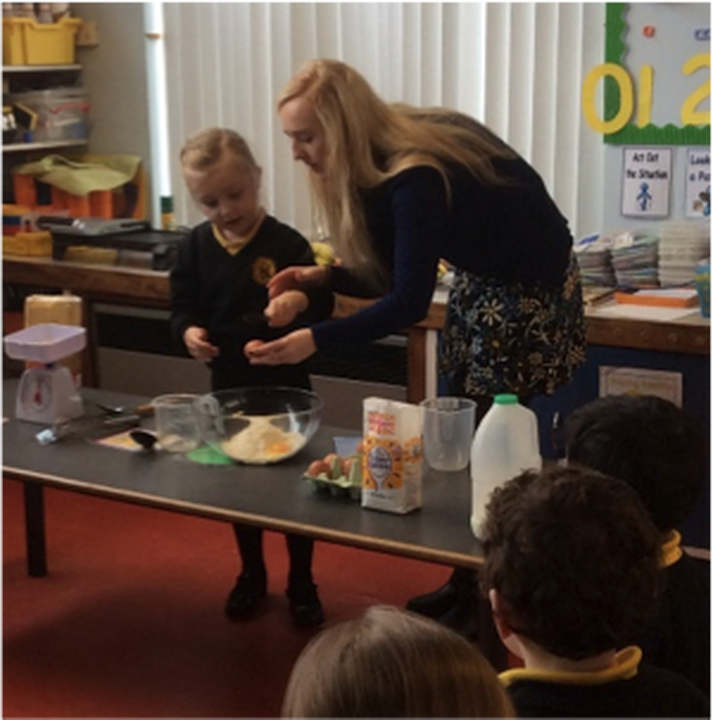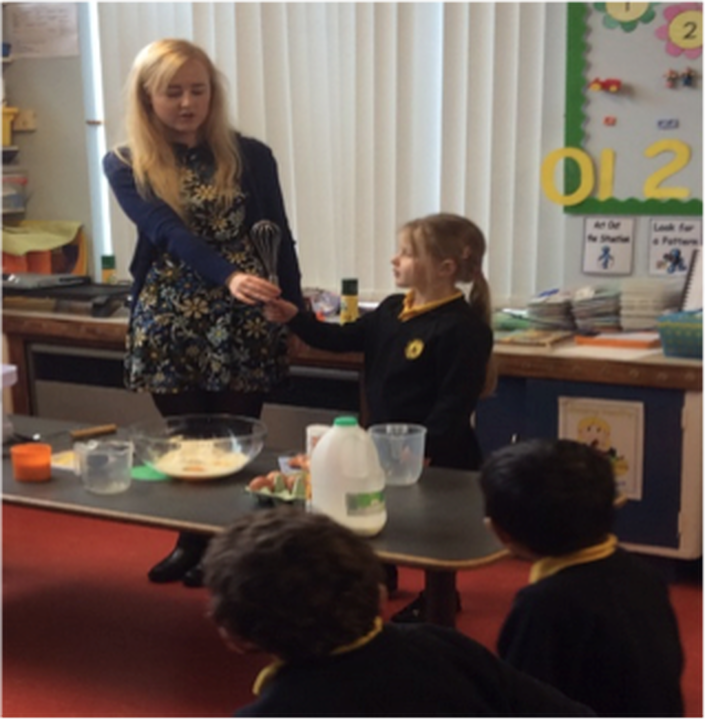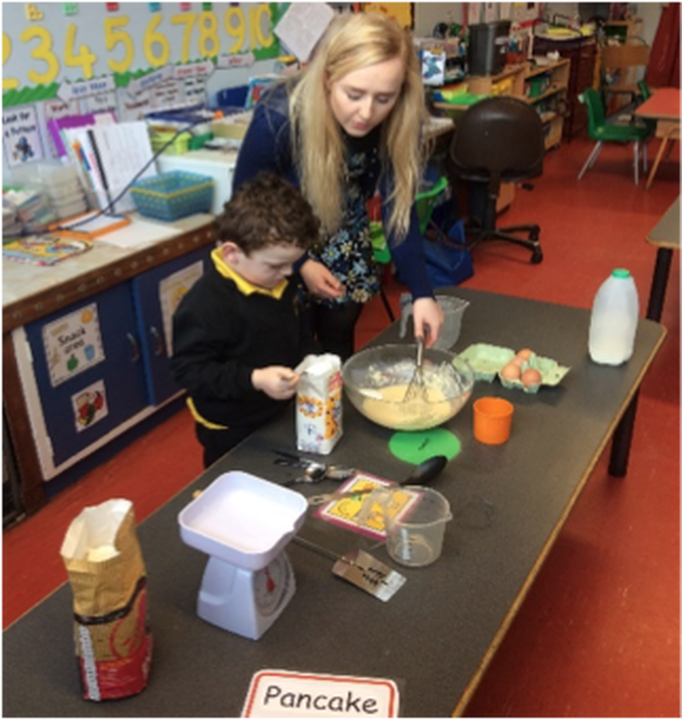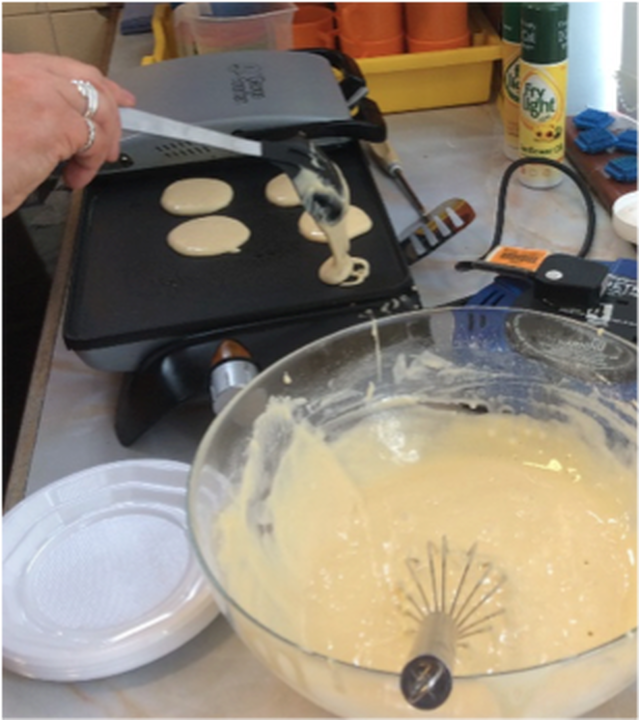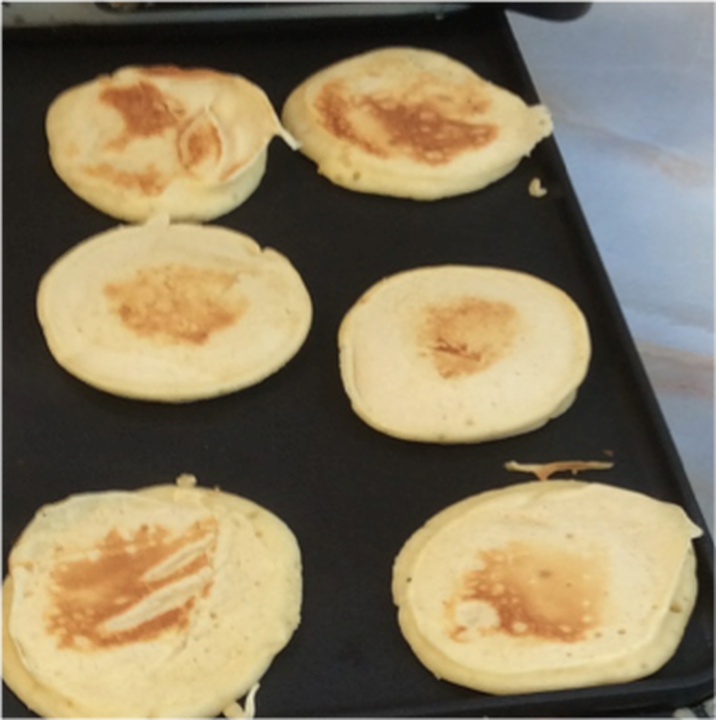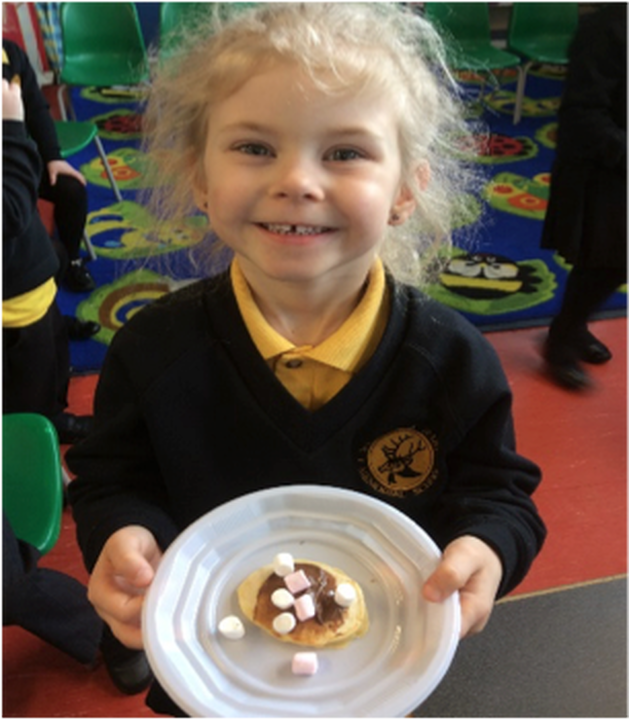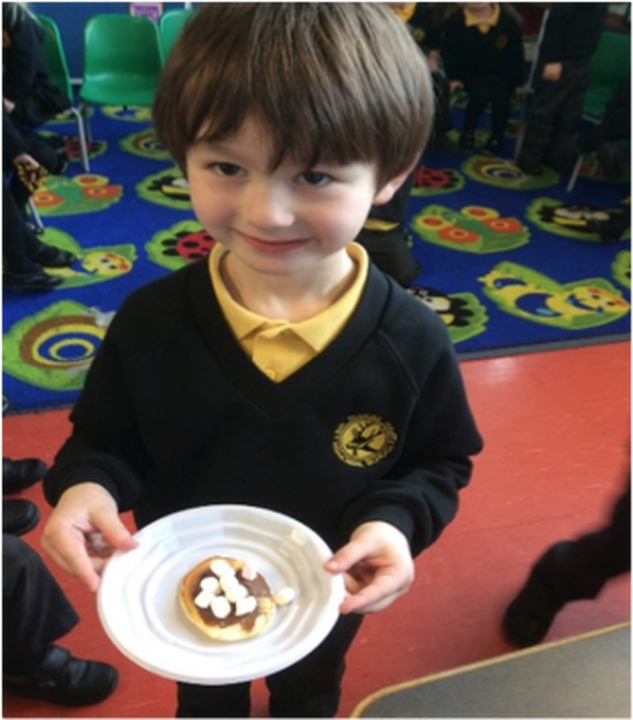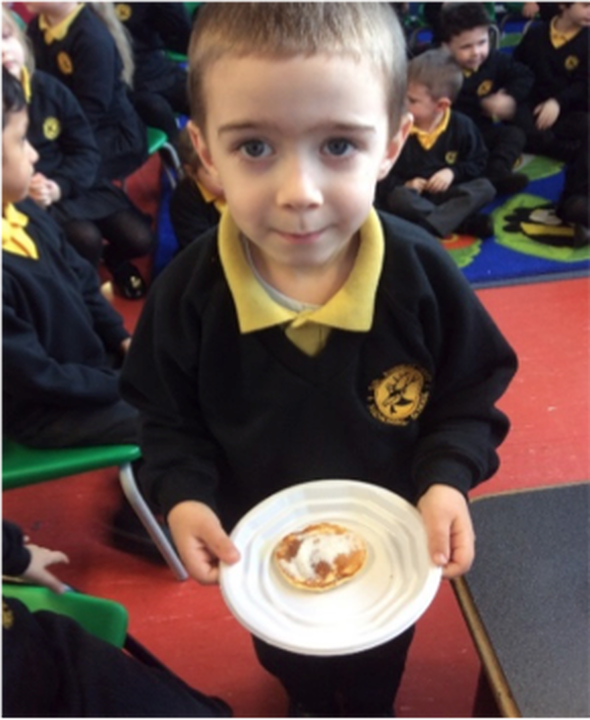 February Play Based Learning
We enjoy gymnastics with Paul each week. Have a look at us learning to balance while walking forwards, backwards and turning on the beams.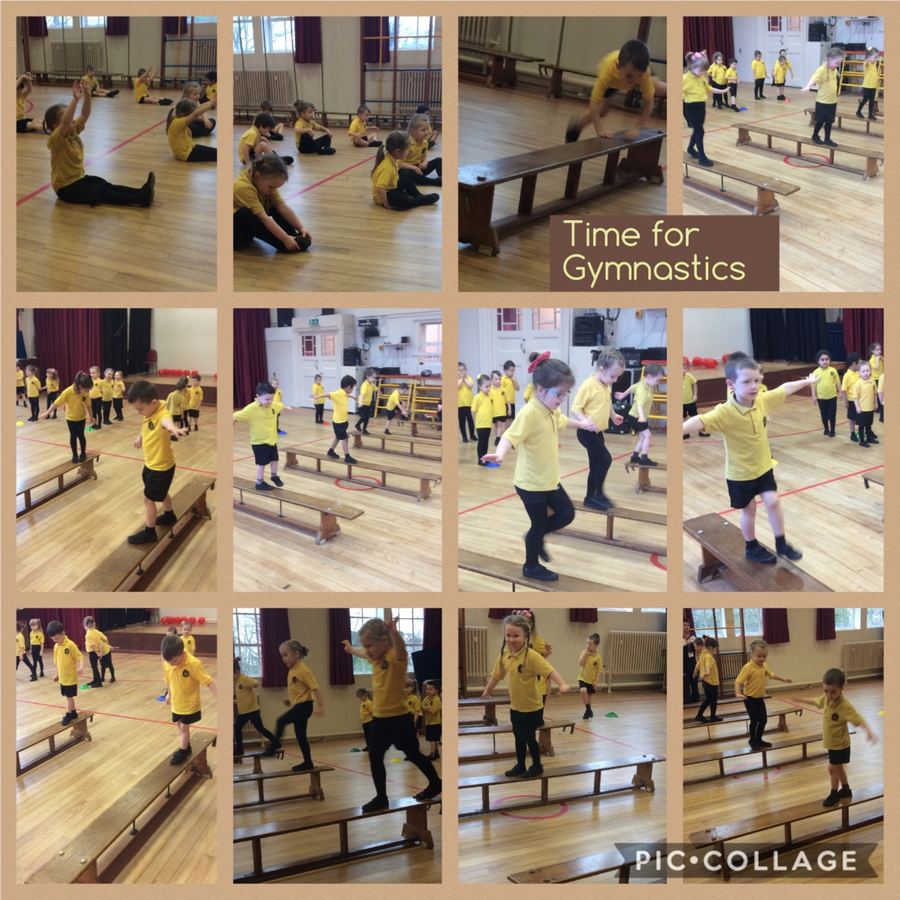 Happy Valentine's Day! We listened to and followed instructions when making our cards for someone special. We hope you enjoyed receiving them.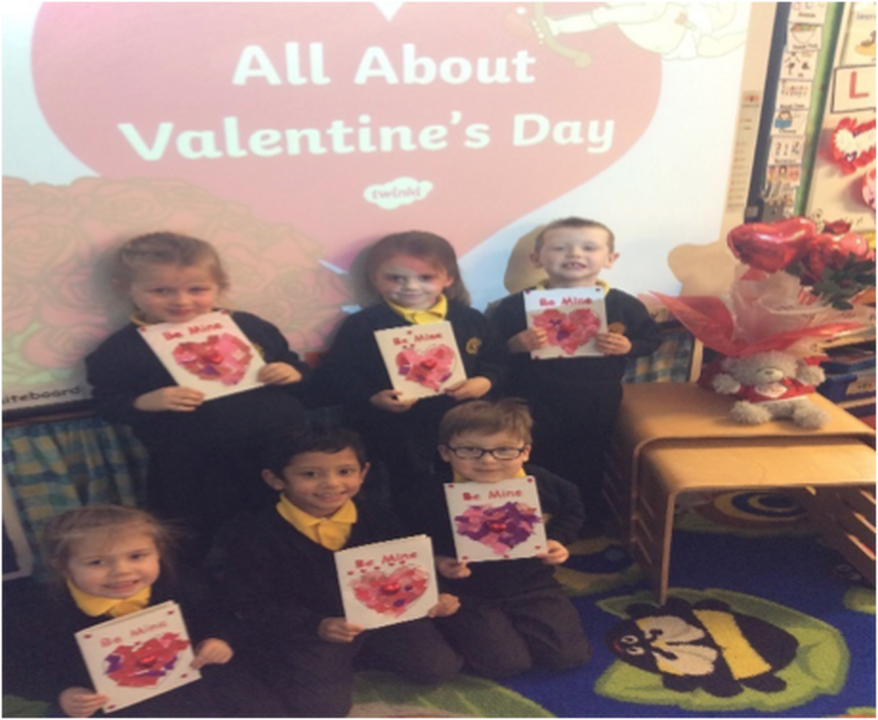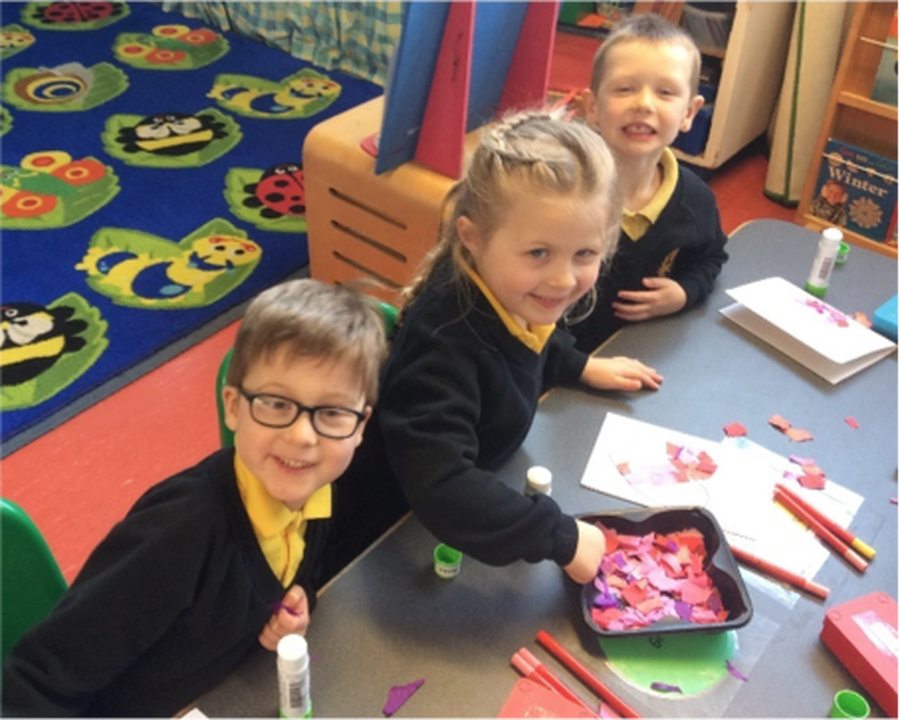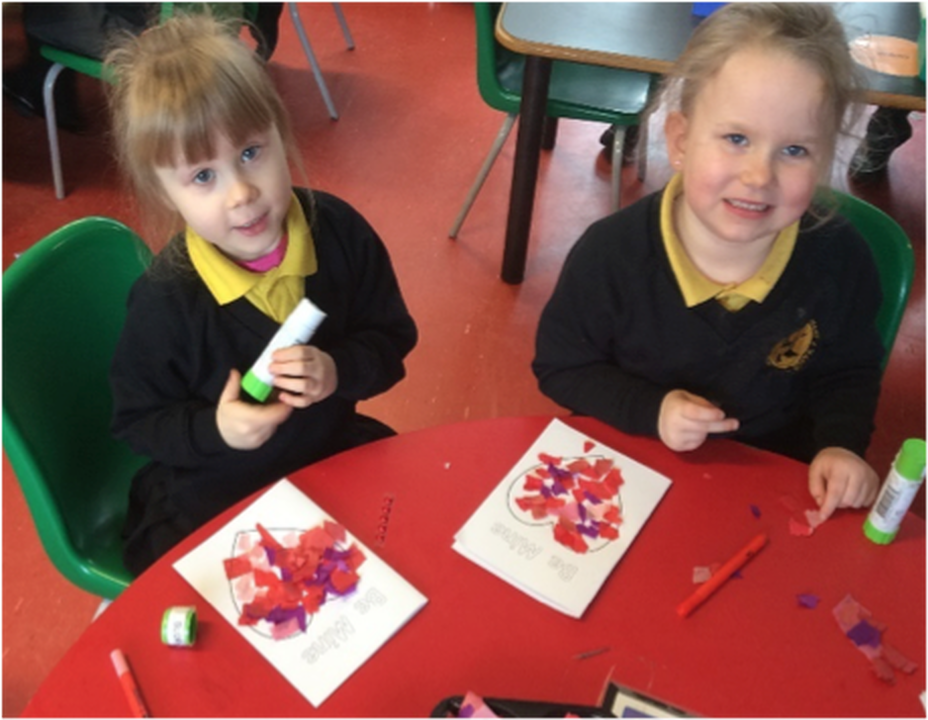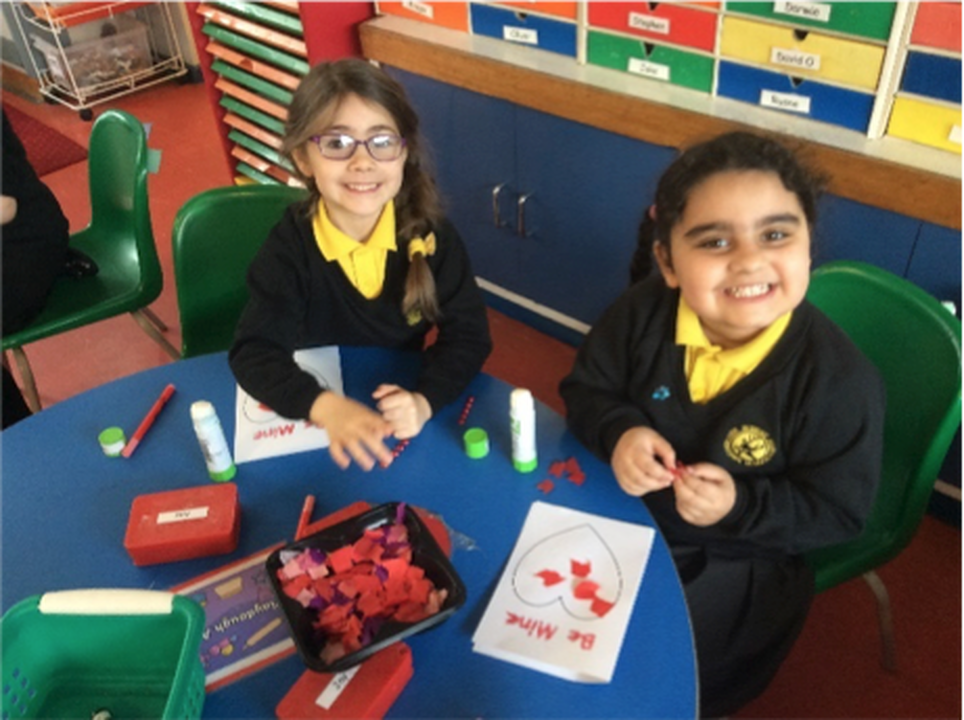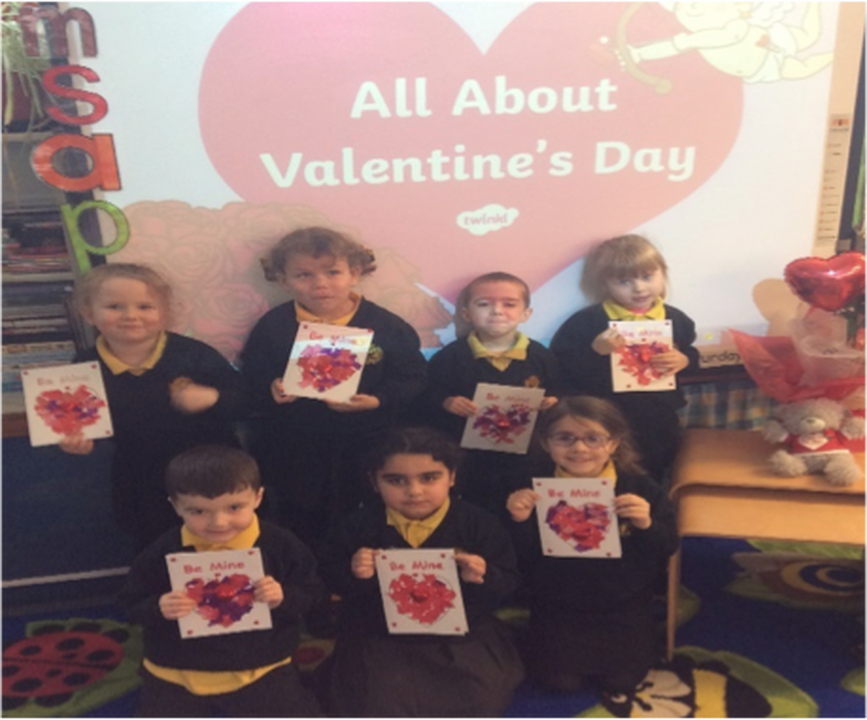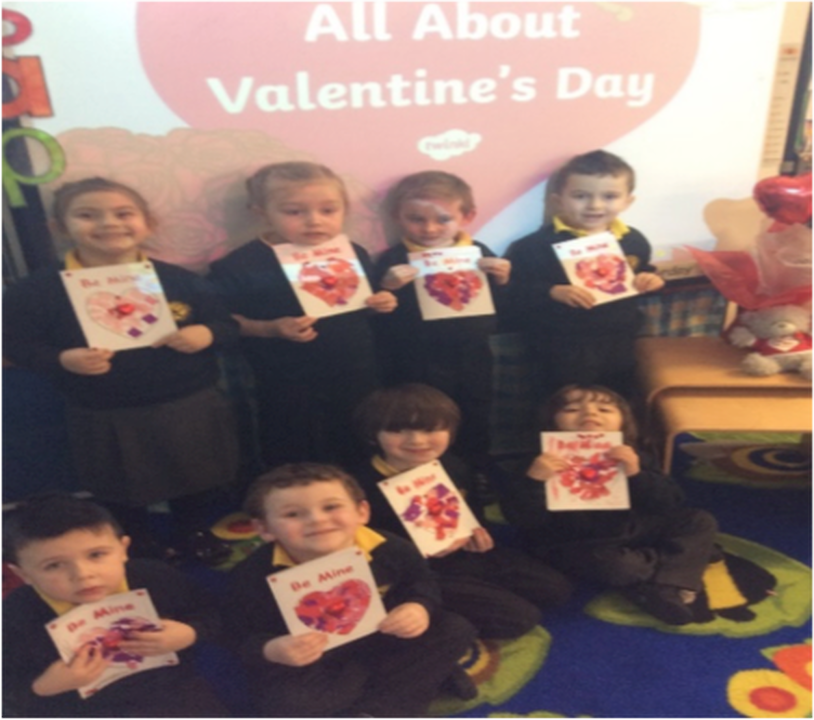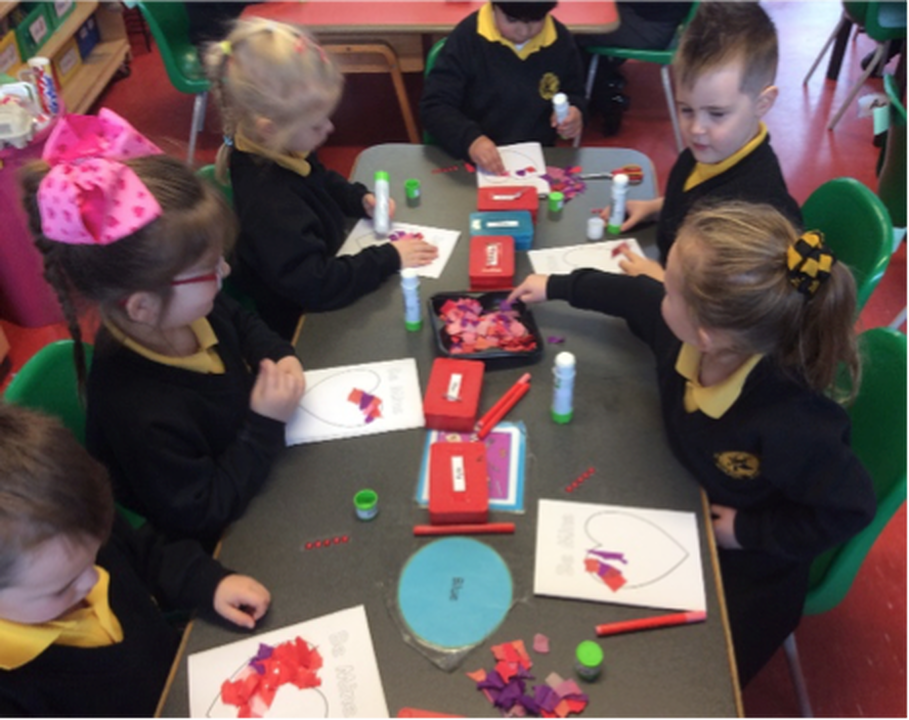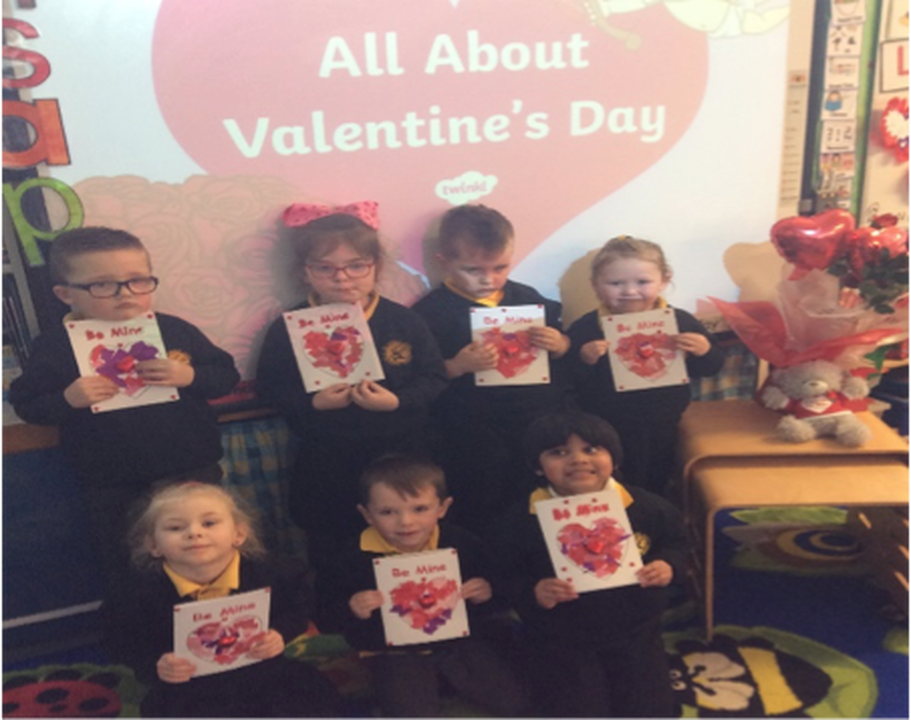 We have been very busy making 'toys' and models using junk materials. Look at us having fun while practicing and developing our skills.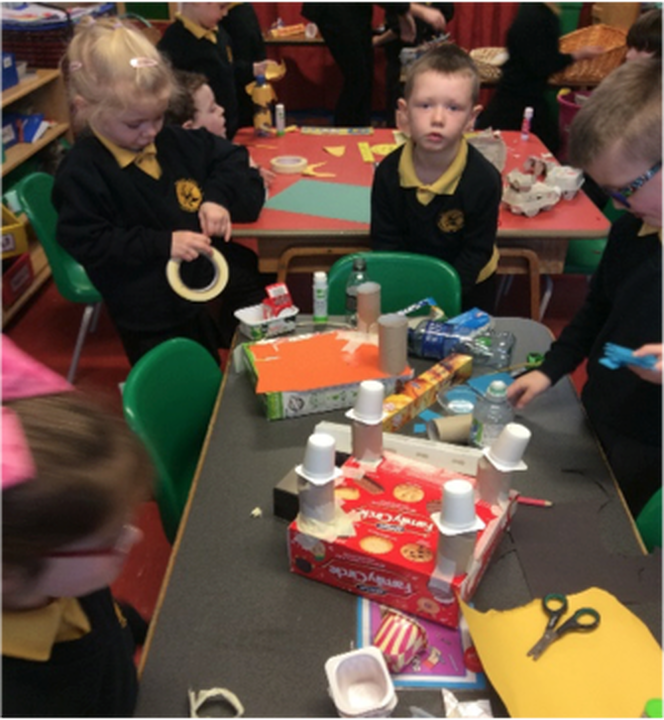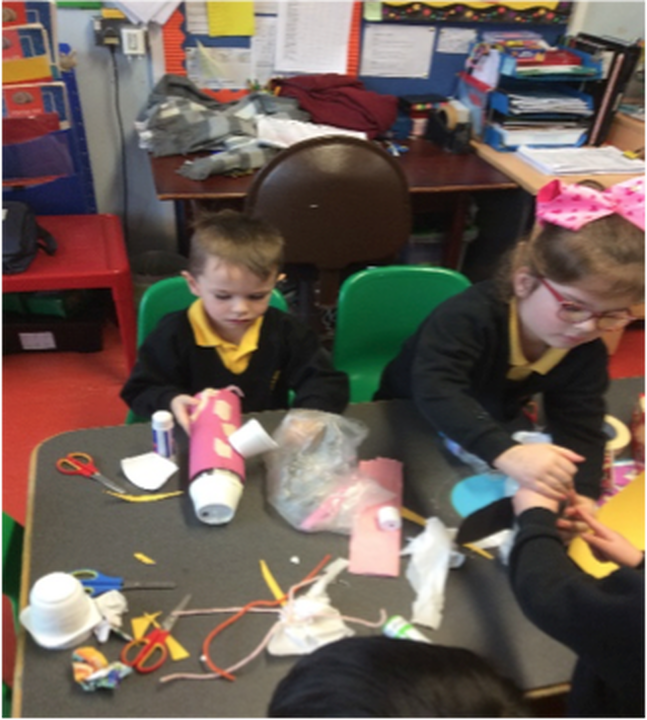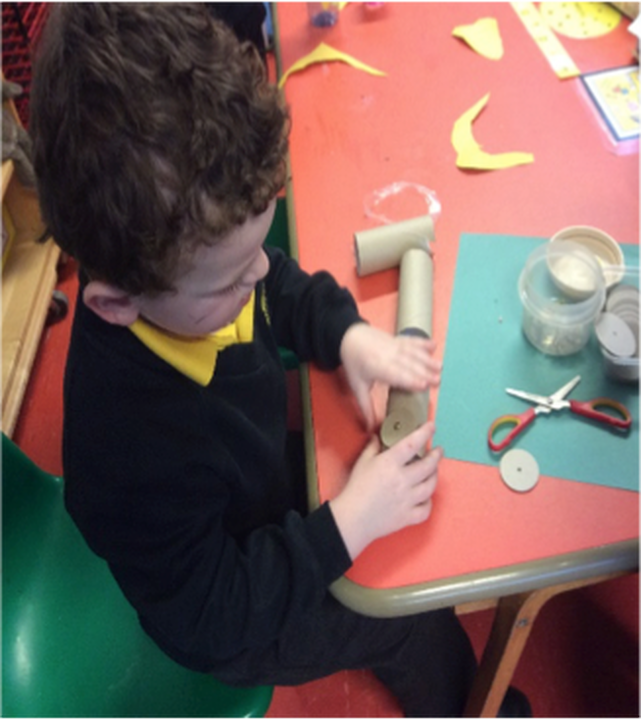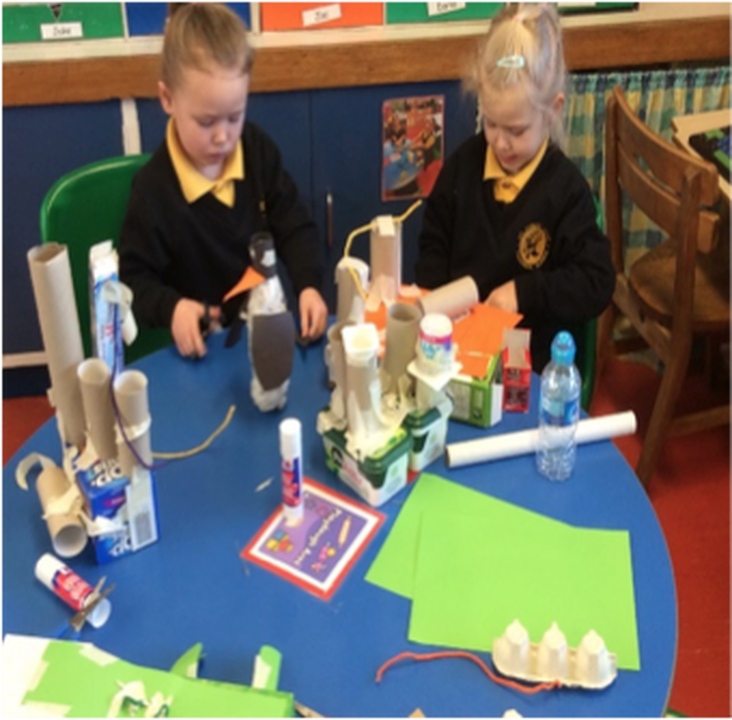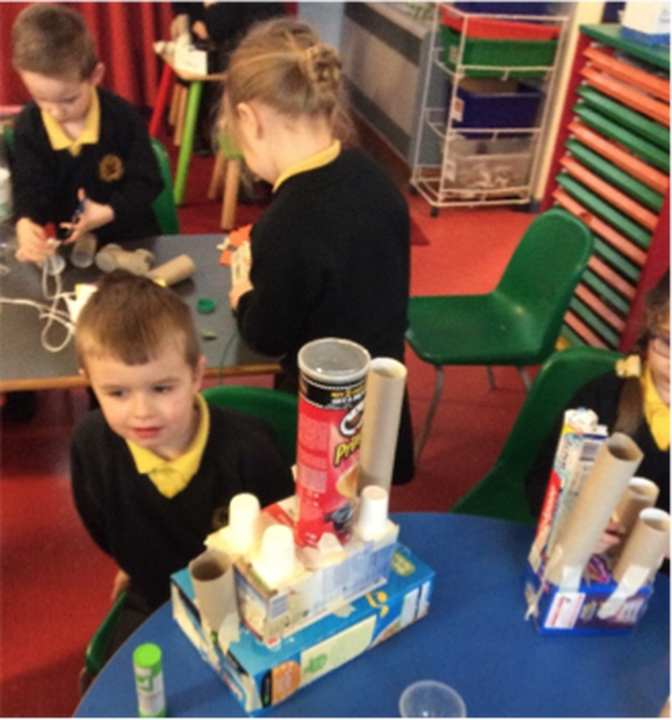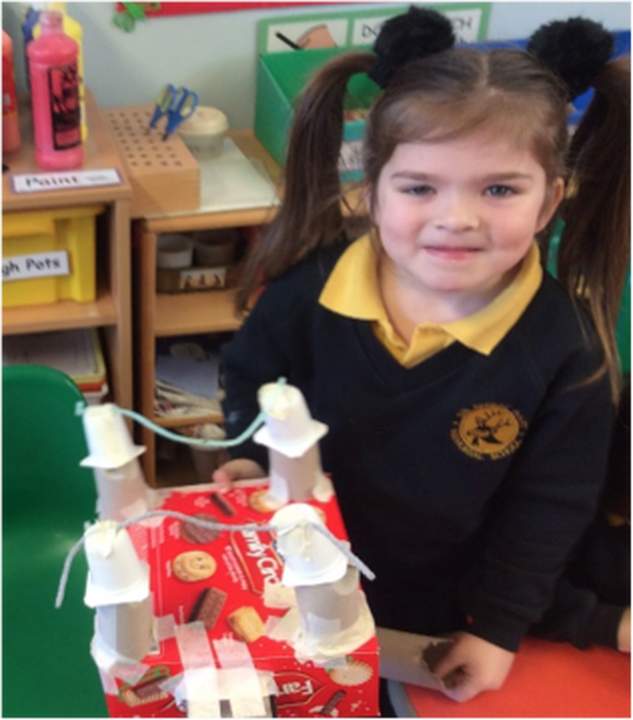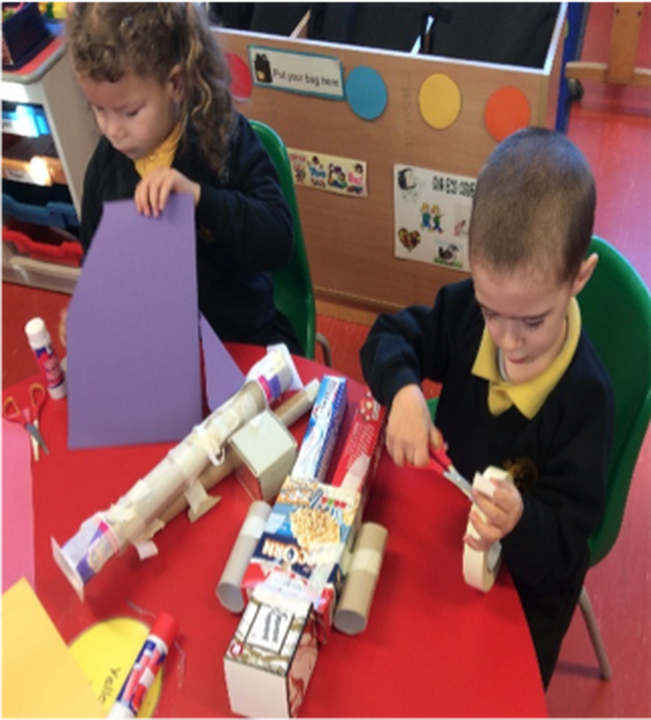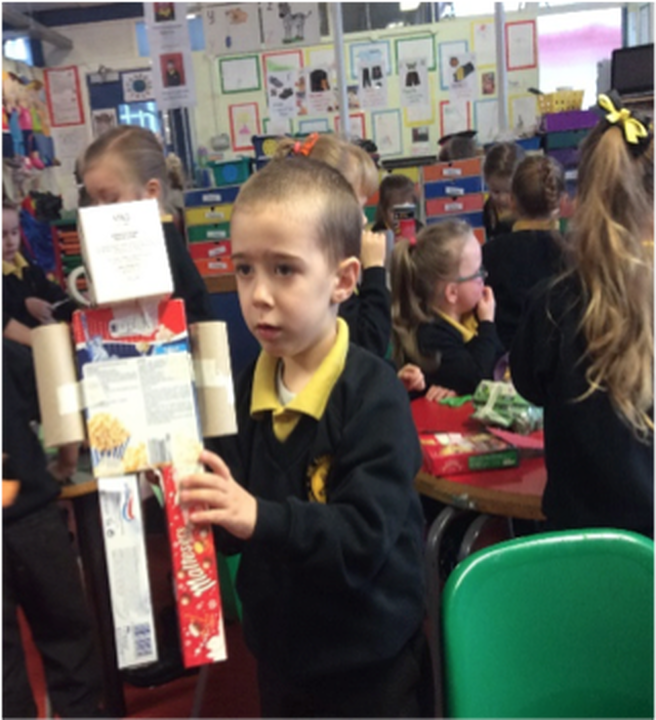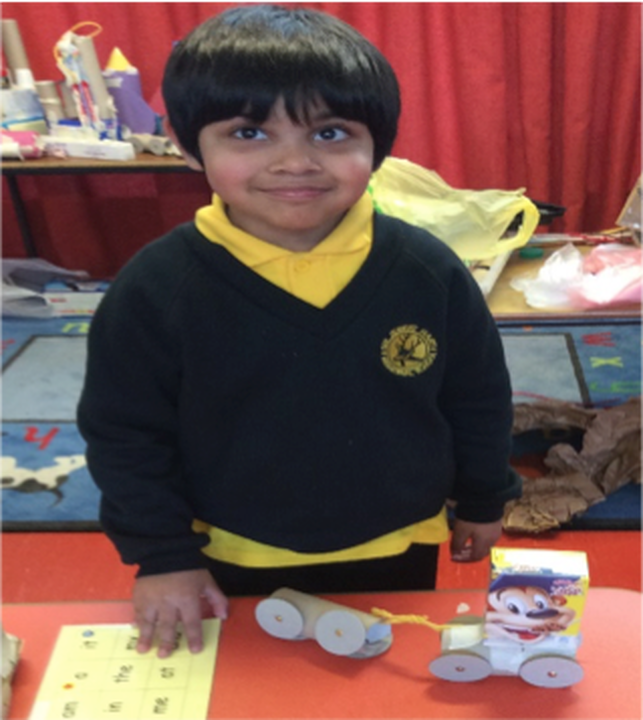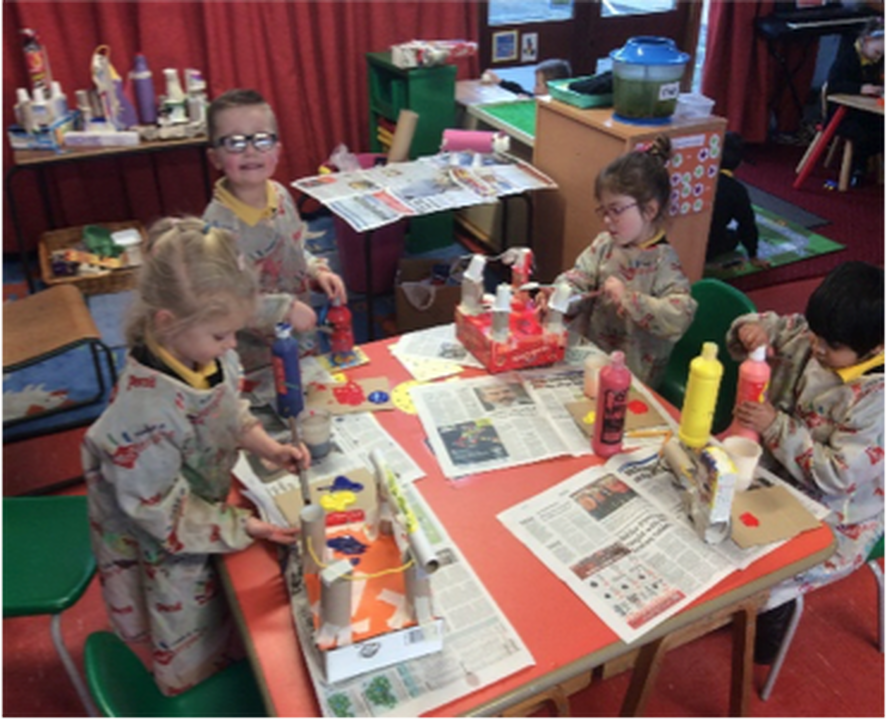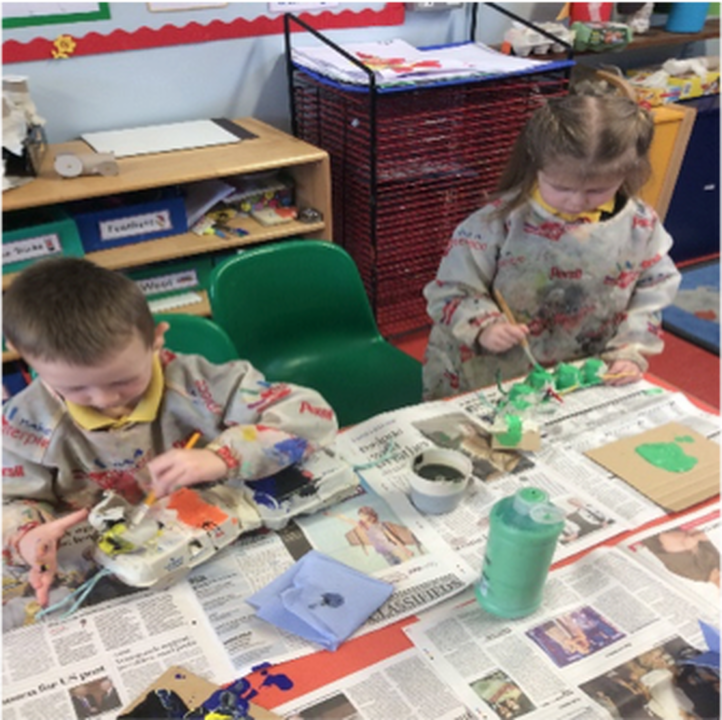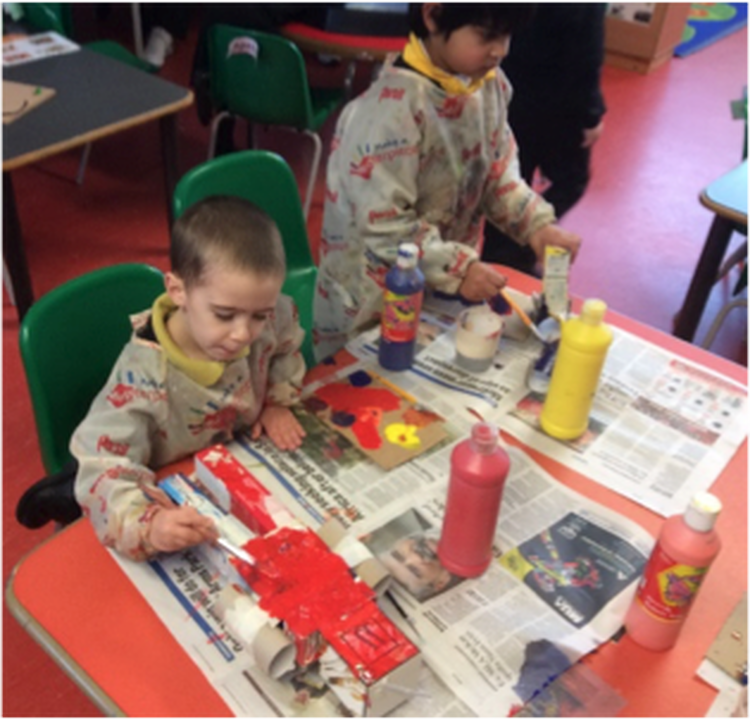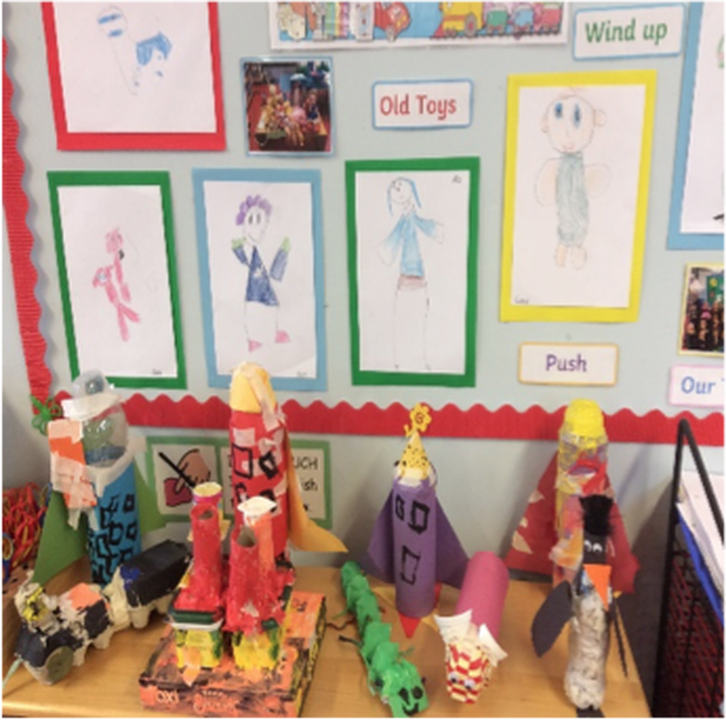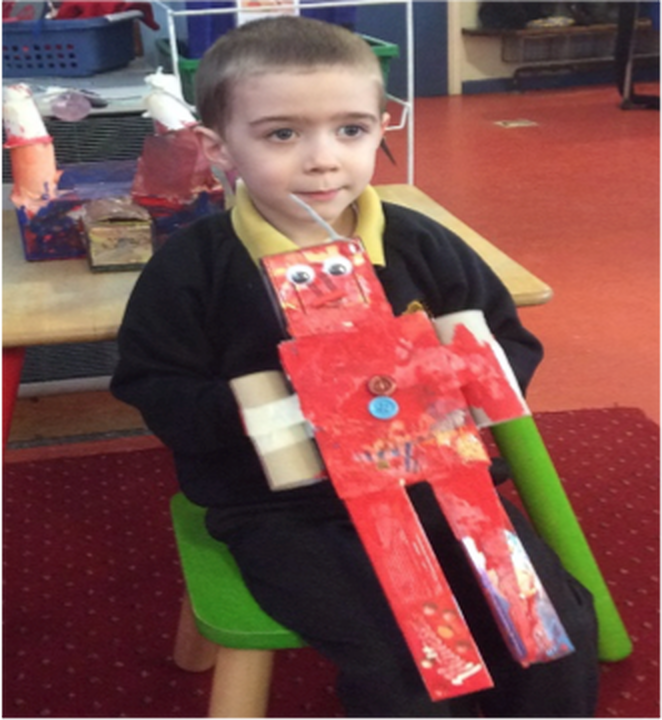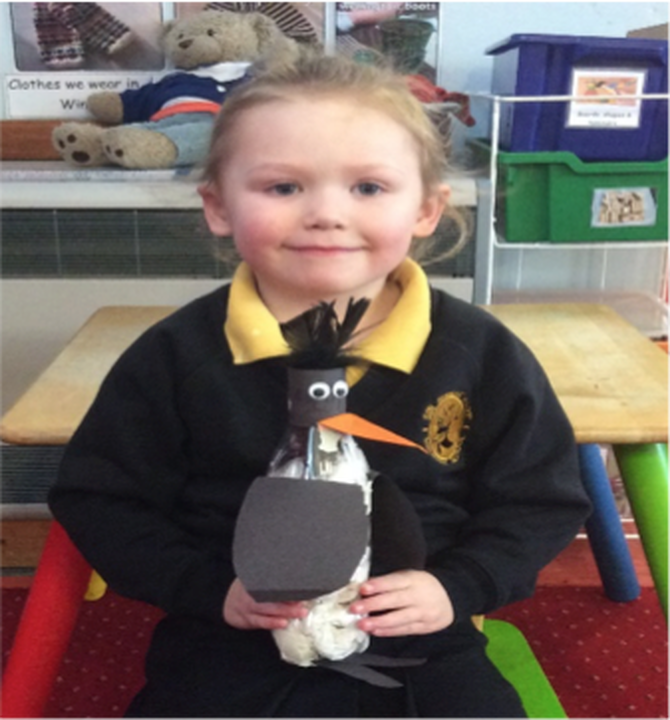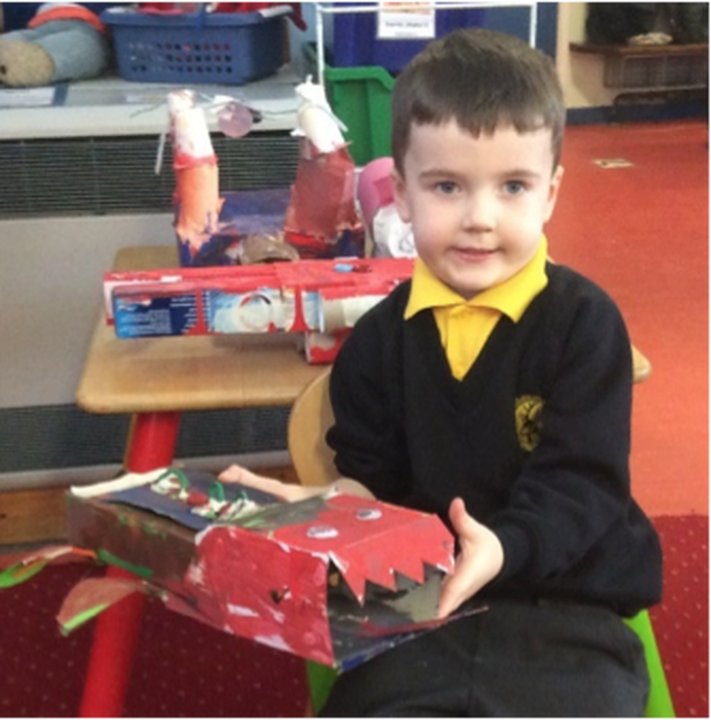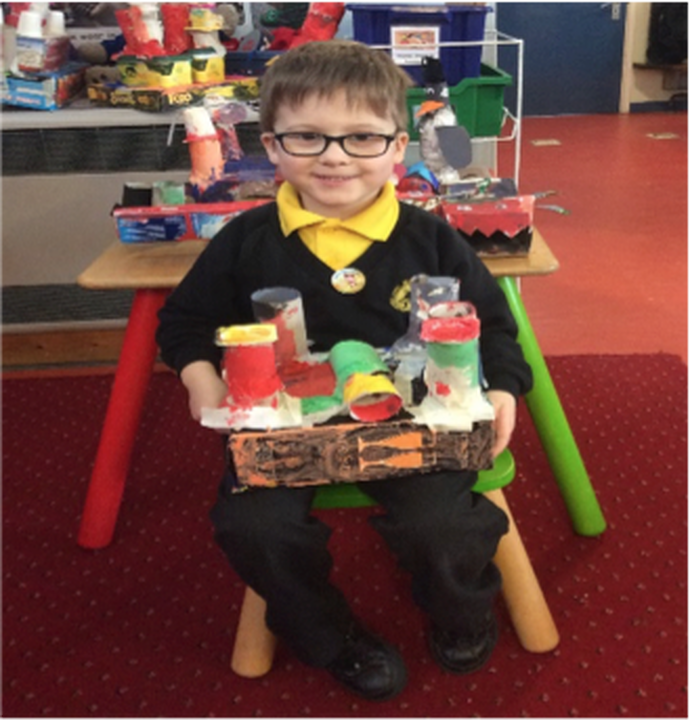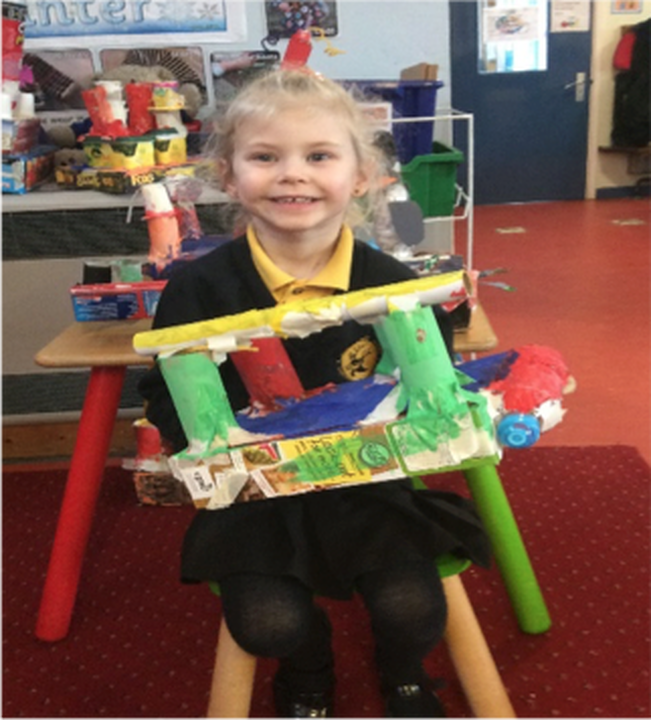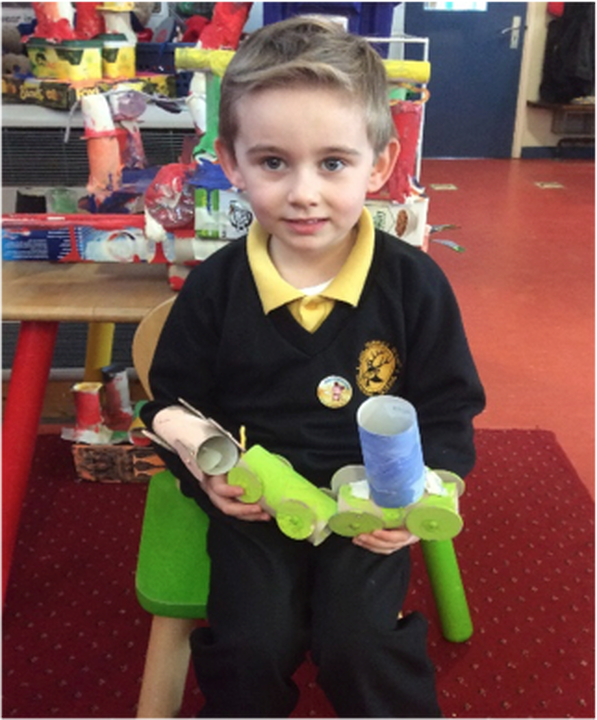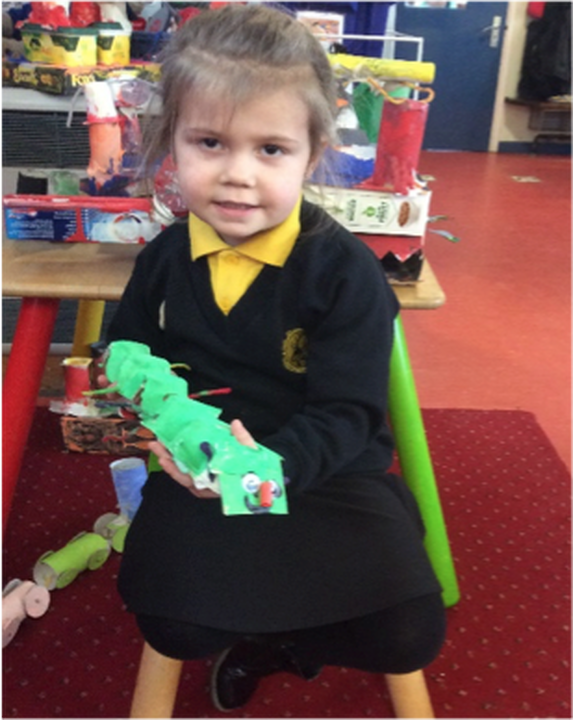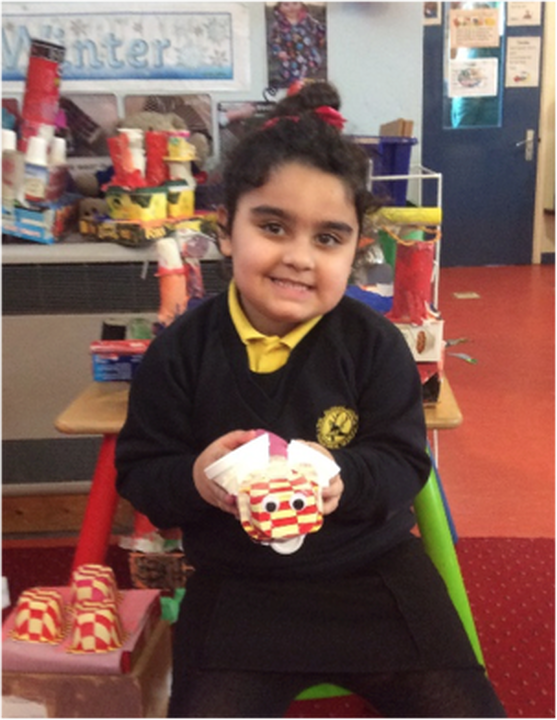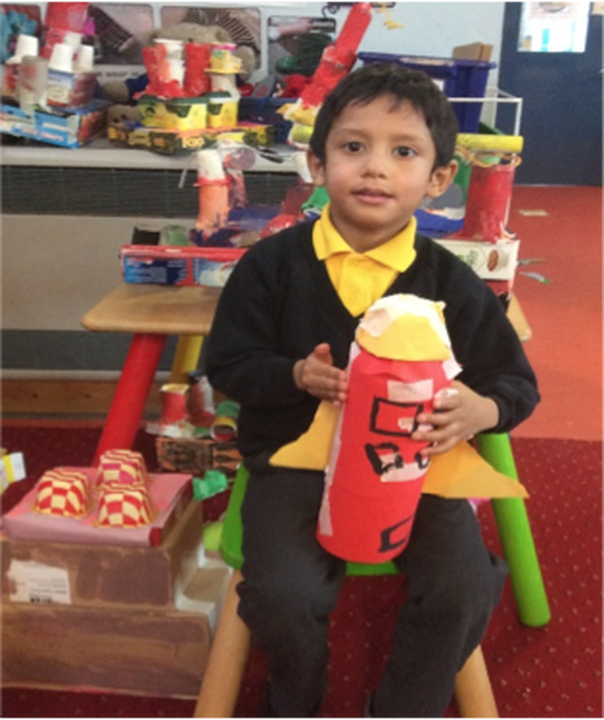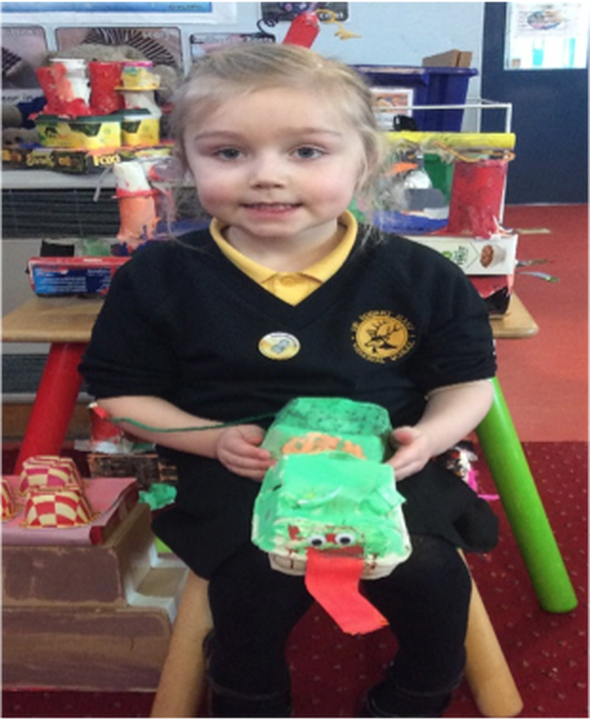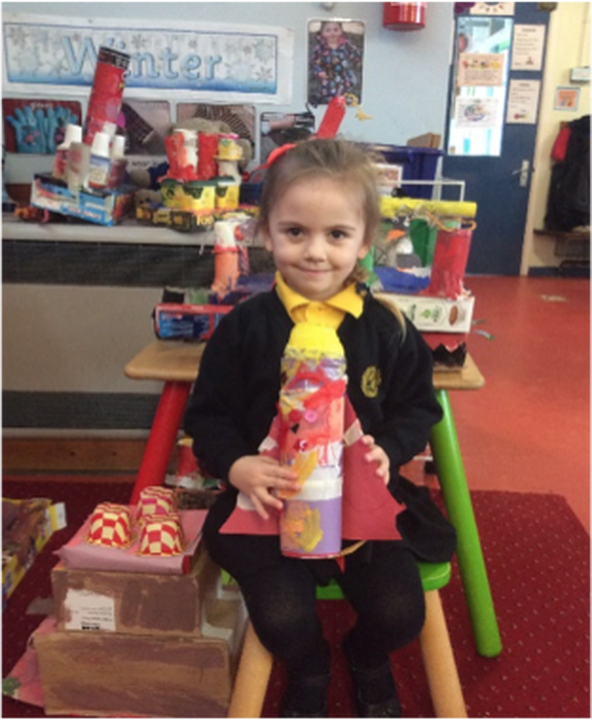 We have been investigating weight and learning to use a balance scale.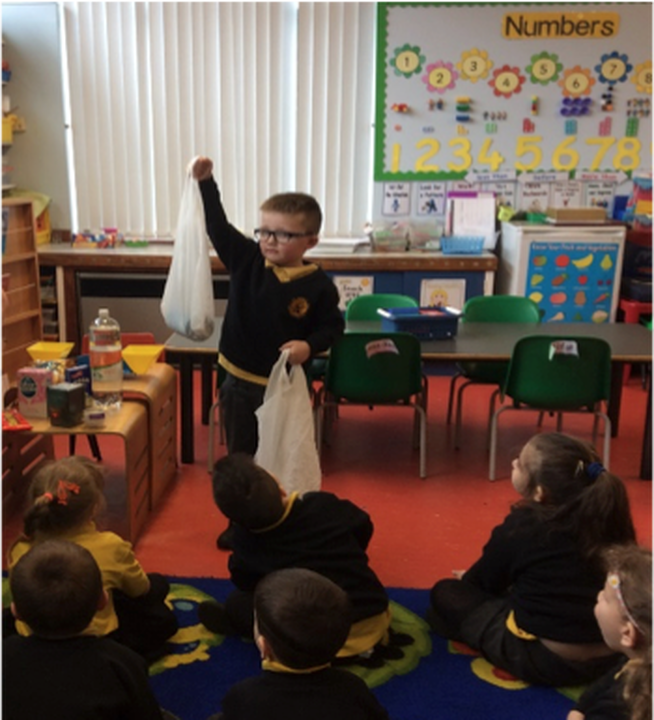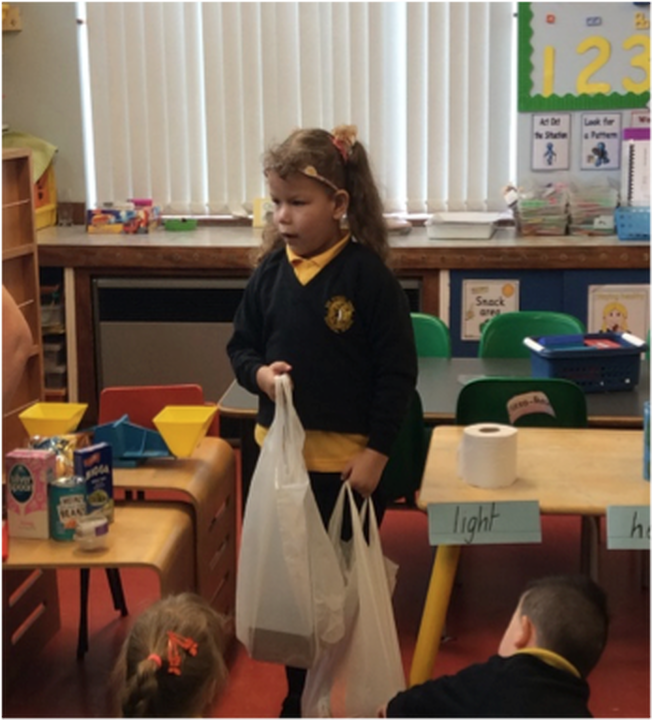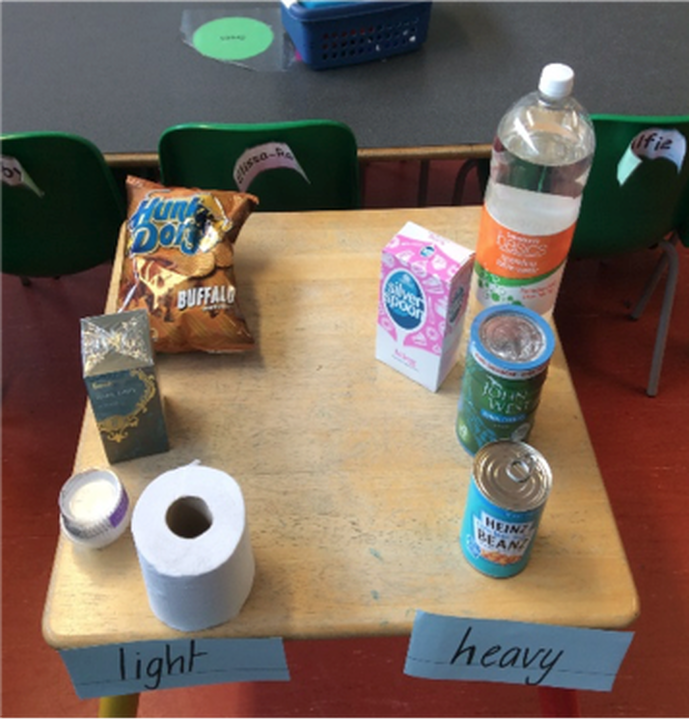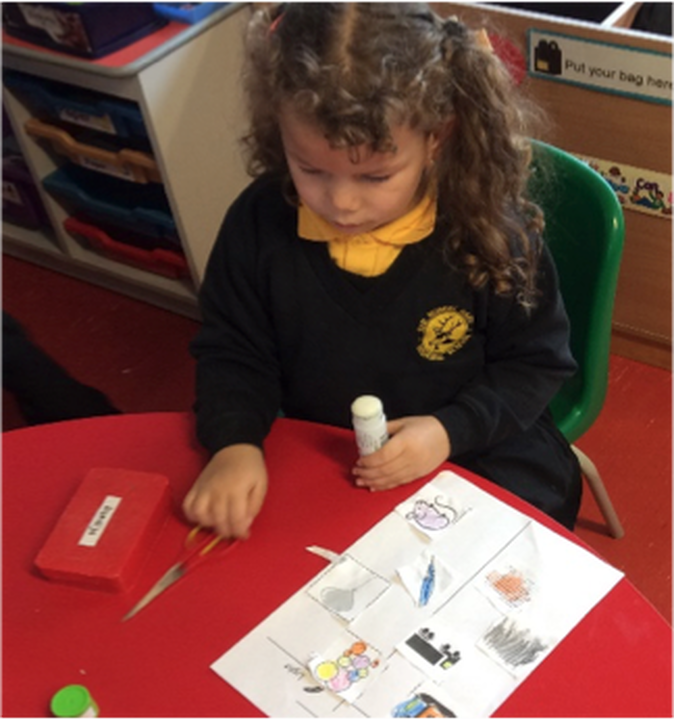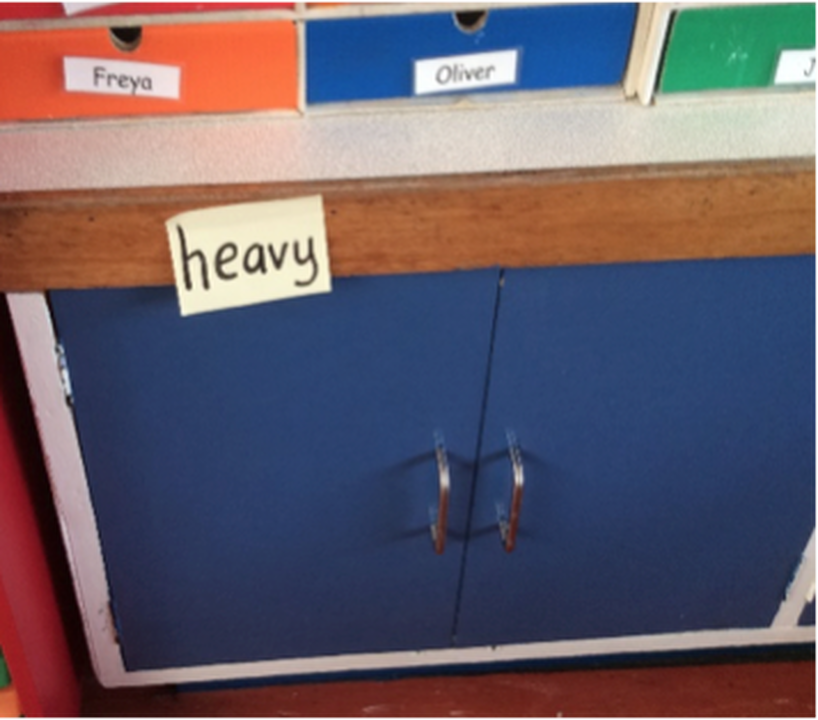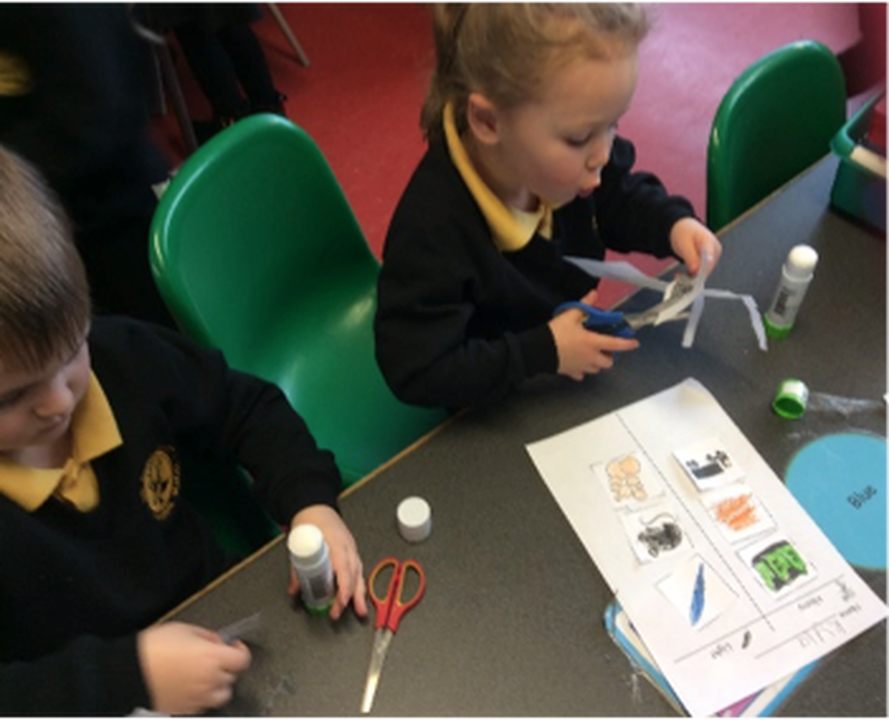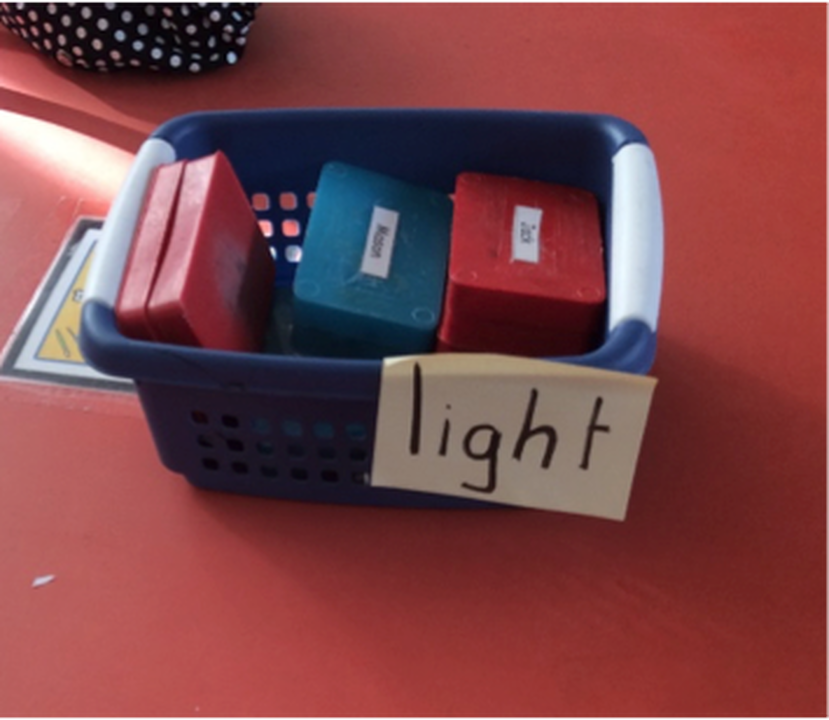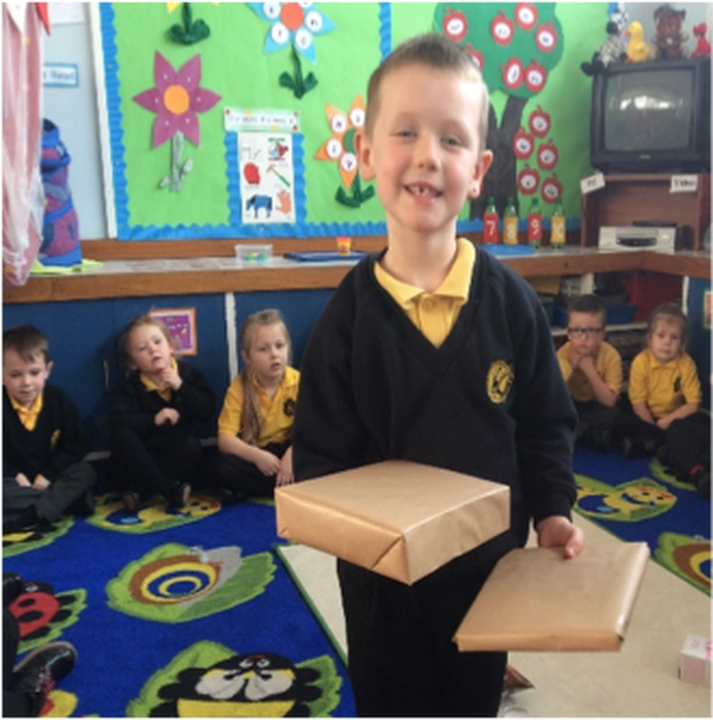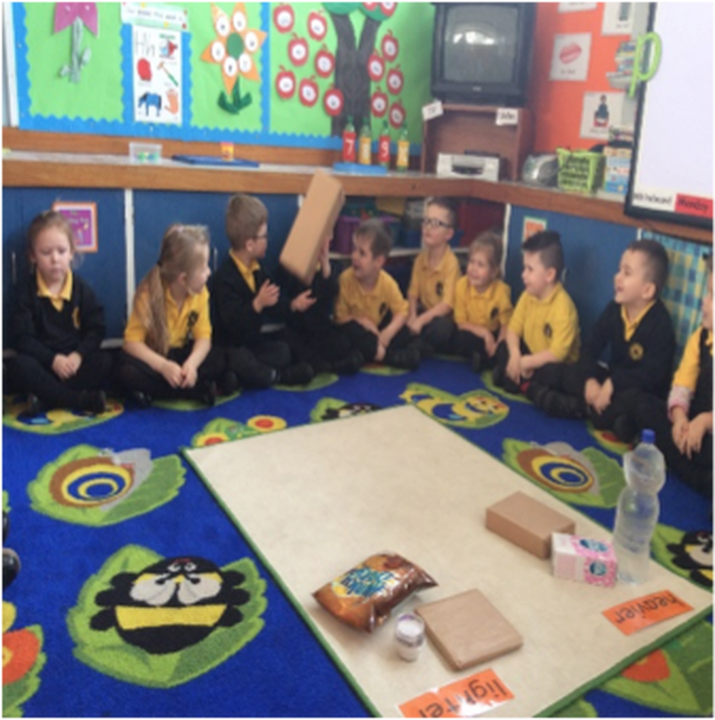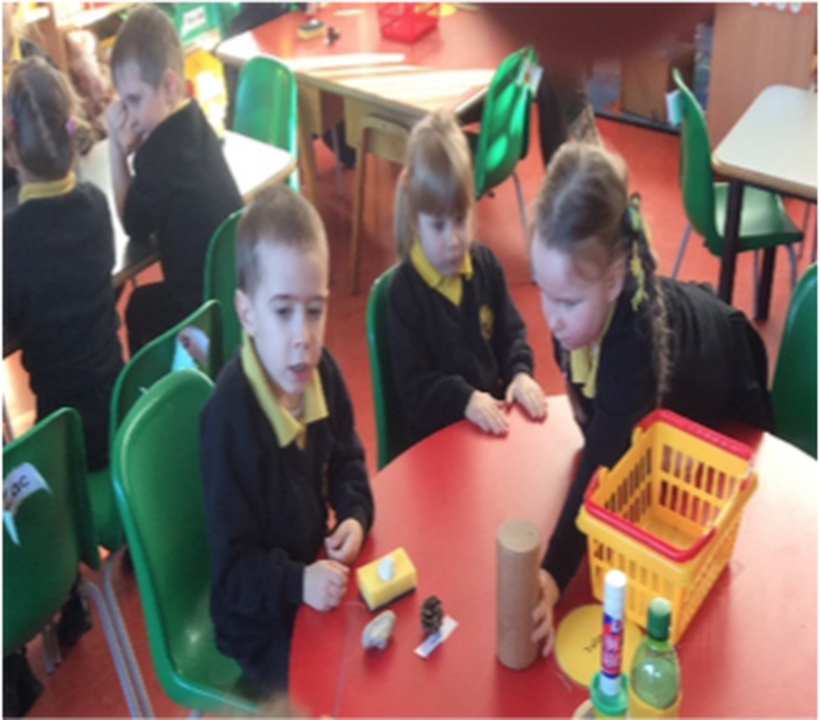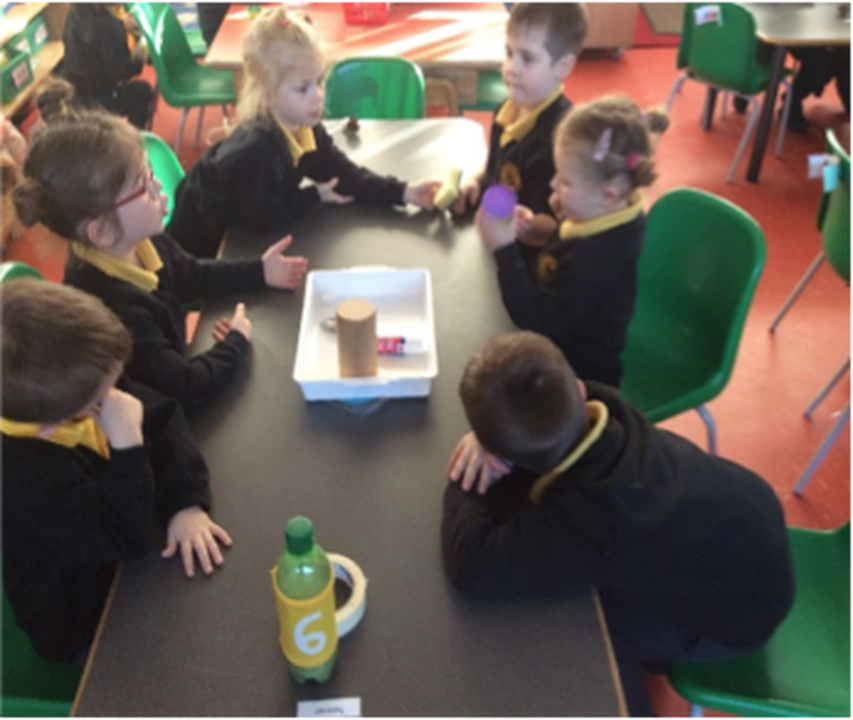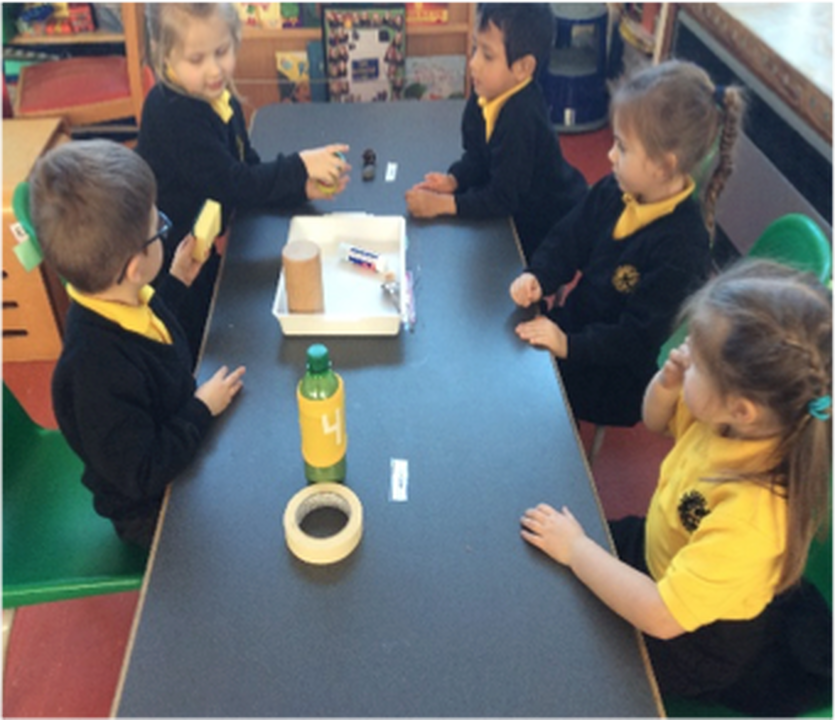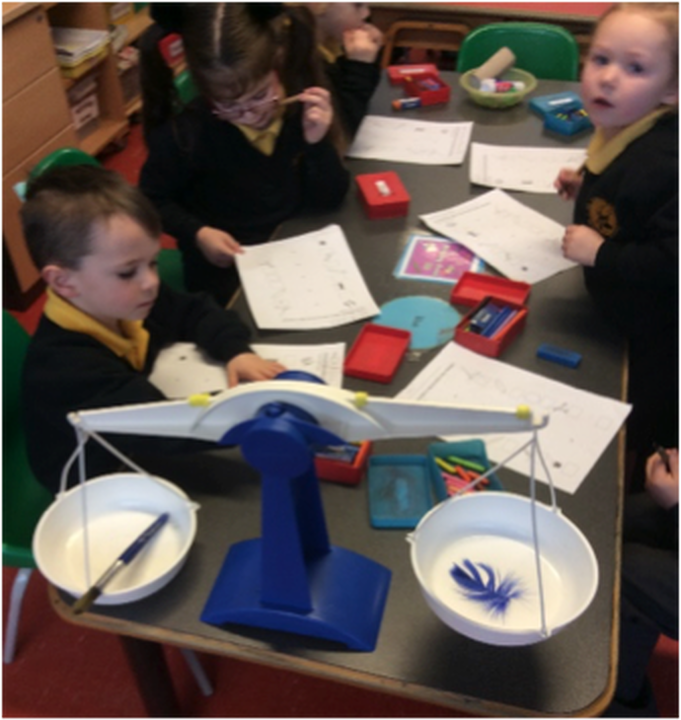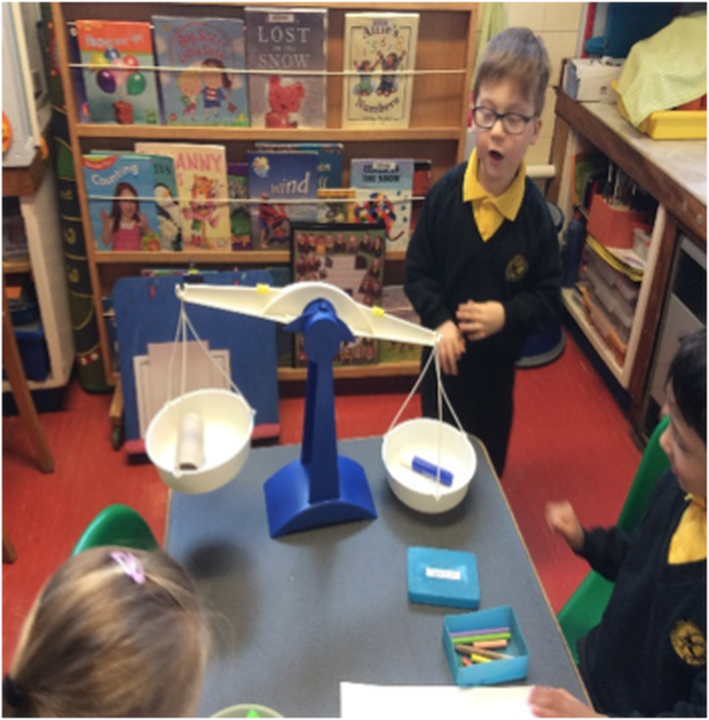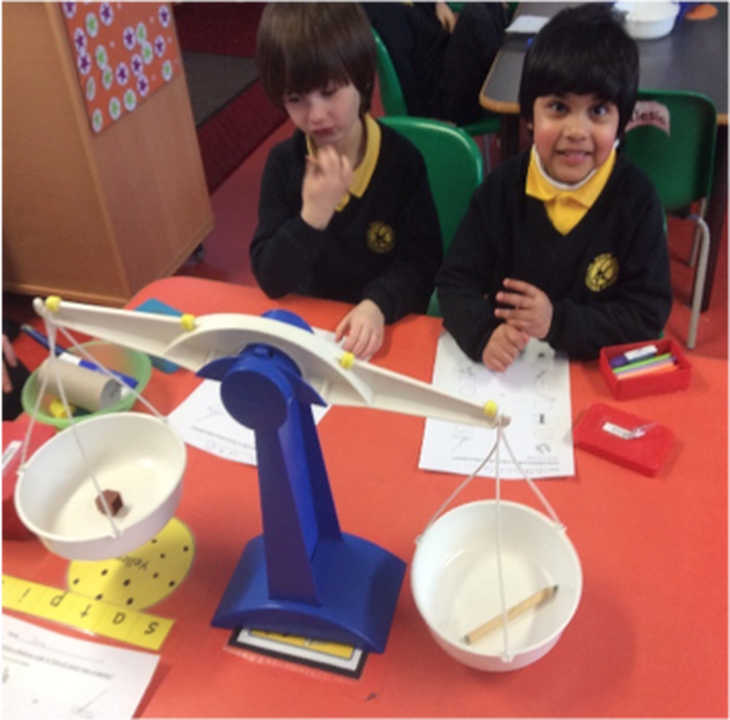 Play Based Learning - January
We are having fun with Eli flips, working with numicon and making sets during Numeracy Time.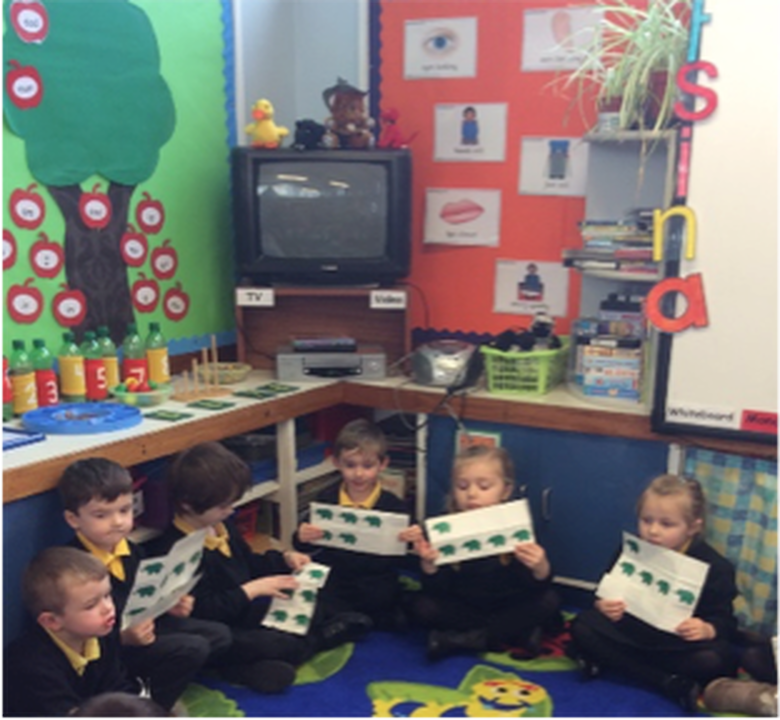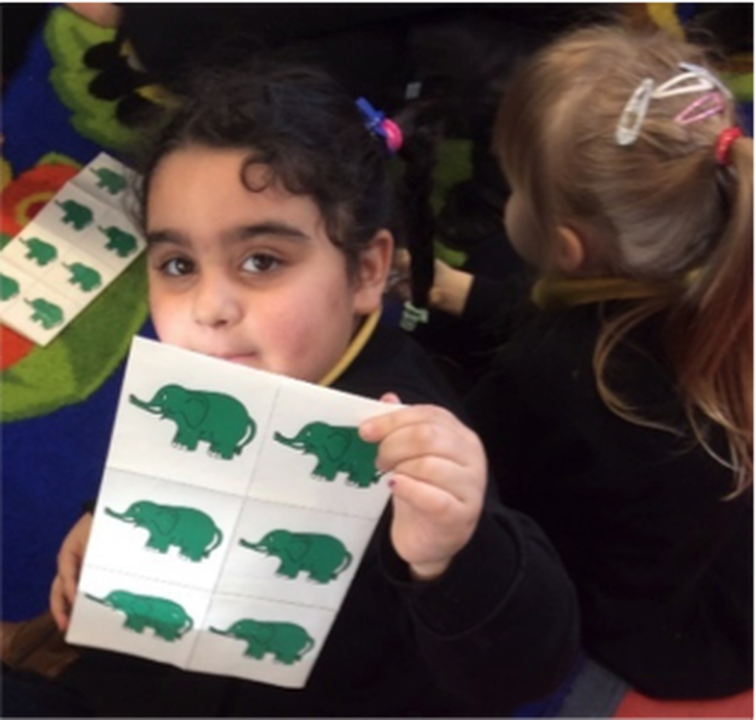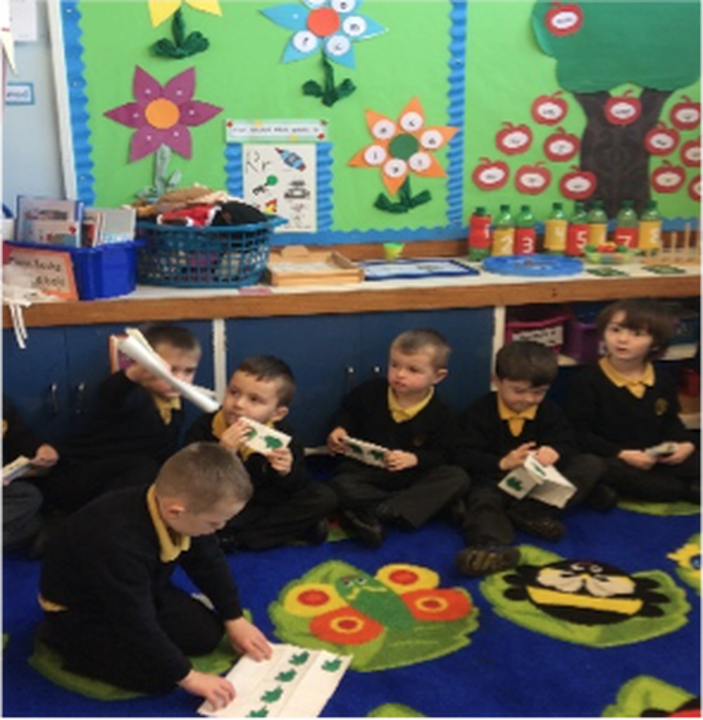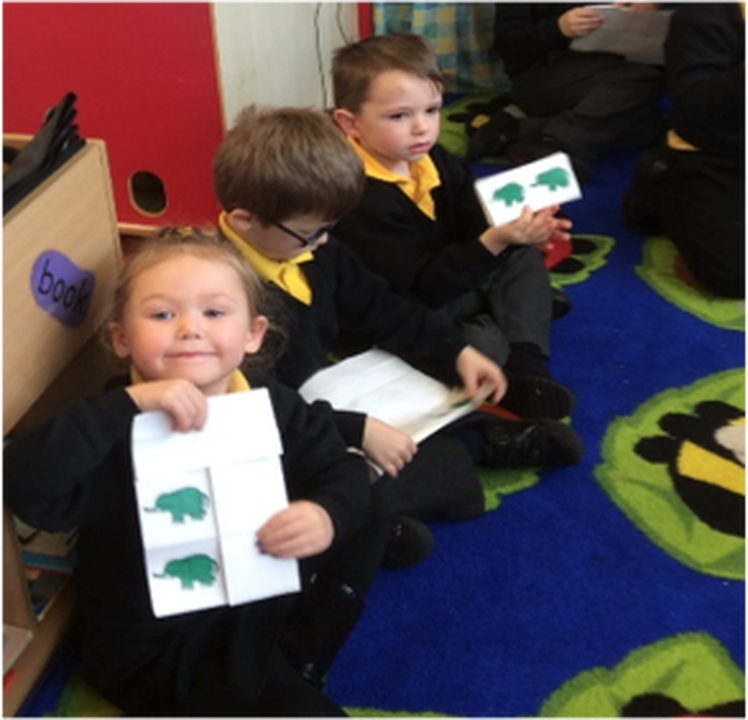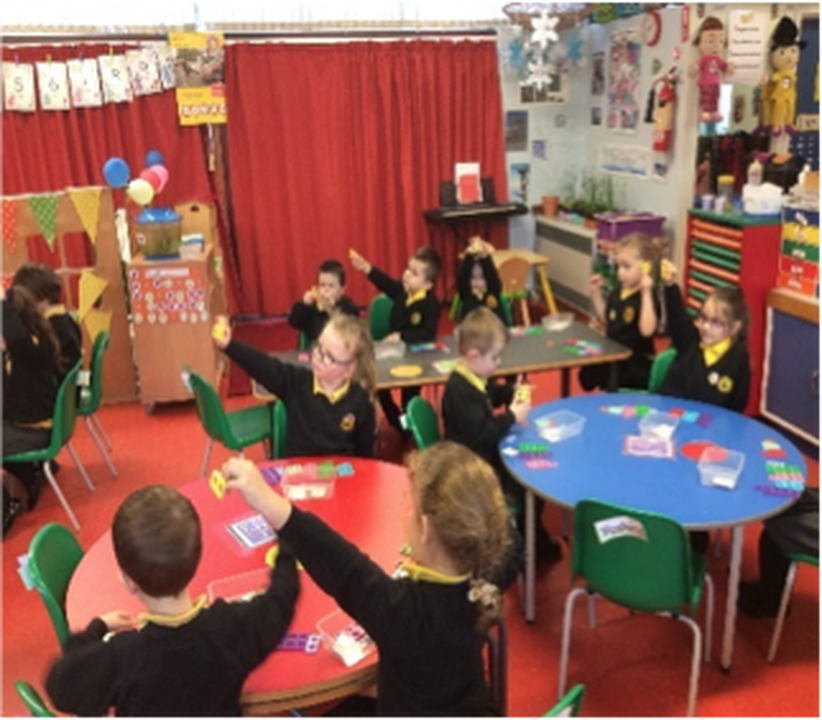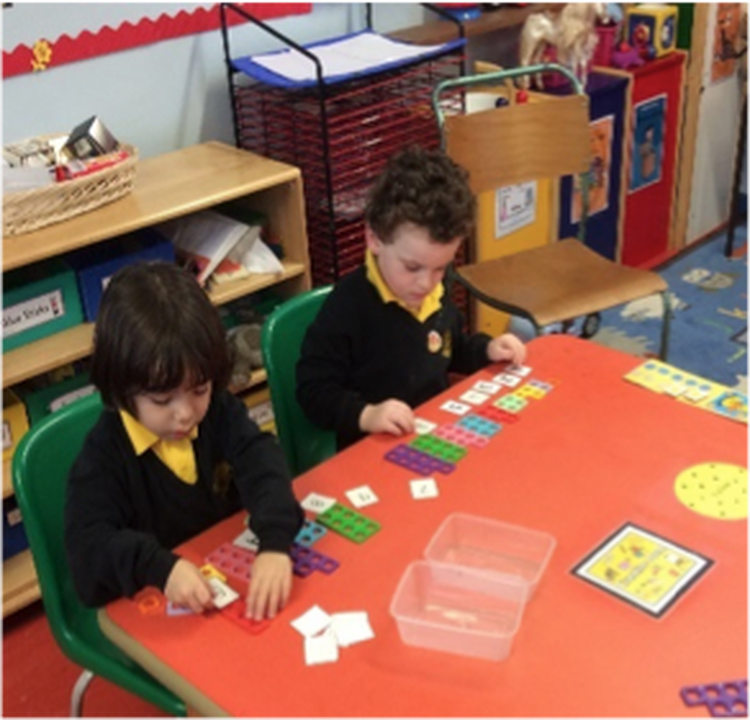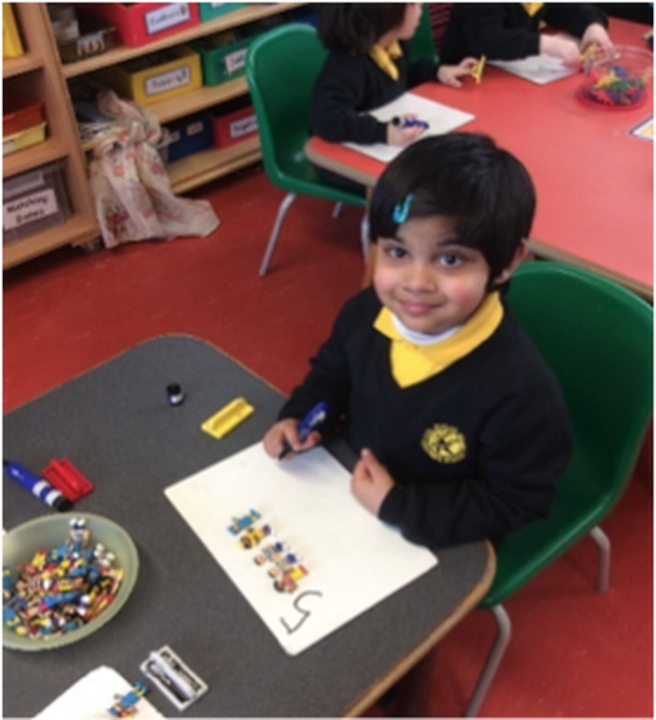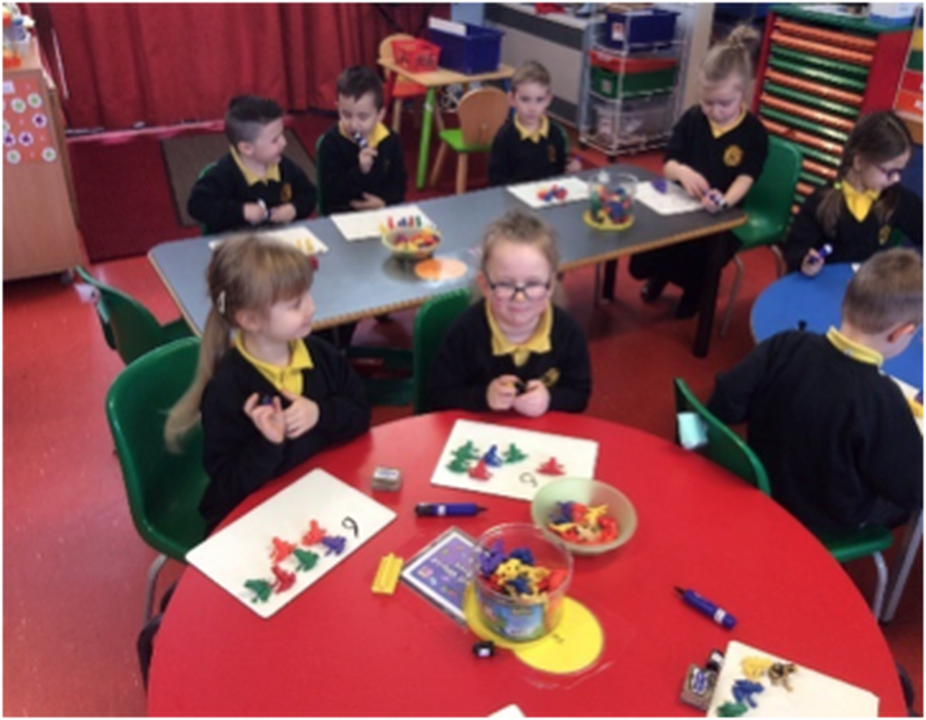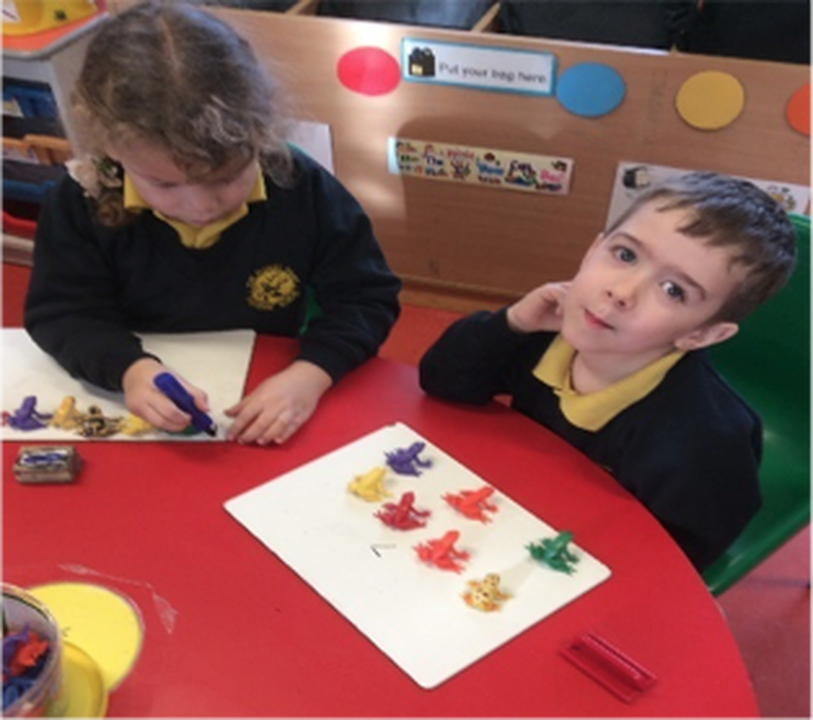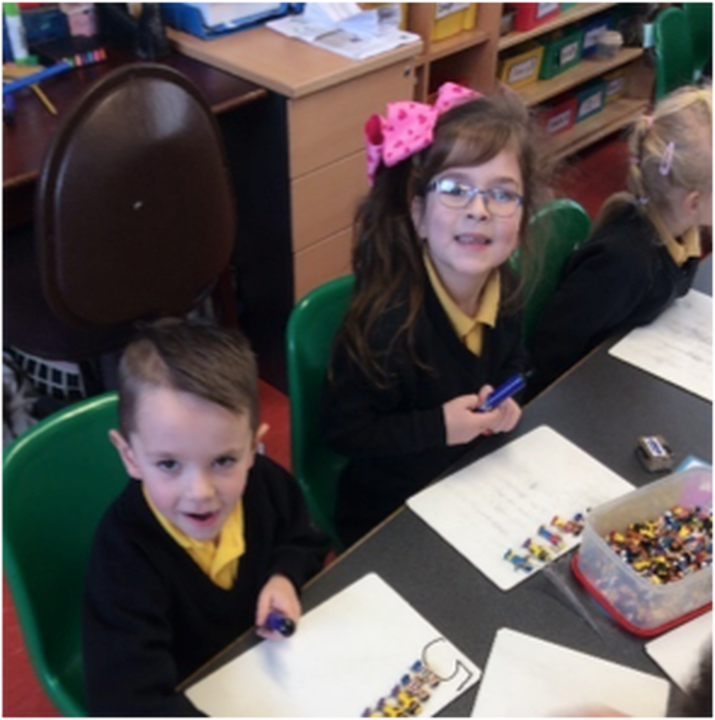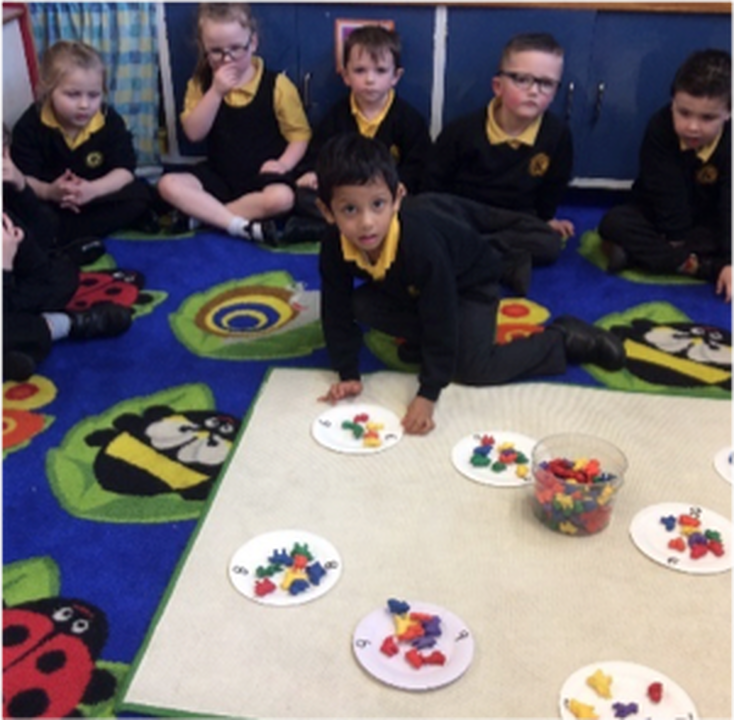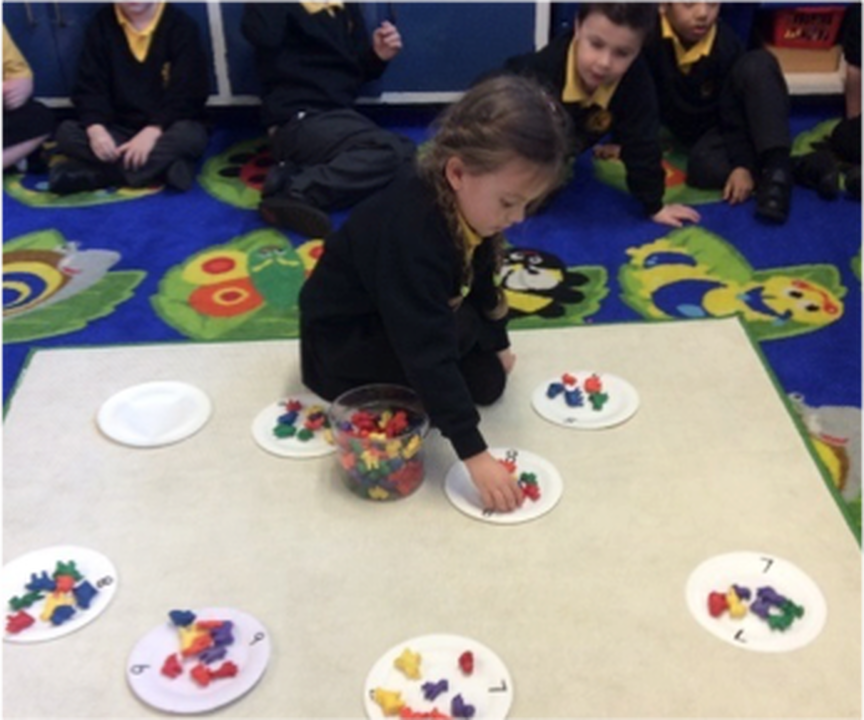 As our topic is Toys we have been exploring how they move.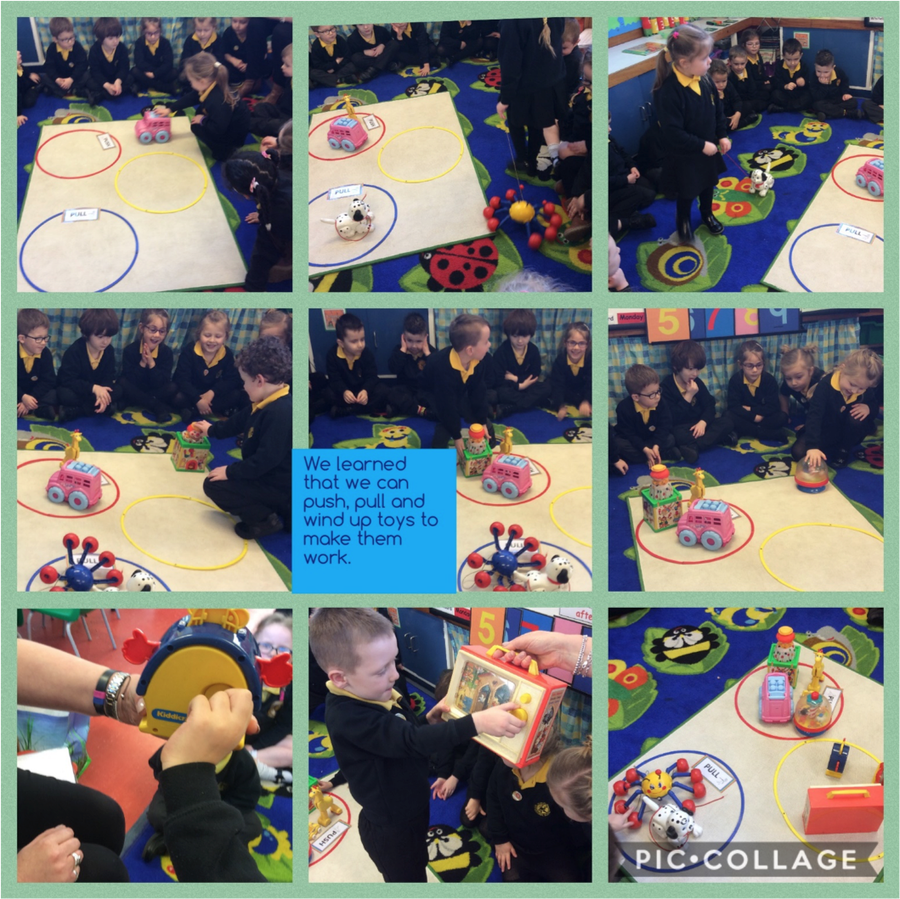 P1 enjoyed dressing up for Odd Day and raising funds for Cancer Focus NI.
Thank you for all your contributions.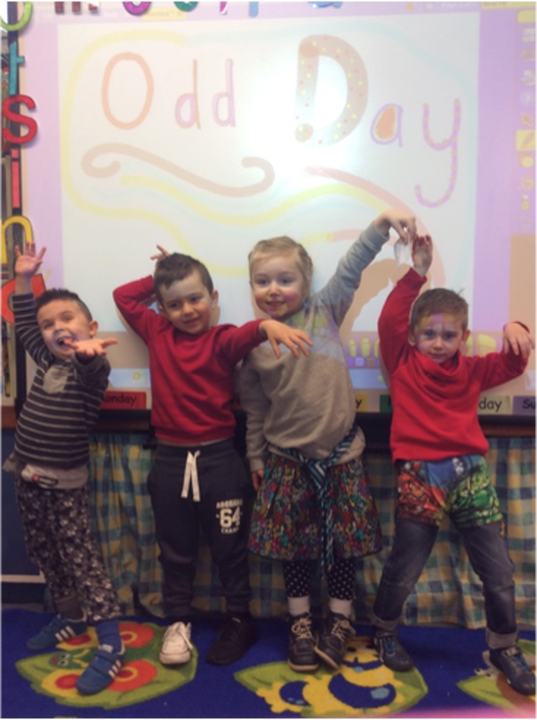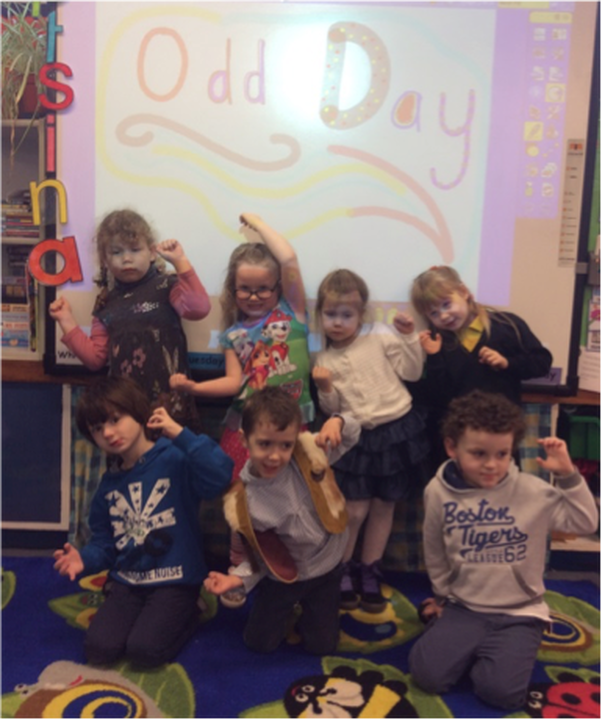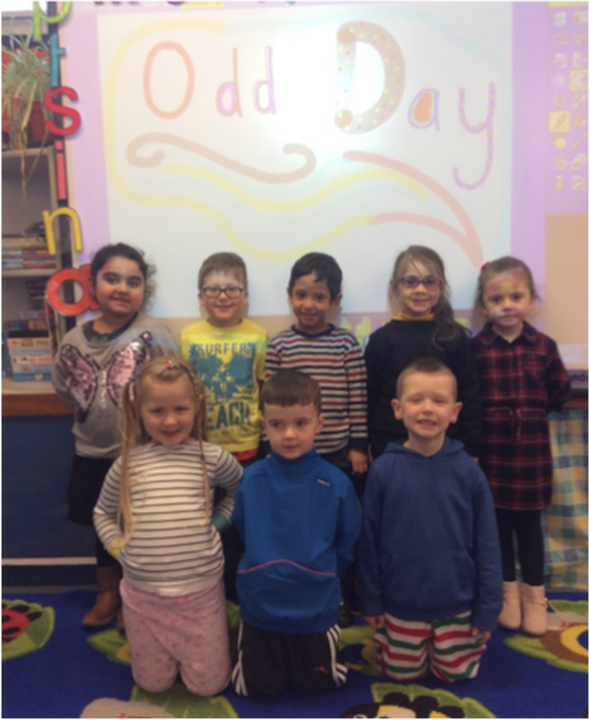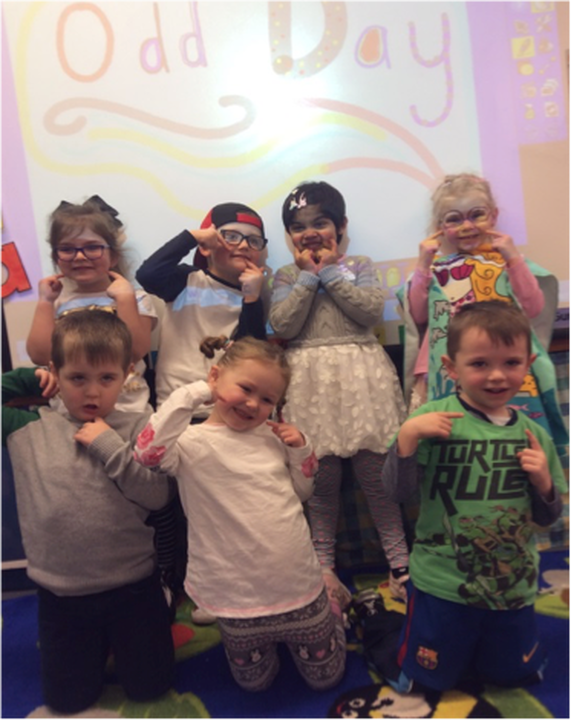 Toys Toys Toys!!
We enjoyed talking about and describing our favourite toys. We took photographs on the Ipad of each other. Have a look at our stories and observational drawings.
Ho Ho Ho!!
P1 had a Special Visitor this morning.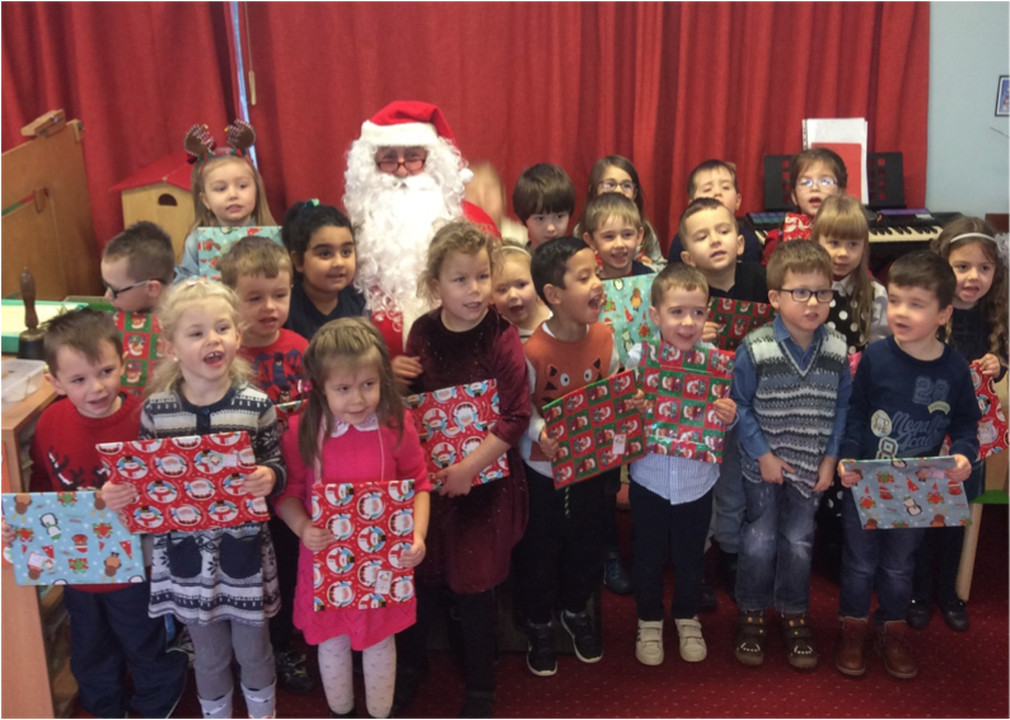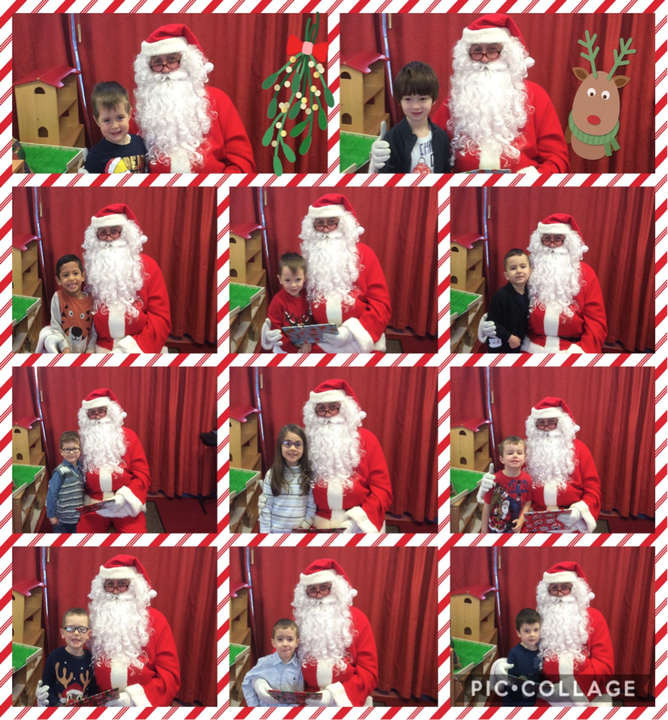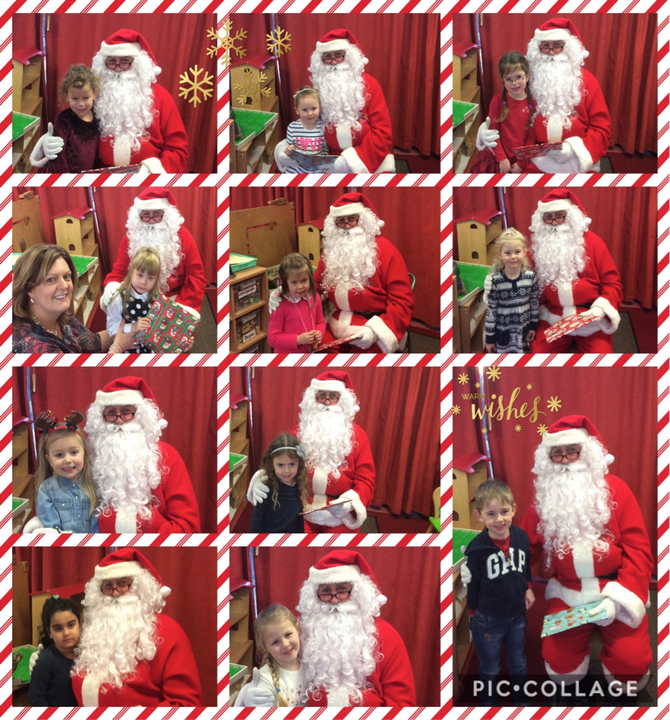 P1 had great fun at their Christmas Party!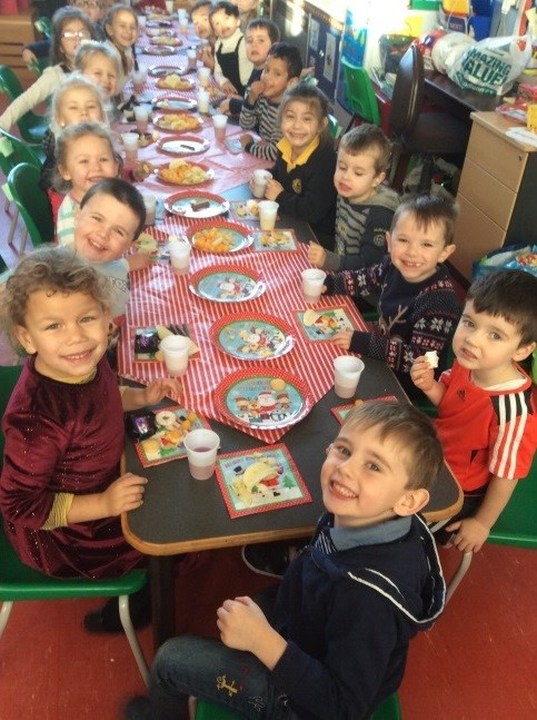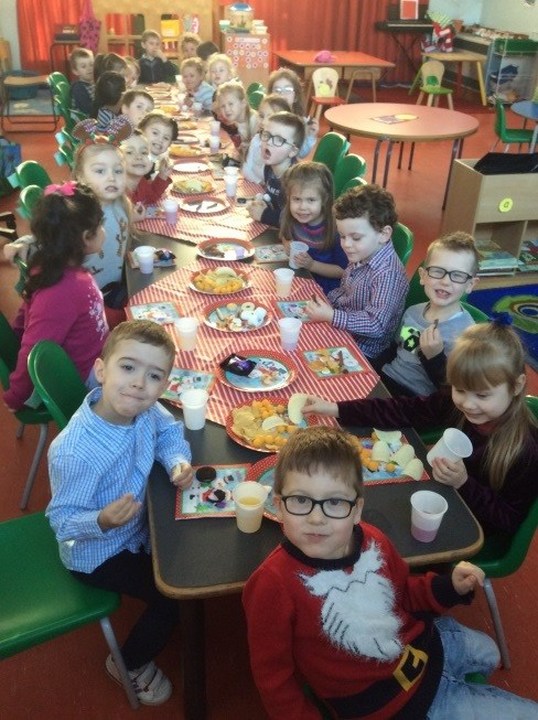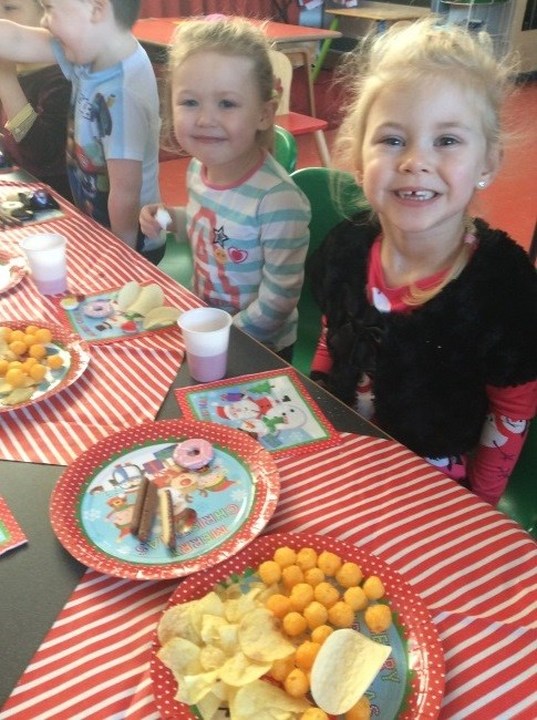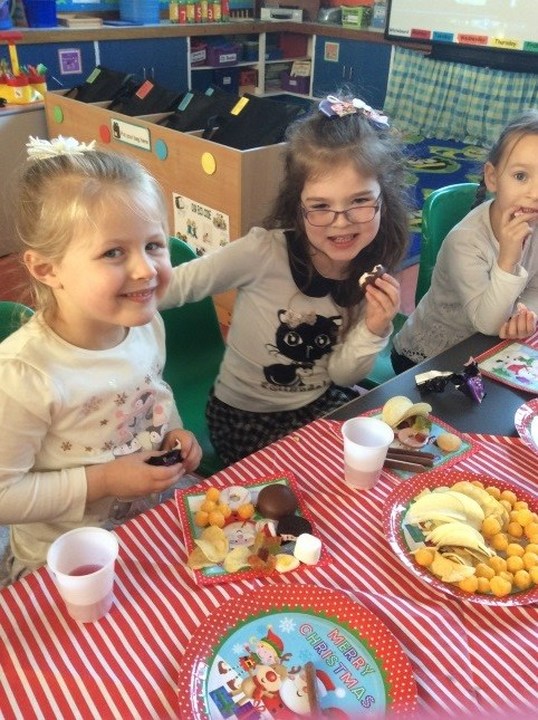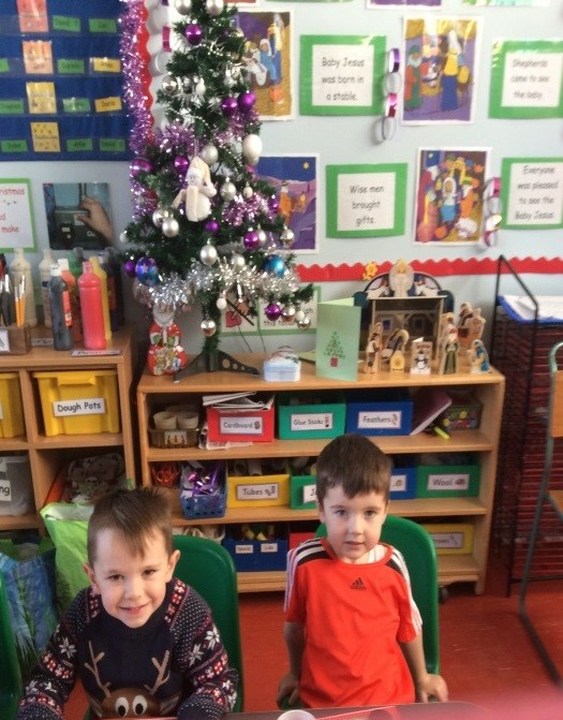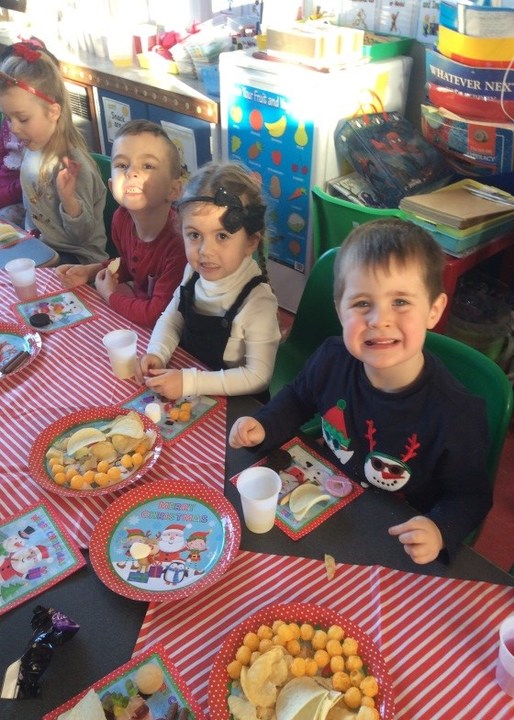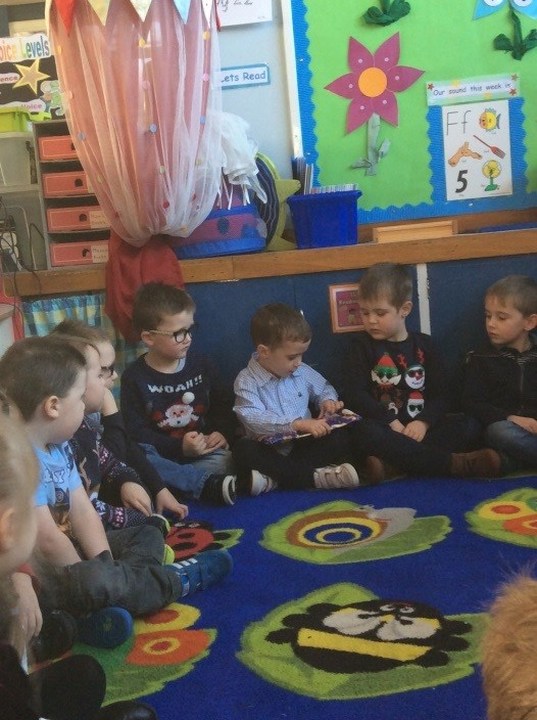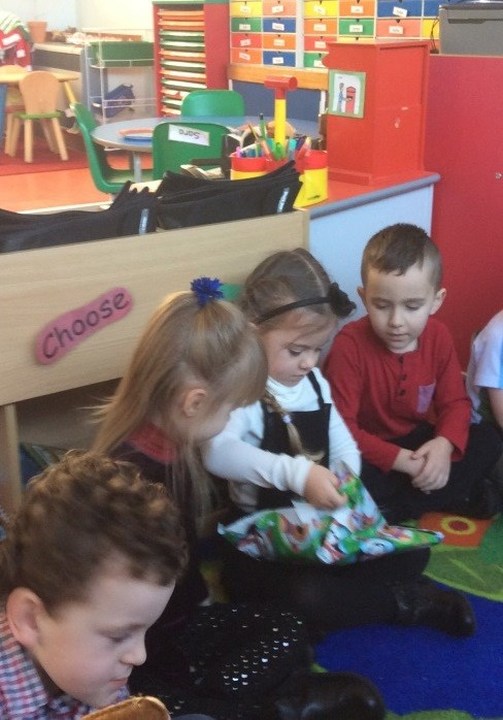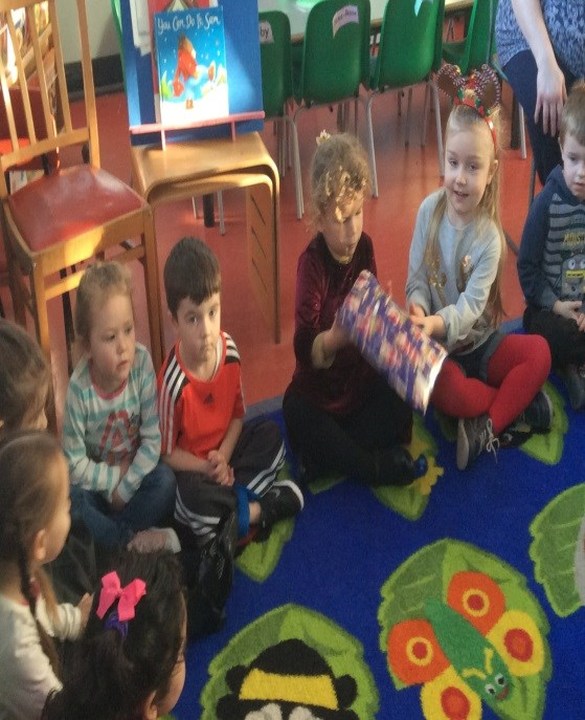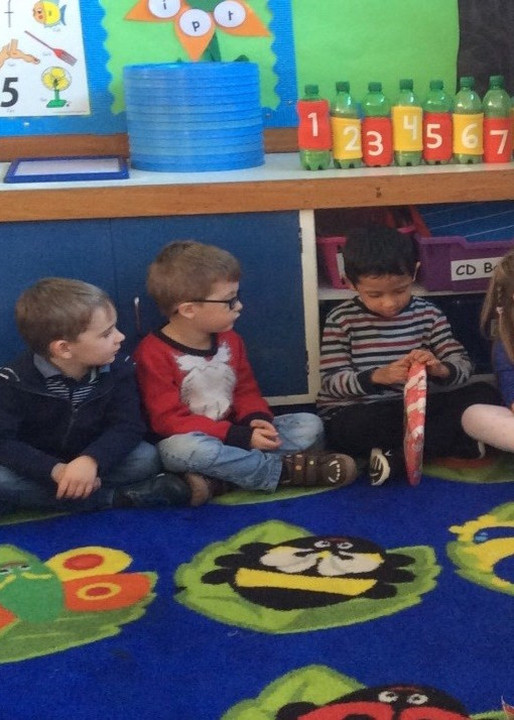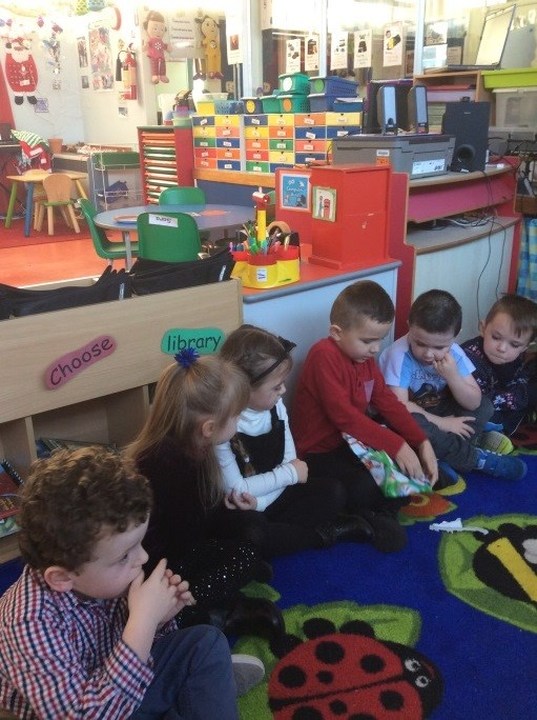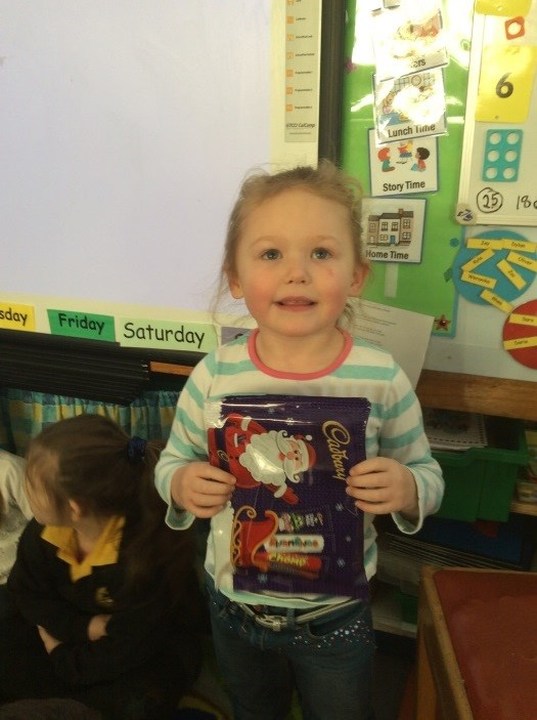 Christmas Jumper Day- Merry Christmas Everyone.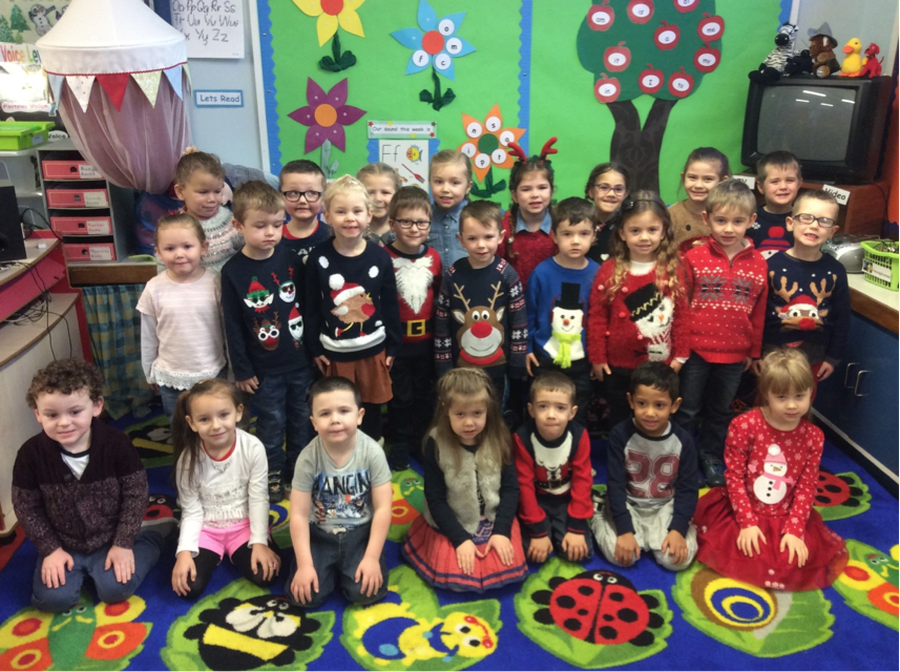 Play Based Learning – December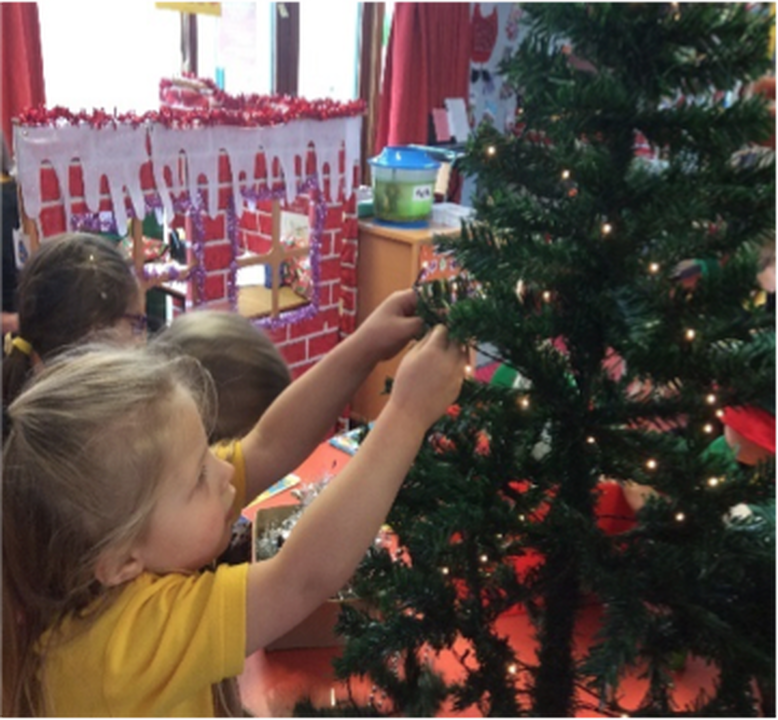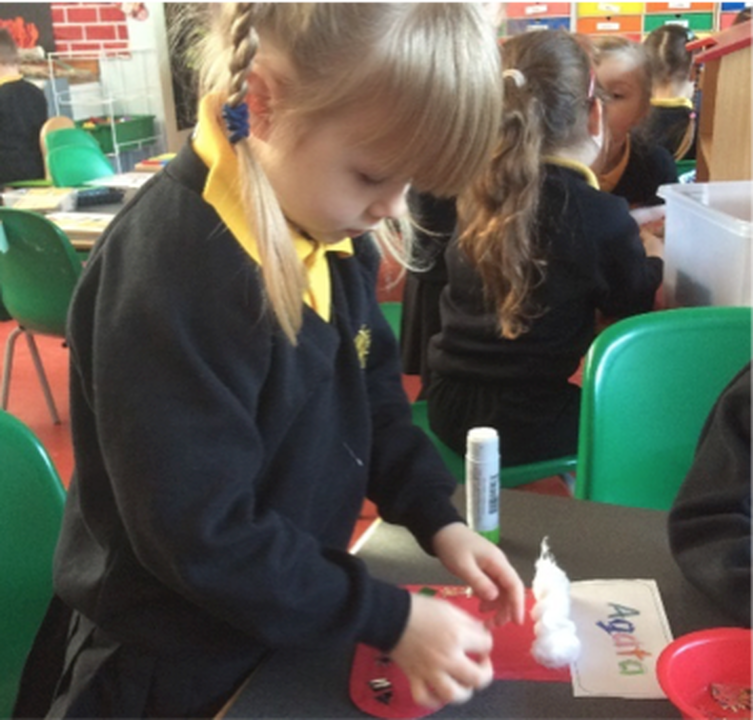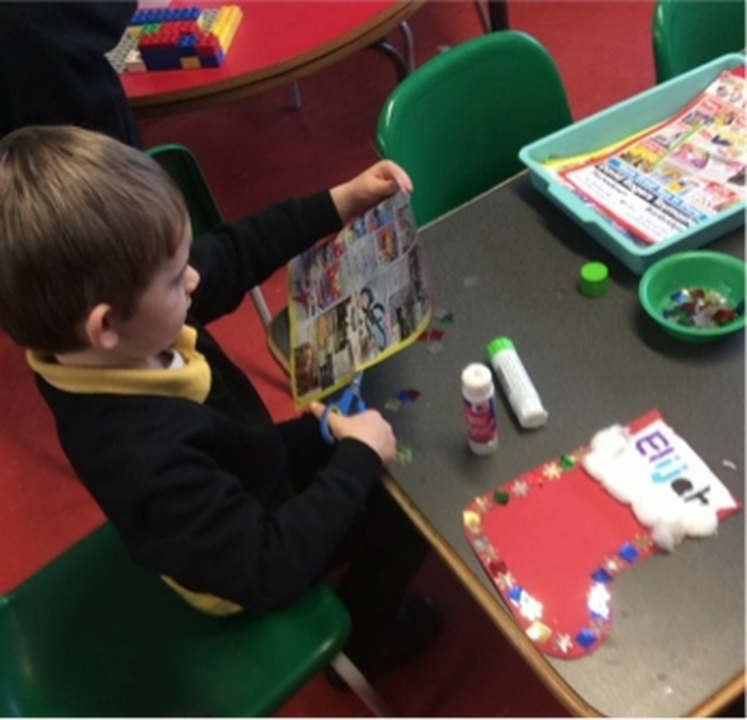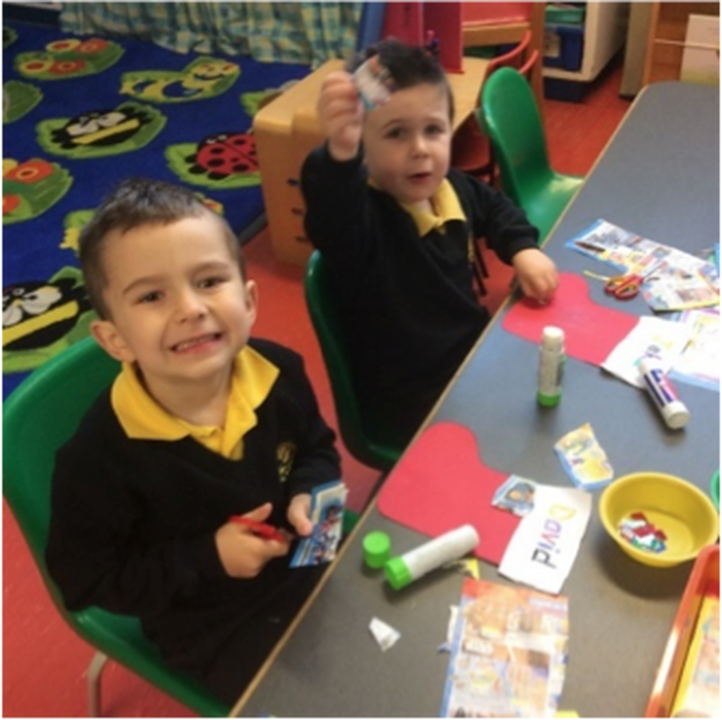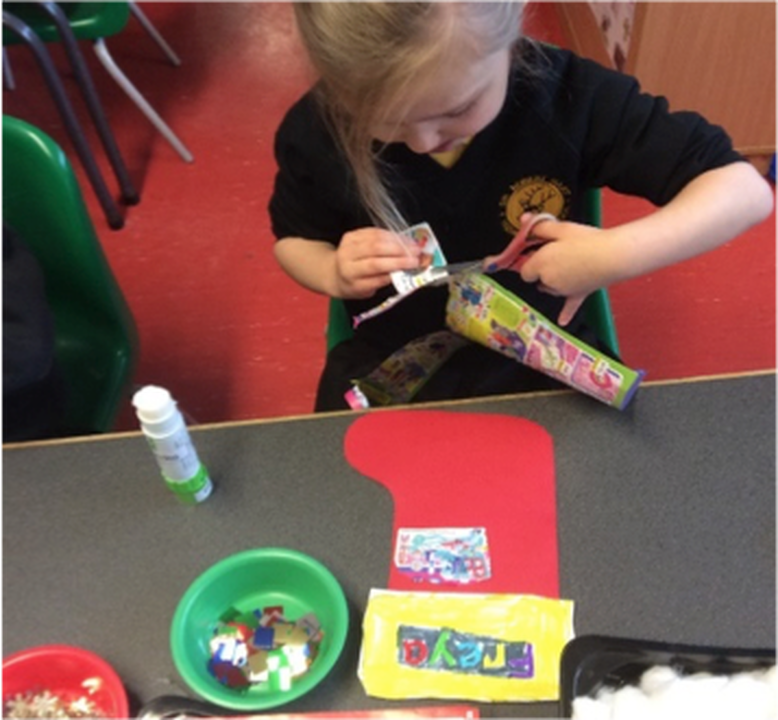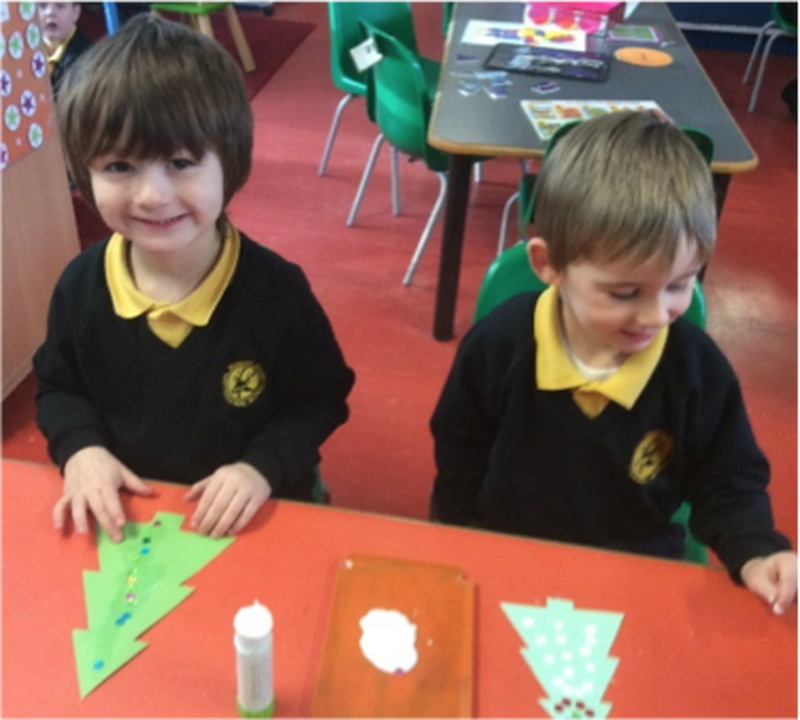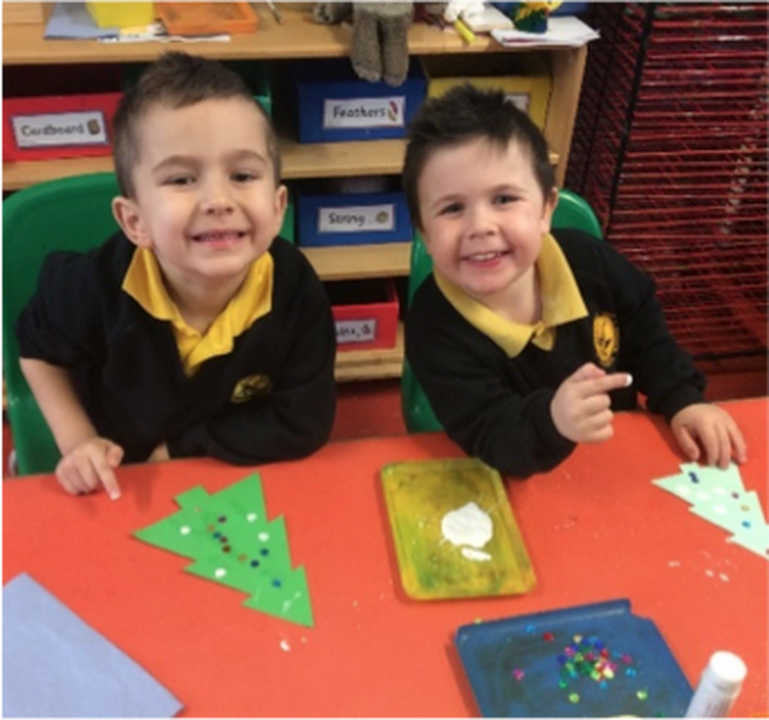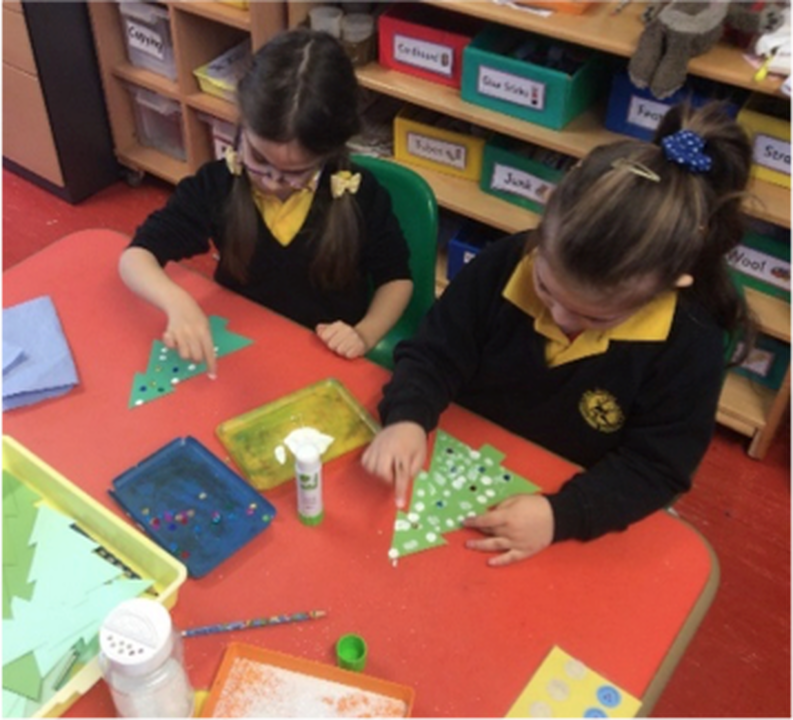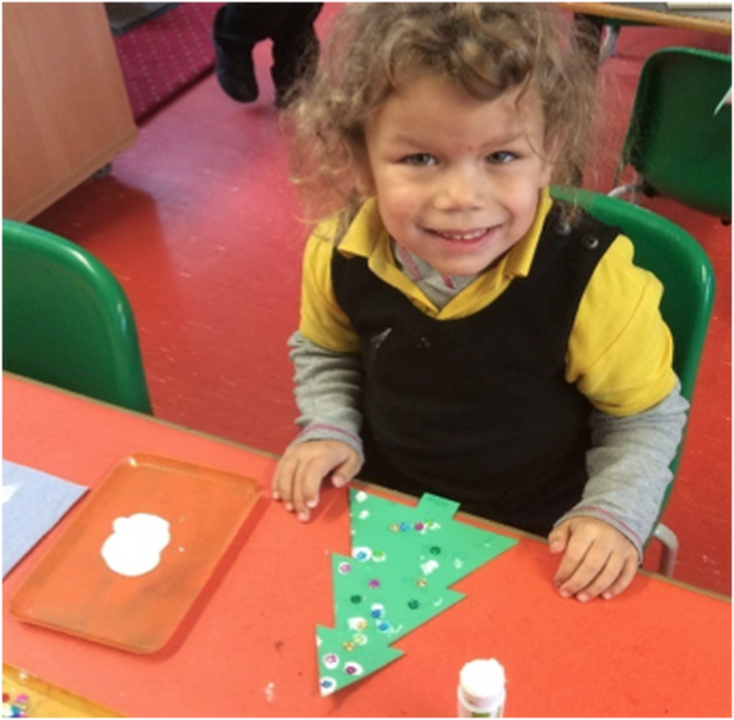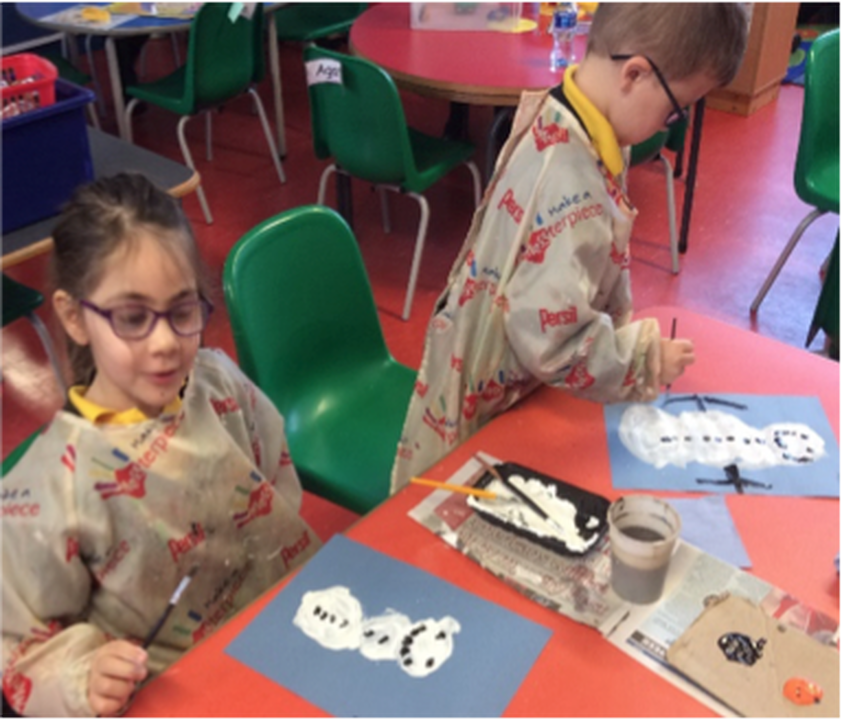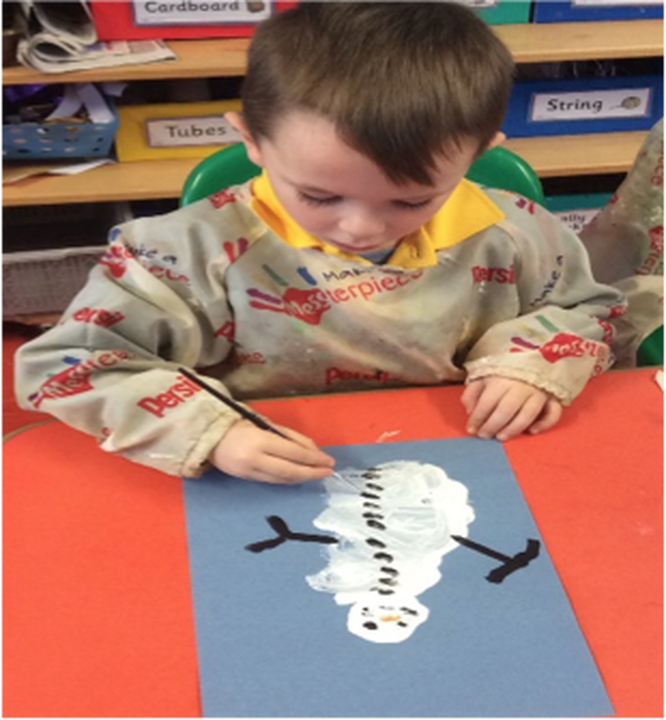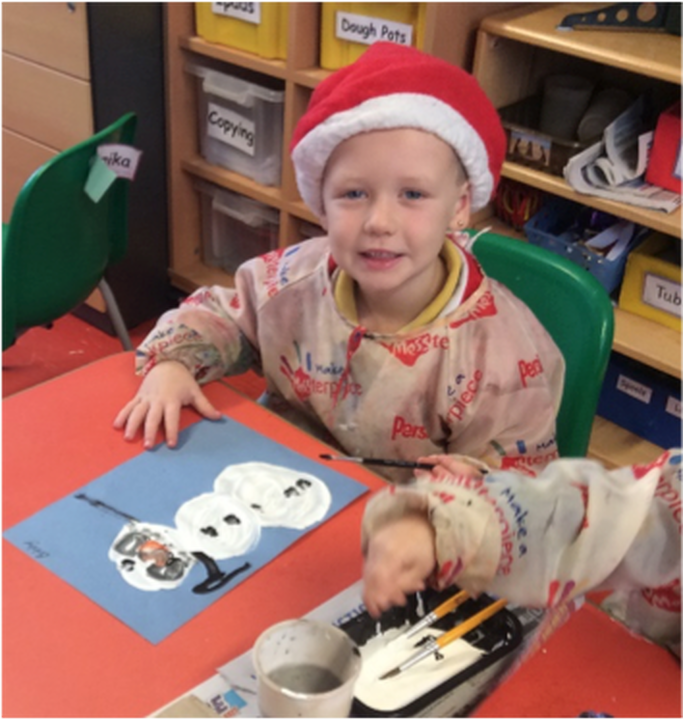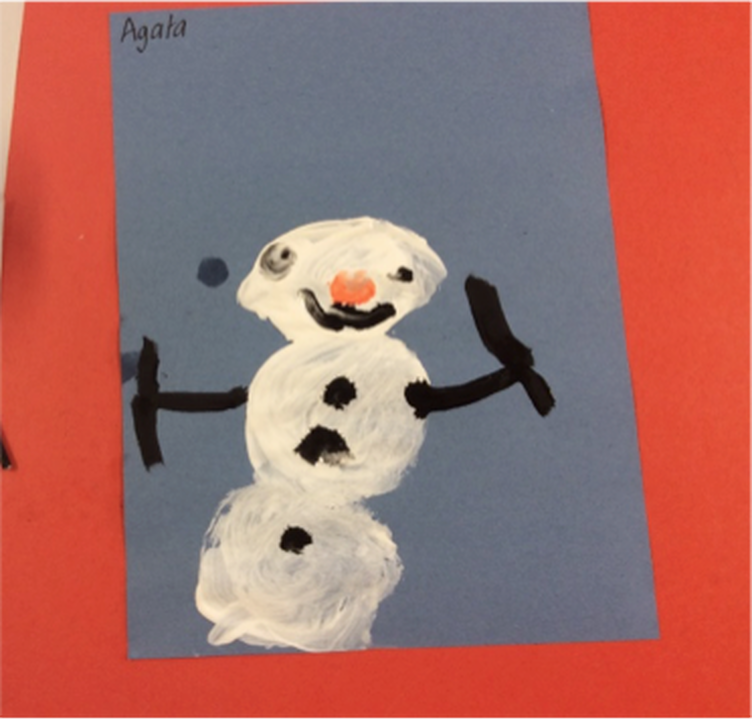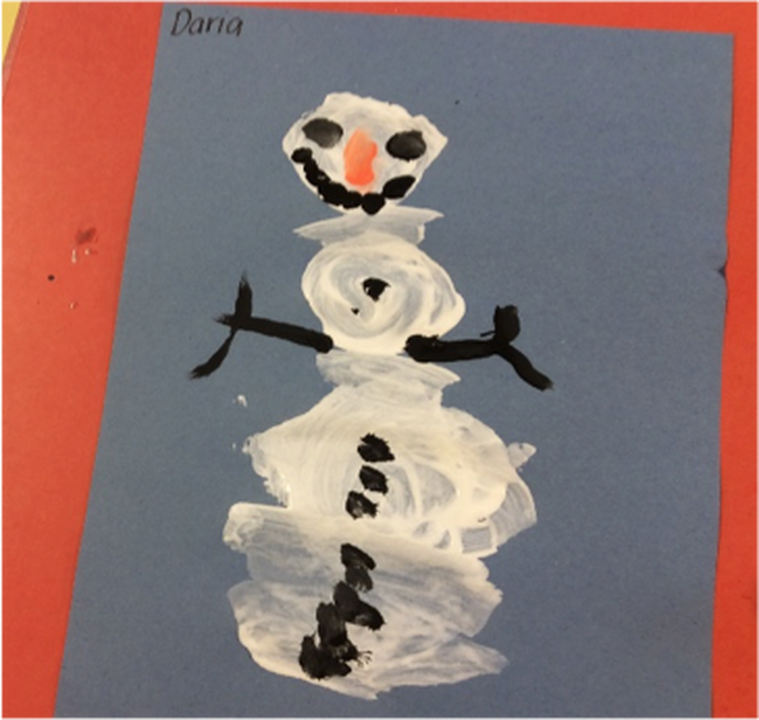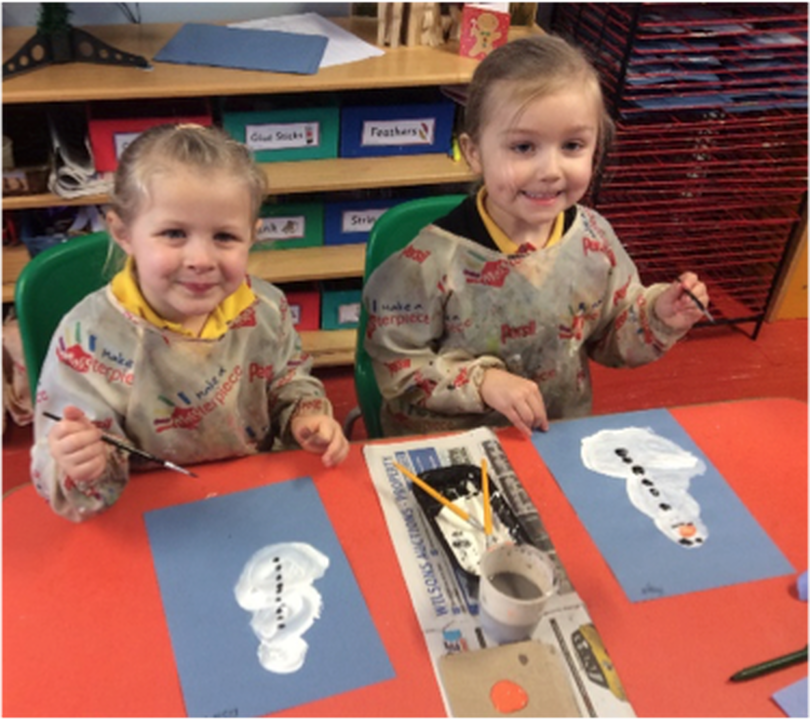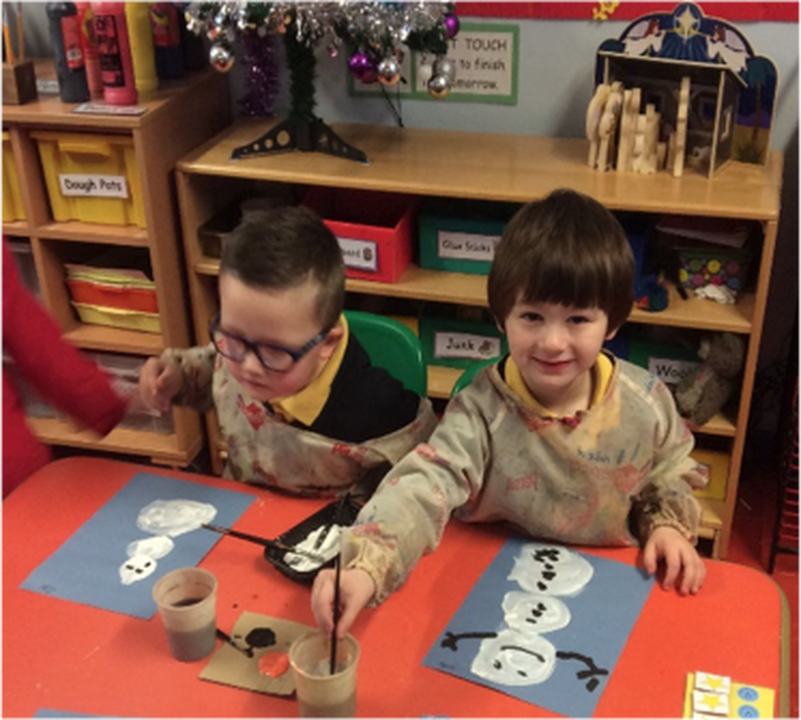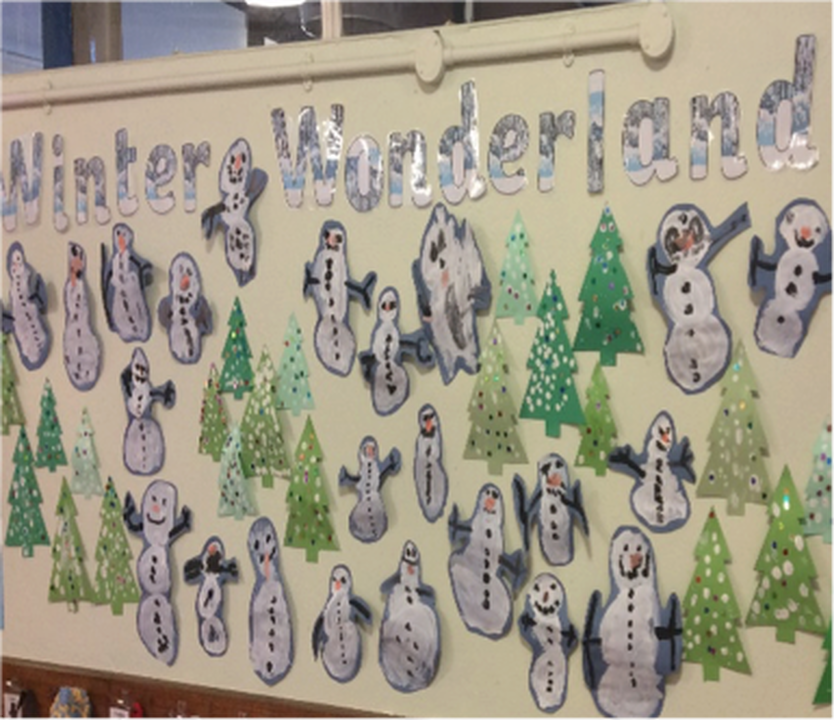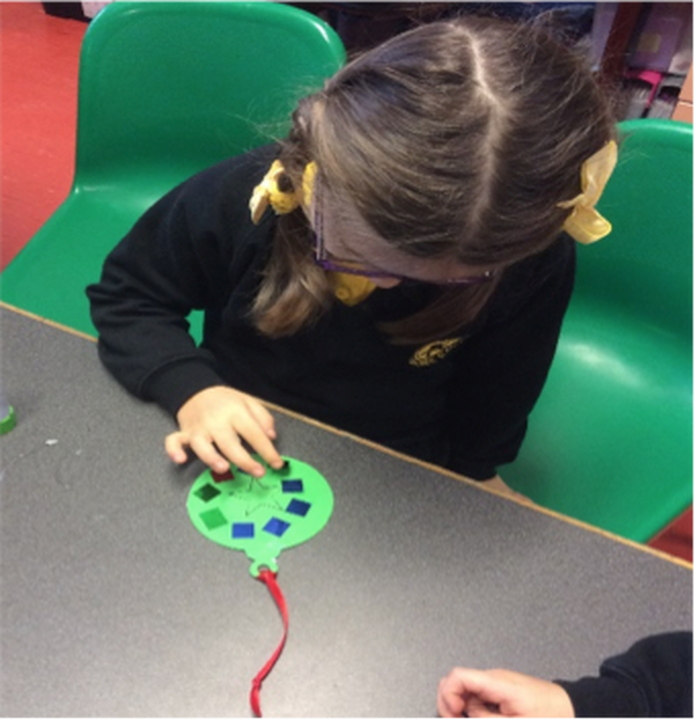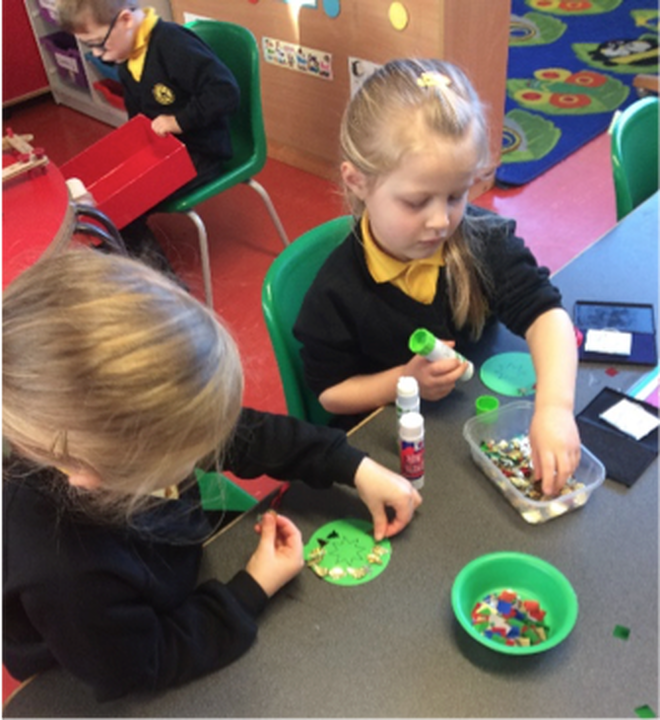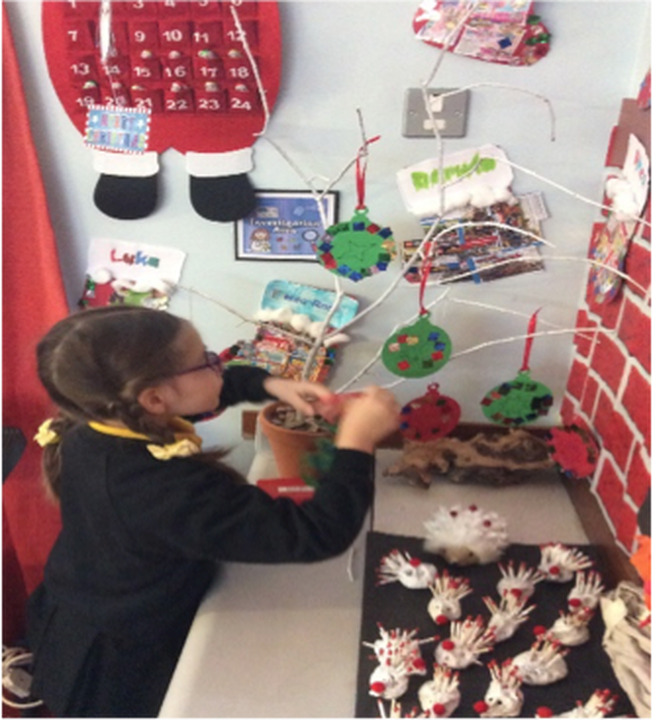 During Art we have been experimenting with clay and we made Winter Hedgehogs.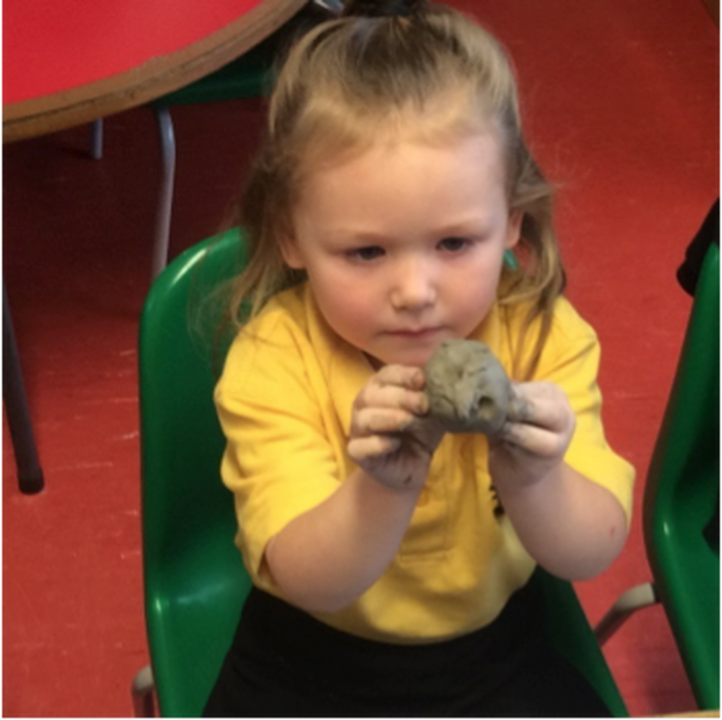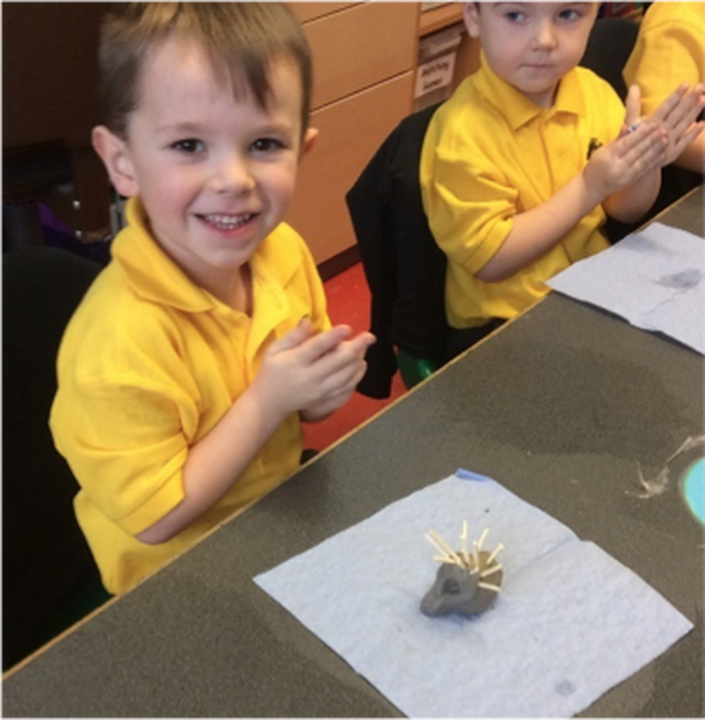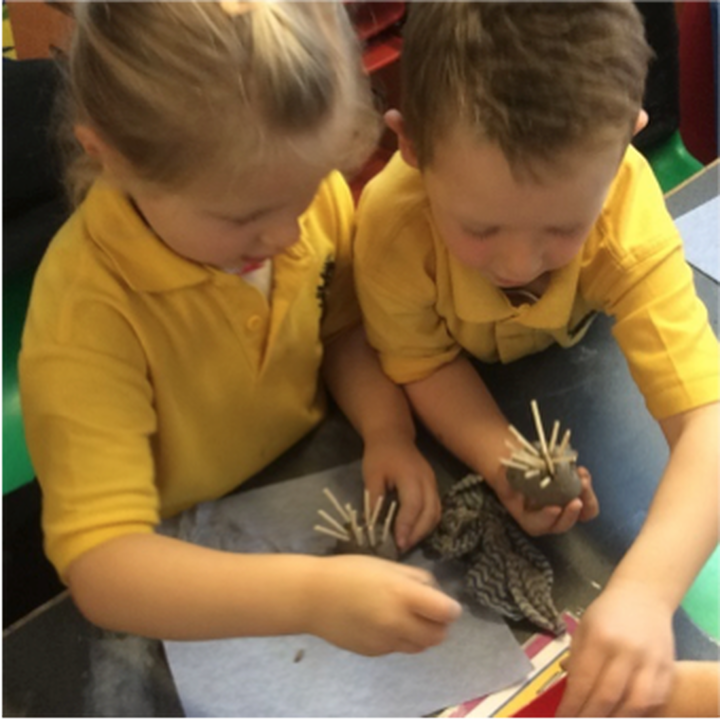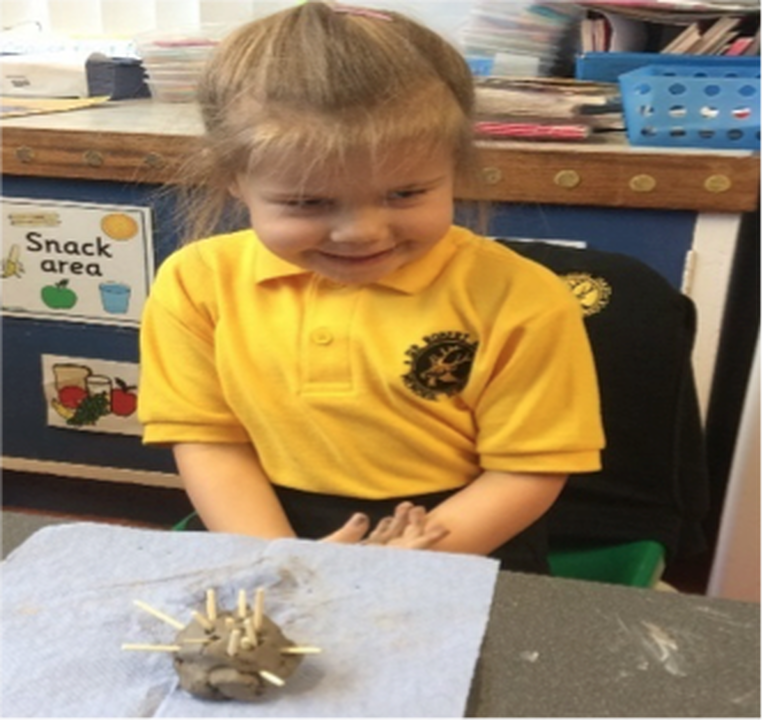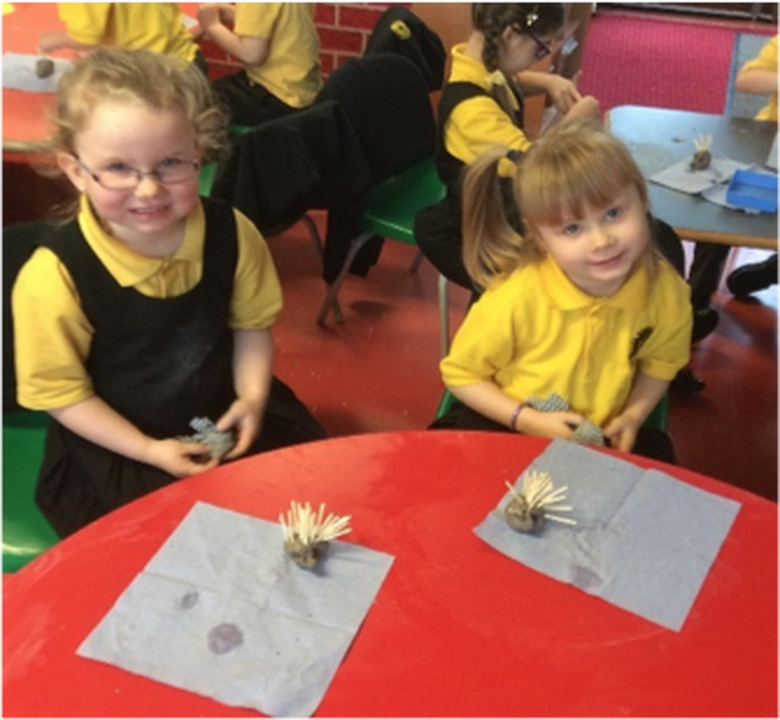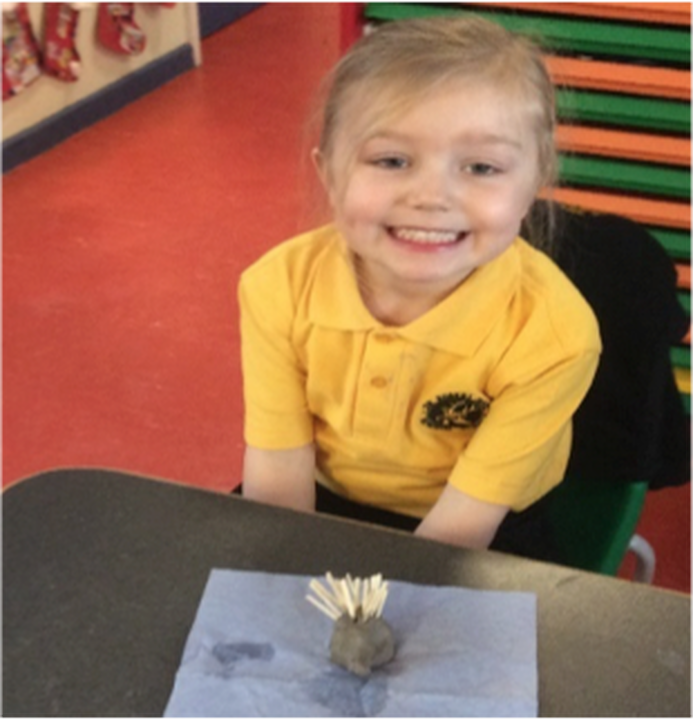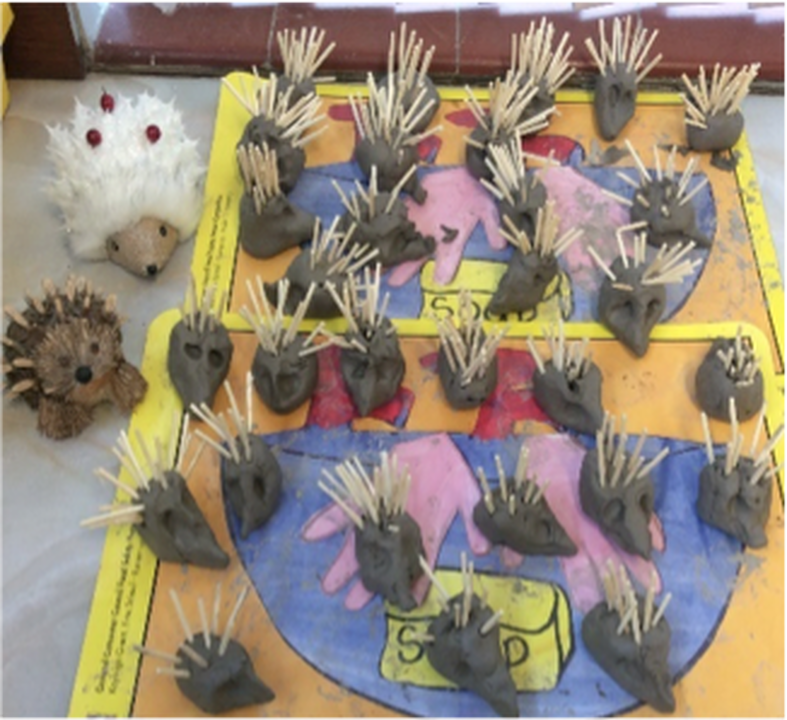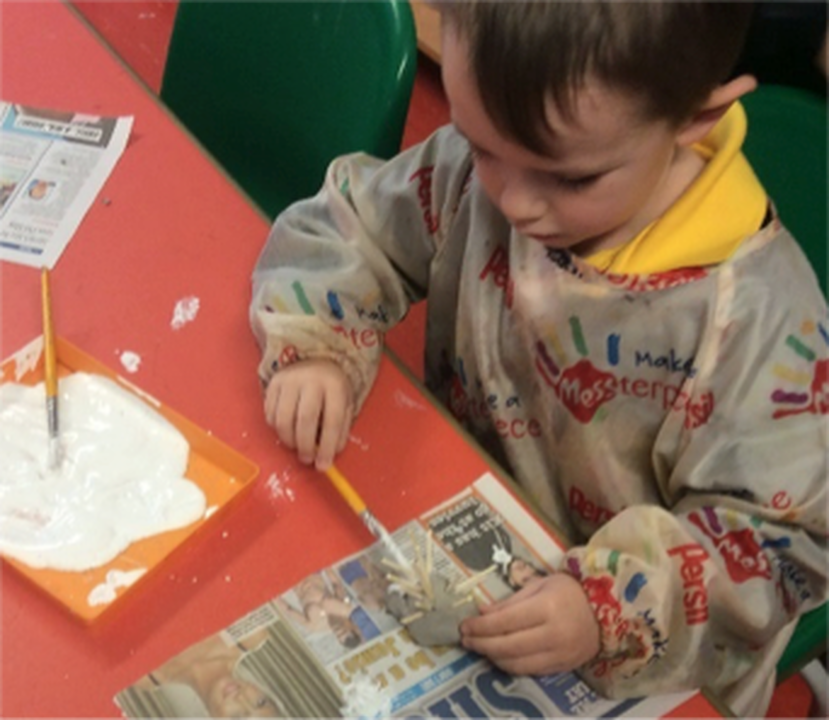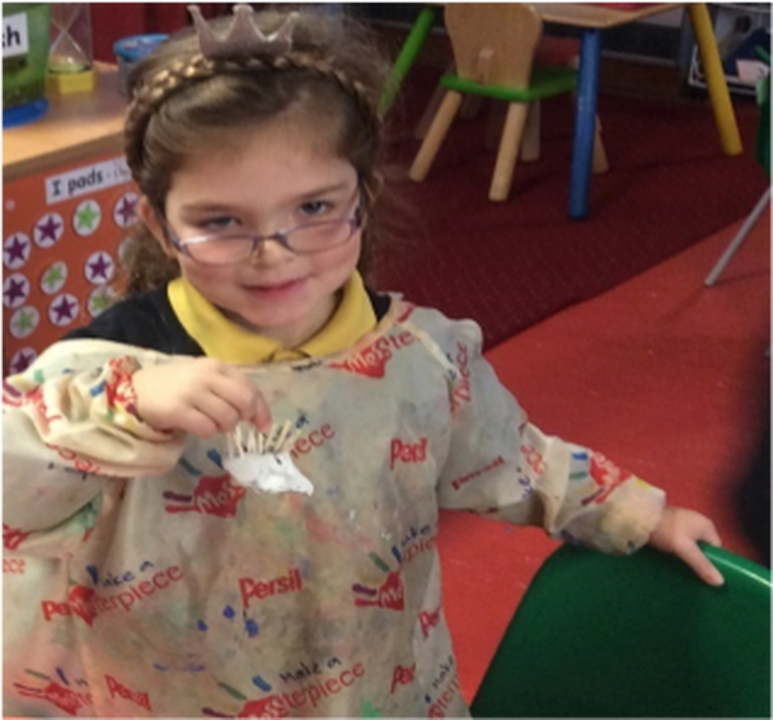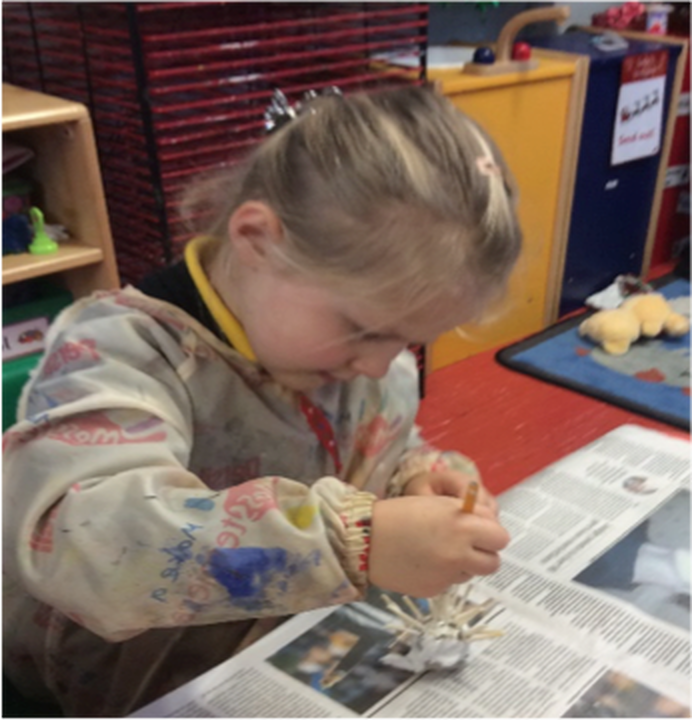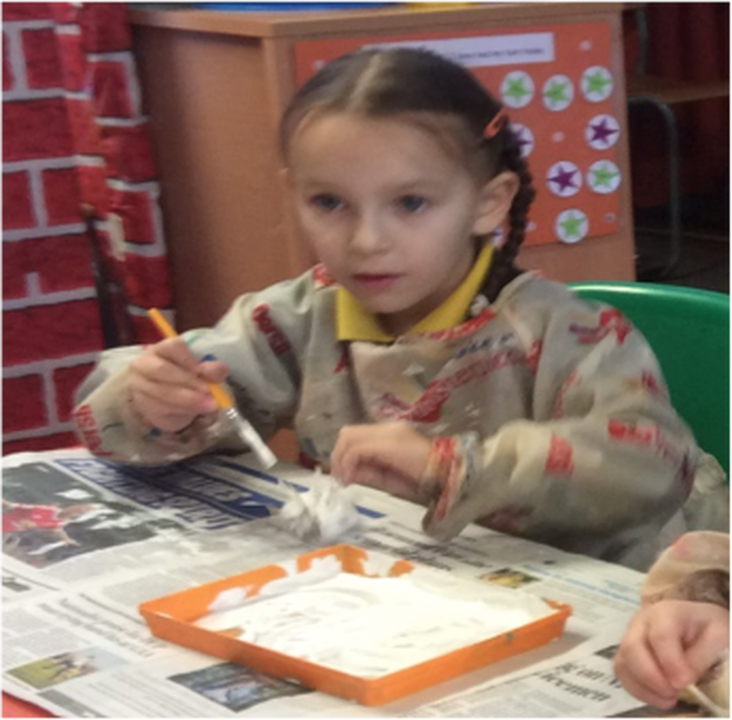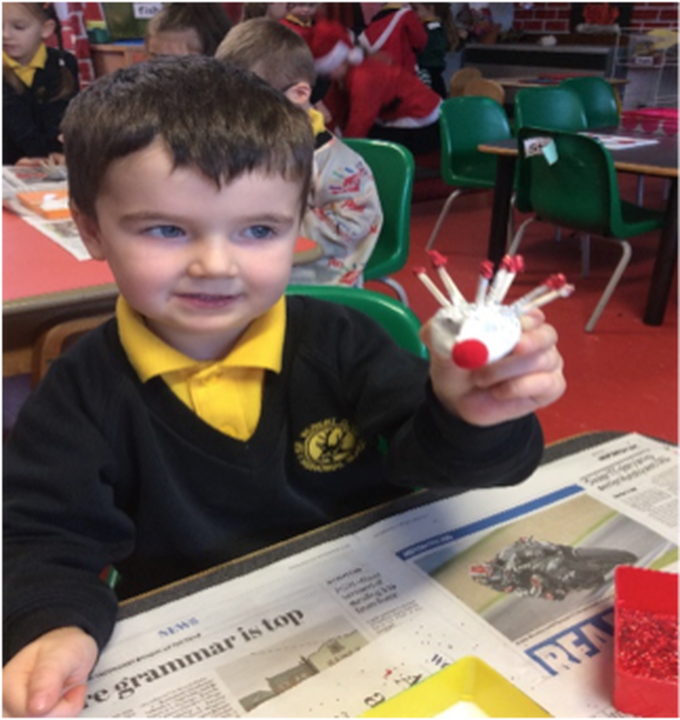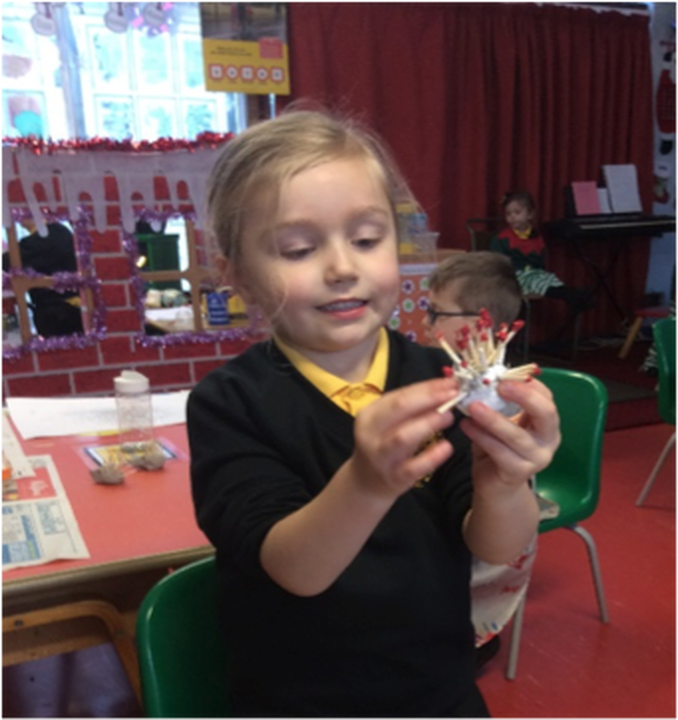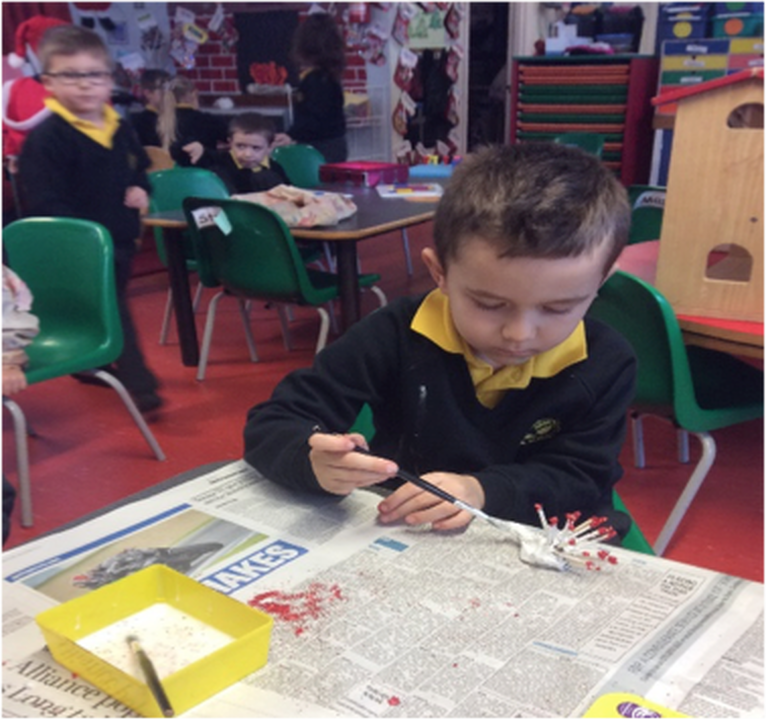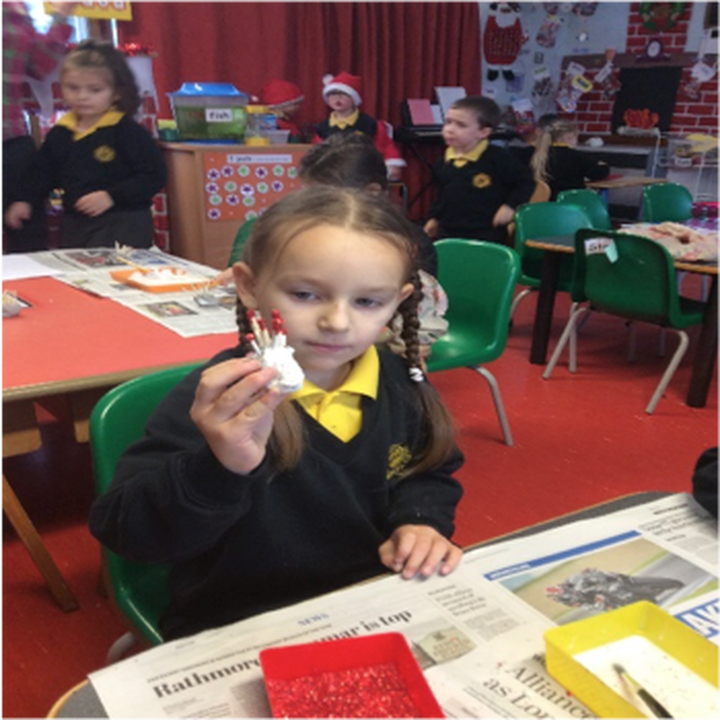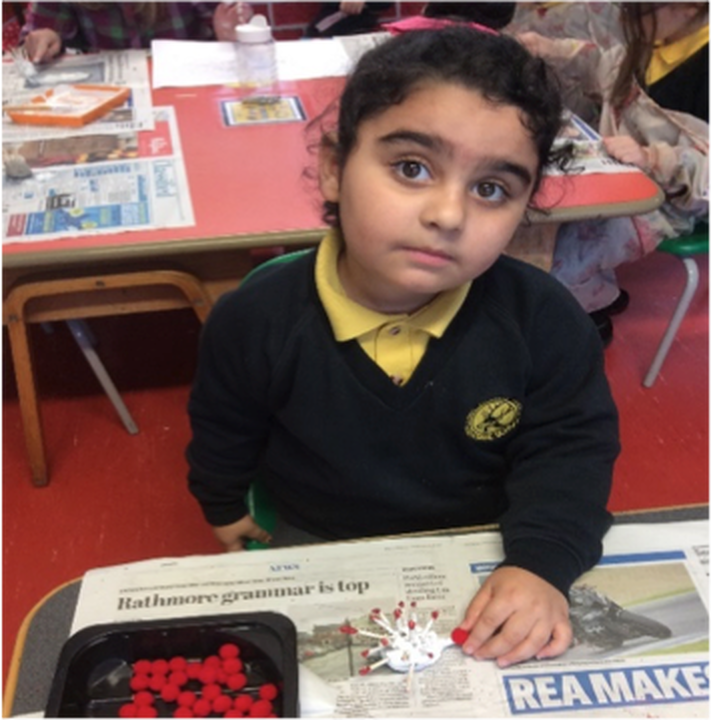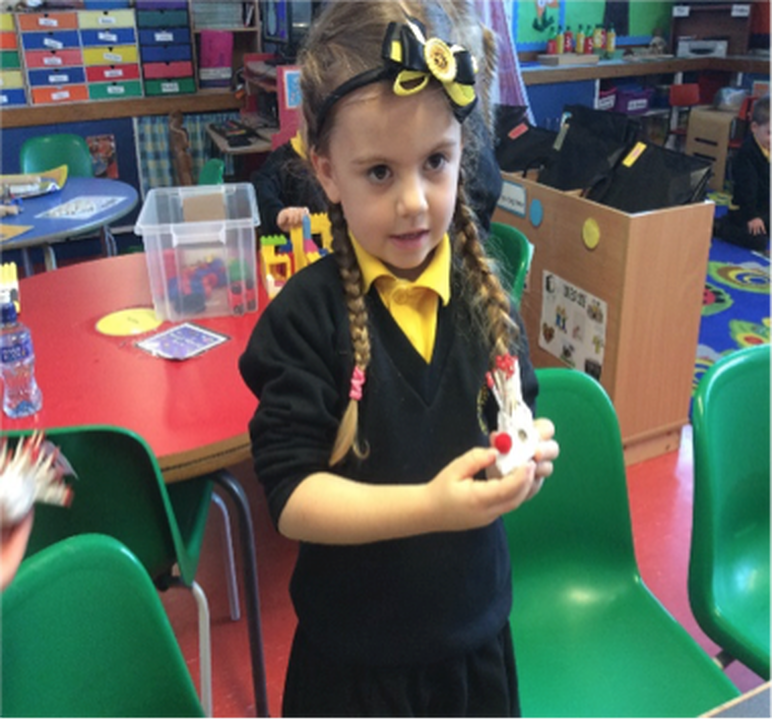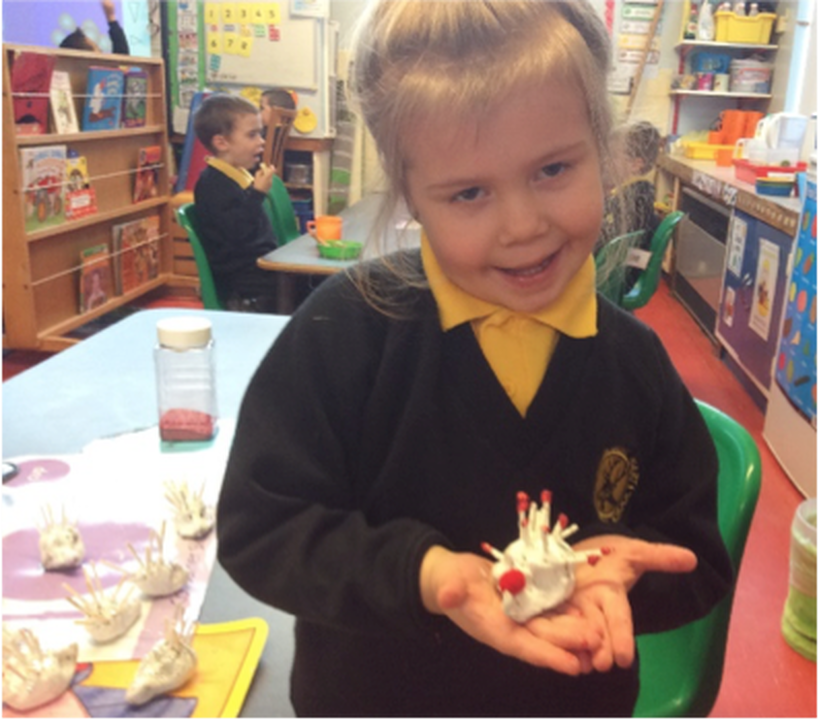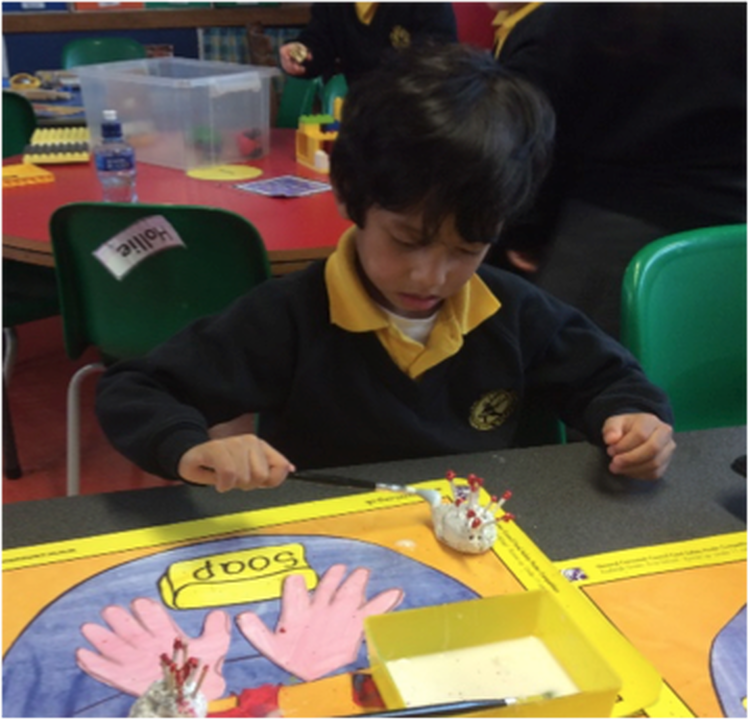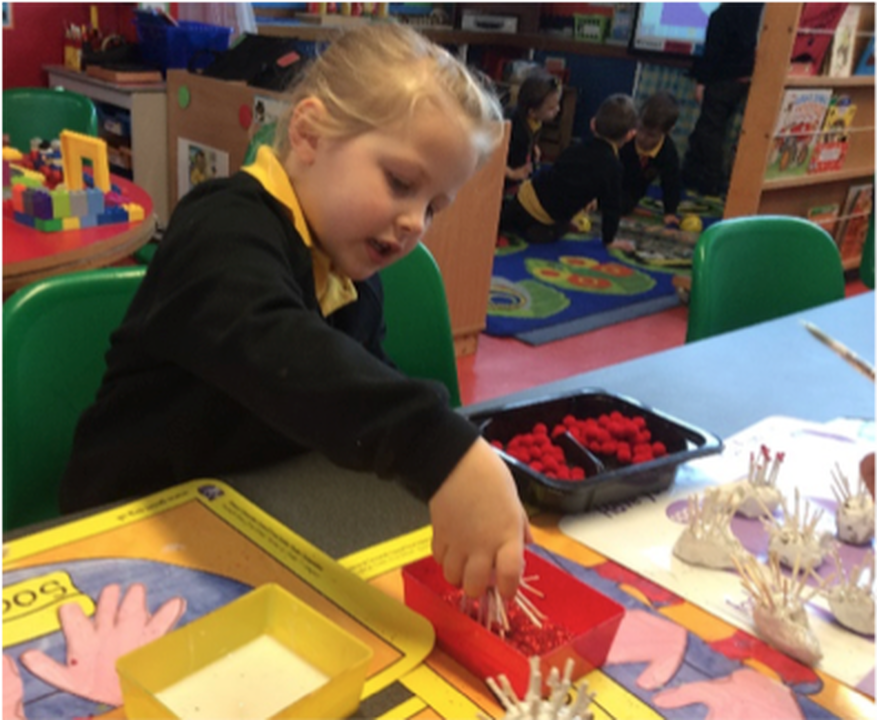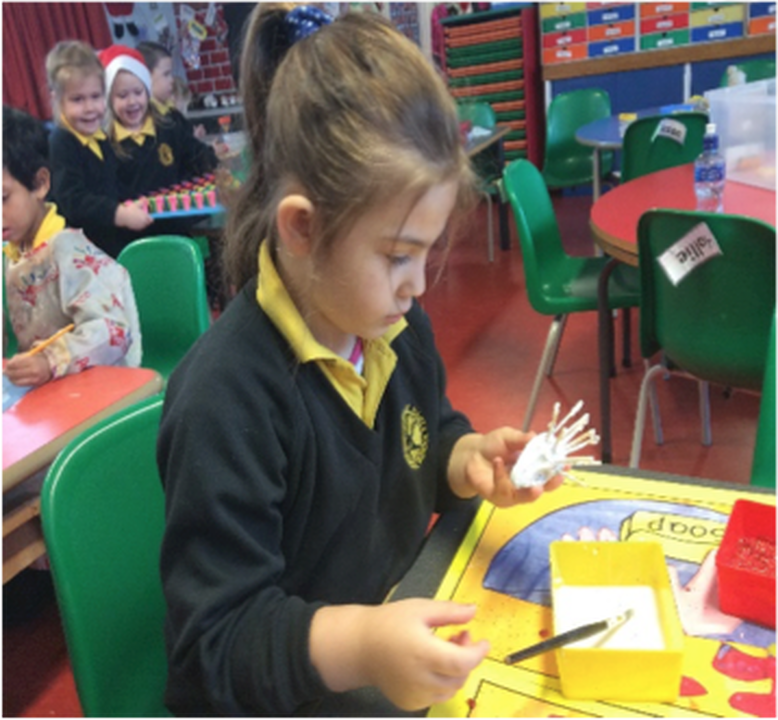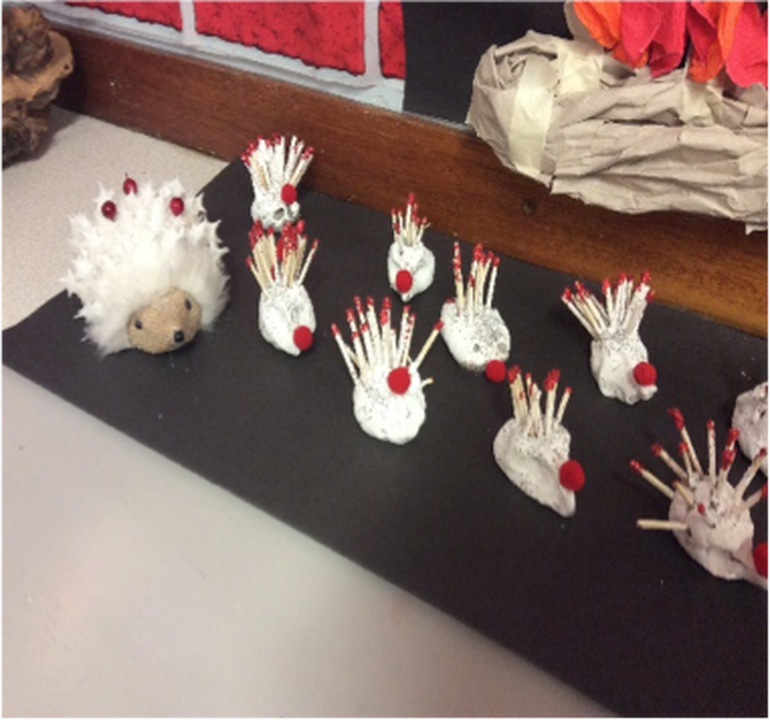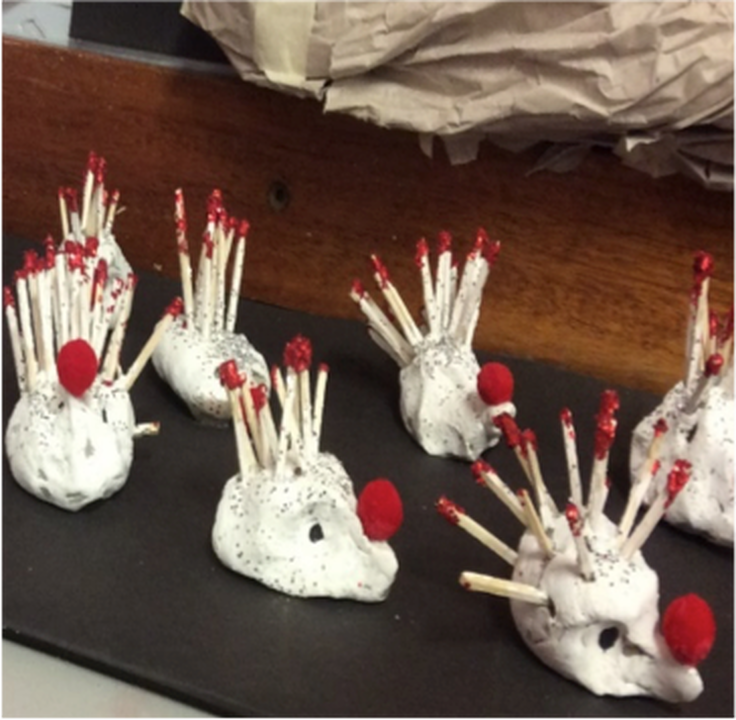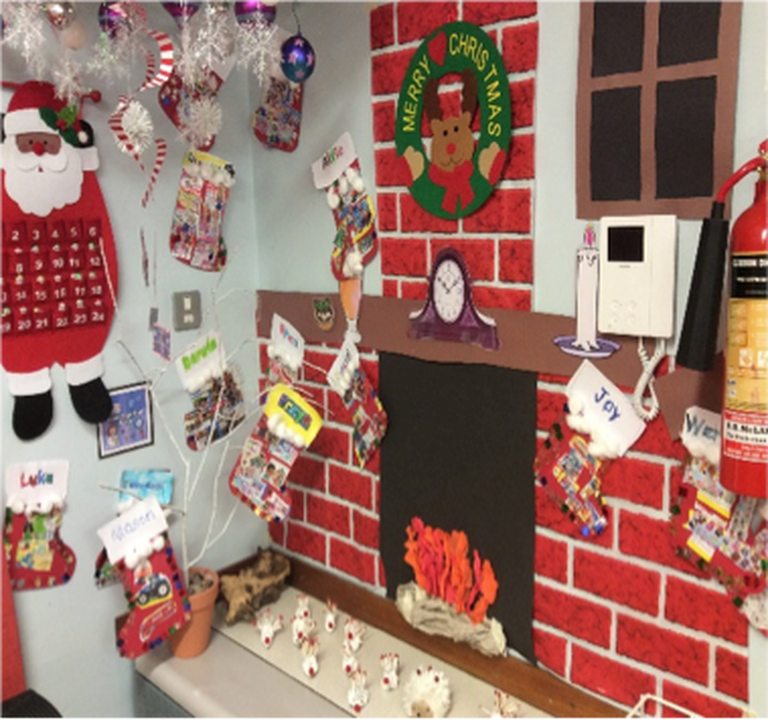 As our topic is 'Light and Dark' we have been identifying different sources of light and learning that some colours are more easily seen than others in dark conditions.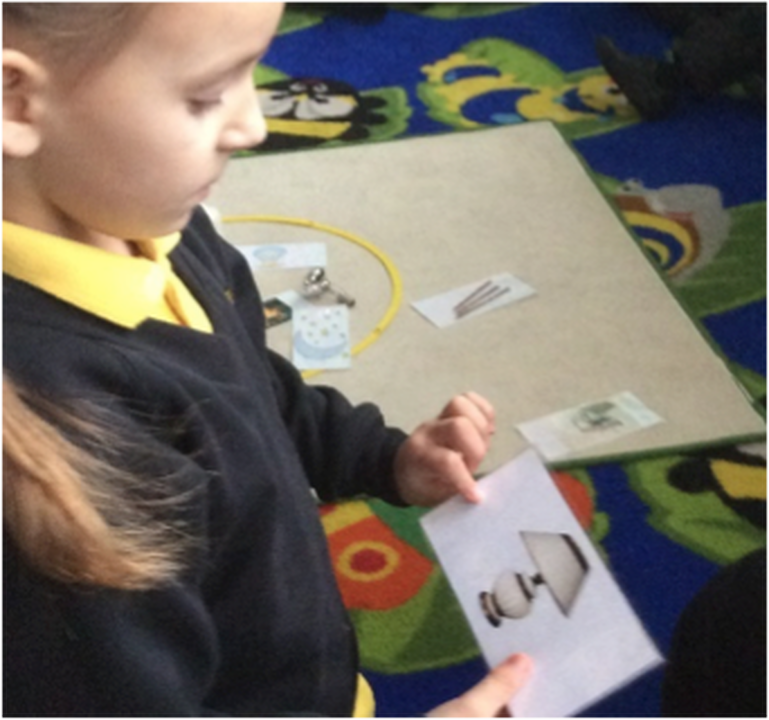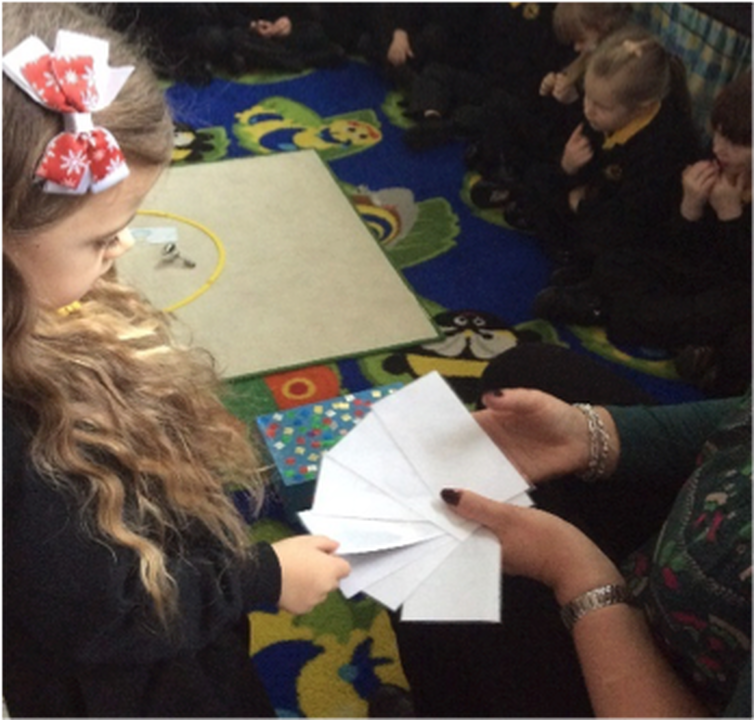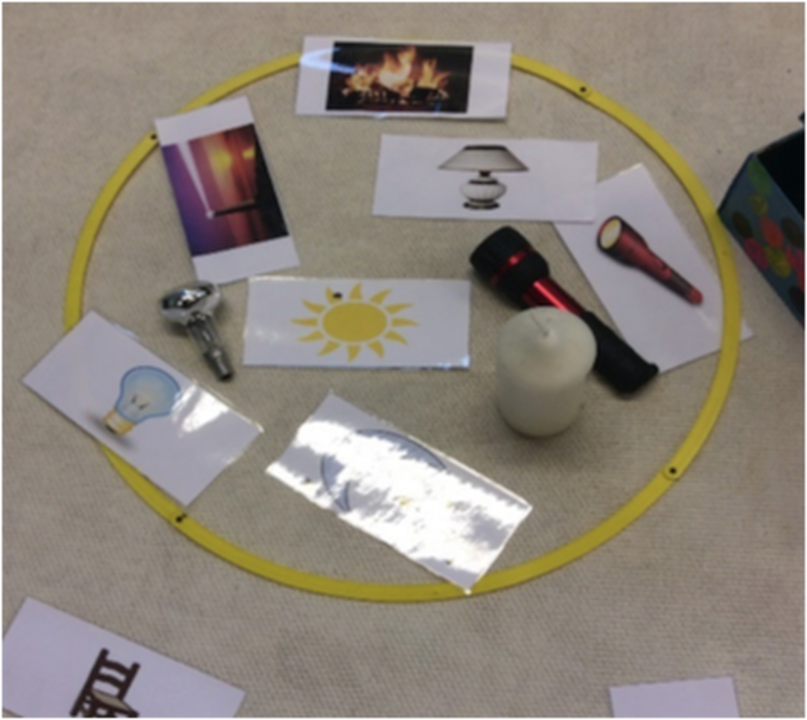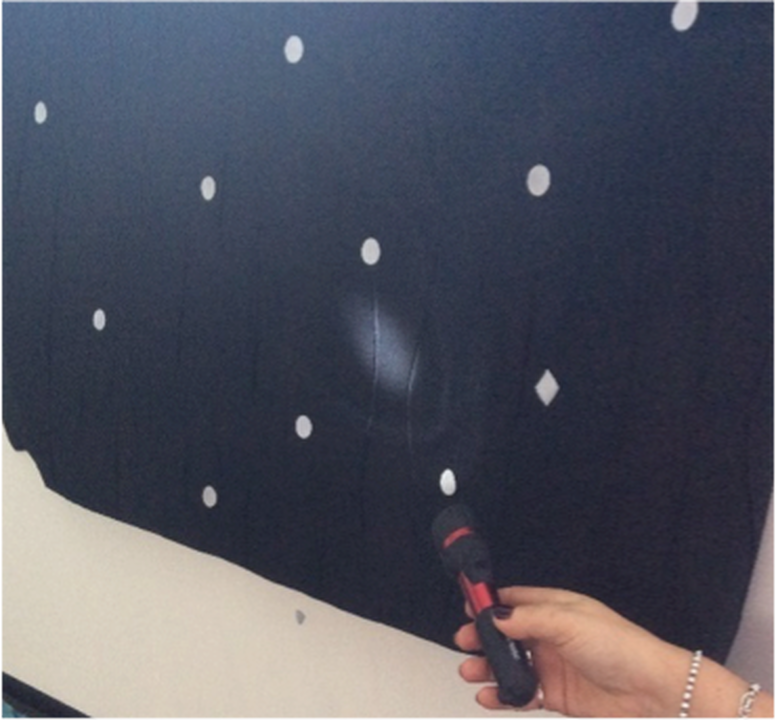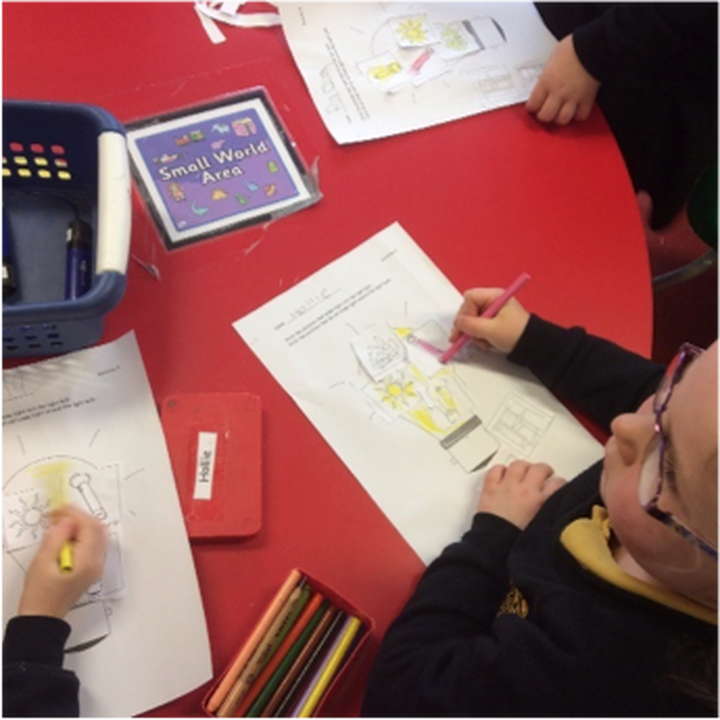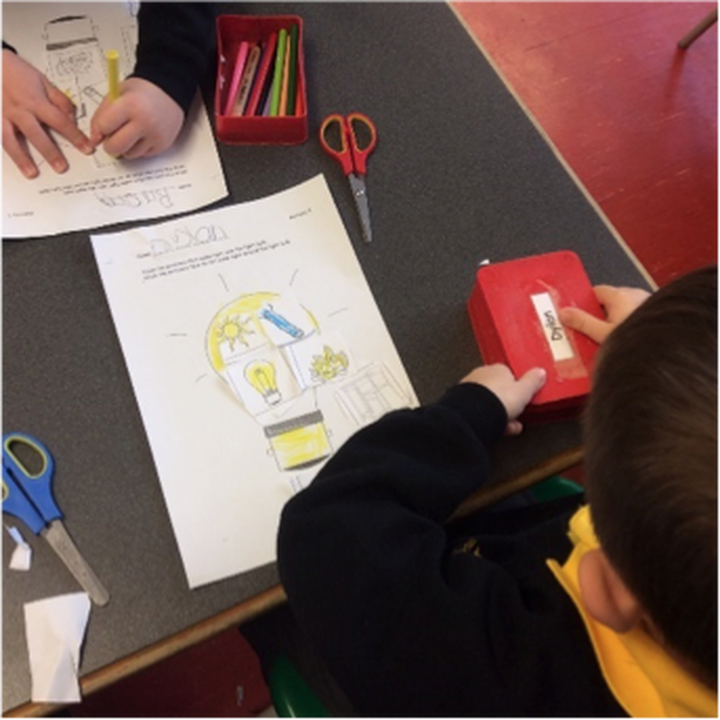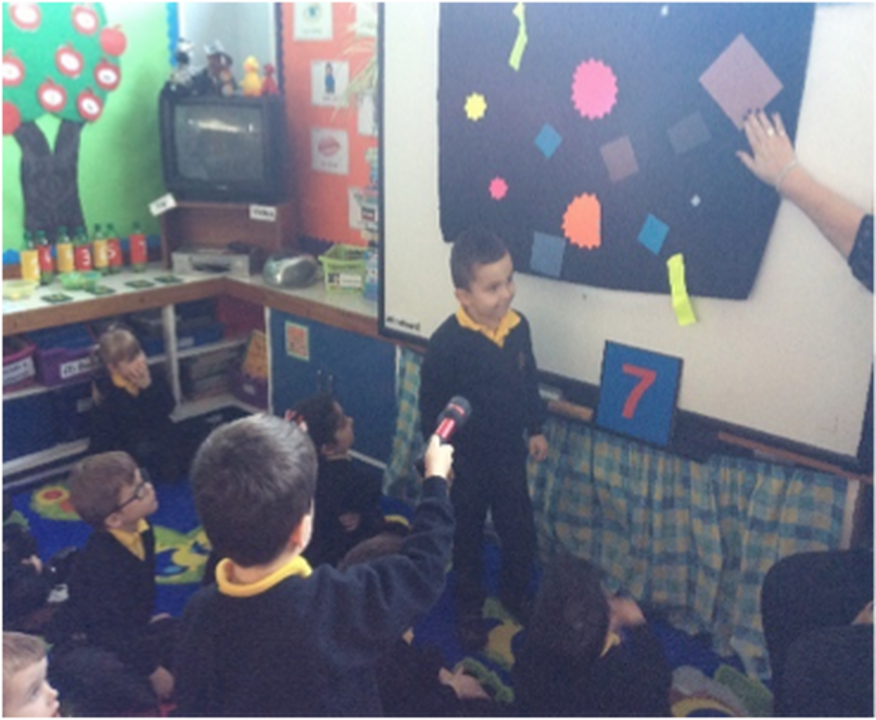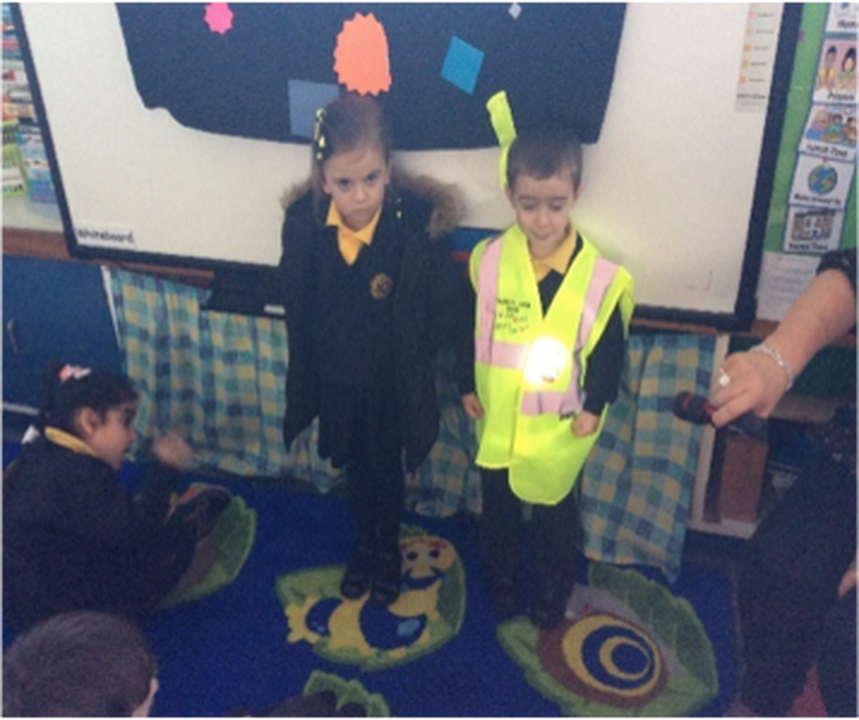 Play Based Learning – November
Having fun during Art activities.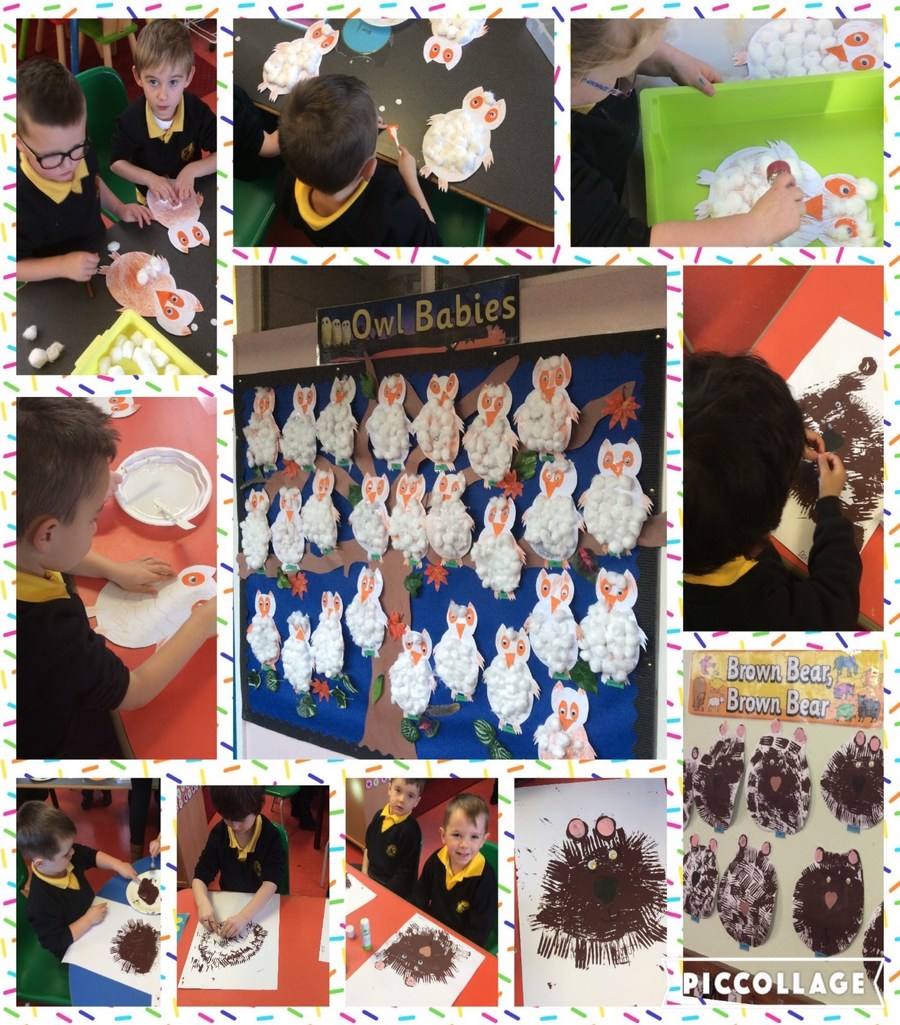 We are learning to sort for initial sounds, practice letter formation and use our phonic skills to build cvc words.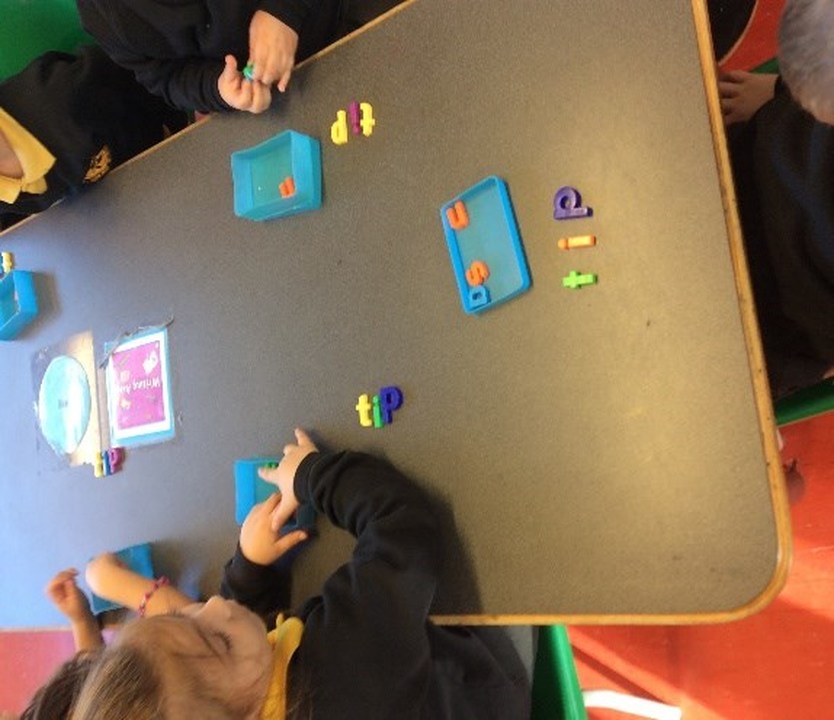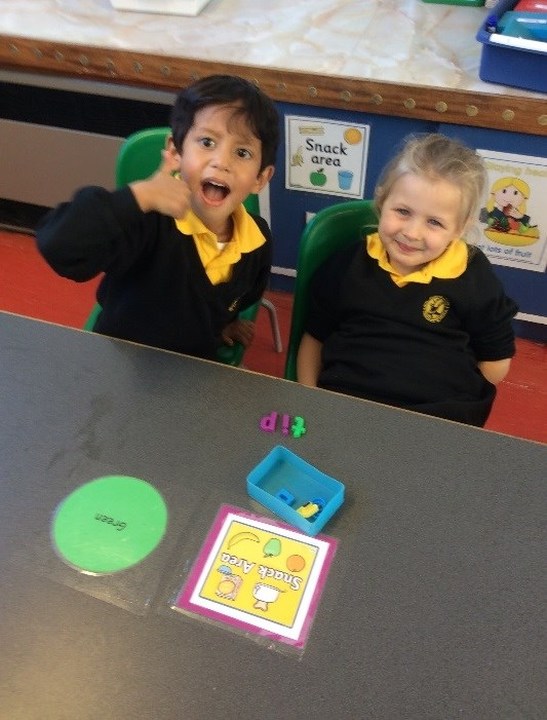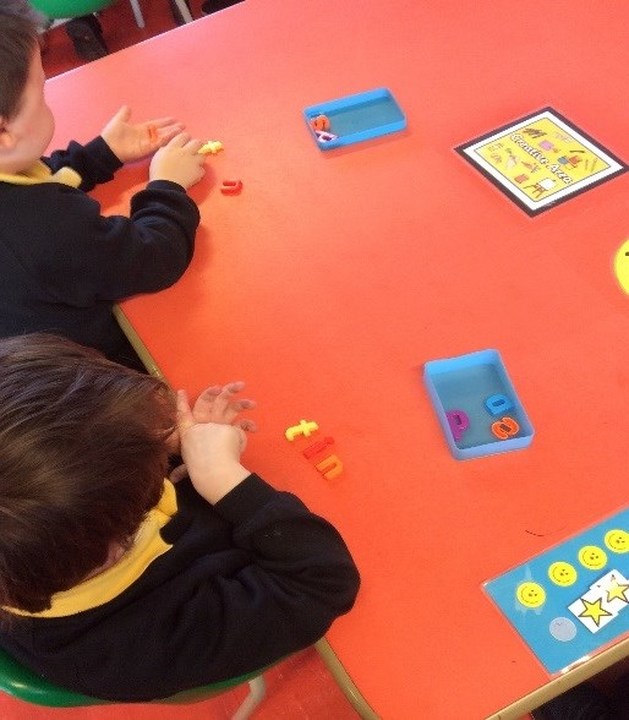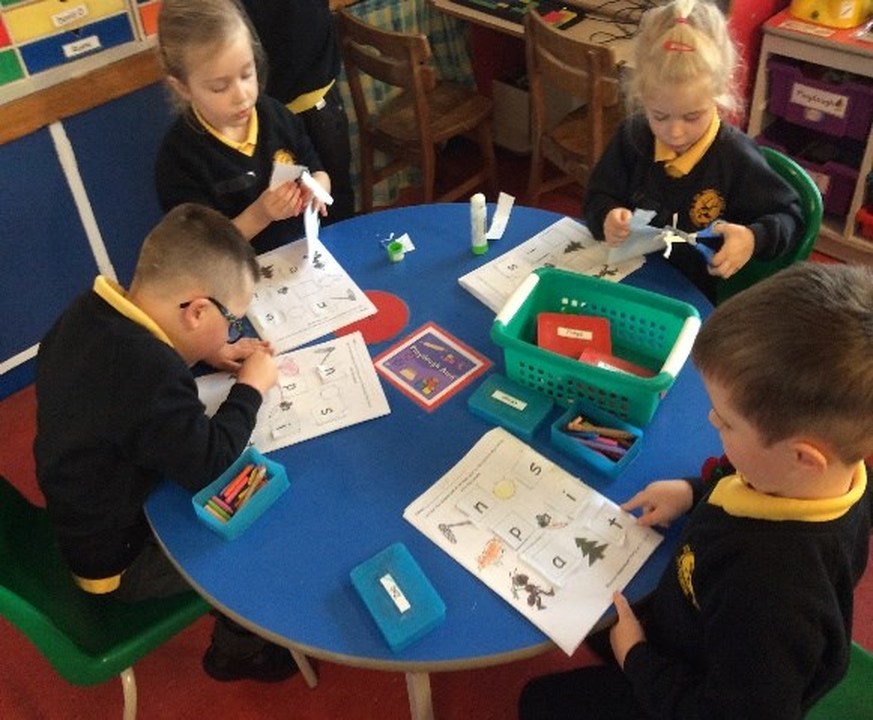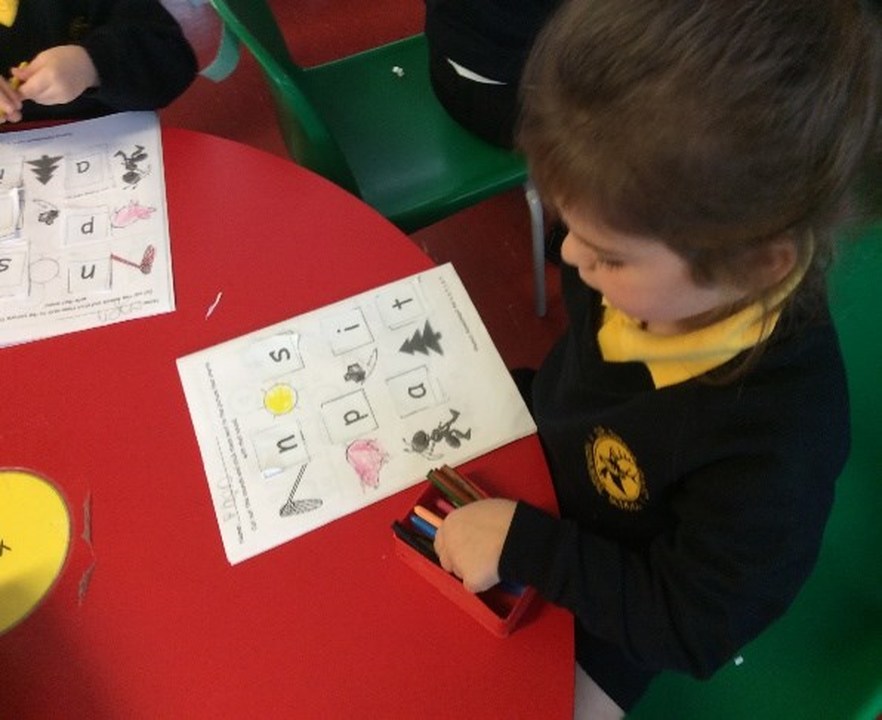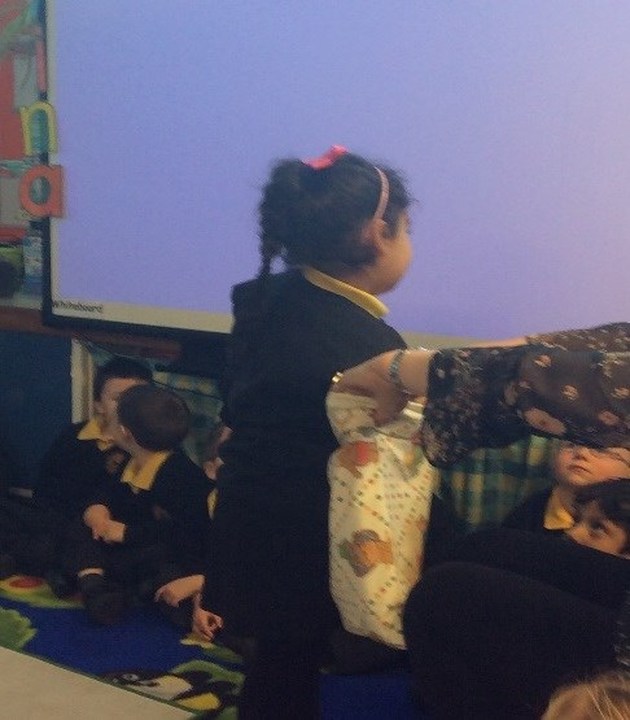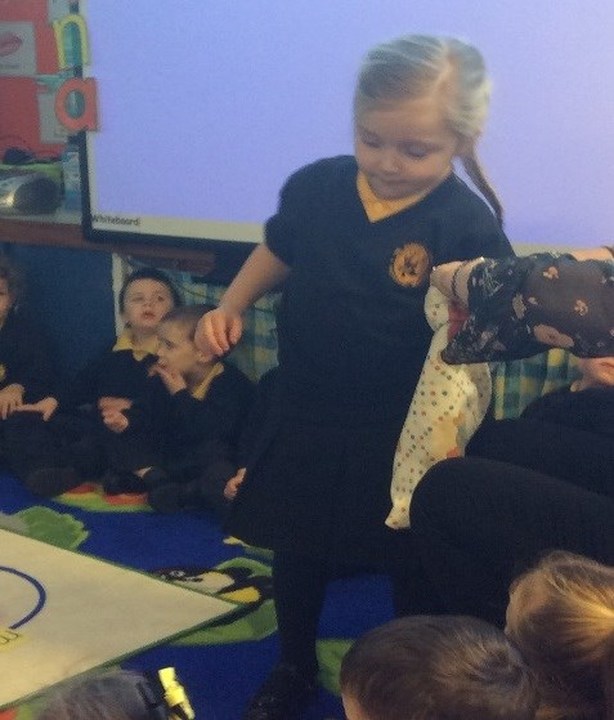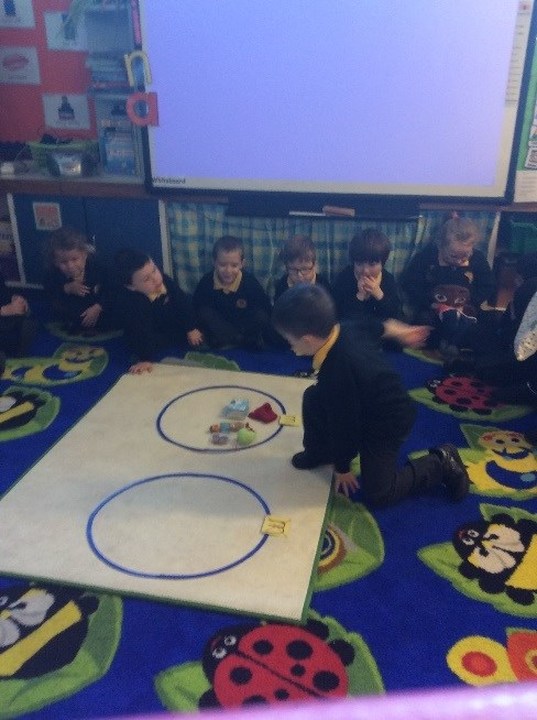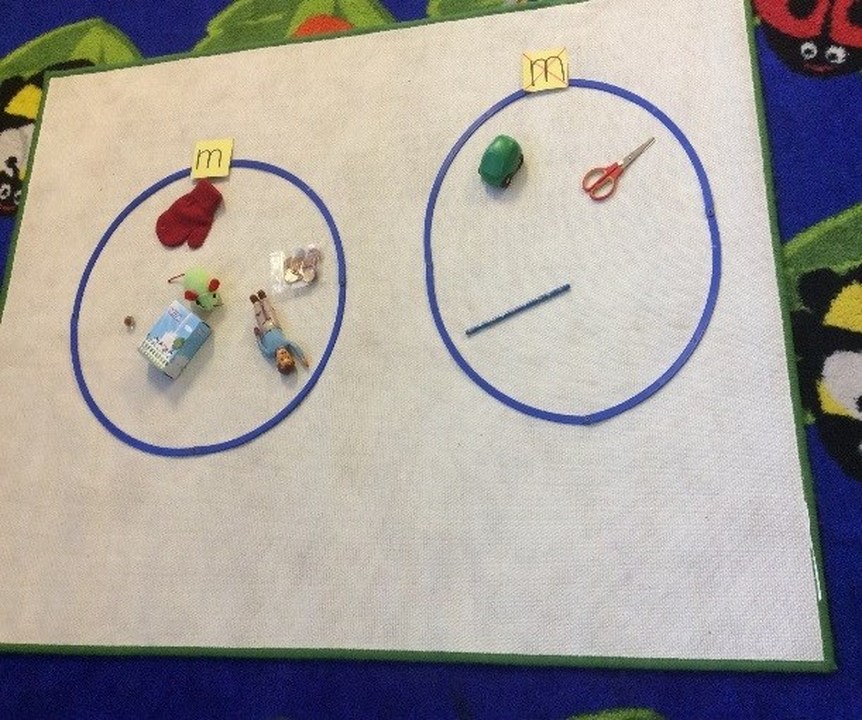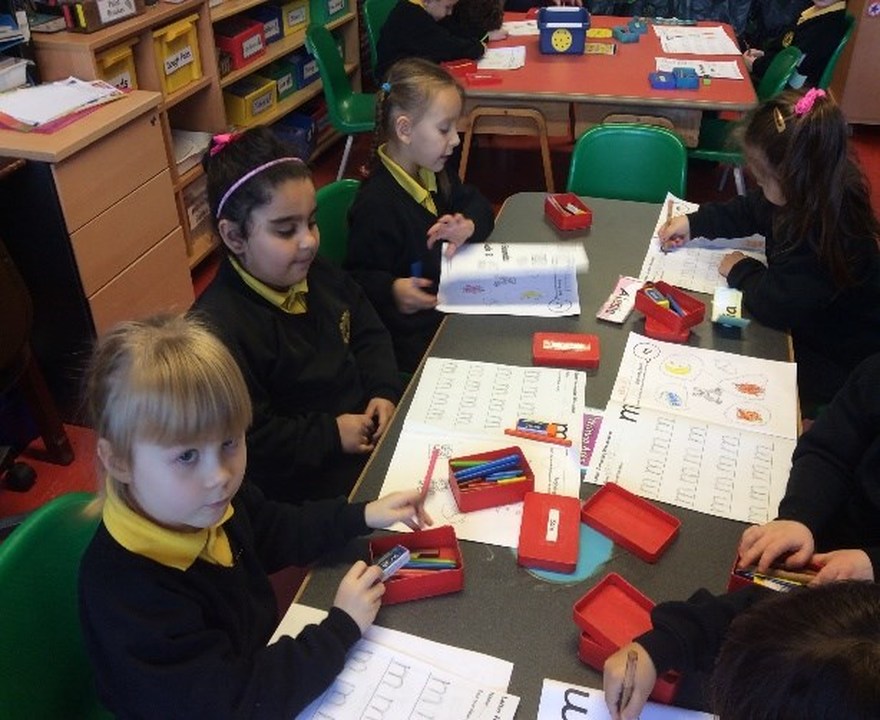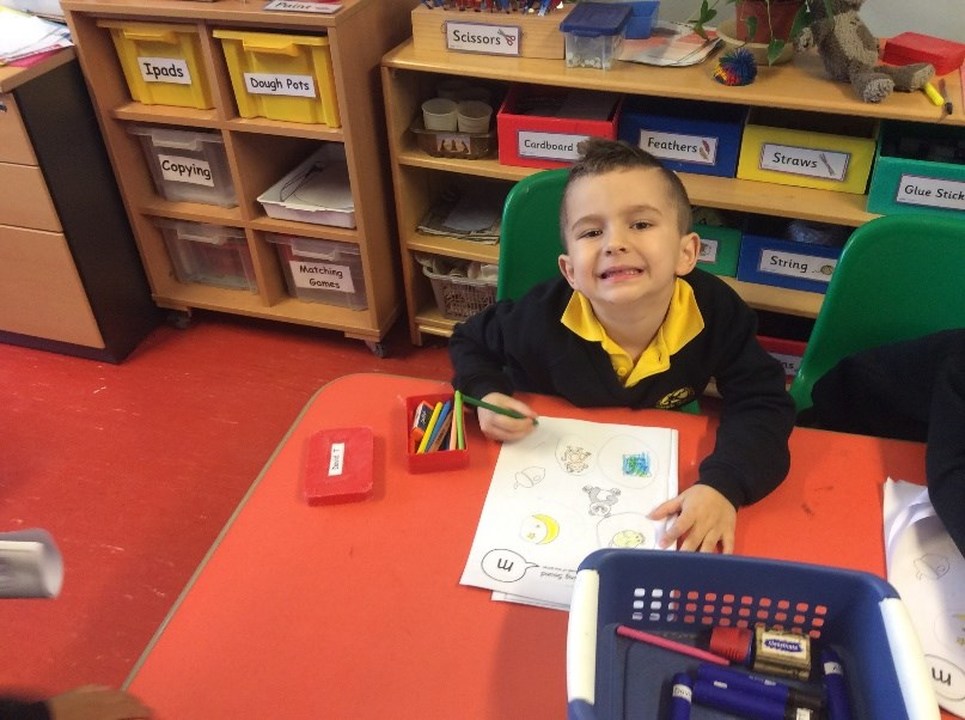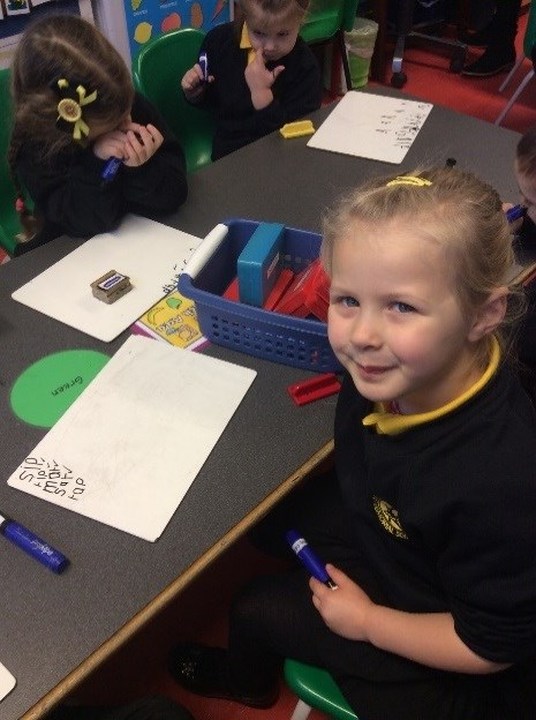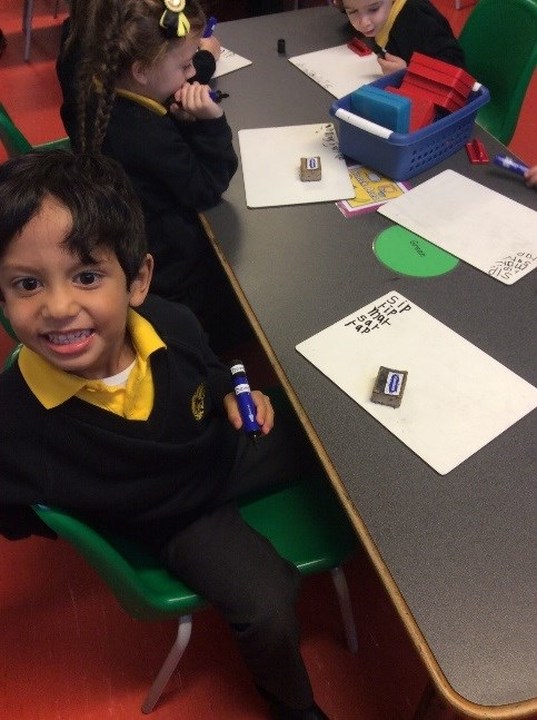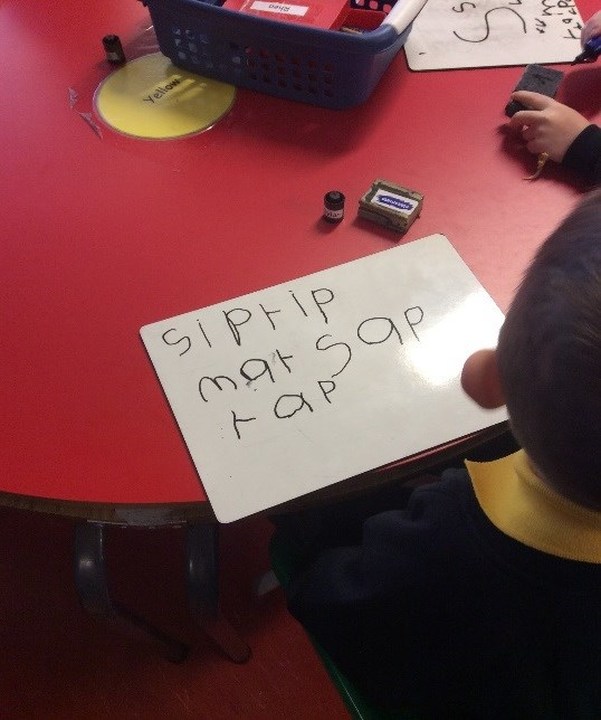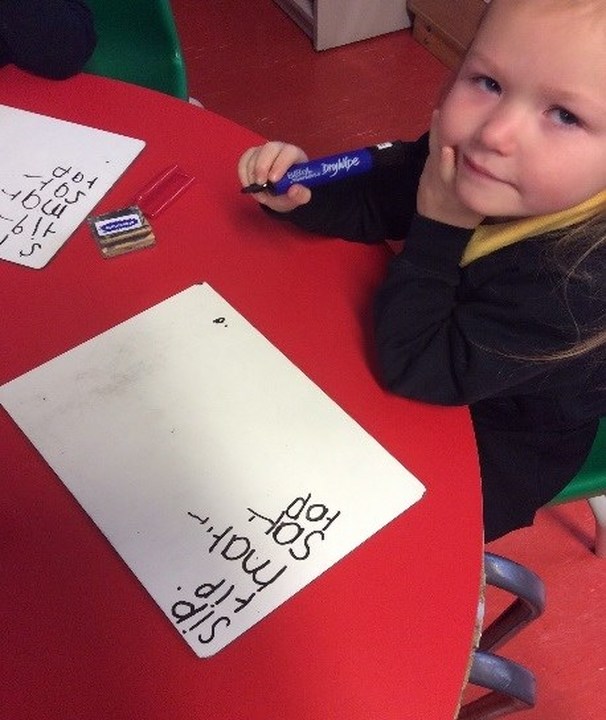 We enjoyed a visit from Genevieve the Goat. We learned about the importance of eating healthy foods and being active.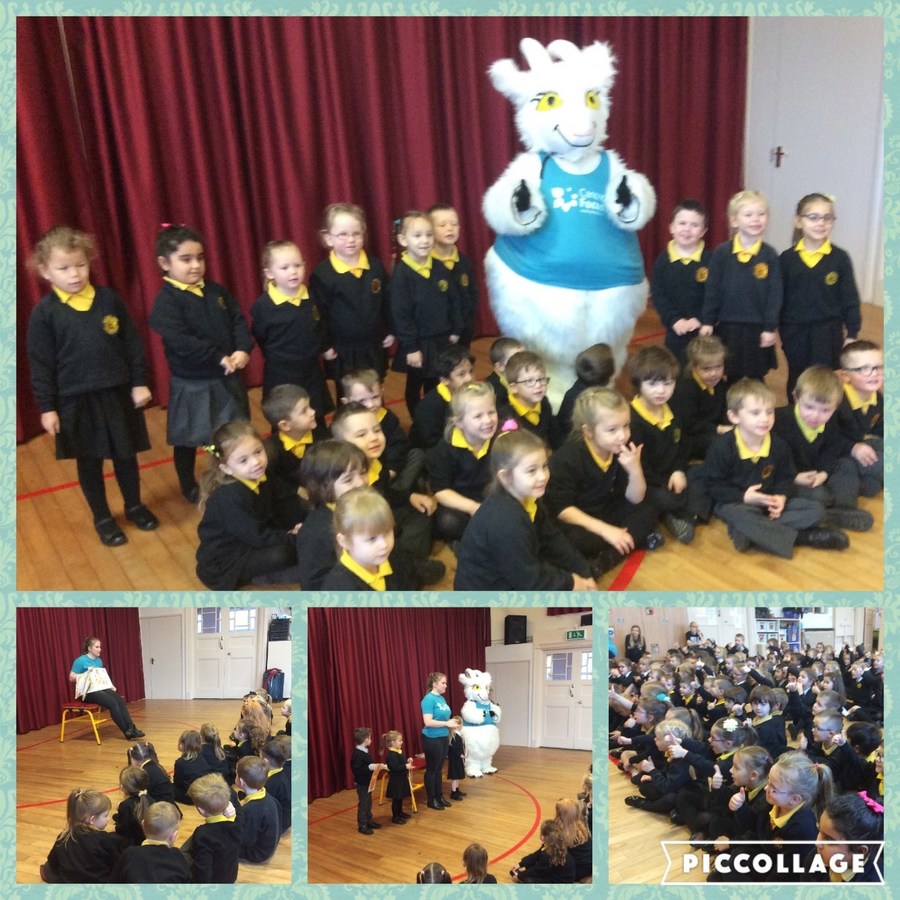 We are learning all about number.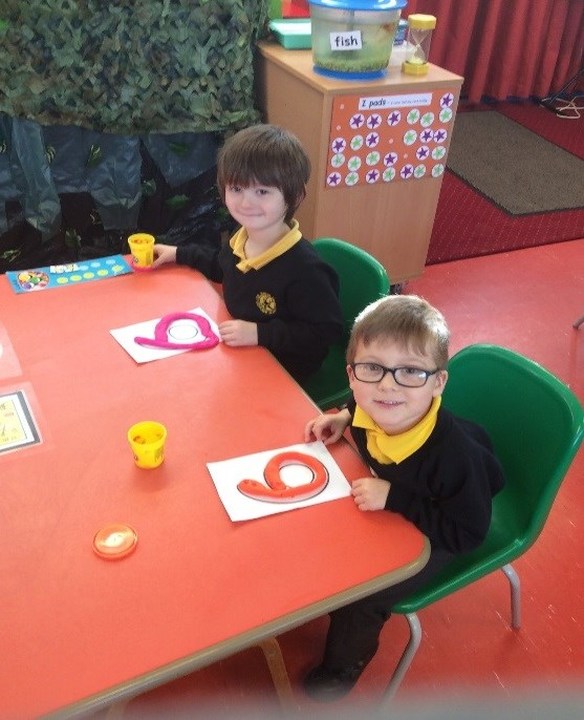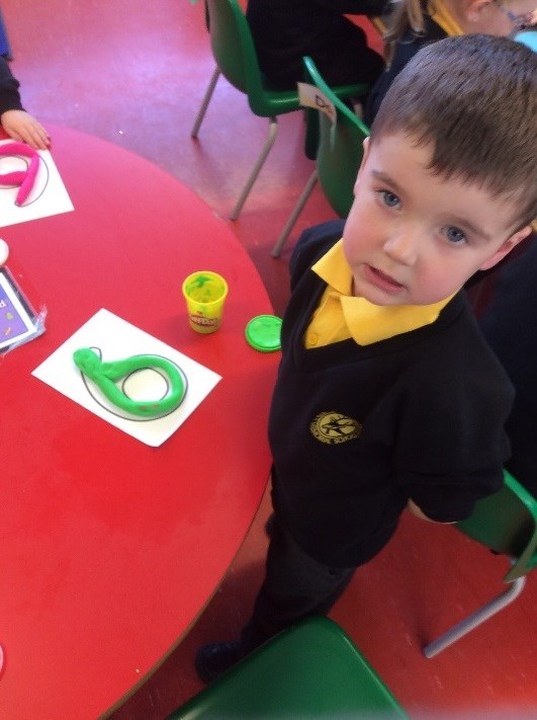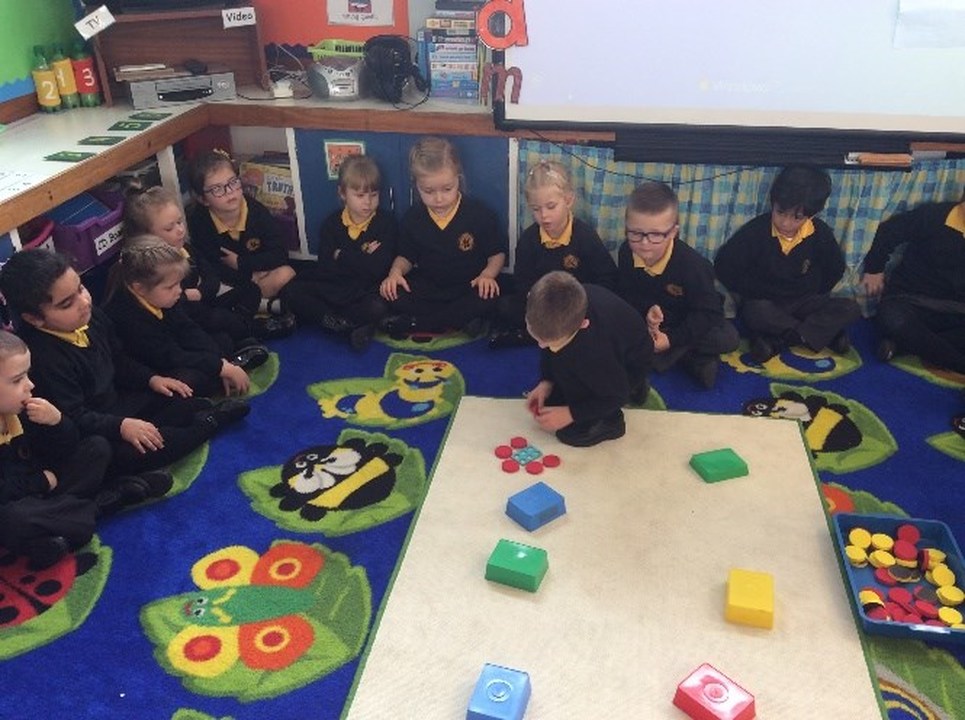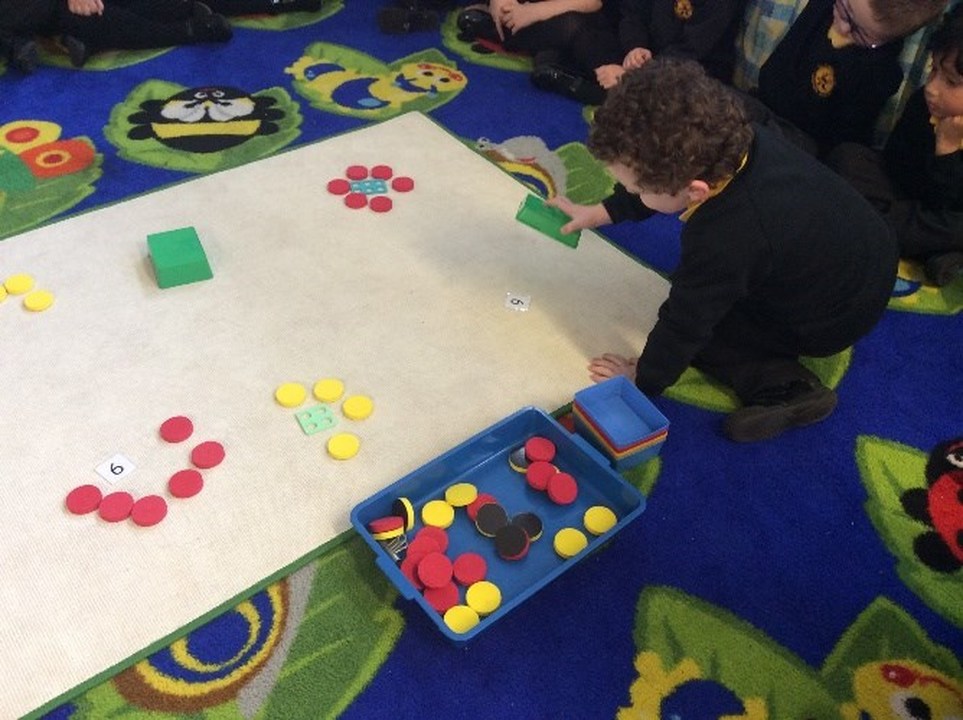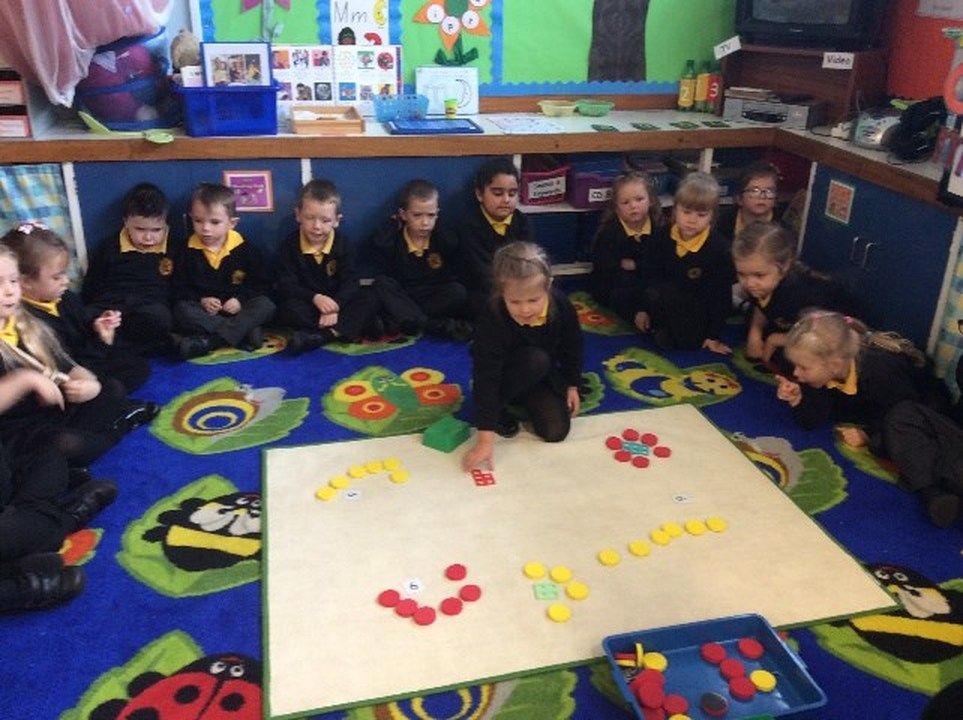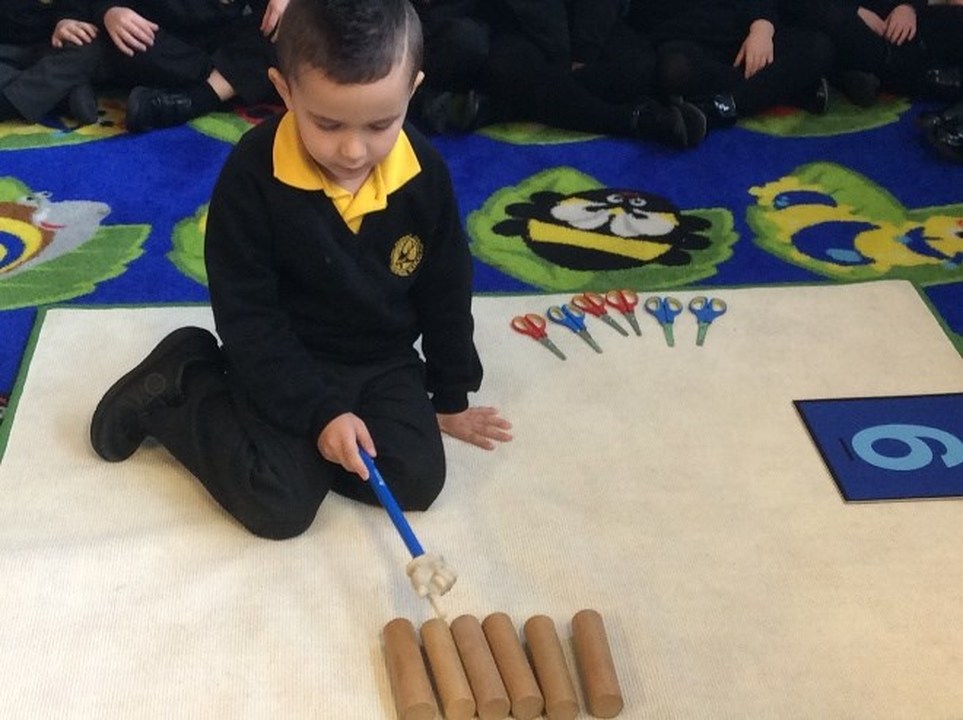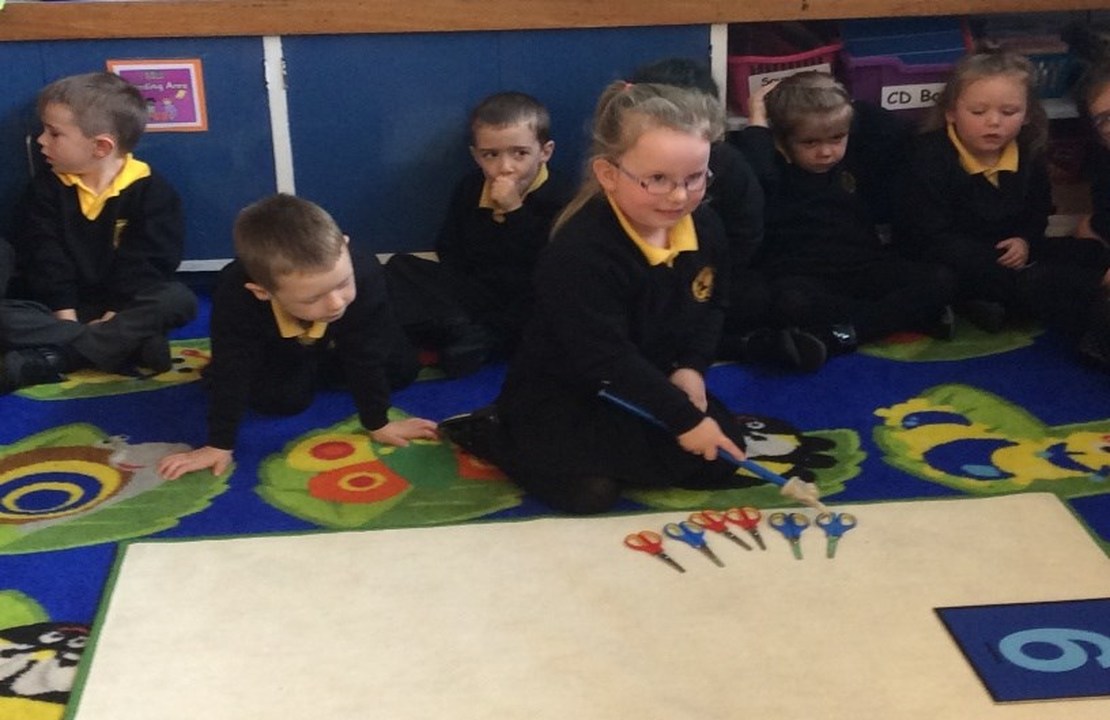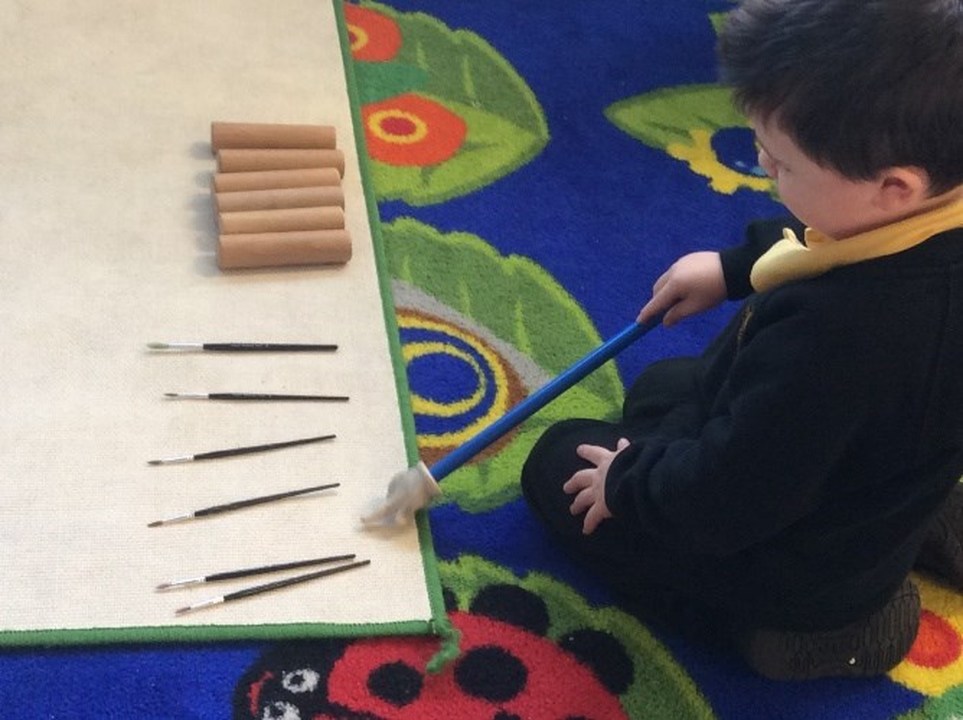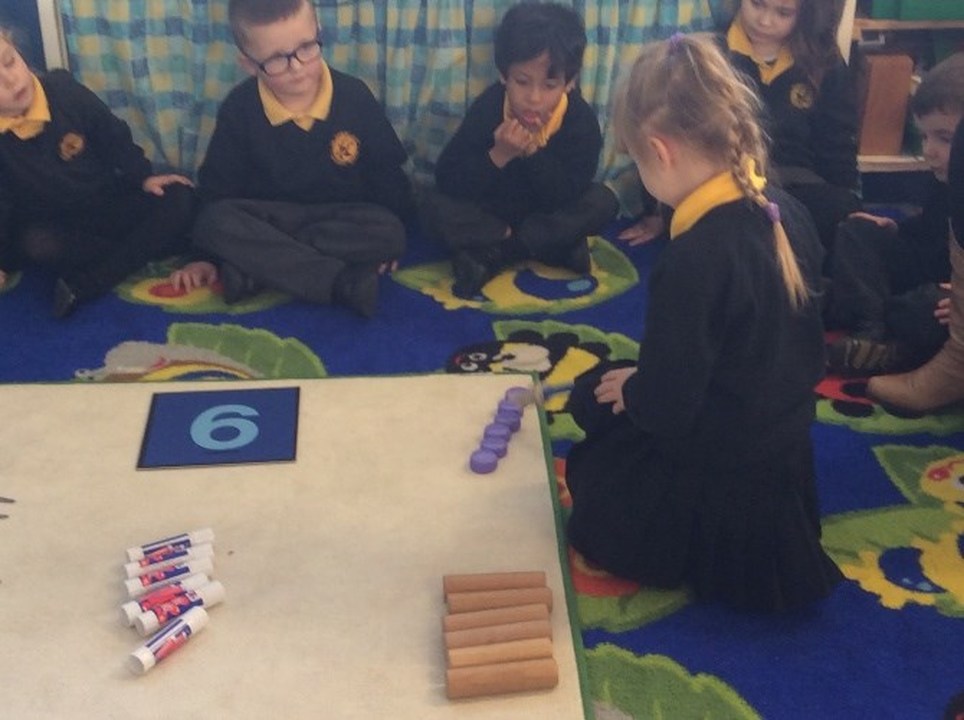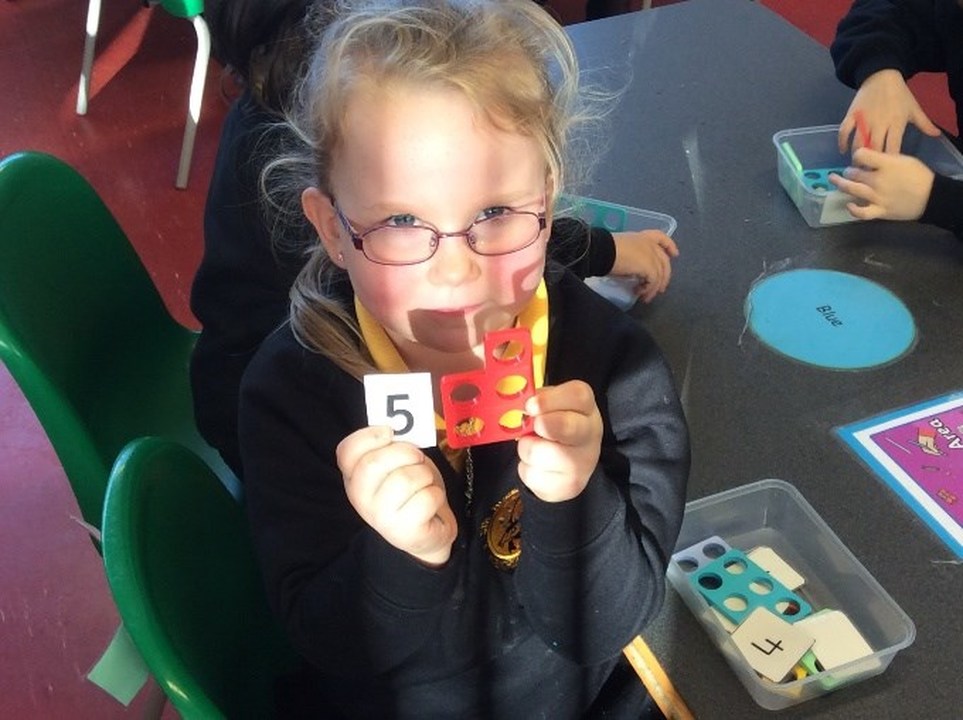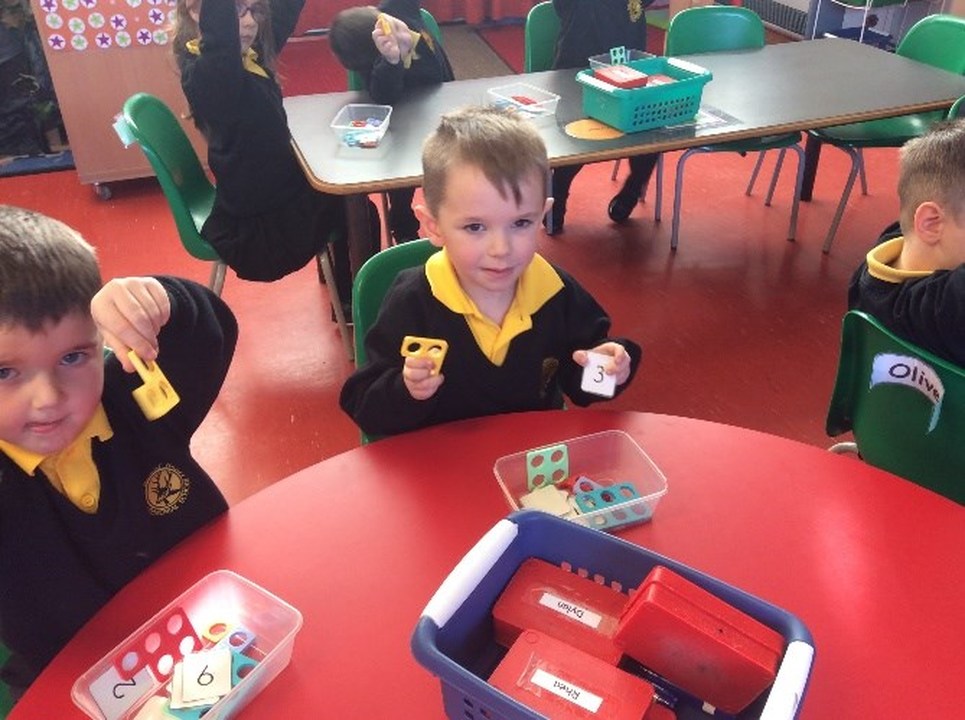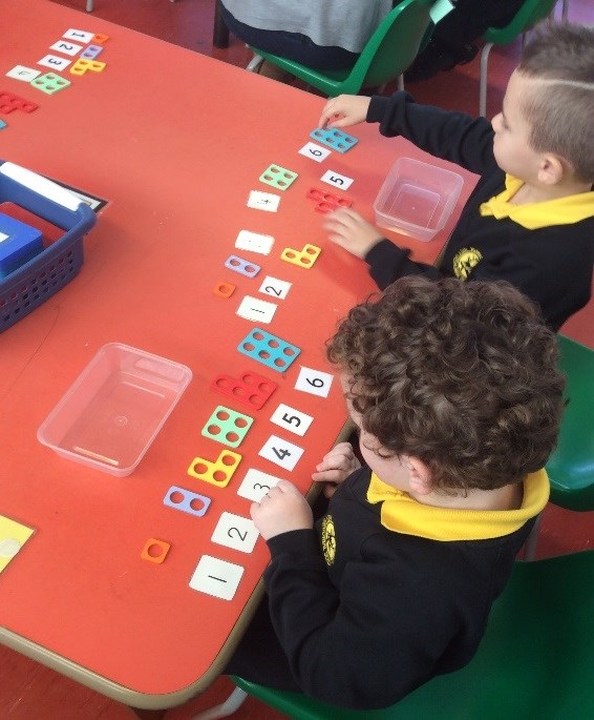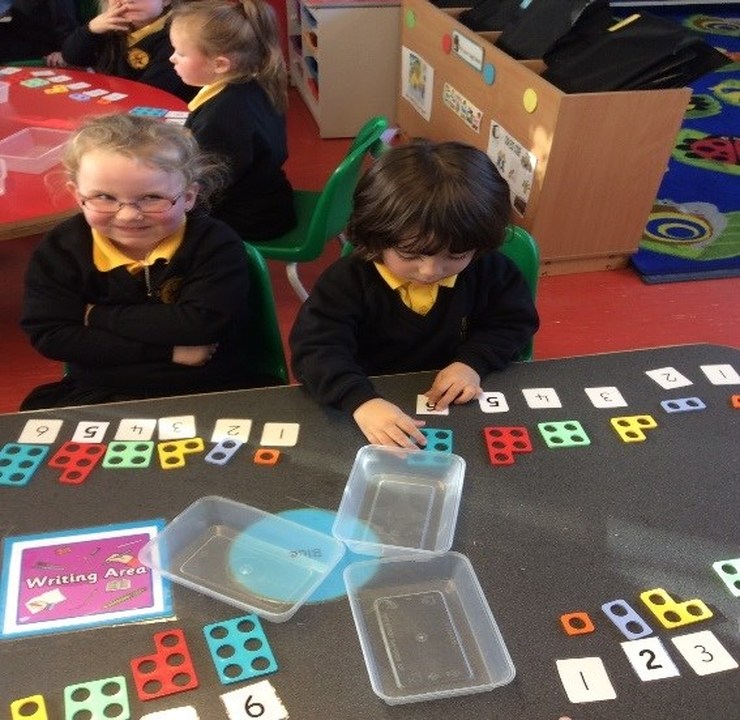 We are busy in the garden, hanging bird feeders, clearing the Autumn leaves and planting spring bulbs.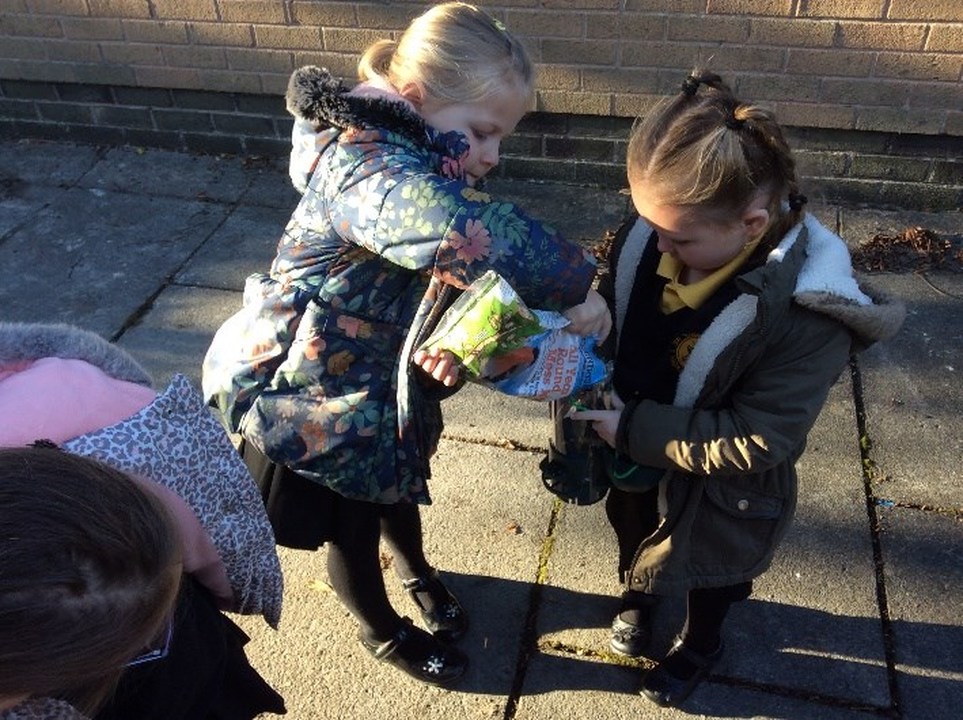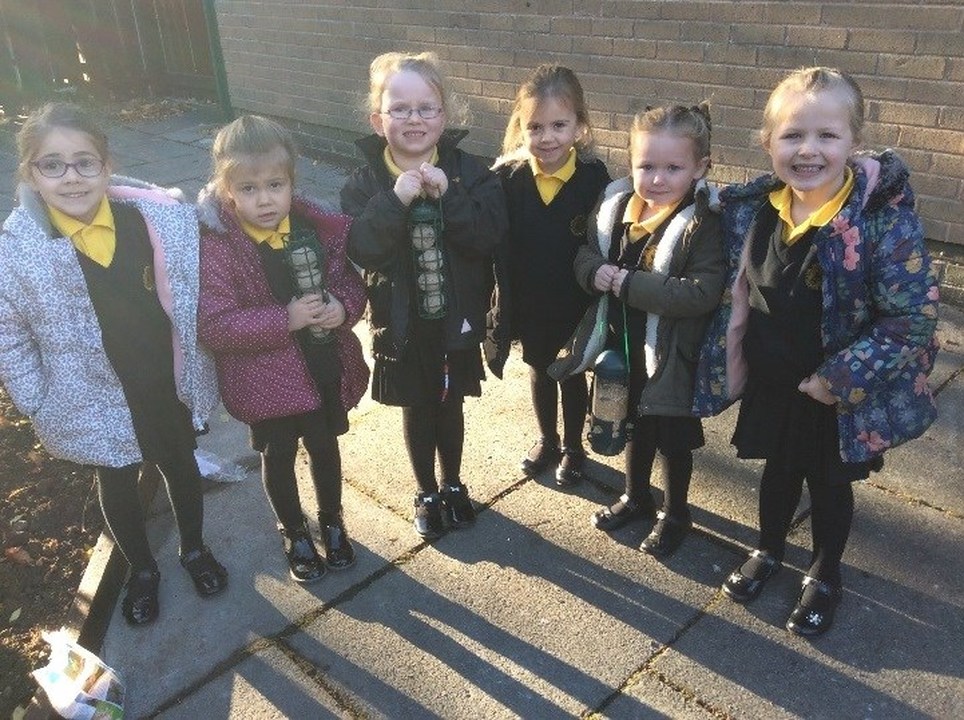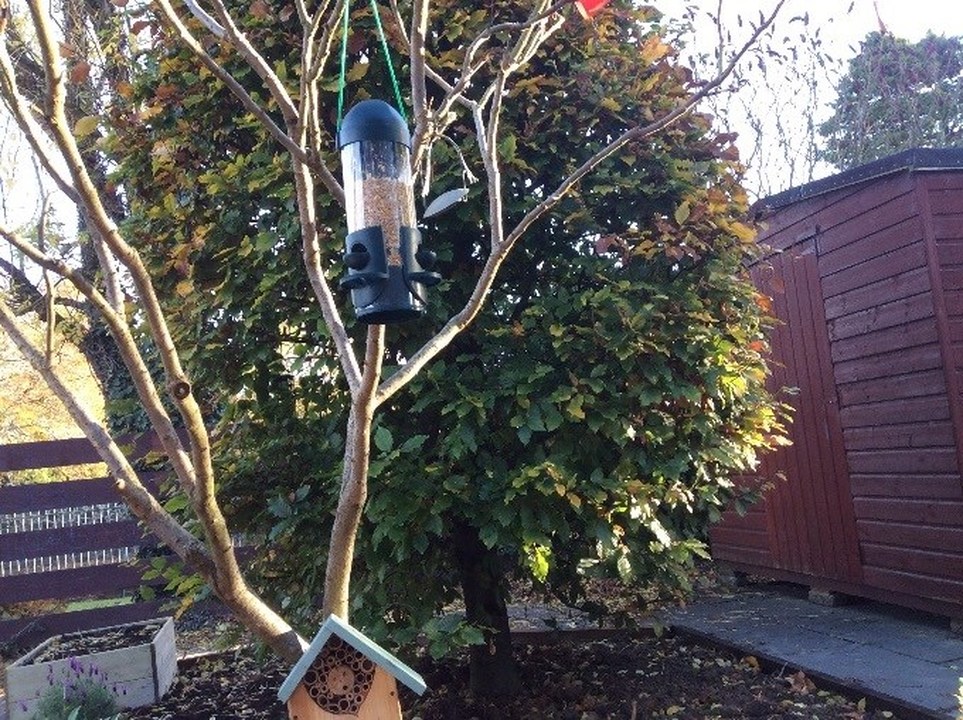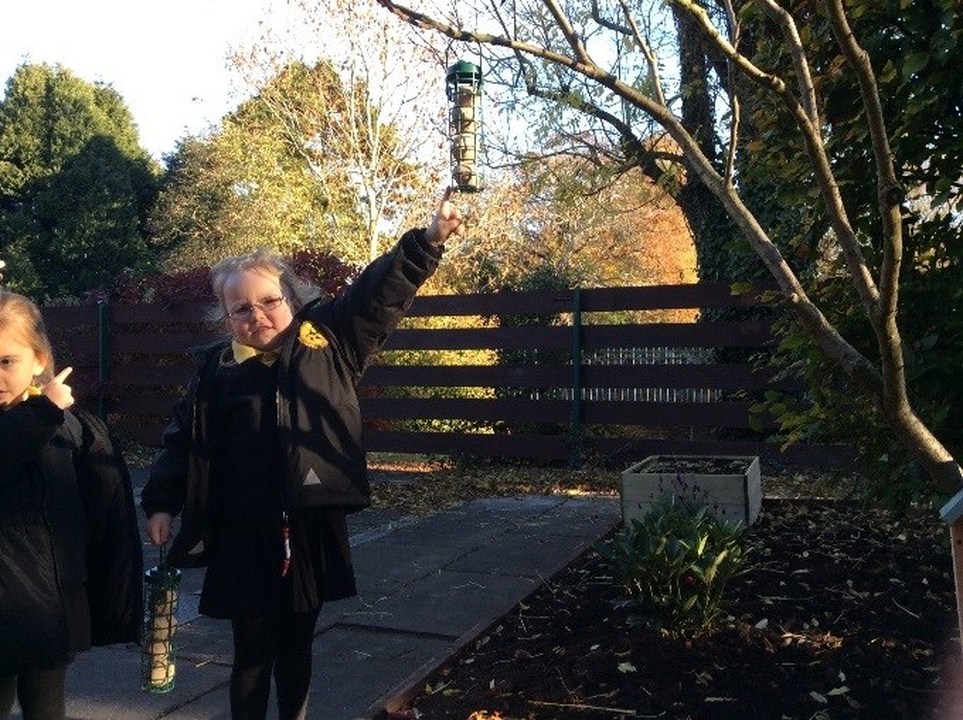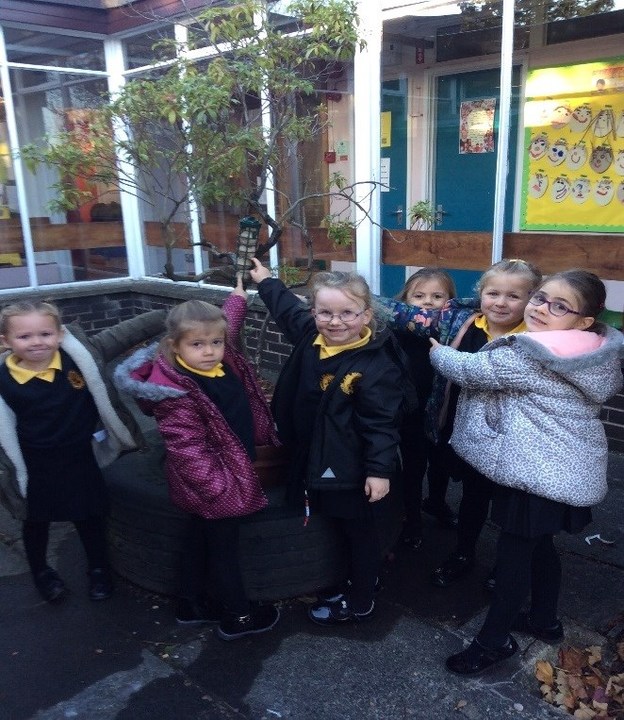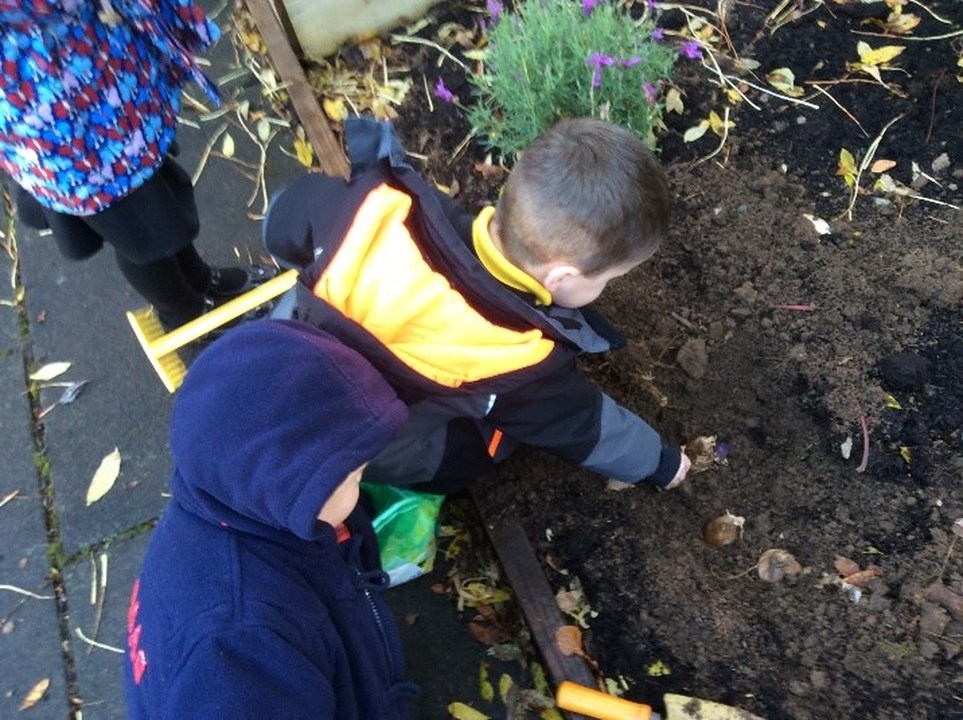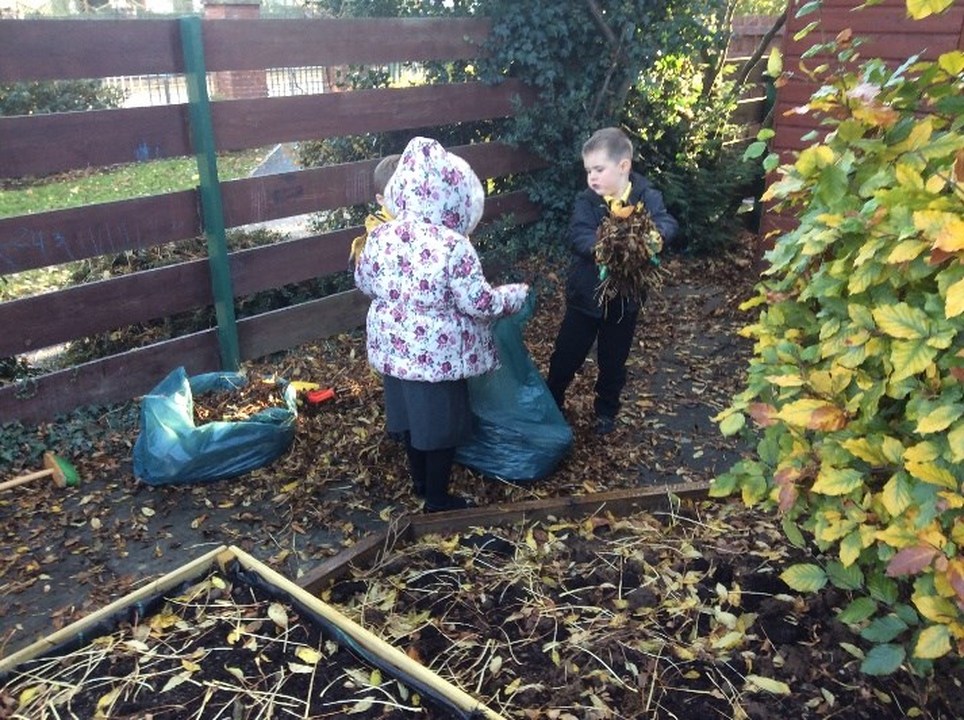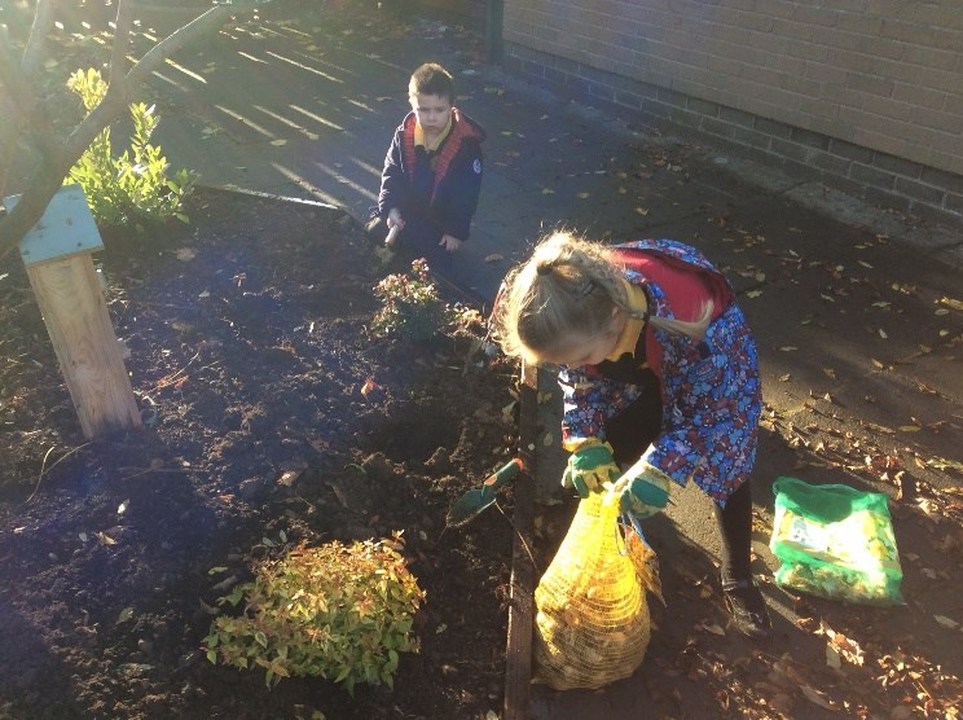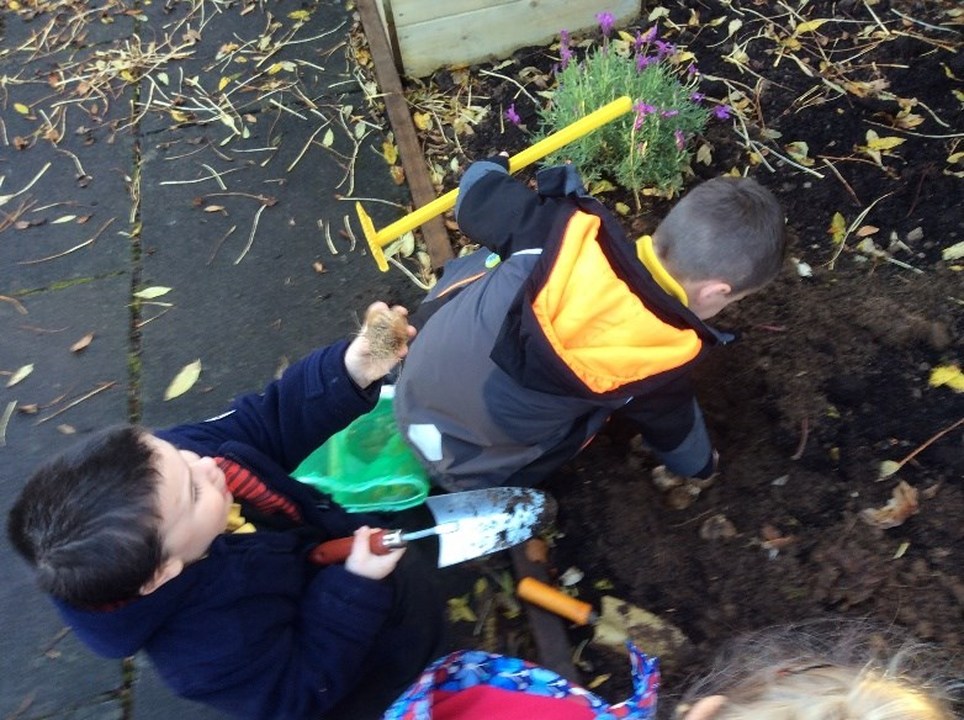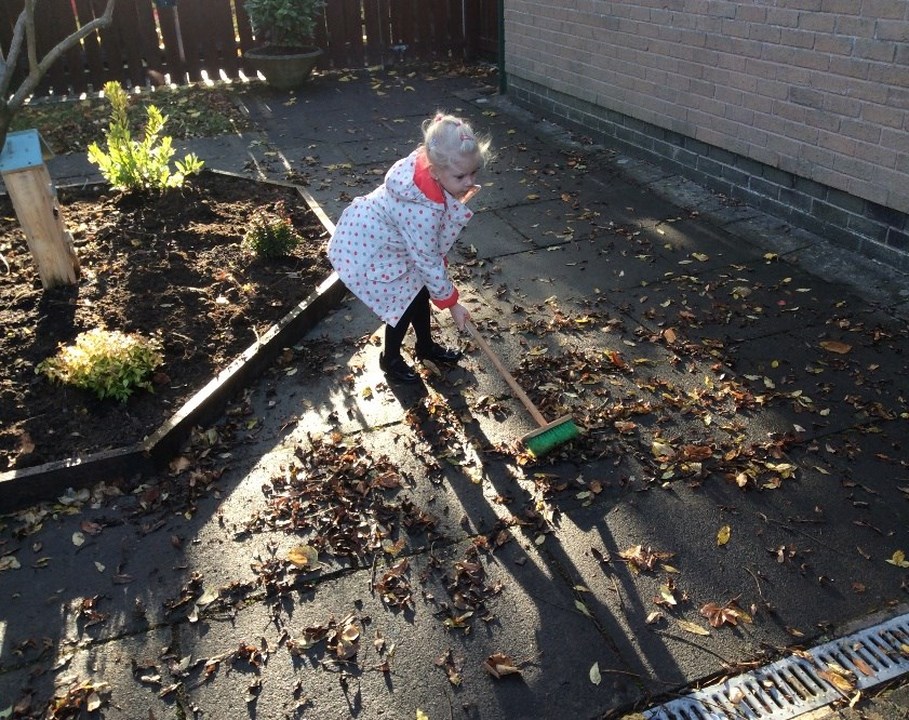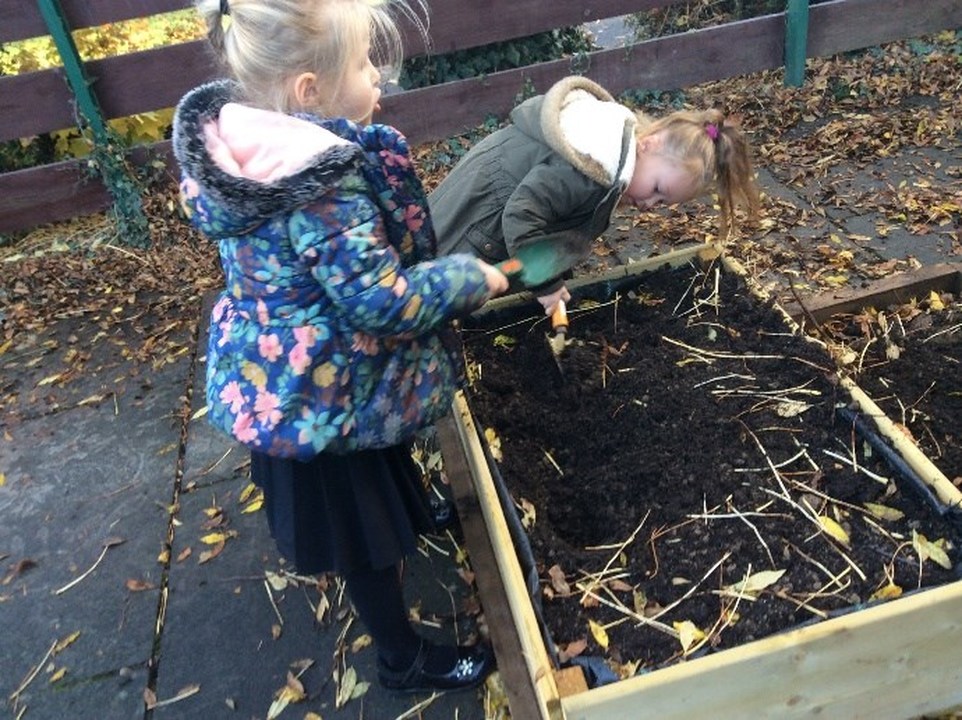 We are learning to recognise 3D shapes.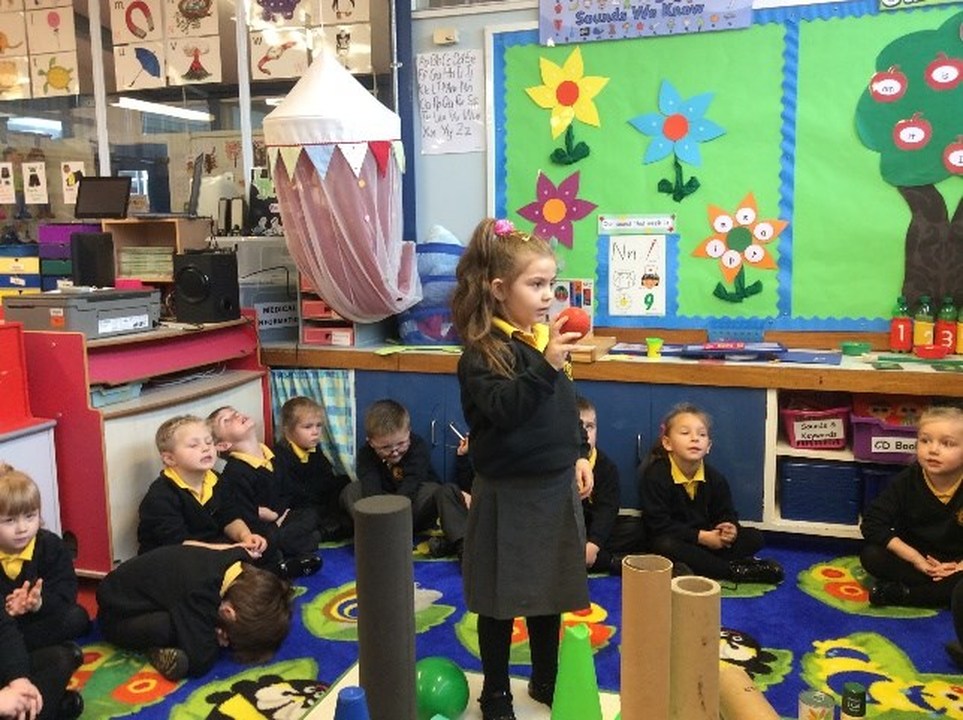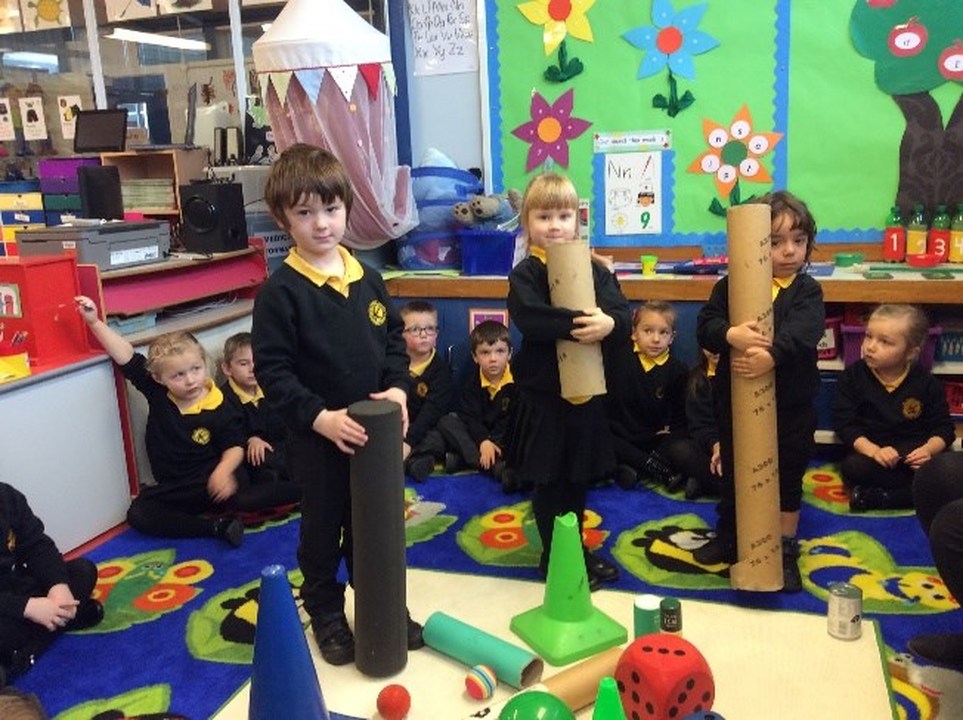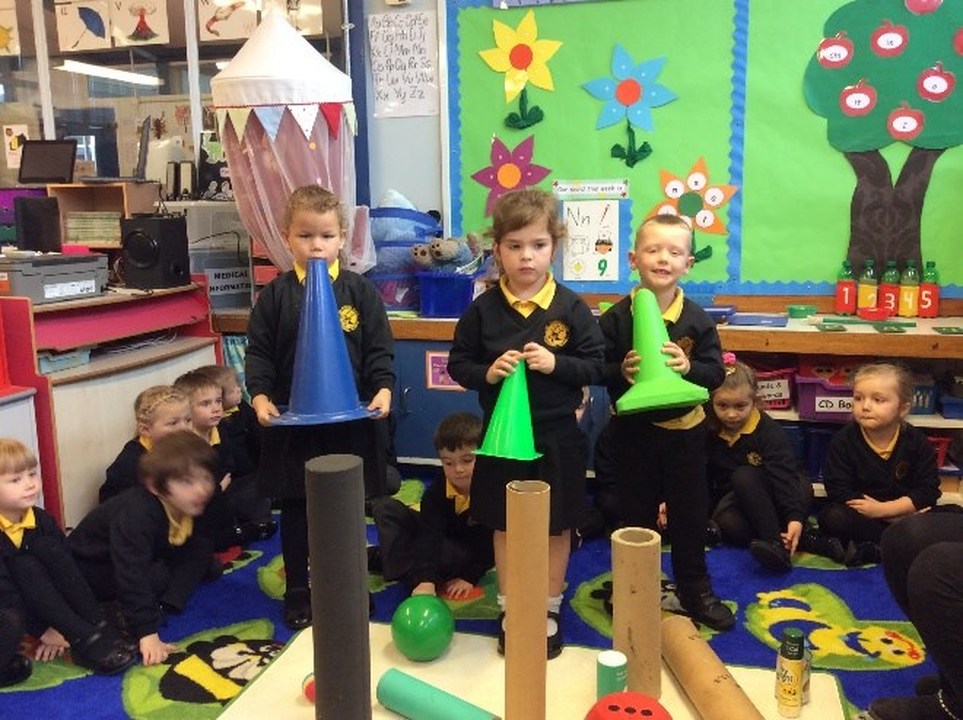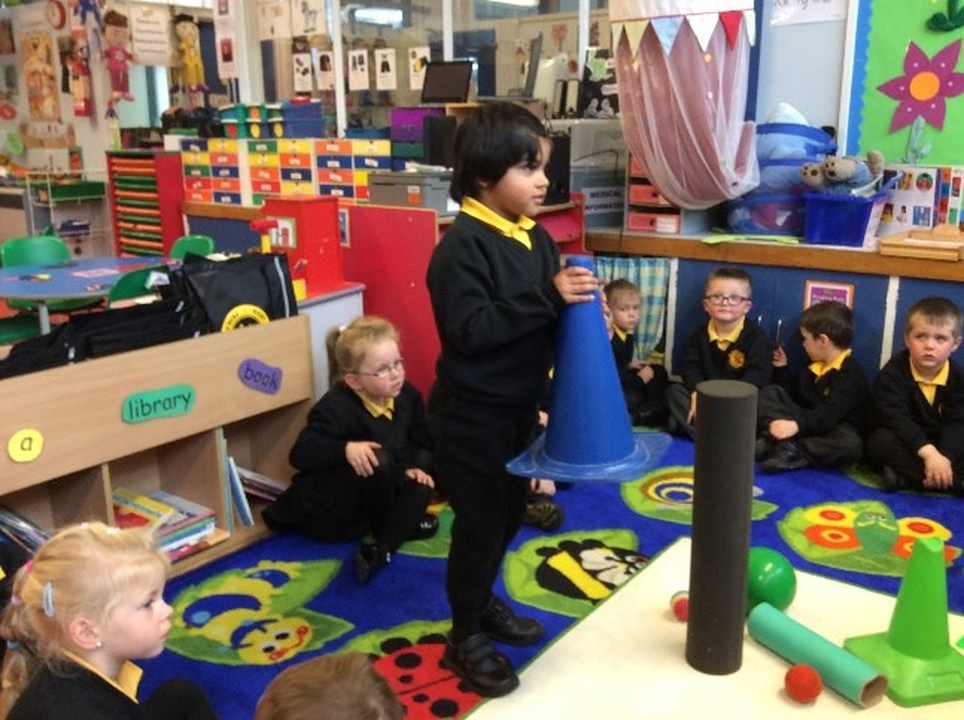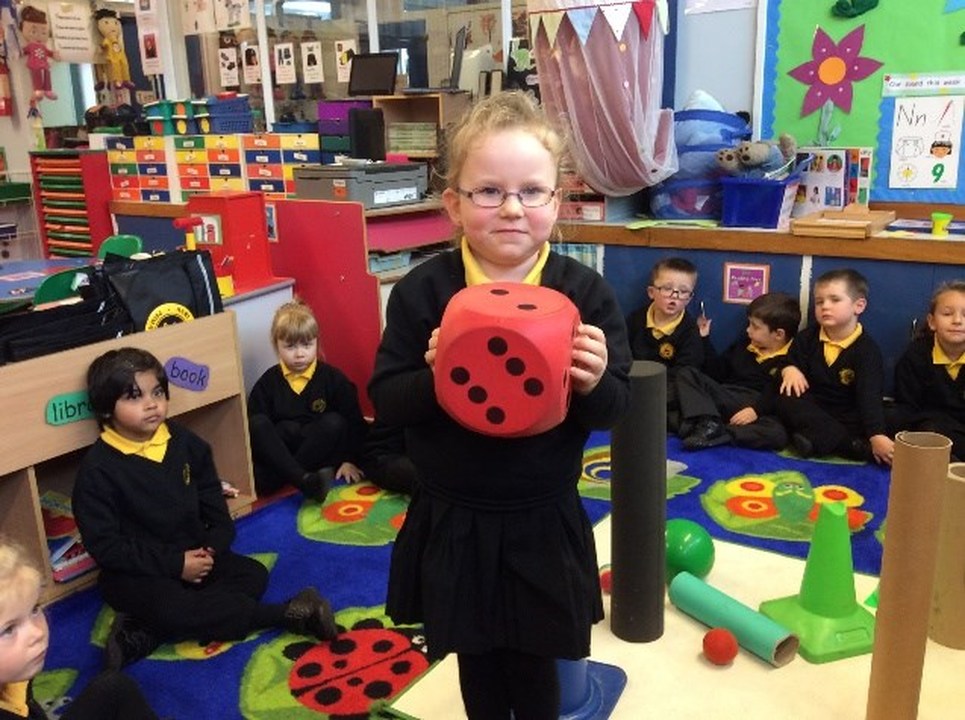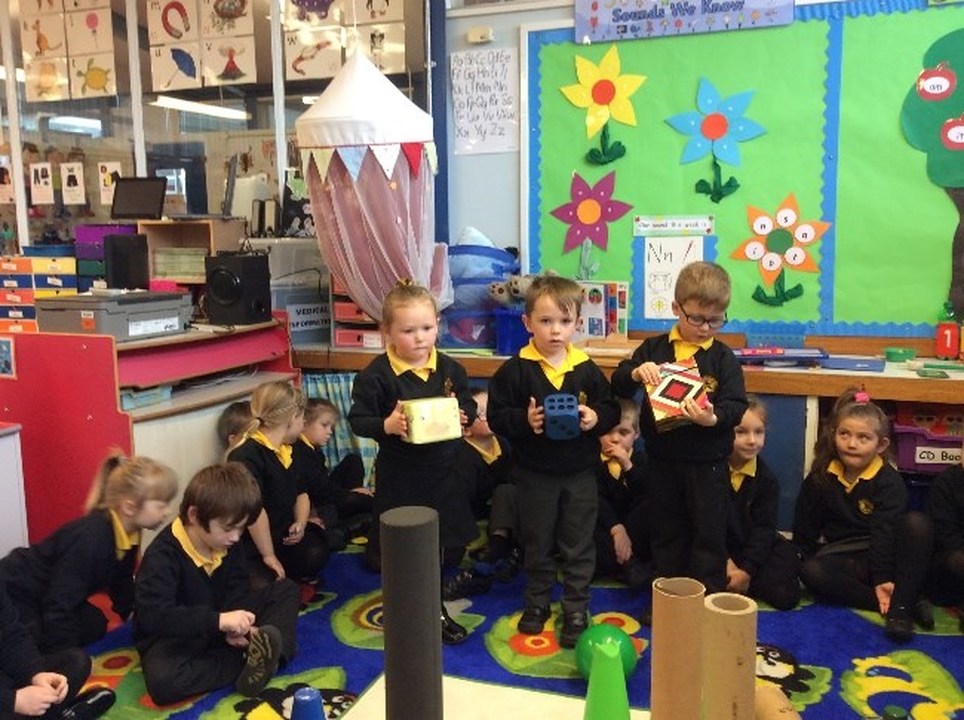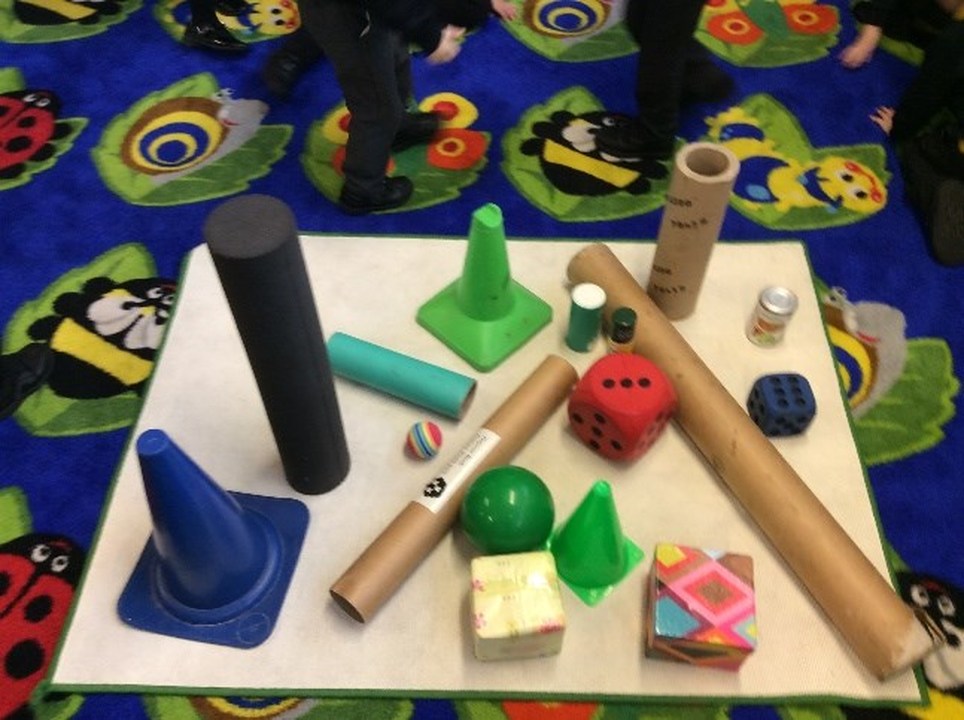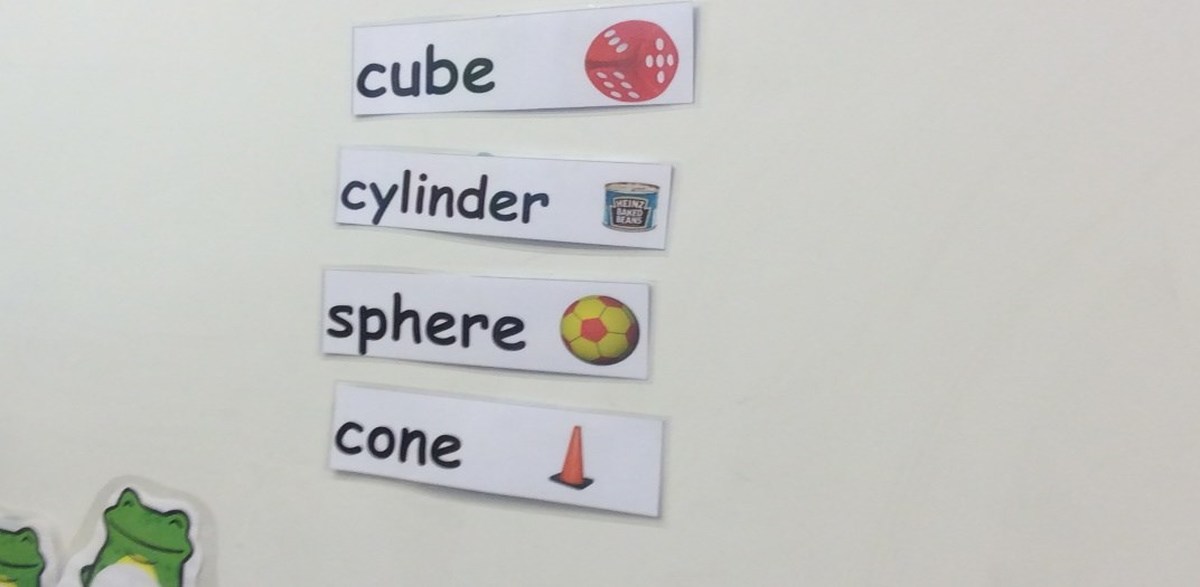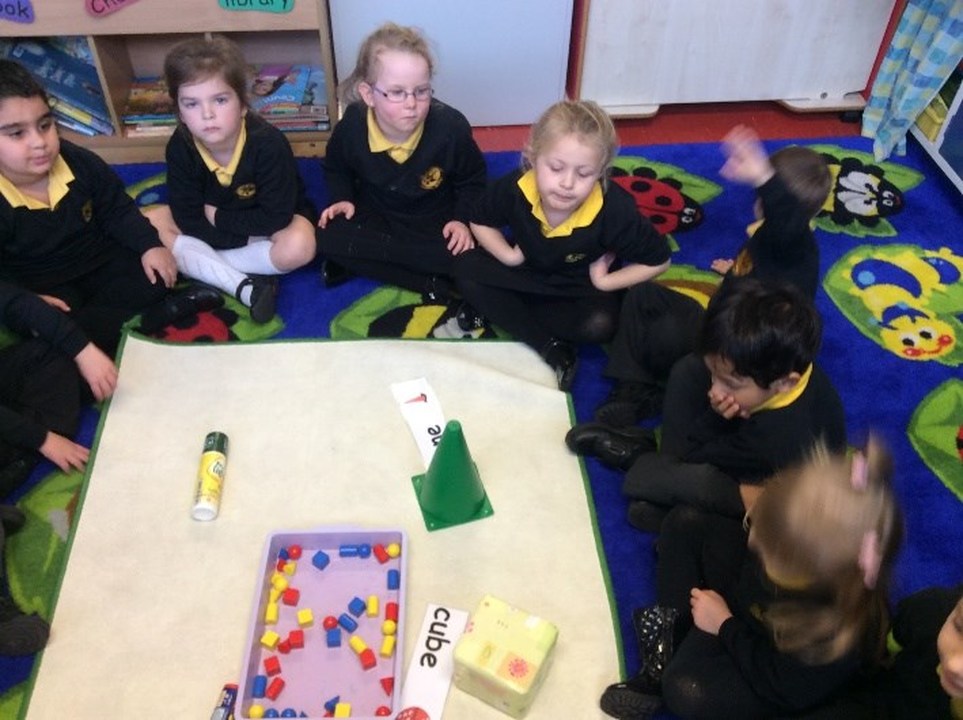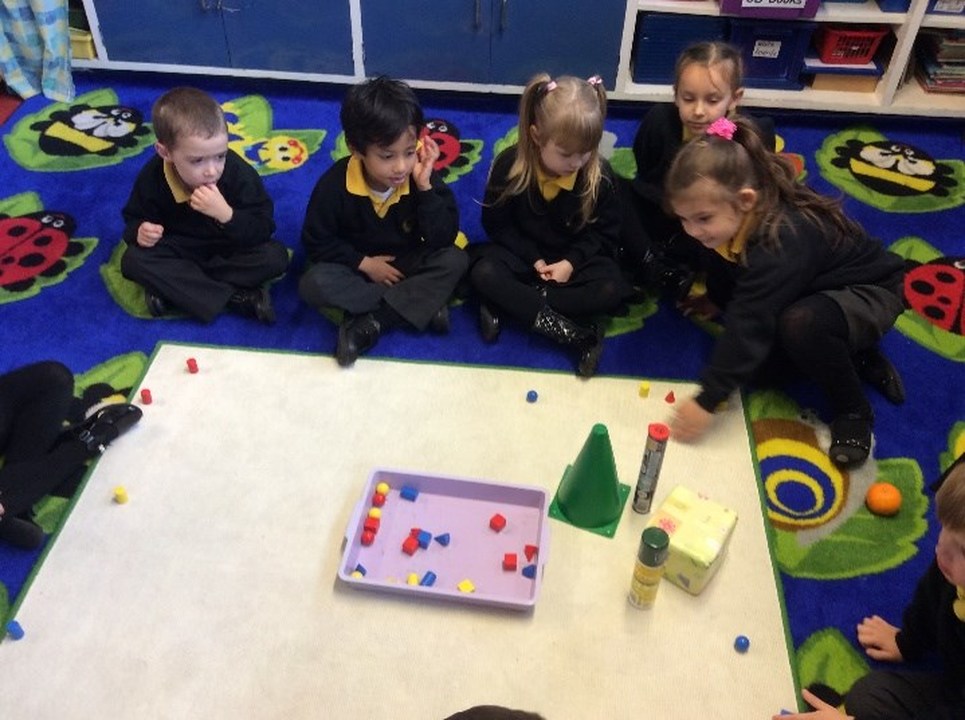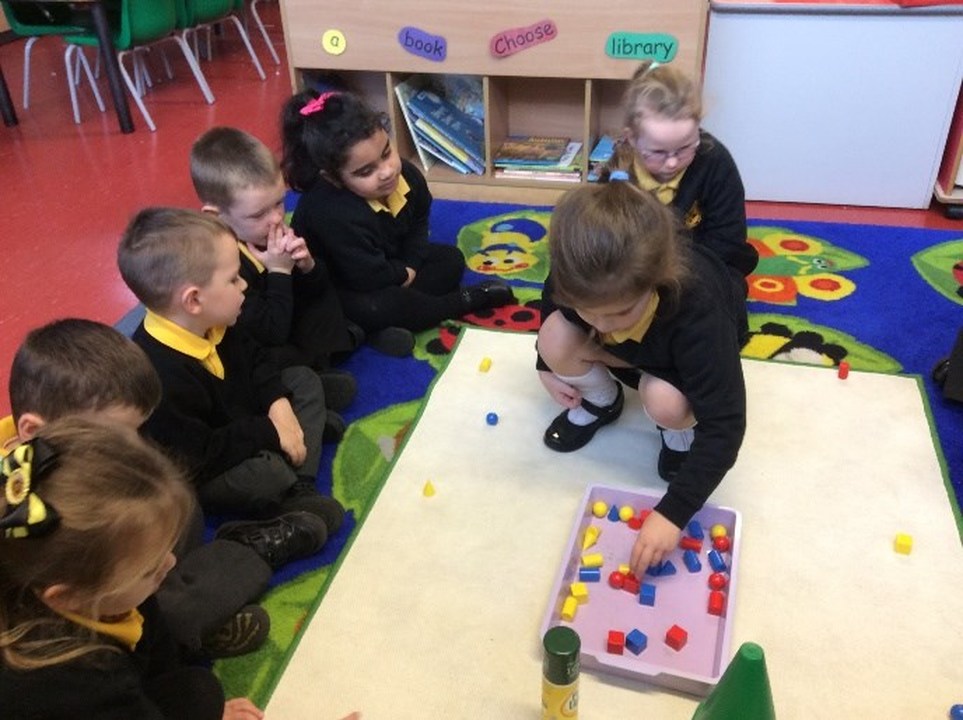 Halloween fun. We enjoyed making sparkly masks, dressing up in our Halloween costumes and making chocolate apples.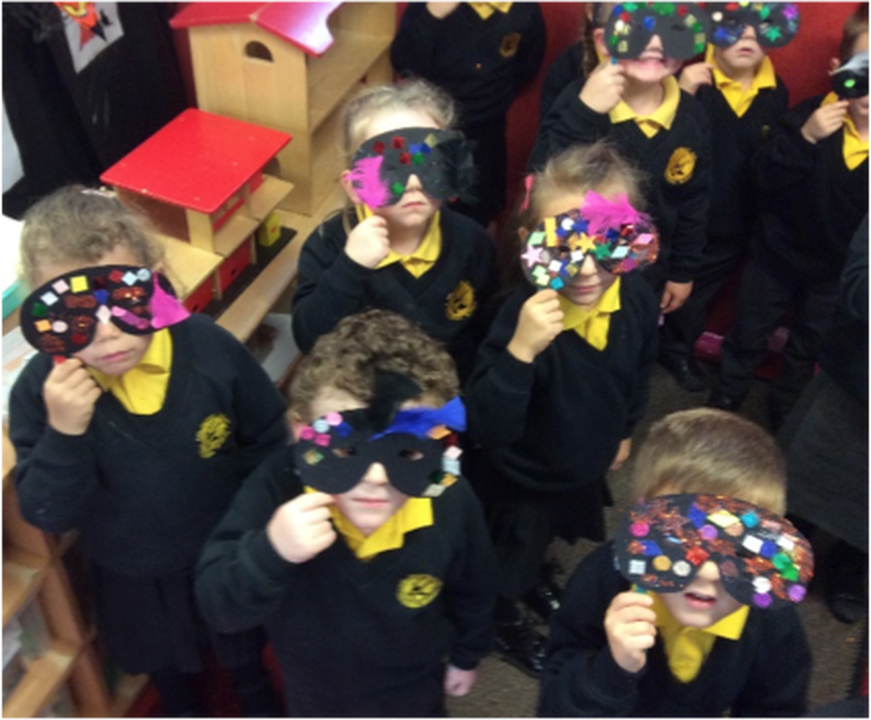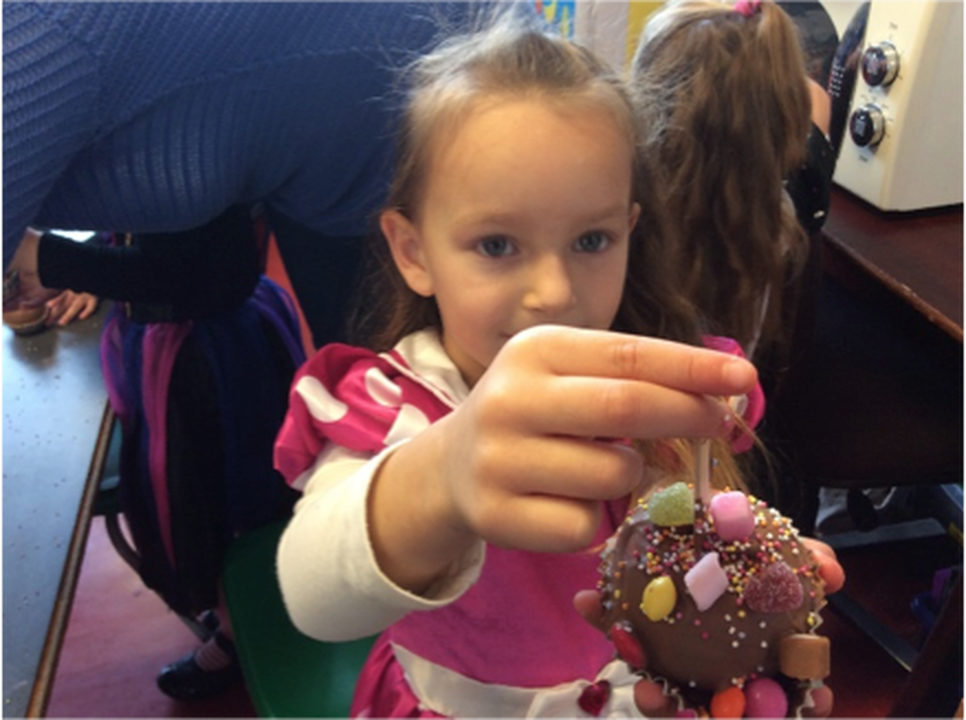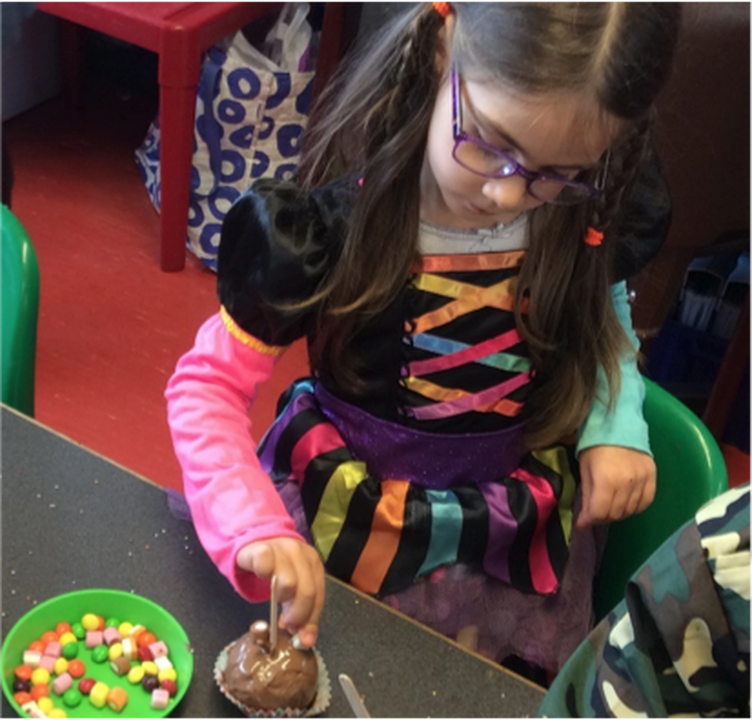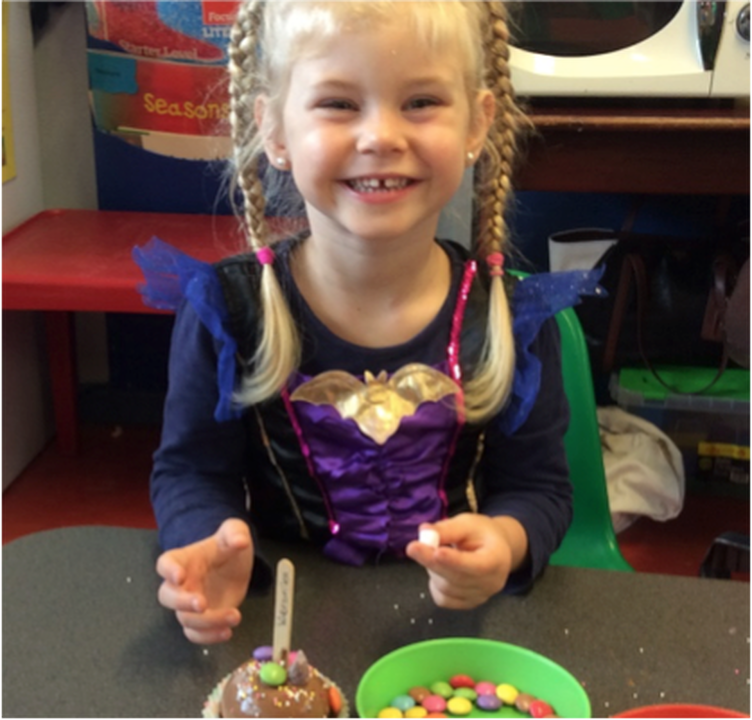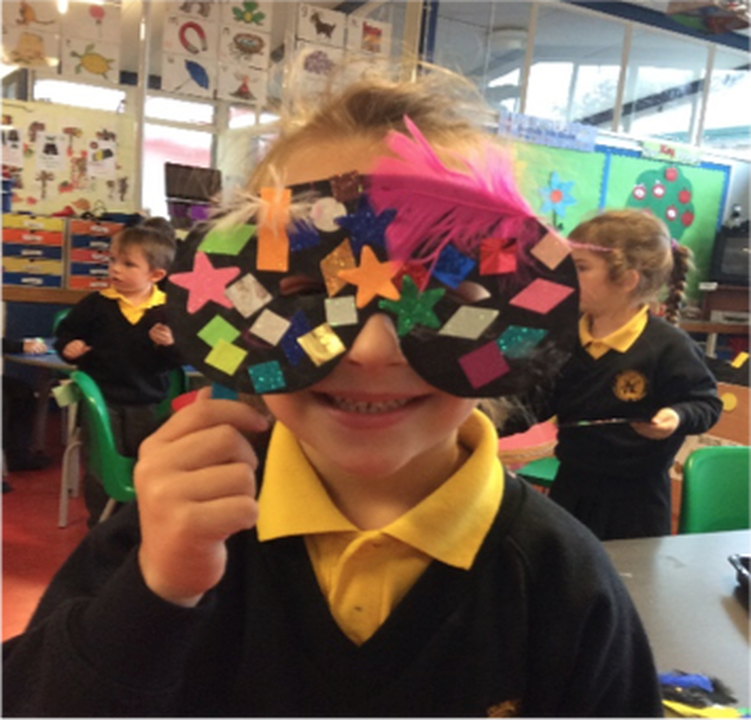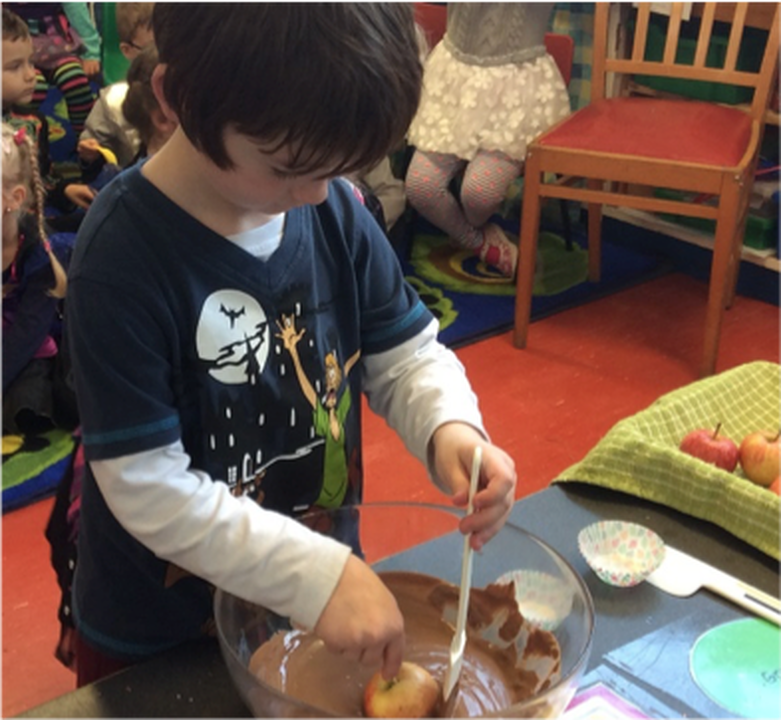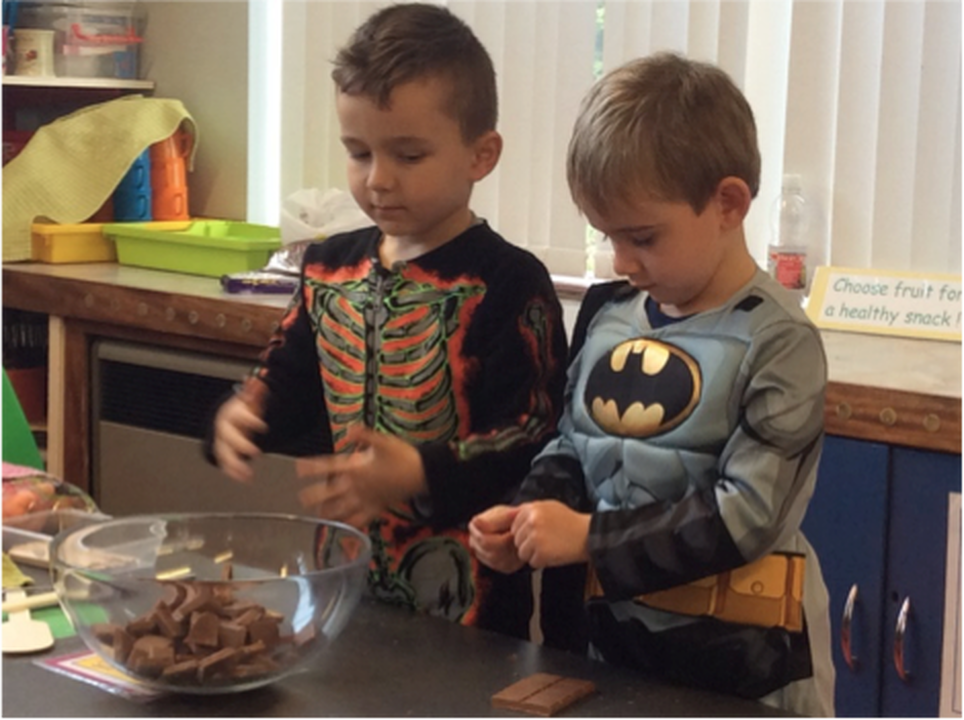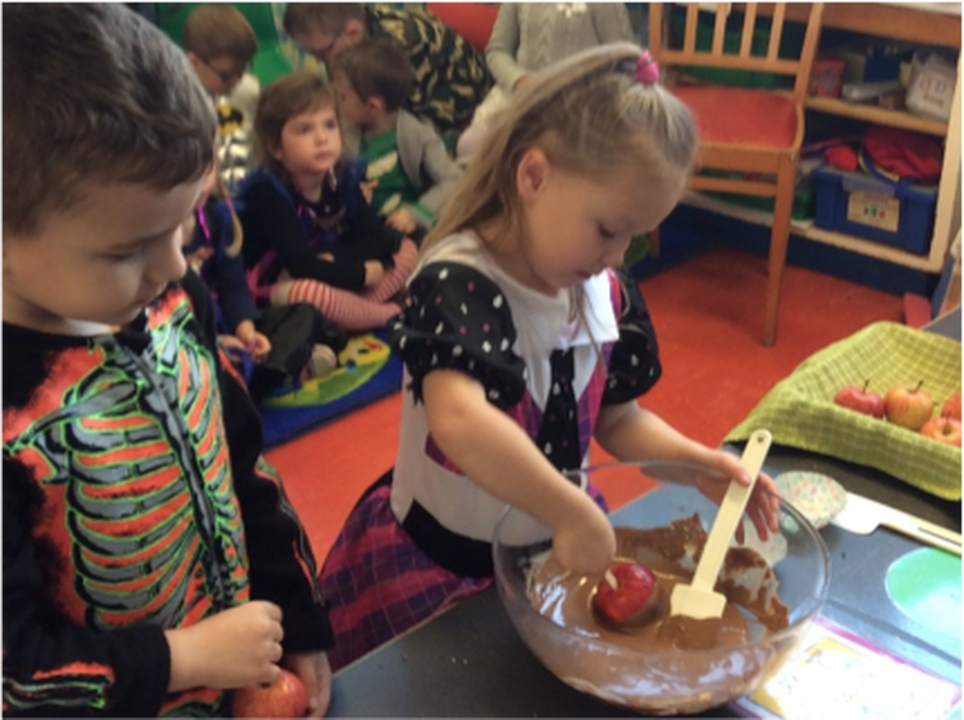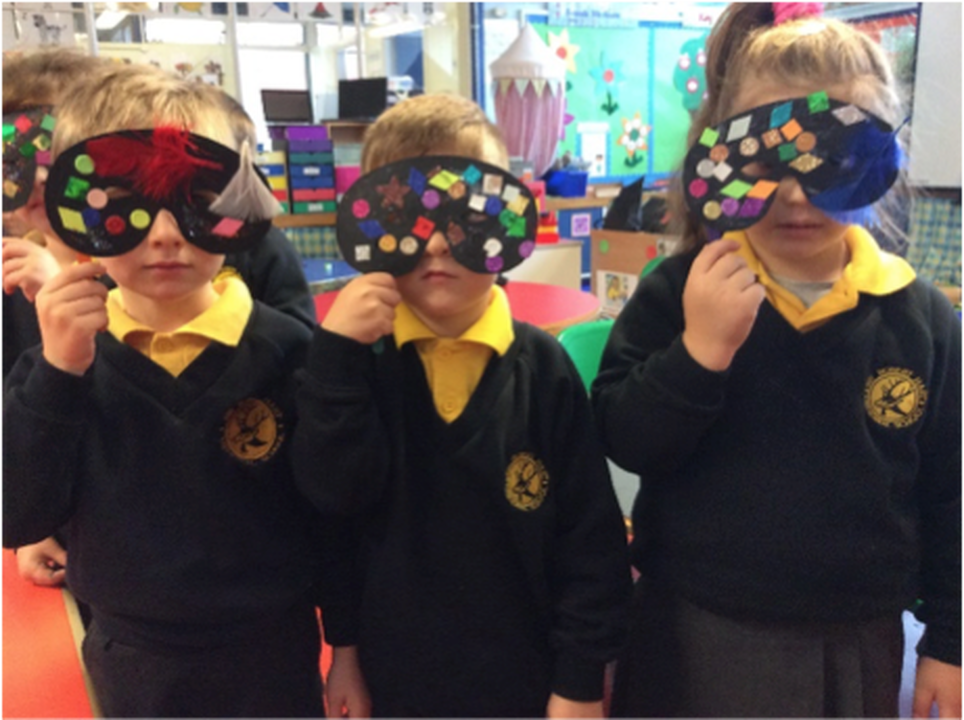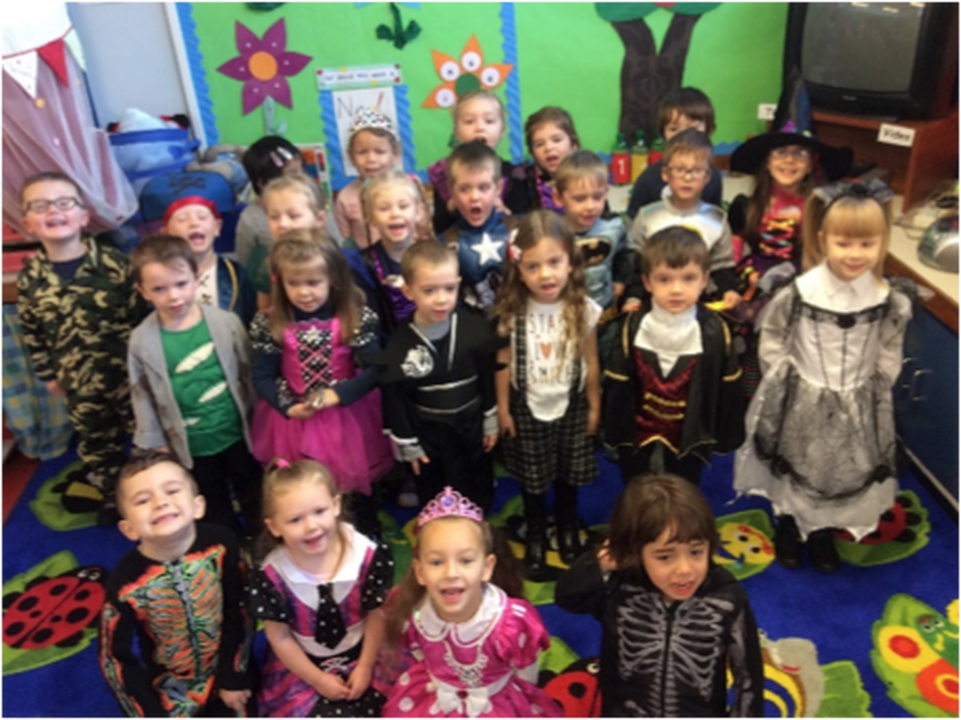 Play Based Learning - October
We enjoyed taking part in a Sponsored Walk around the People's Park to raise money for charity. It was a beautiful morning and many thanks to all our parent volunteers.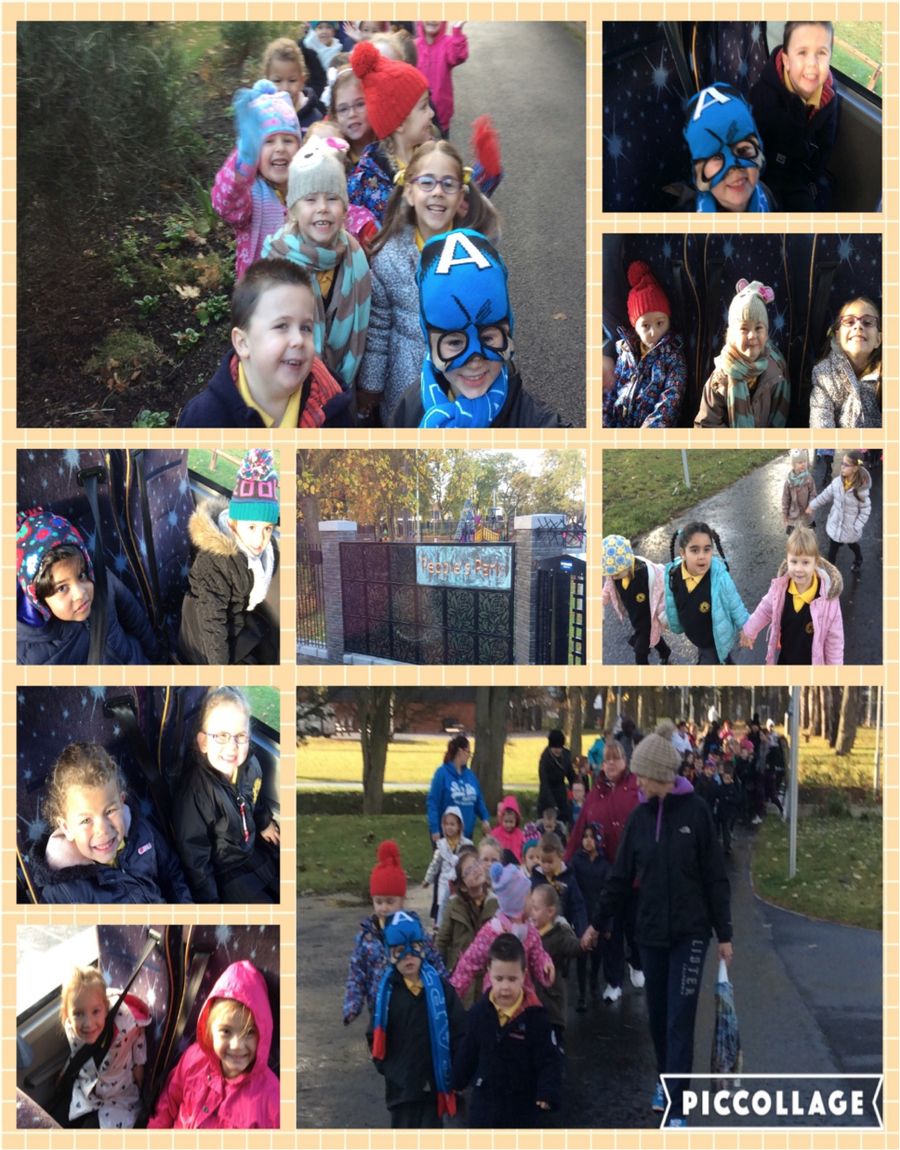 We took part in a special assembly to celebrate the career of Mrs Hunniford, (P1 teacher) who recently retired. This was our first performance on stage. We really enjoyed singing and Mrs Taggart is so proud of us. We all wish Mrs Hunniford a very happy retirement.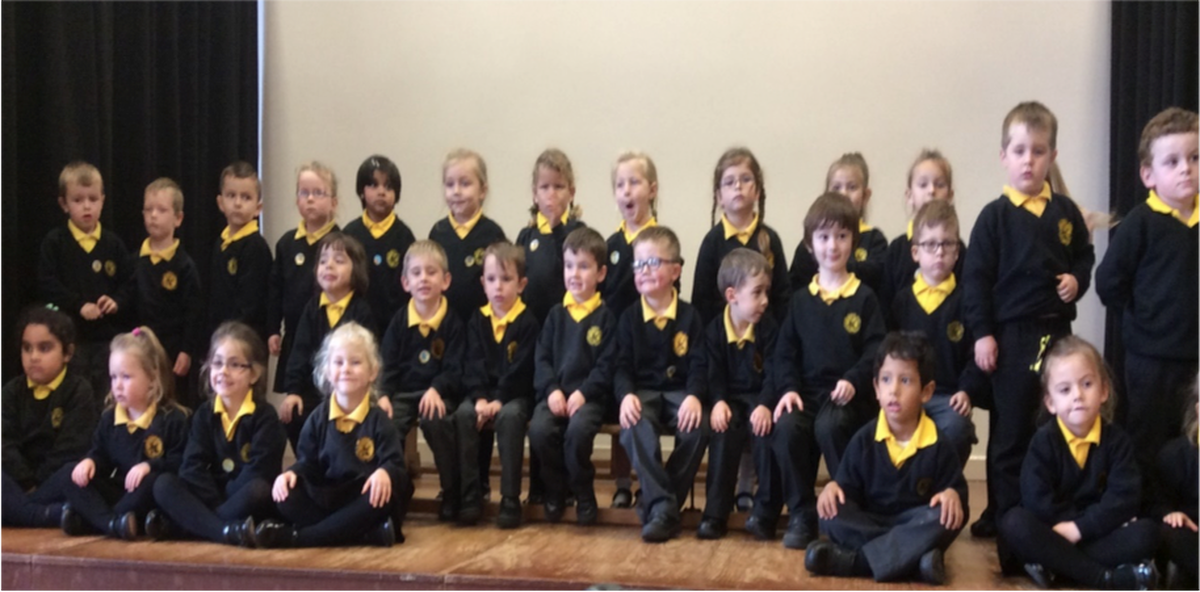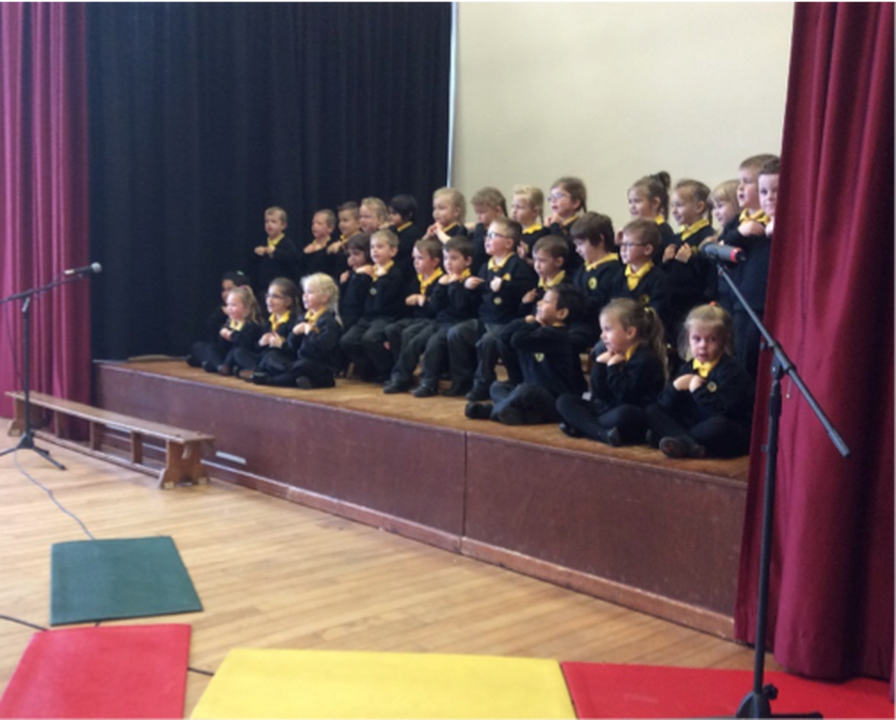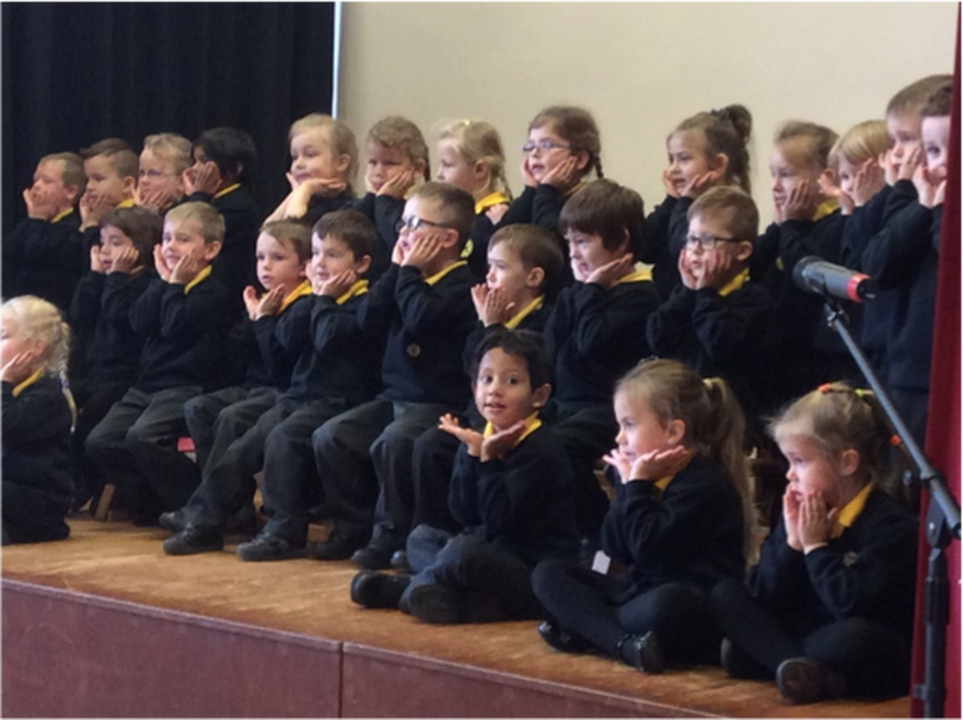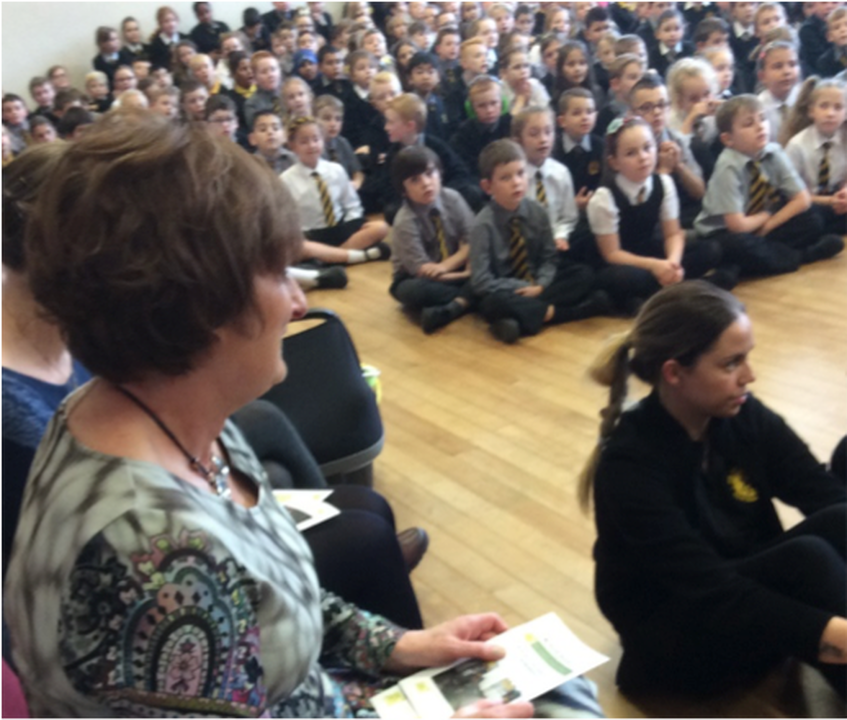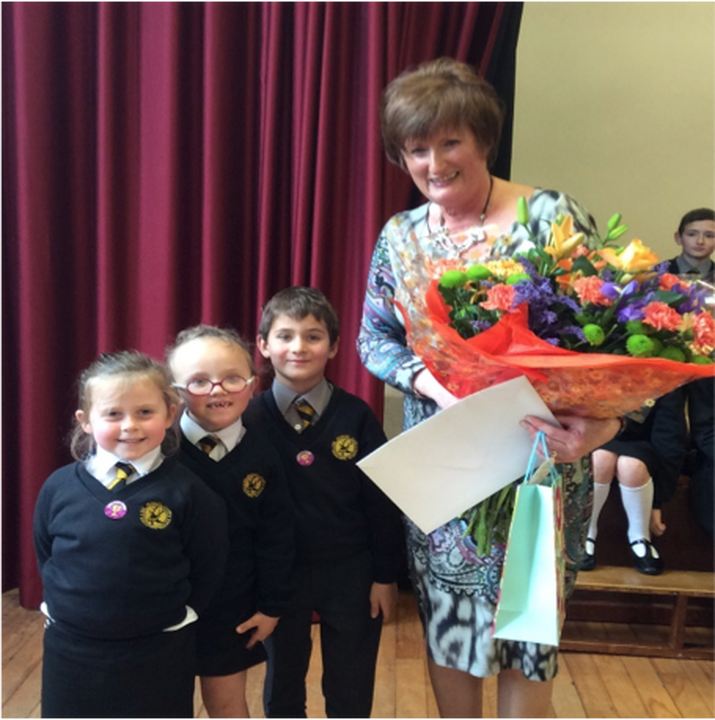 As part of our topic 'I'm Me, I'm Special' we are learning that birthdays are important events in our lives. To celebrate we planned and took part in a class birthday party.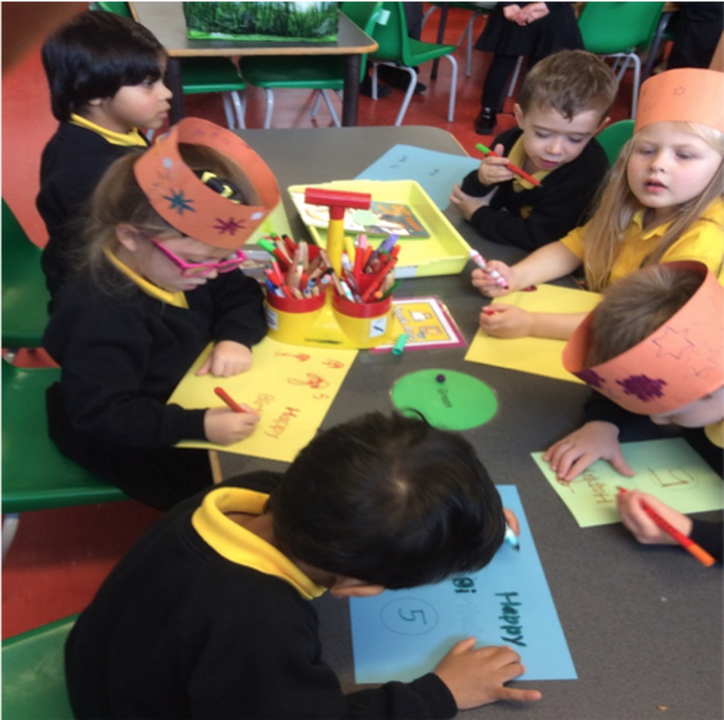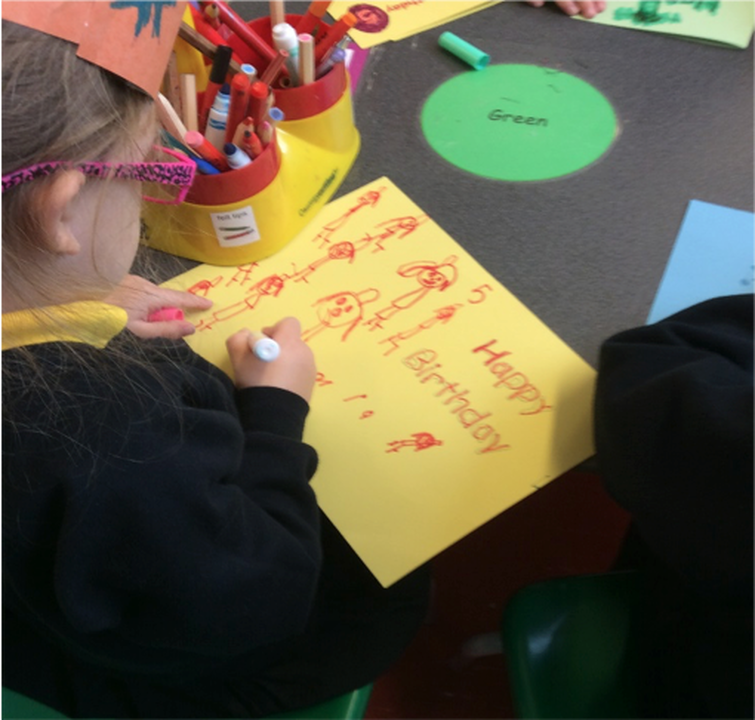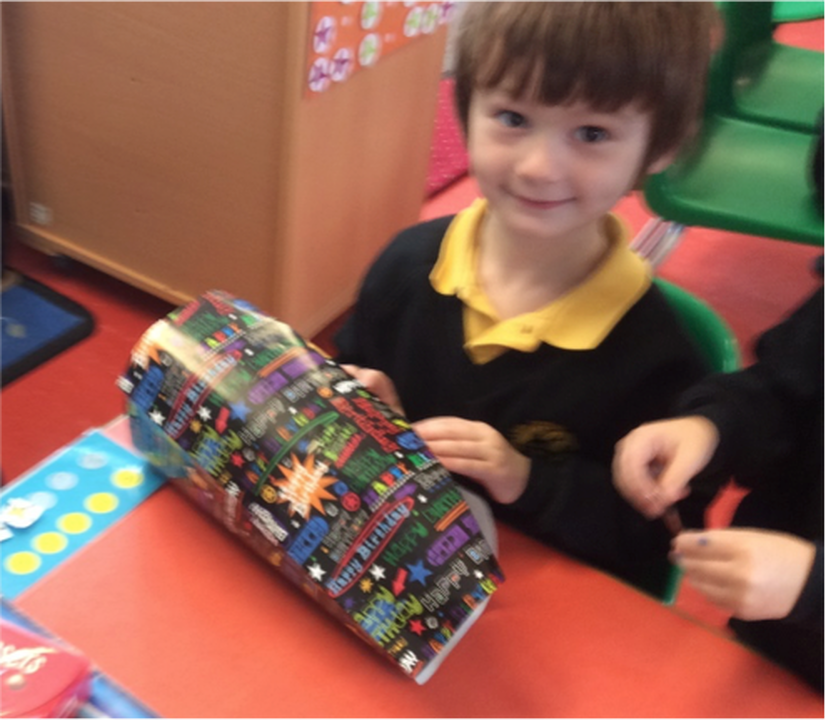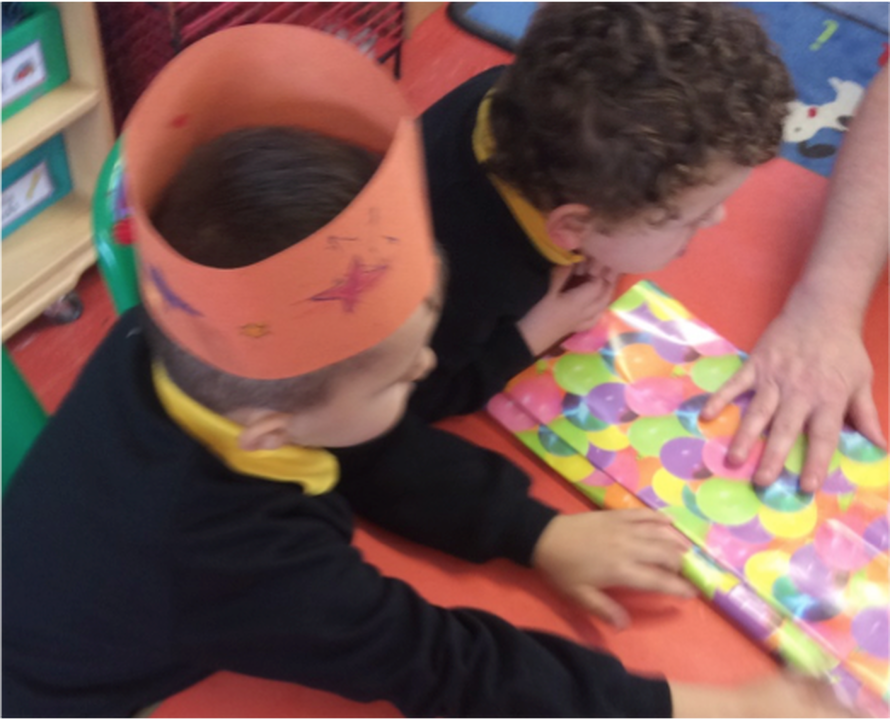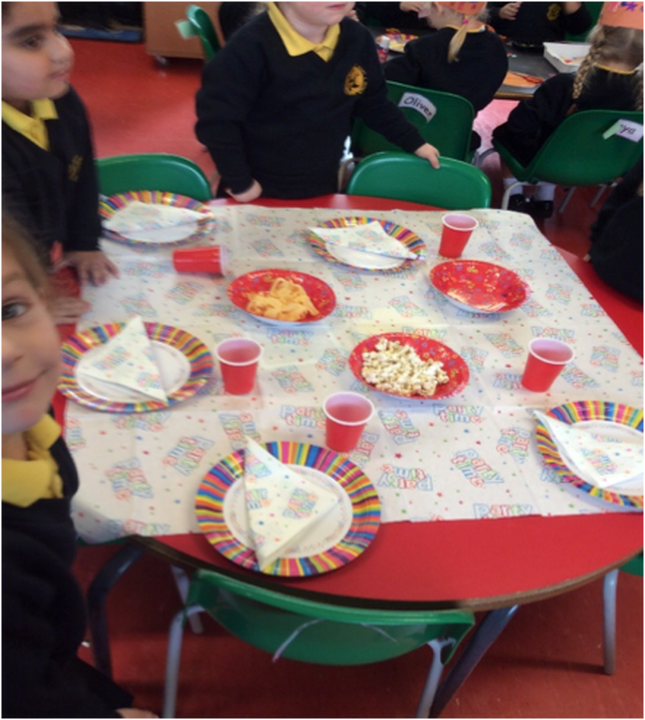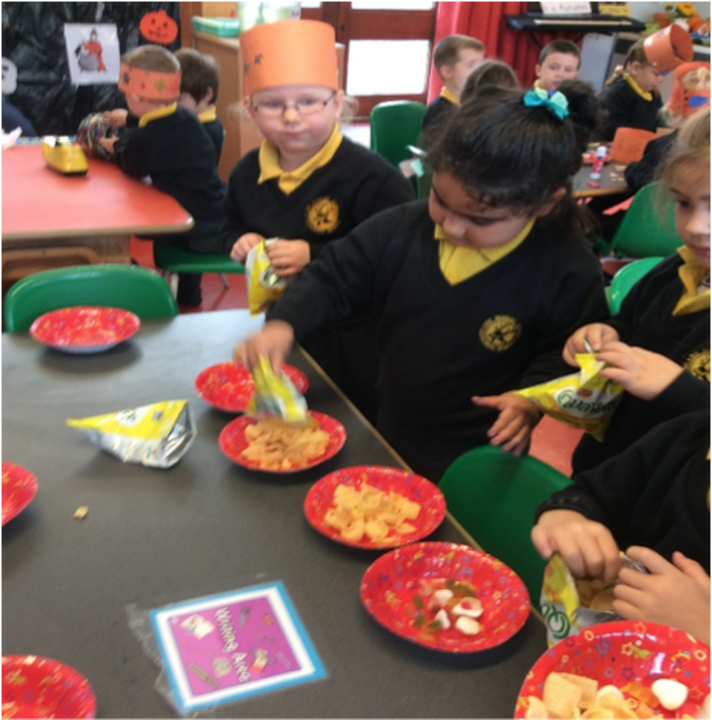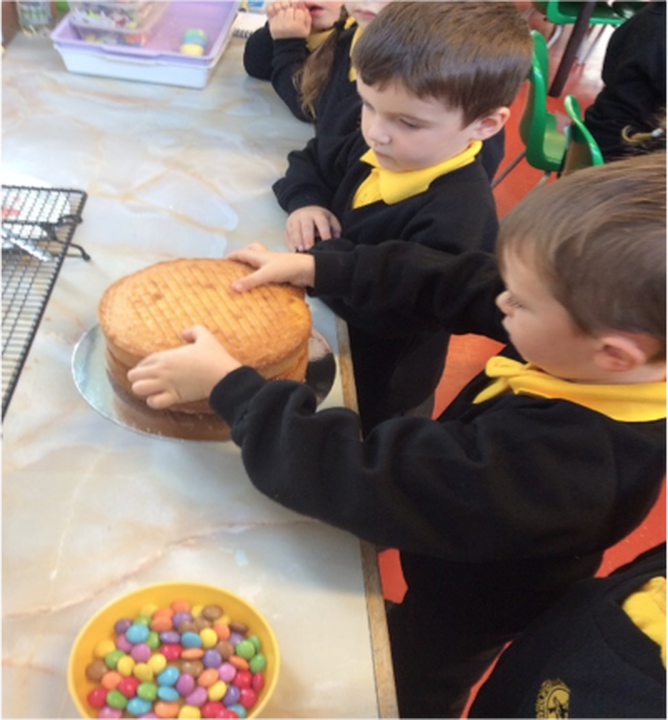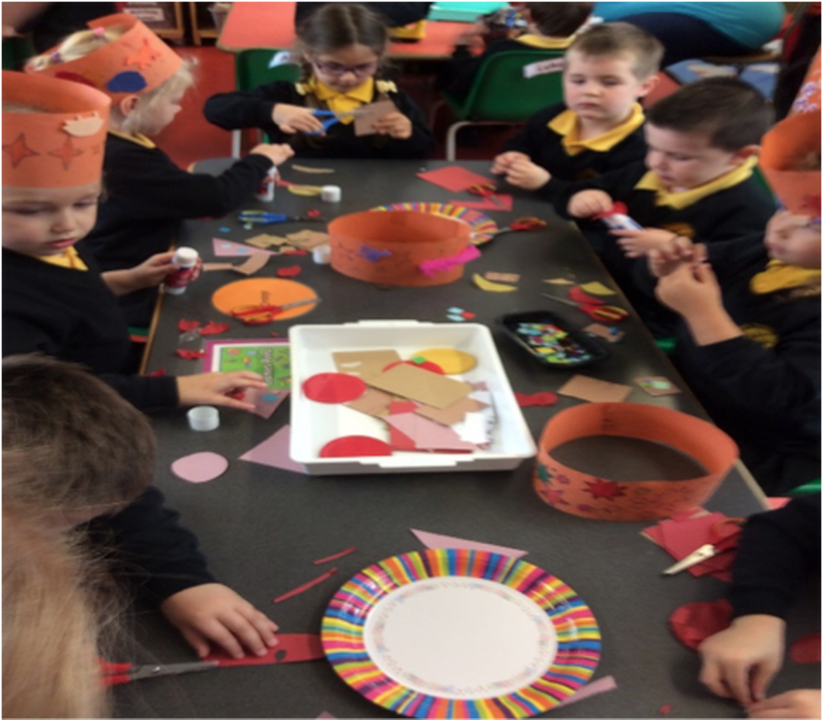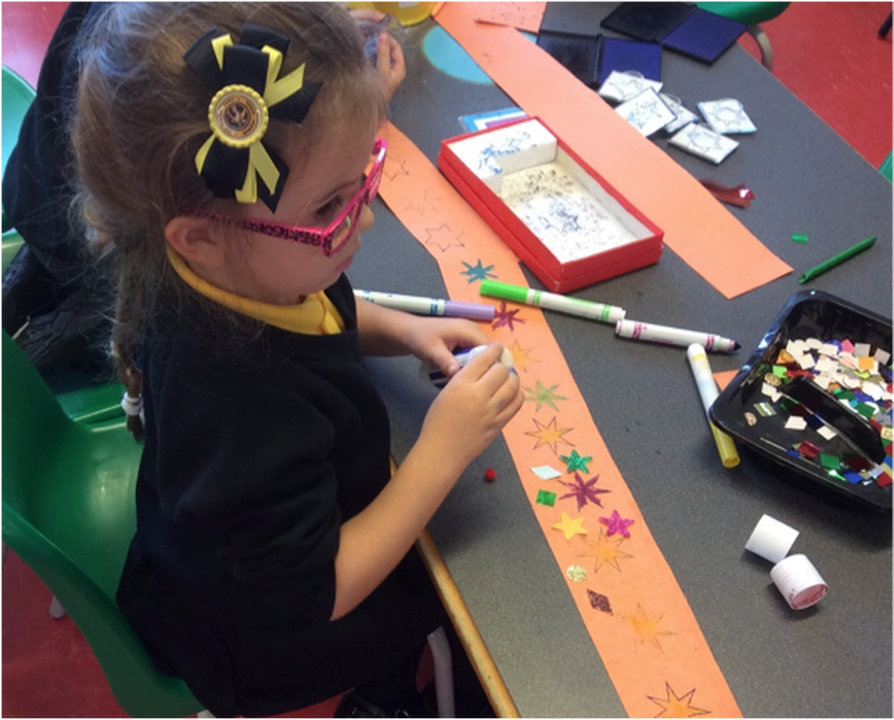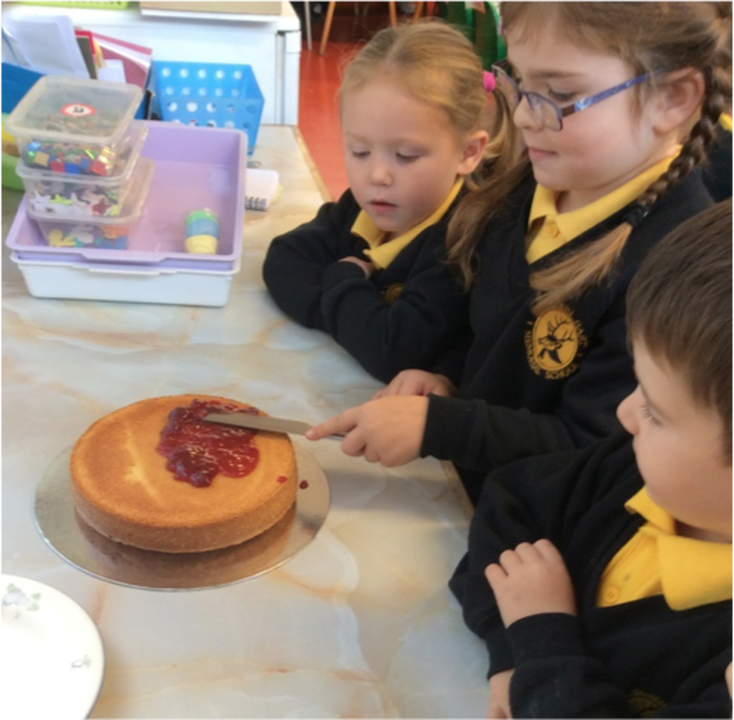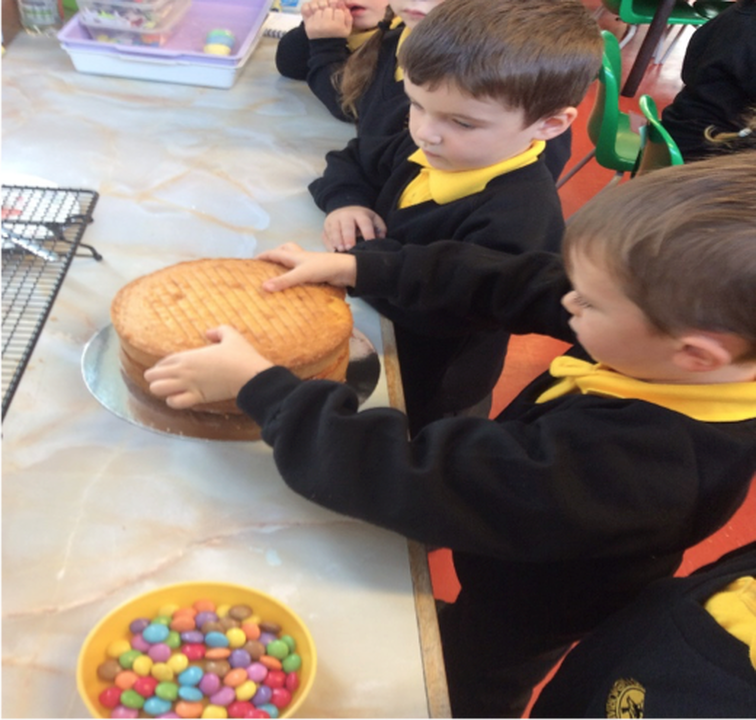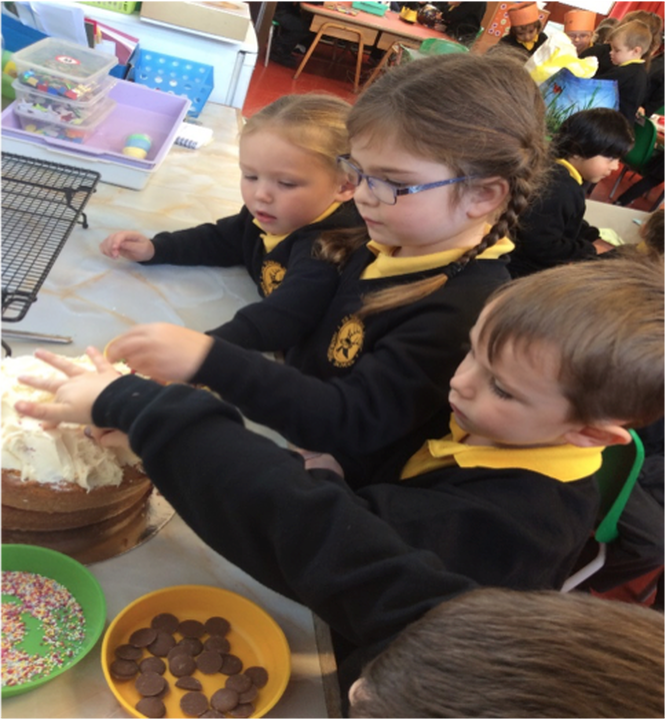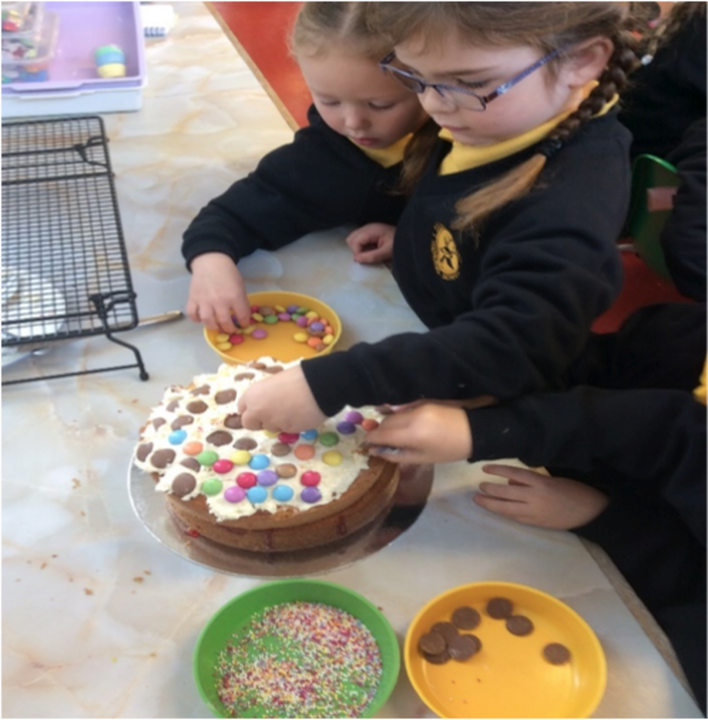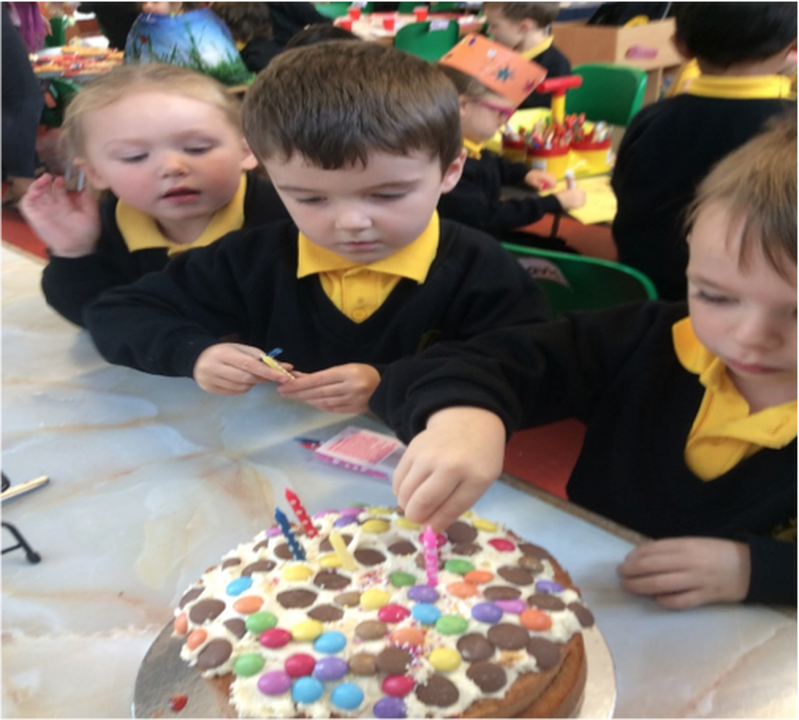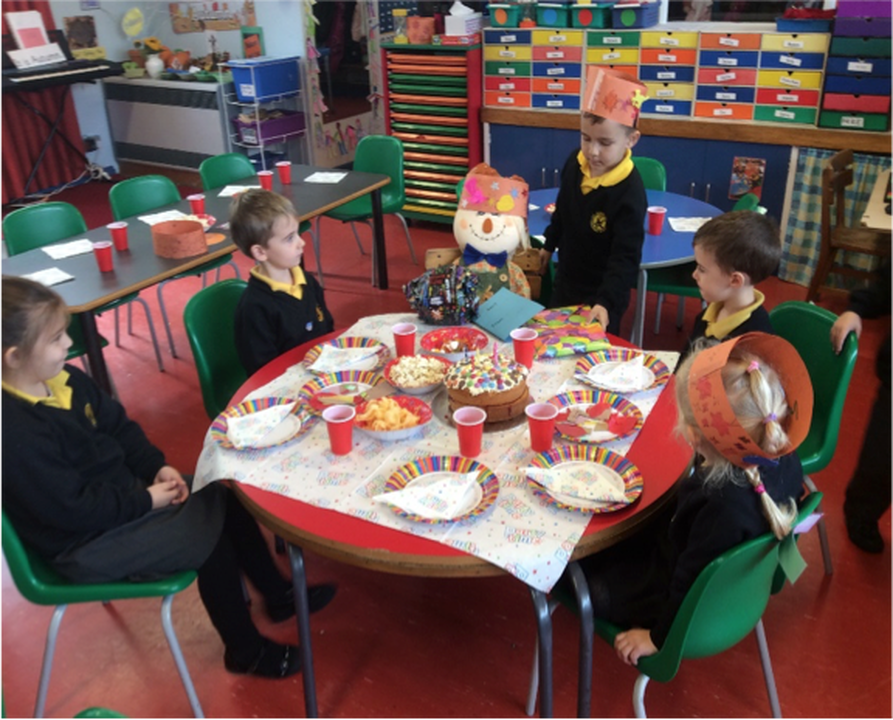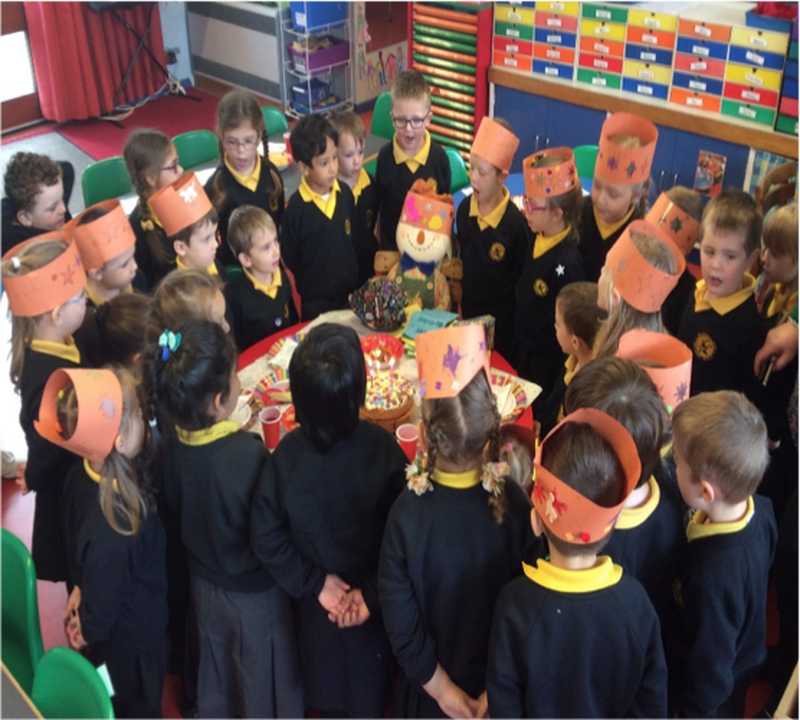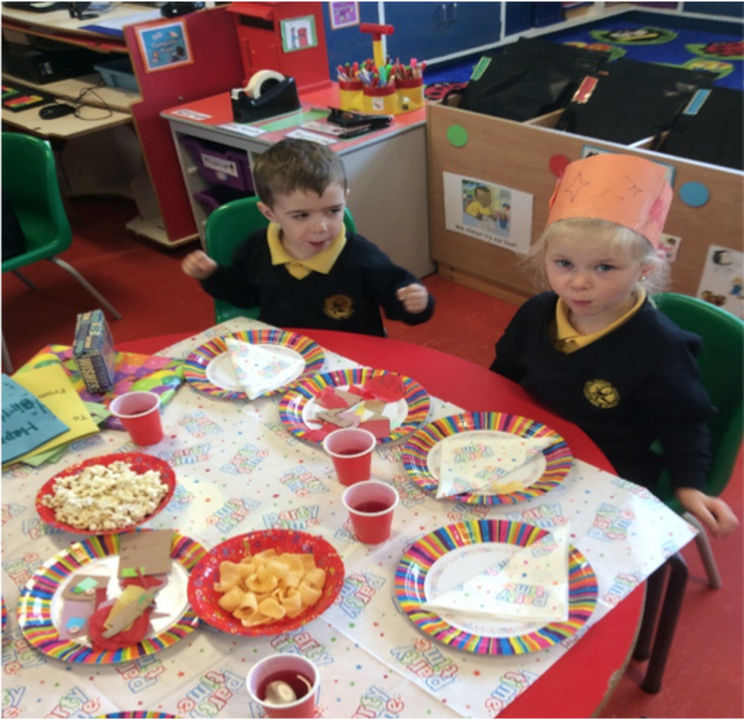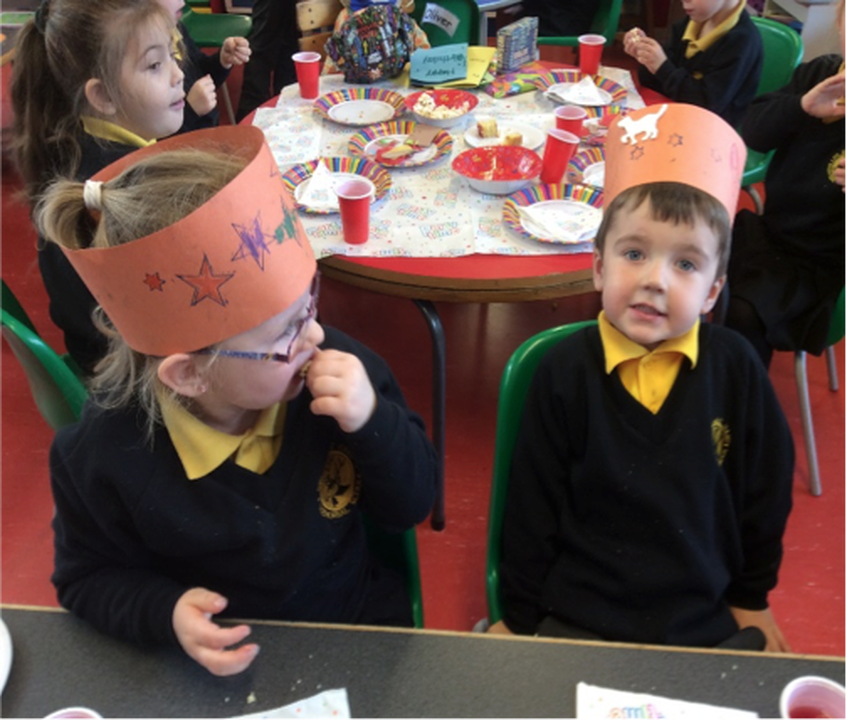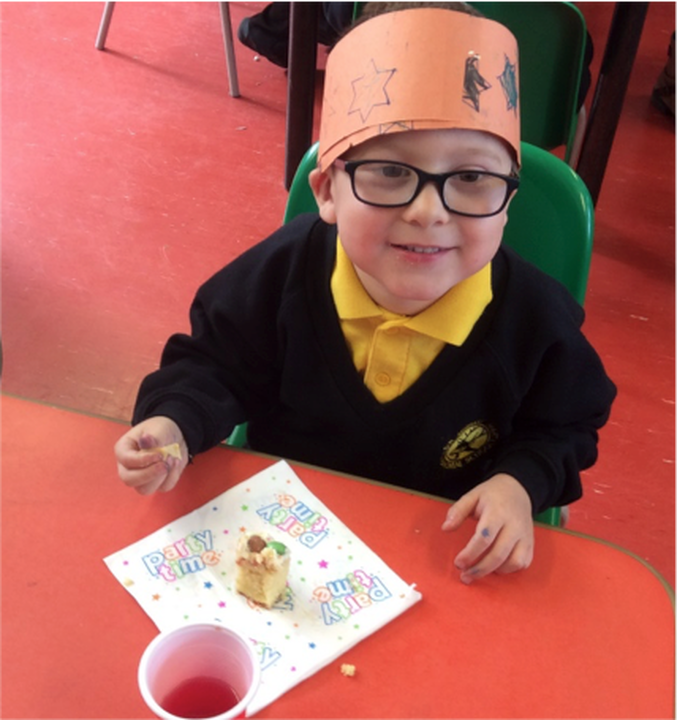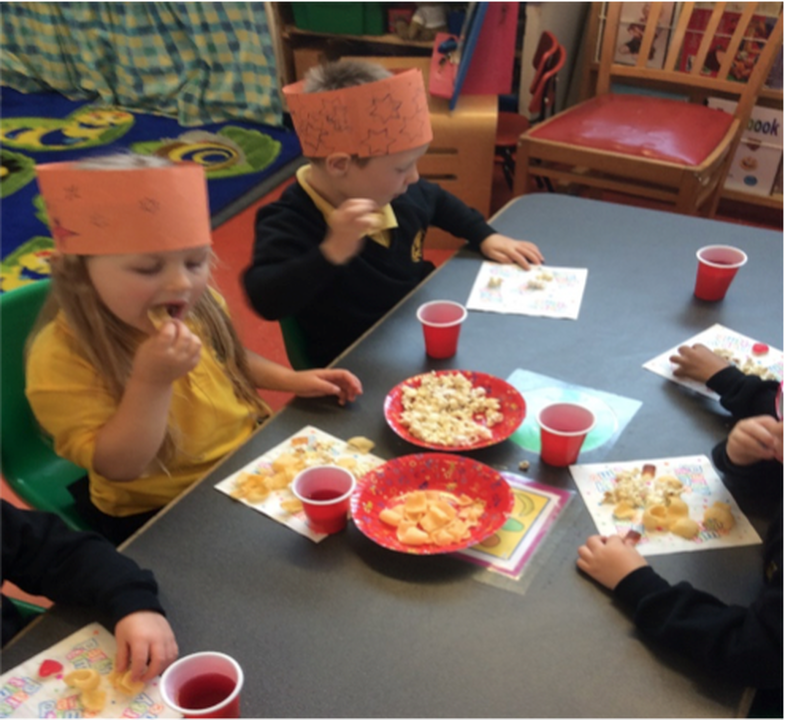 We baked a cake to find out what happens to the mixture when we put it in the oven.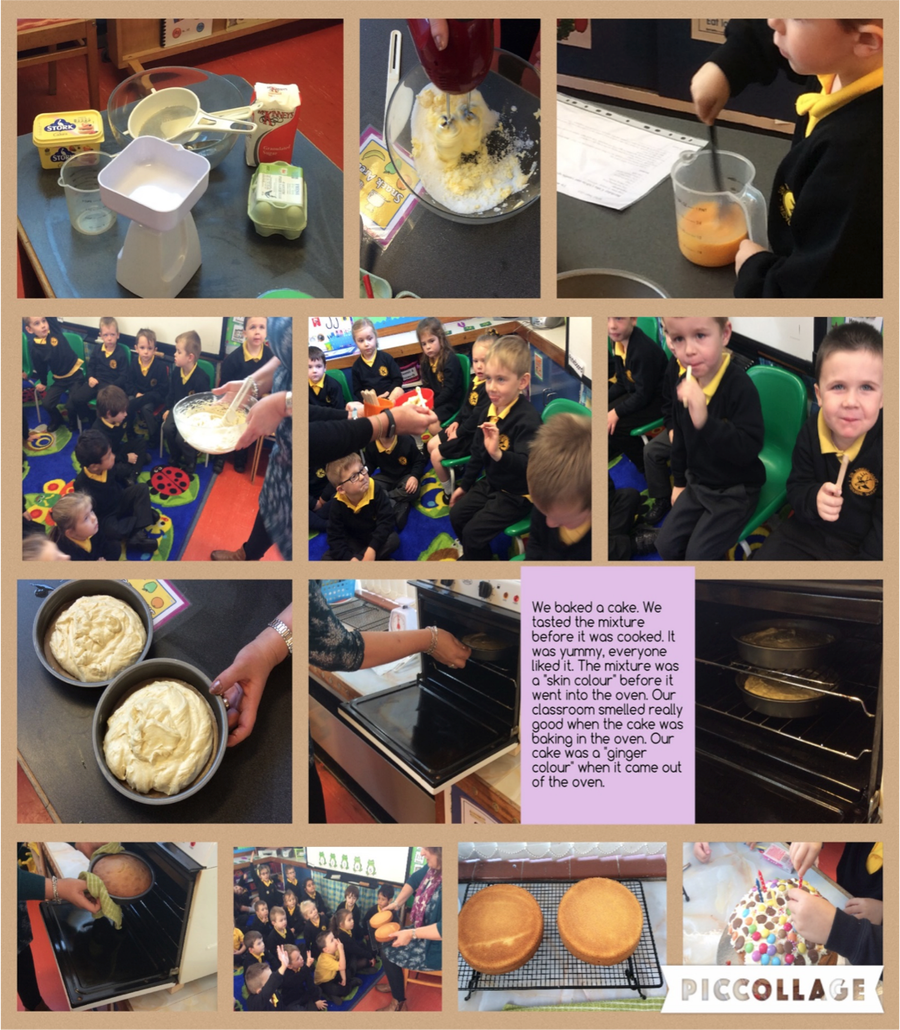 We are learning to name different parts of our bodies. We played Simon Says and games on the IWB. We sang the Hokey Kokey and Head, Shoulders, Knees and Toes to help us remember each body part.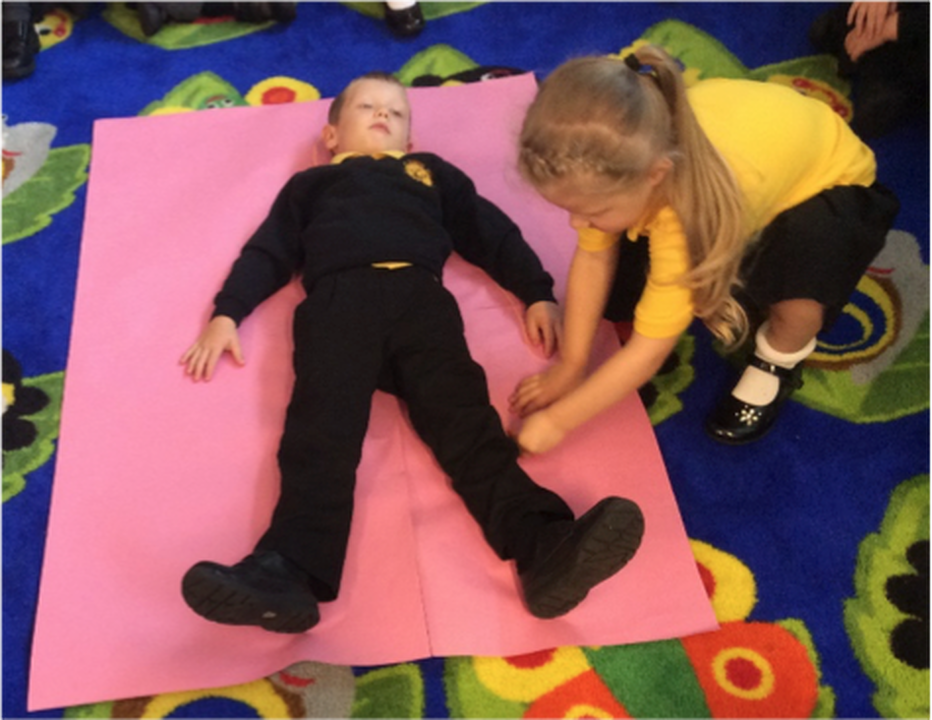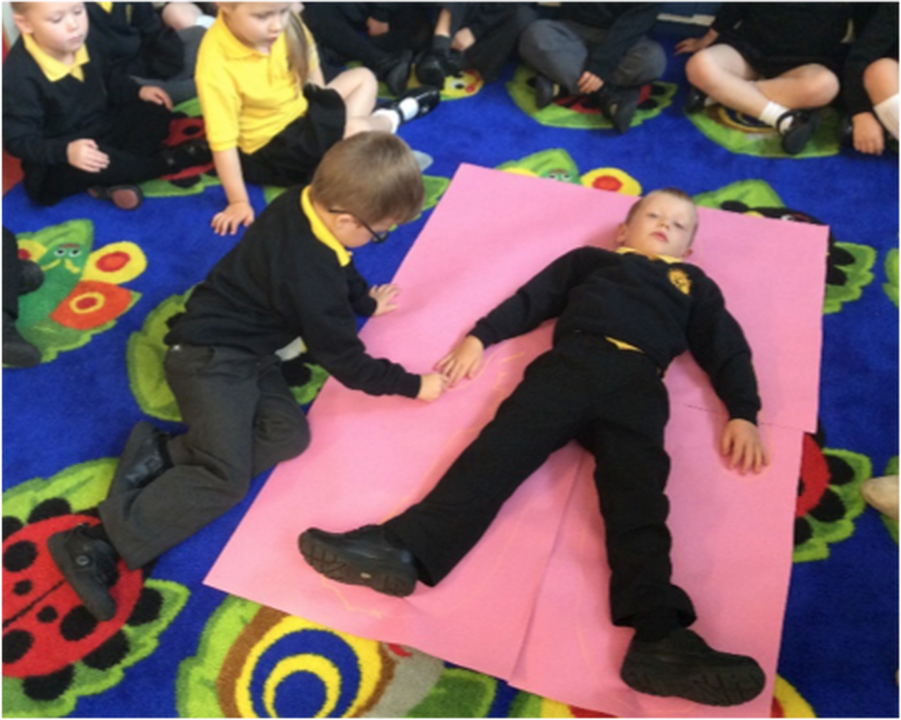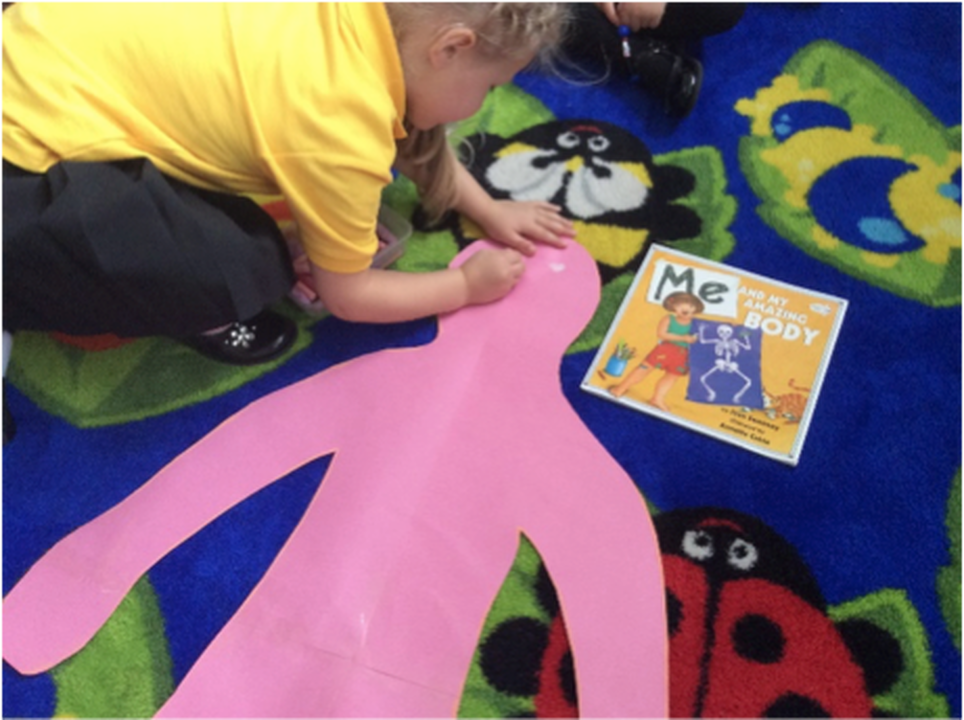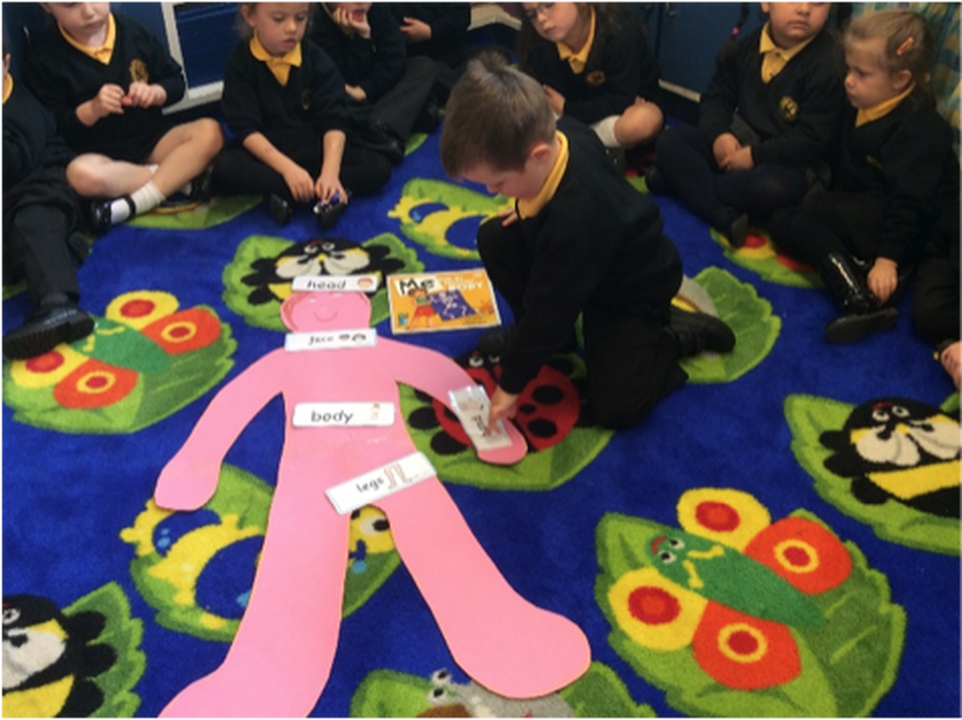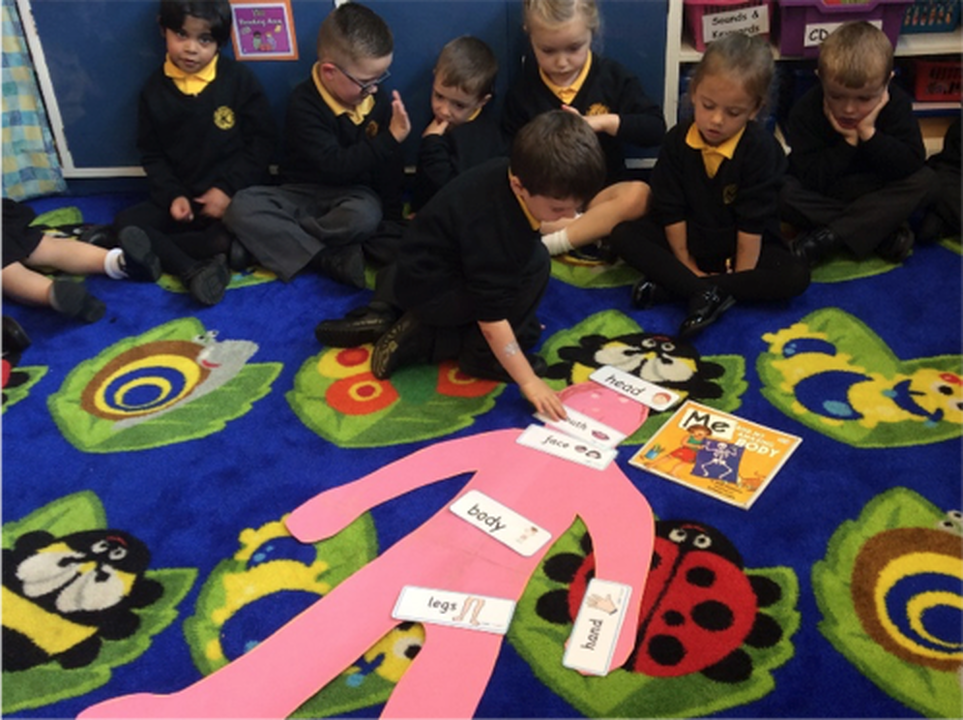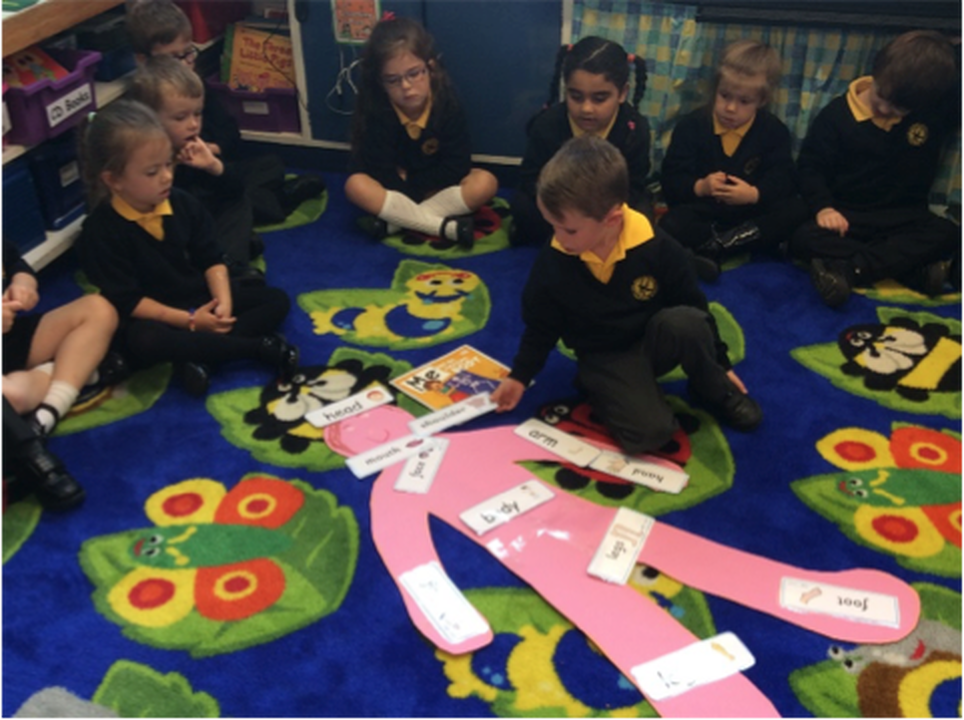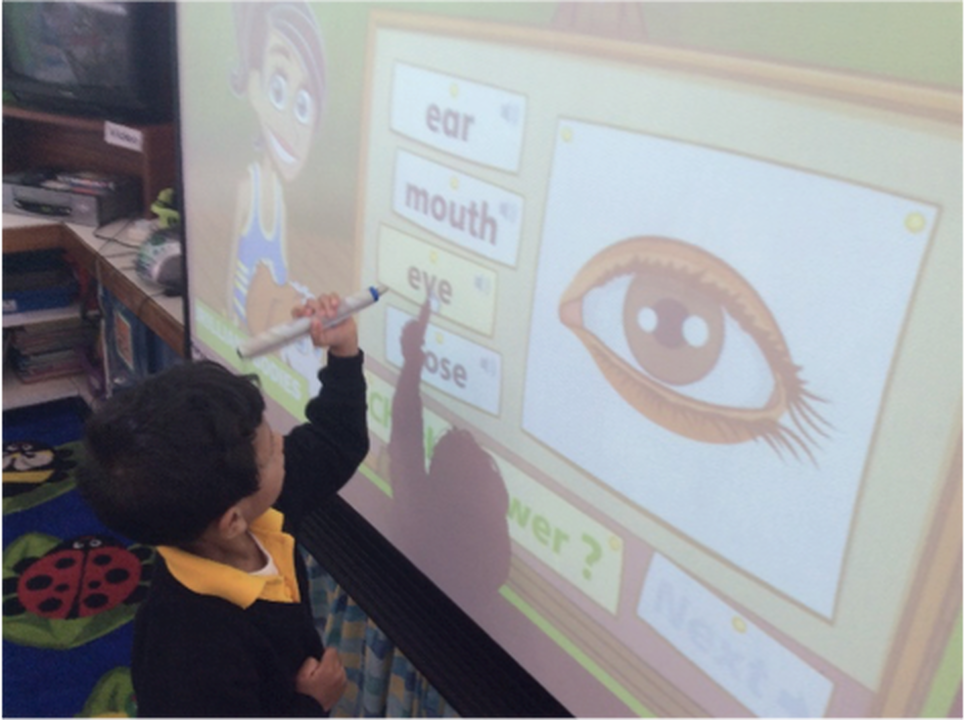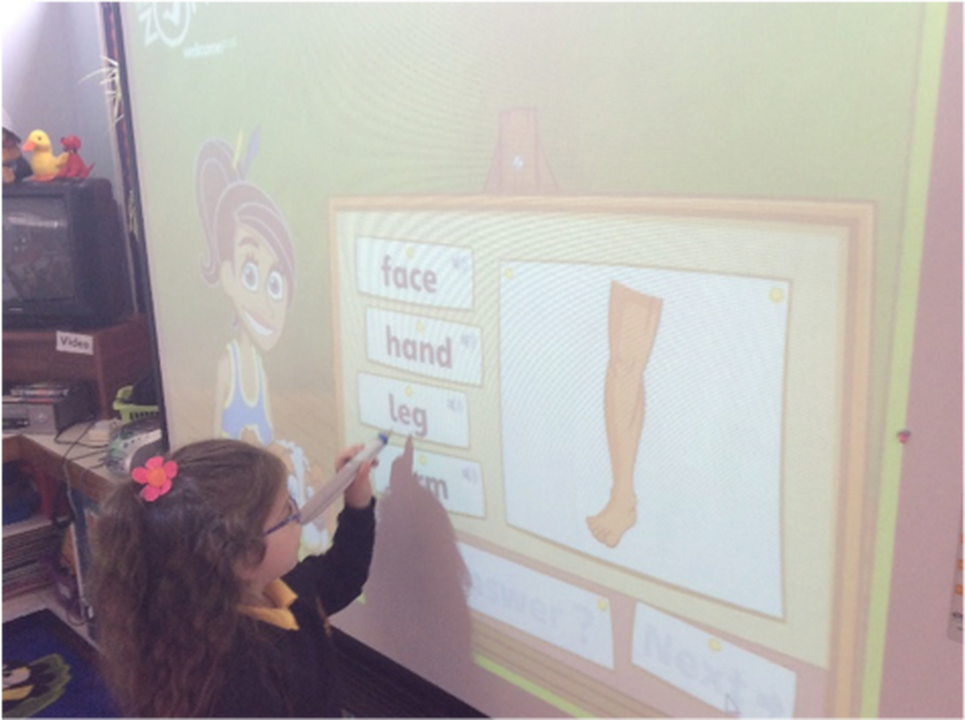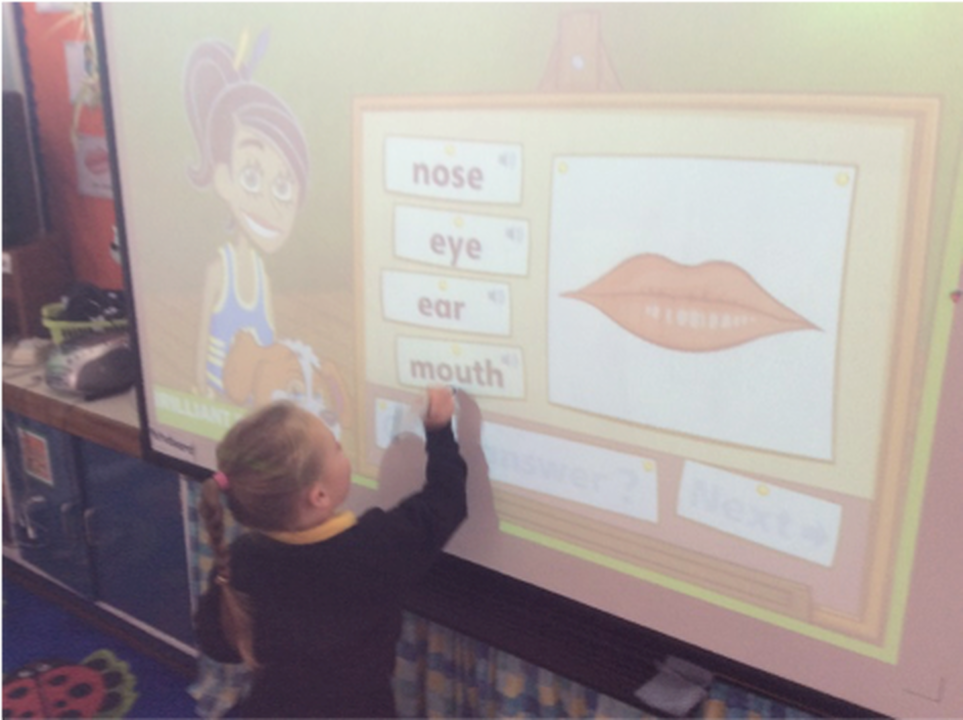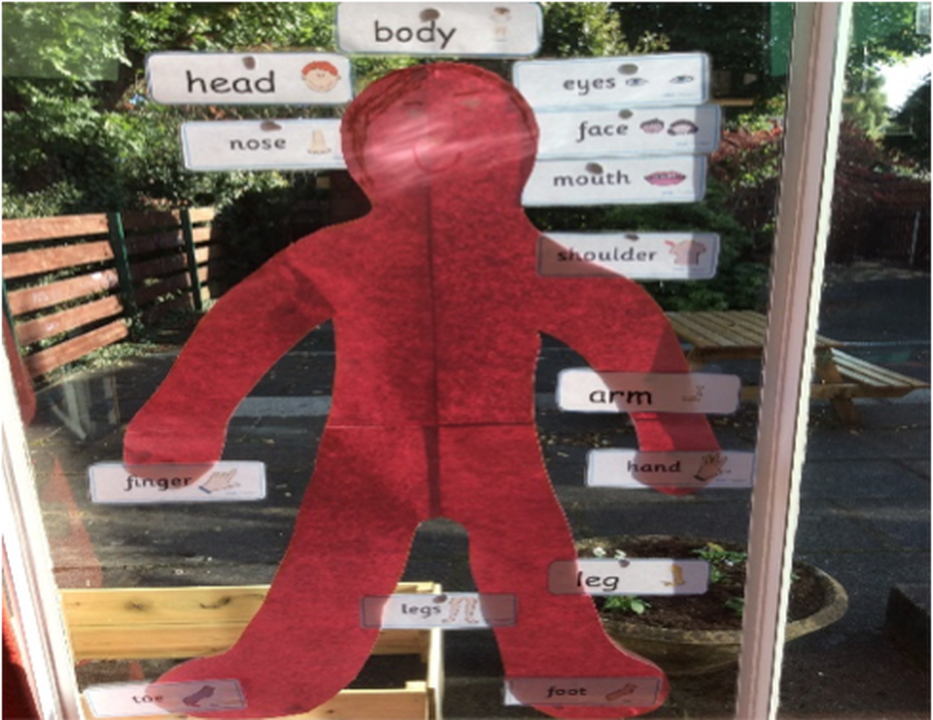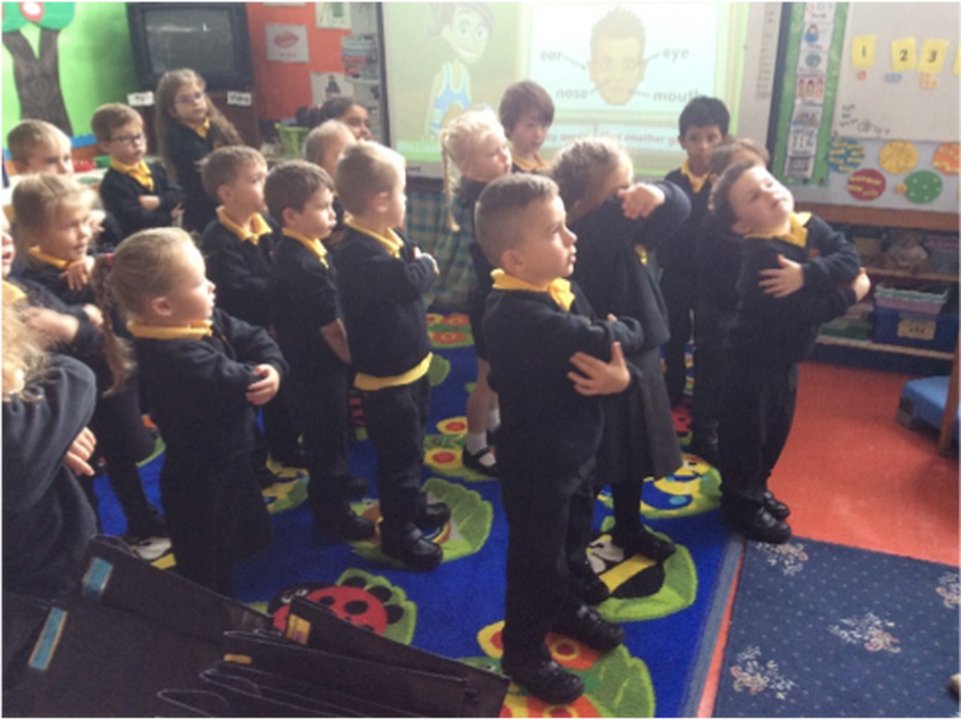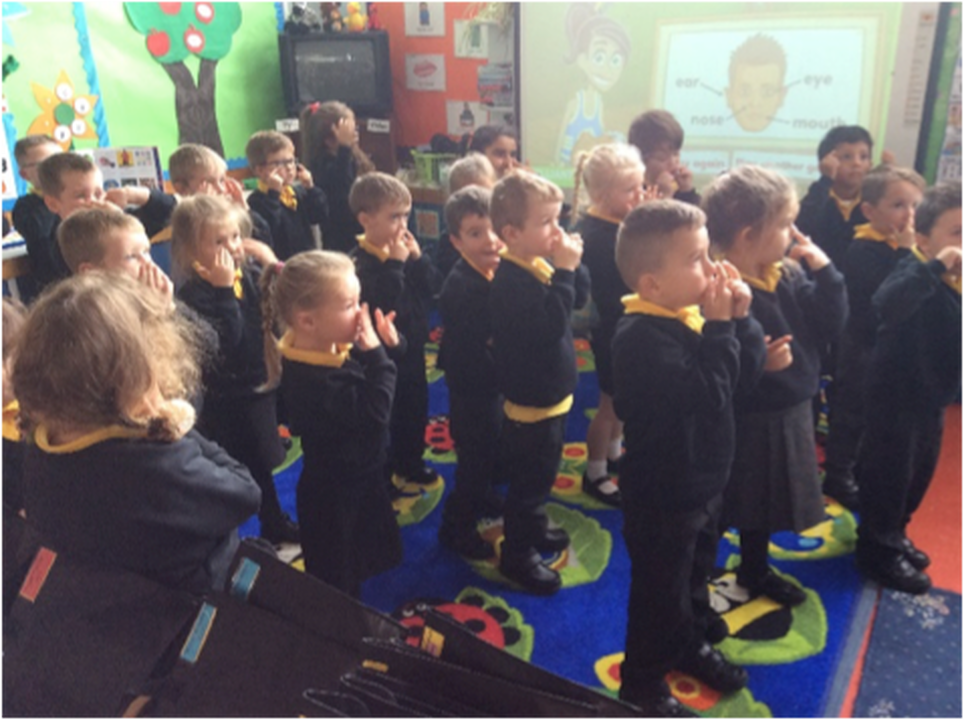 Literacy Time – we are learning to make a simple sentence, write a simple sentence and sequence an activity.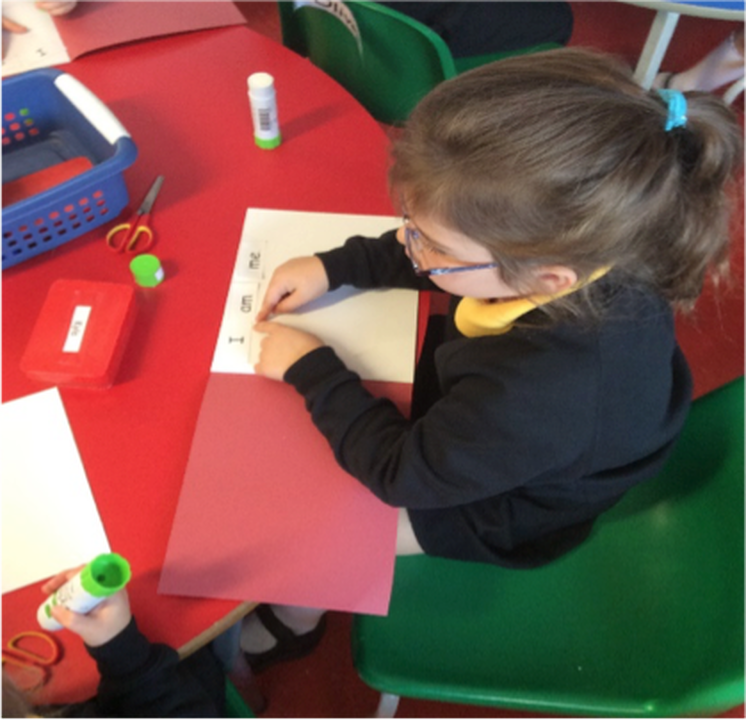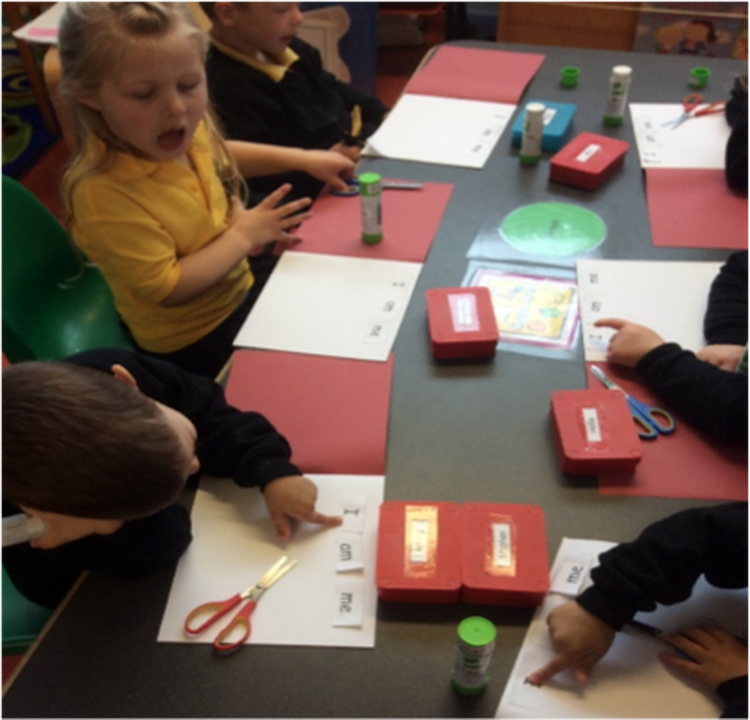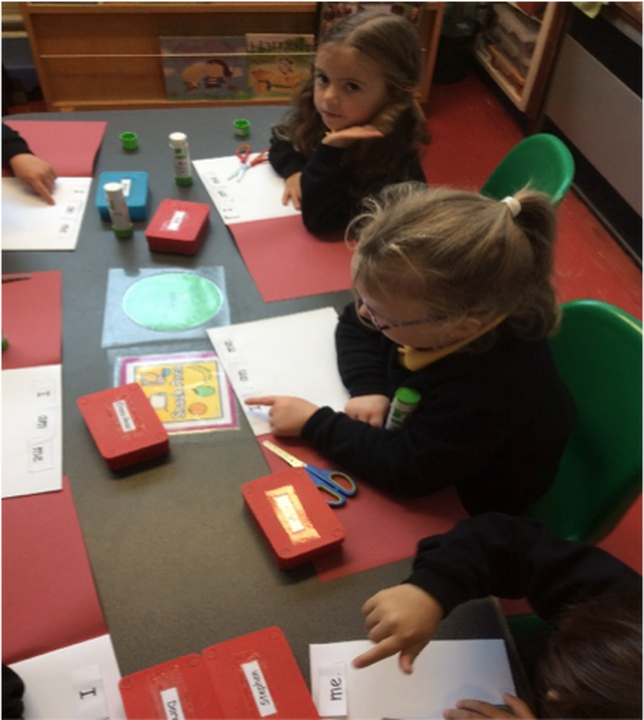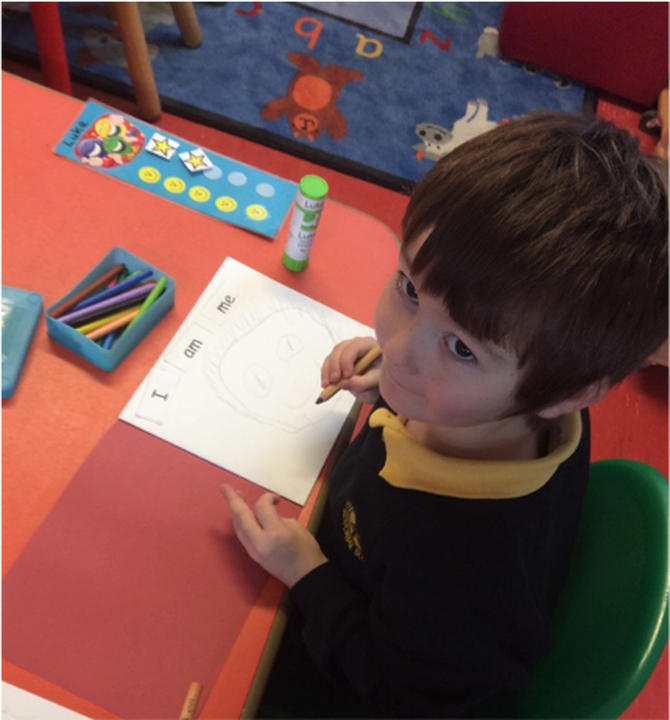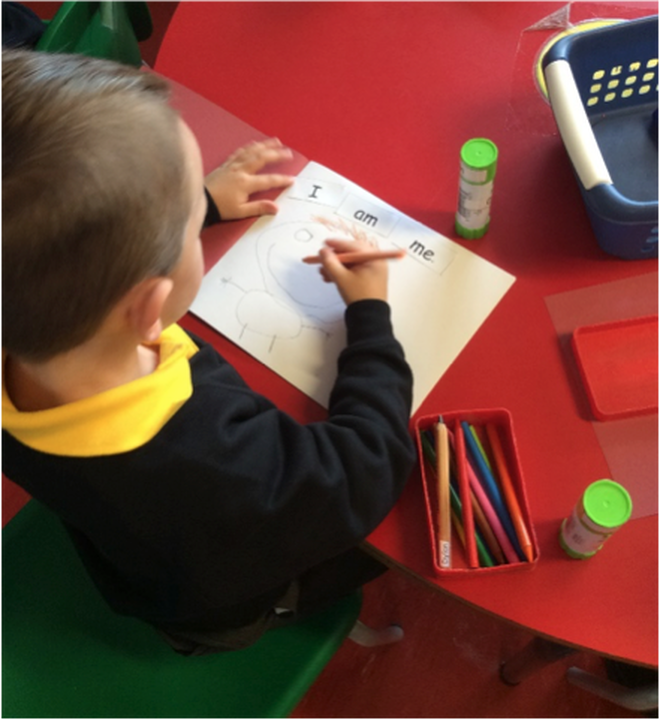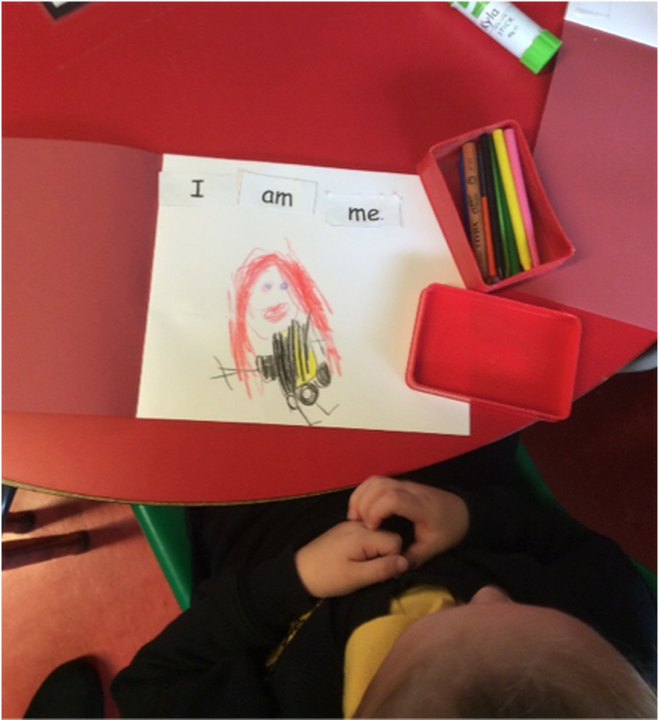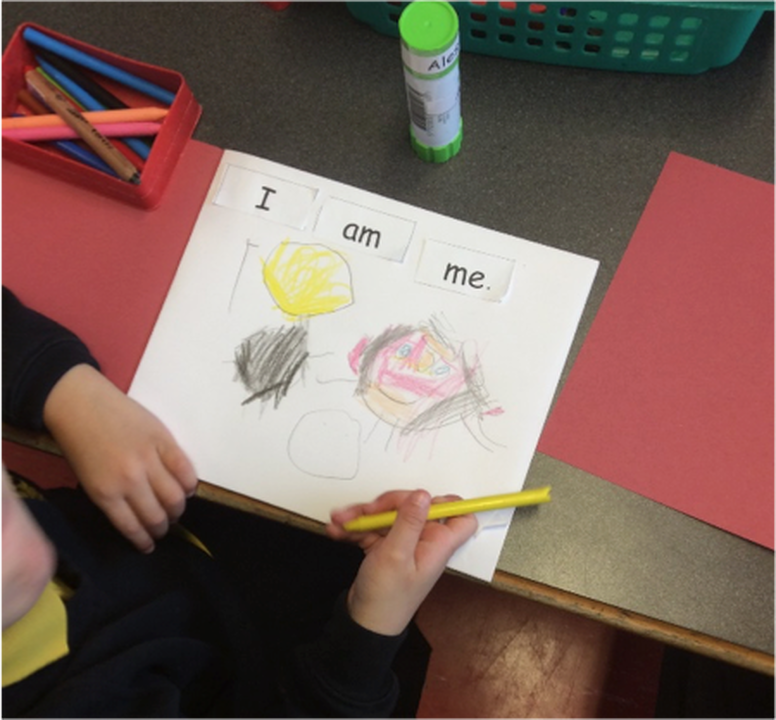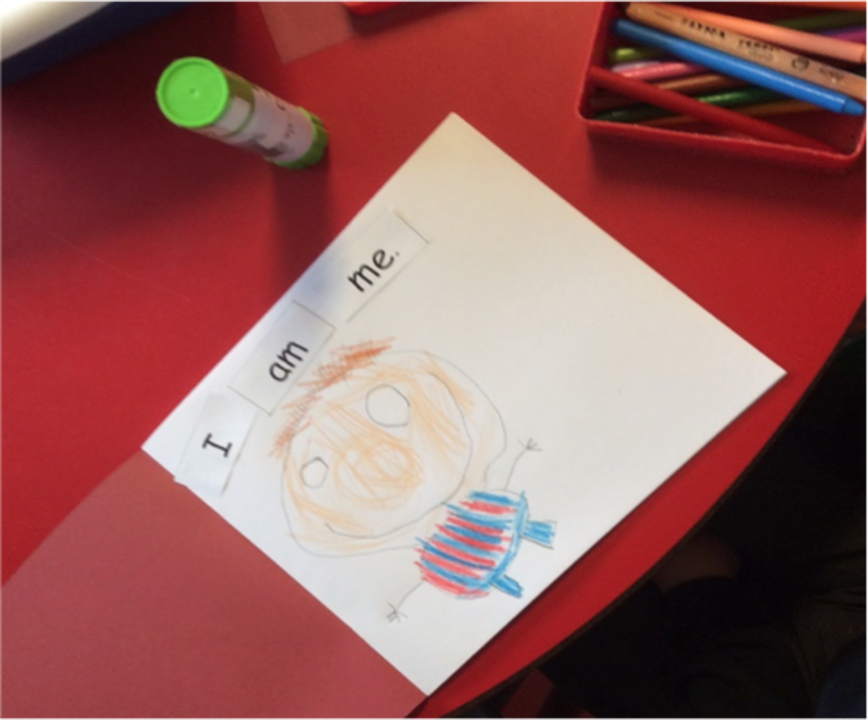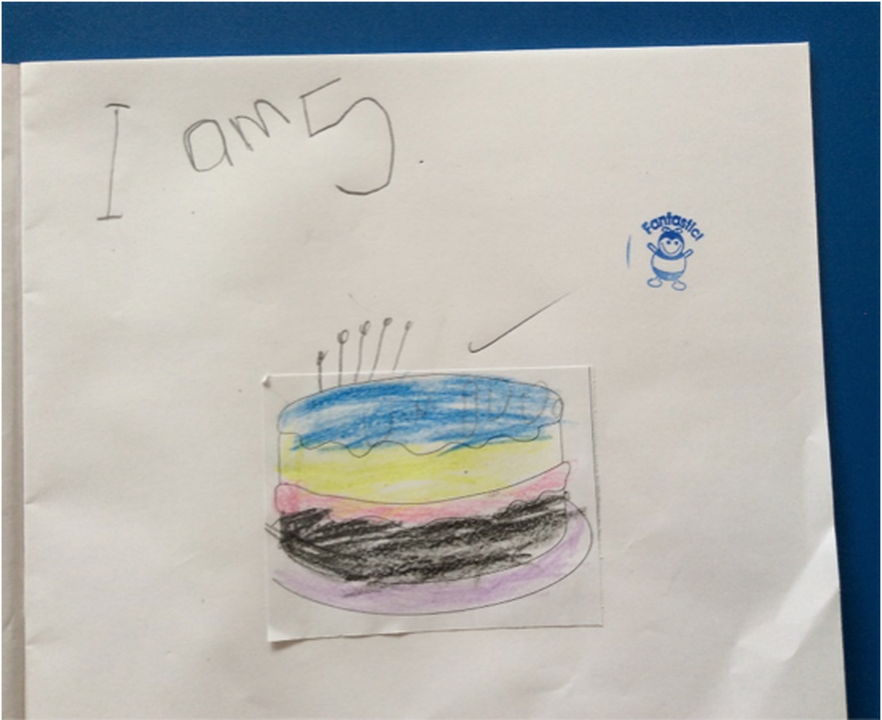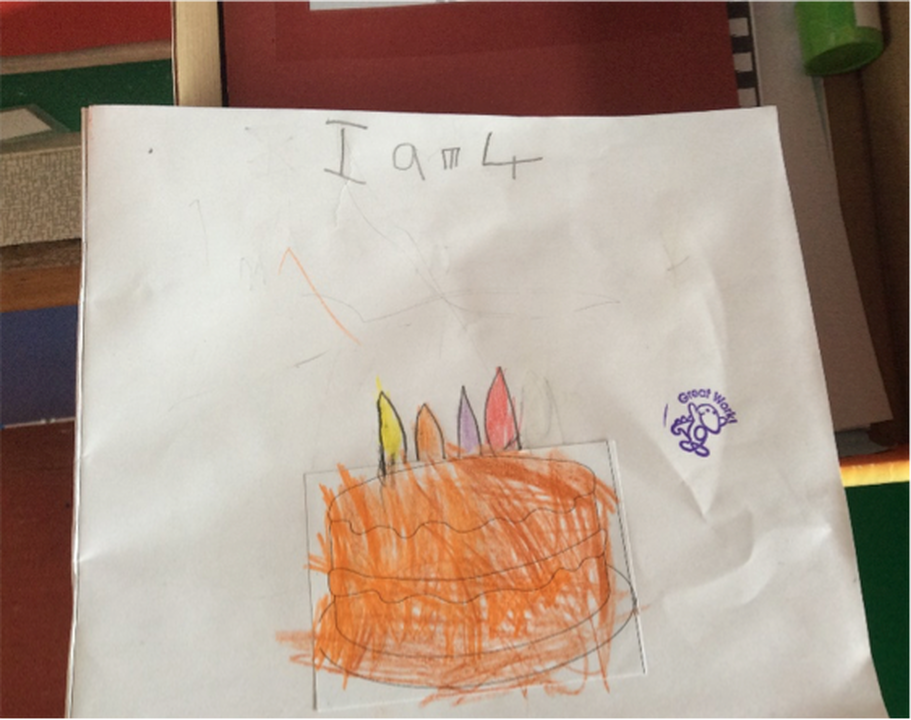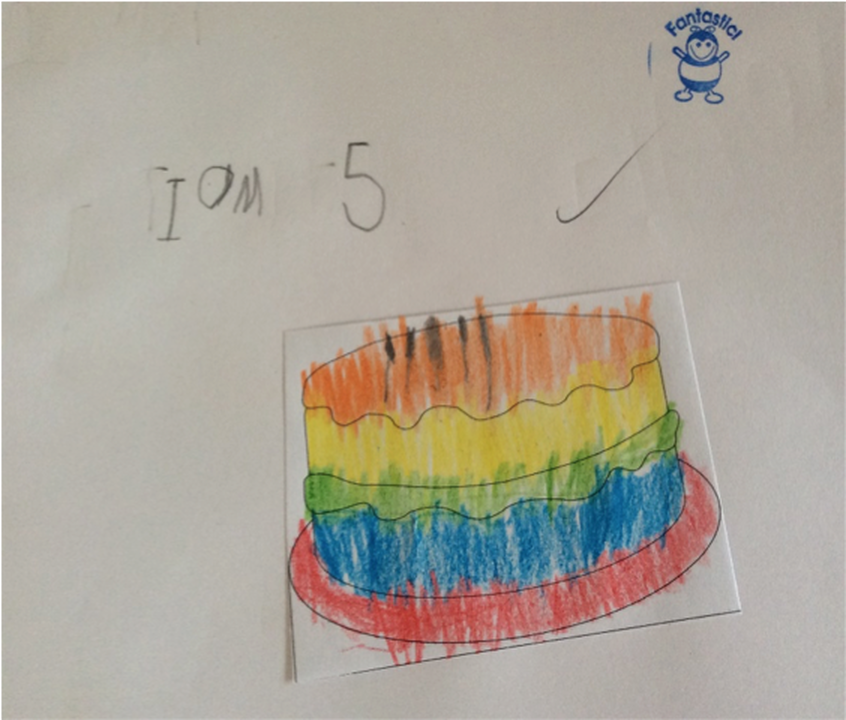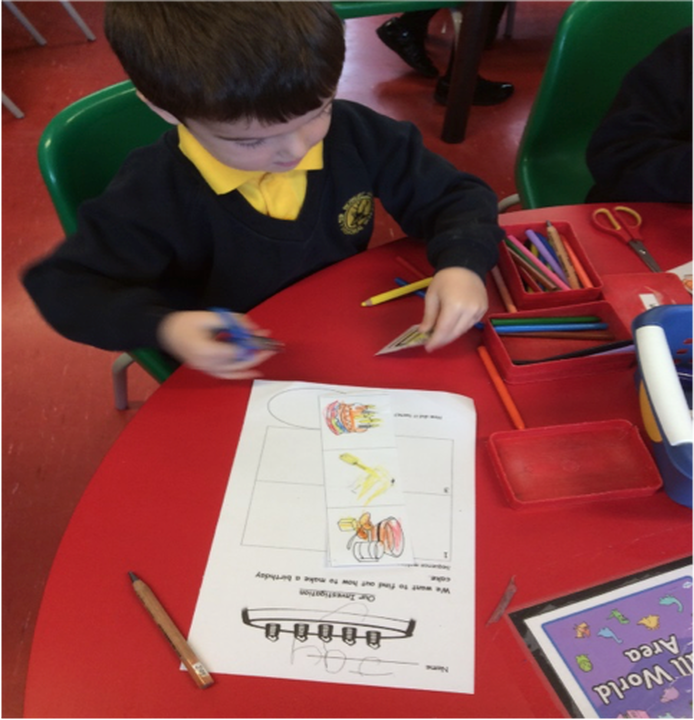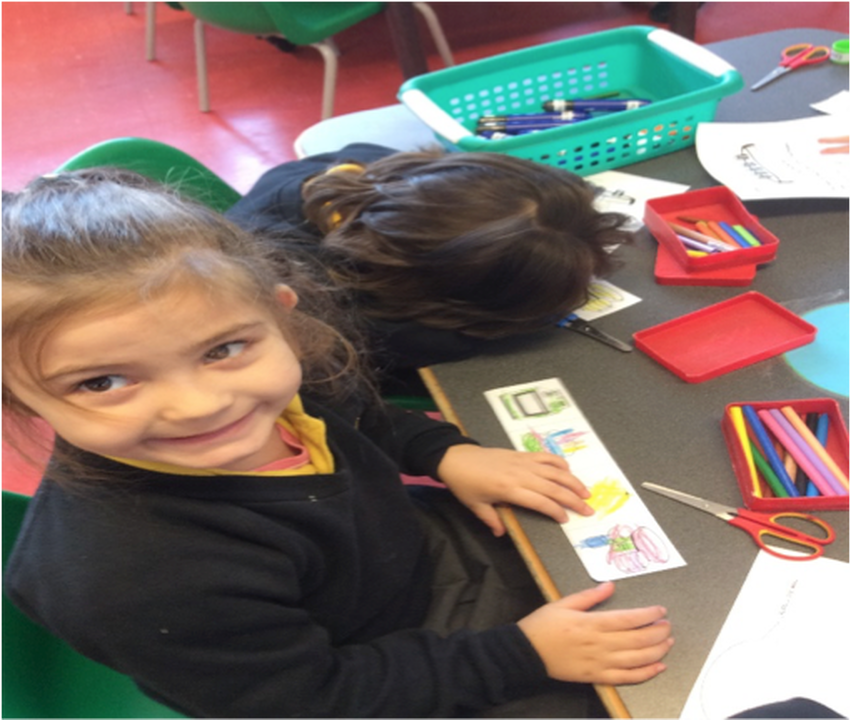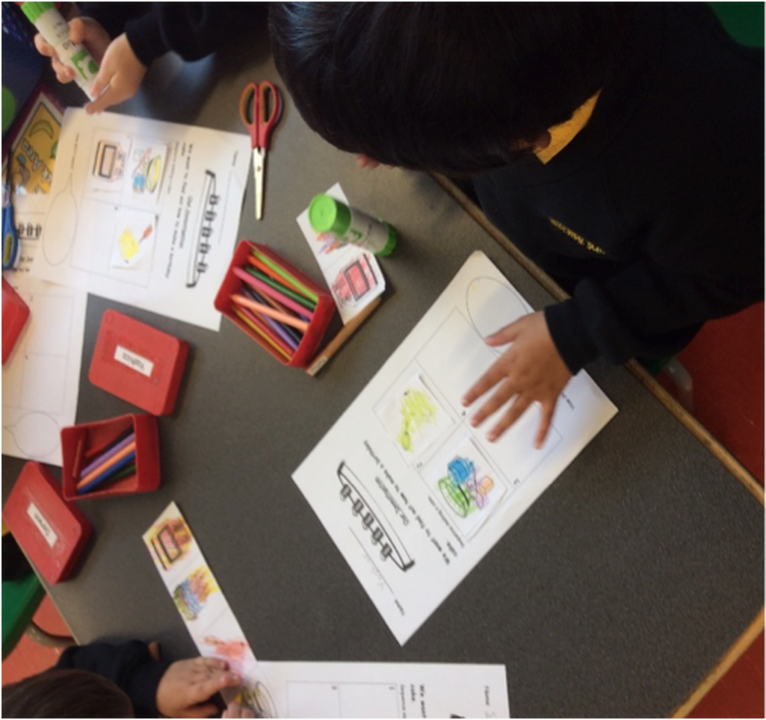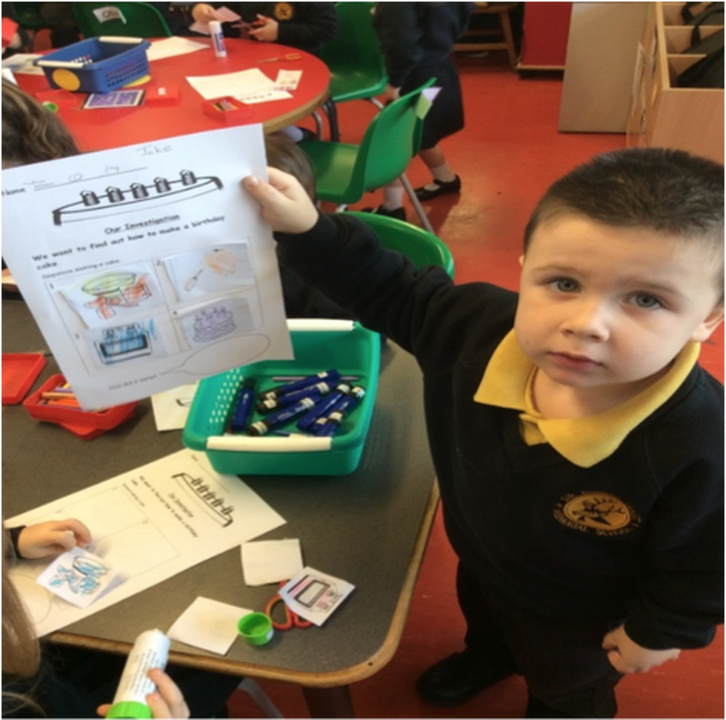 Play Based Learning-September.
Baby Juliet and her mum came to visit our class. We learned how mum cares for her and how baby Juliet relies on mum for everything. Mum talked about and showed us baby Juliet's favourite teddy bear, her tiny clothes, her nappy, feeding bottle and bibs. We all enjoyed their visit. Many Thanks.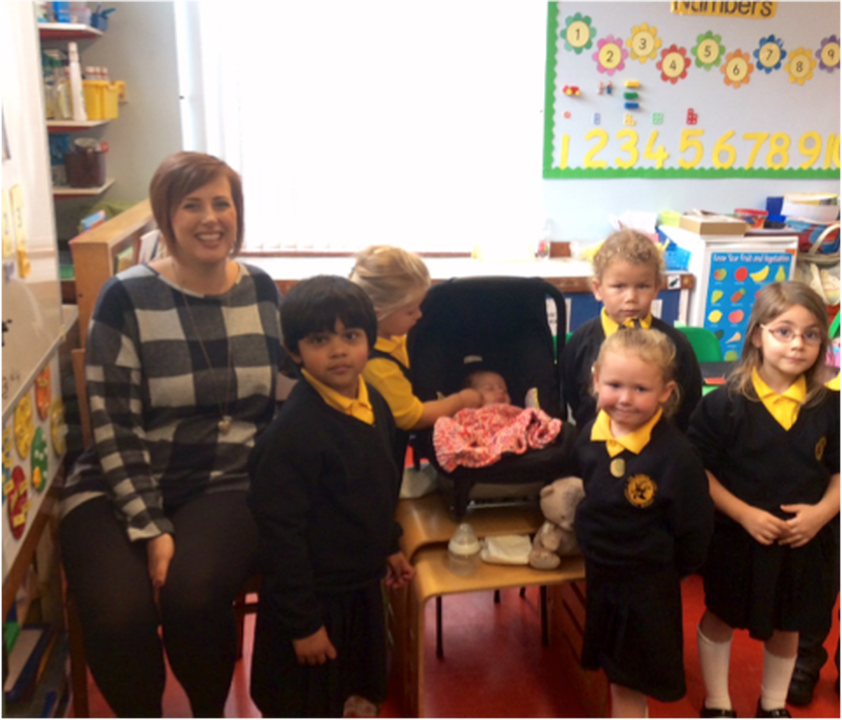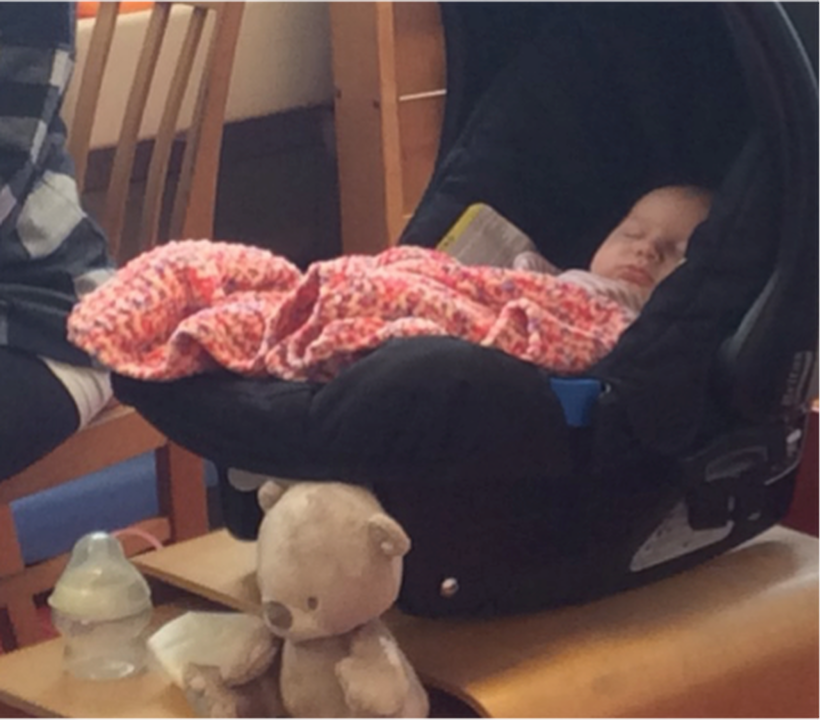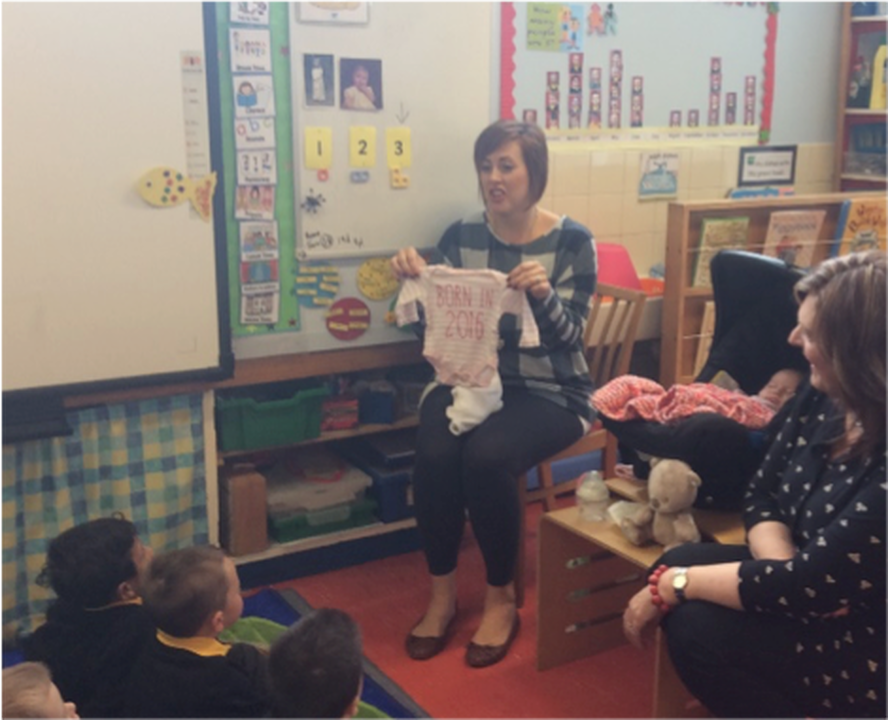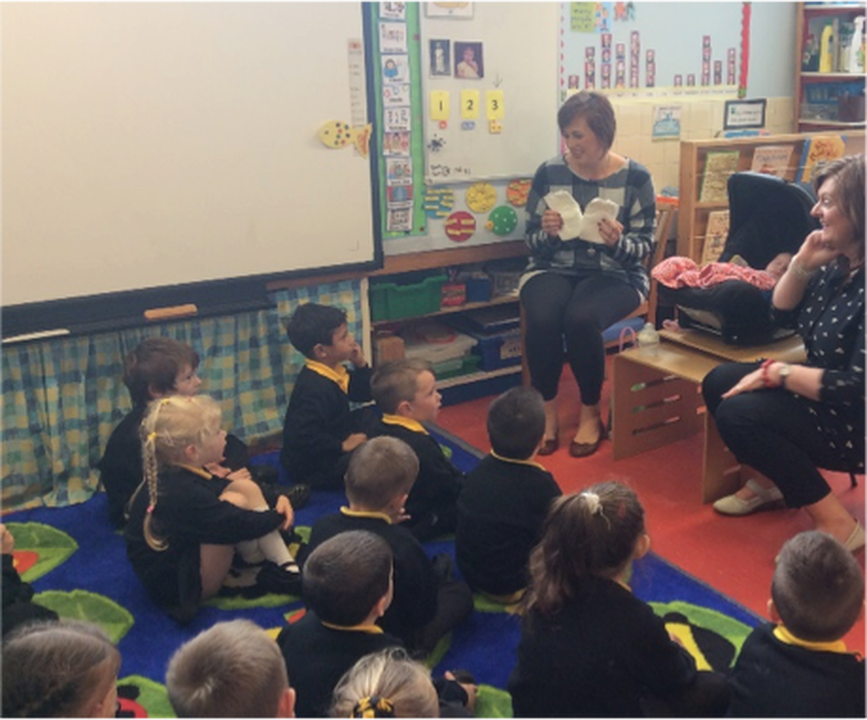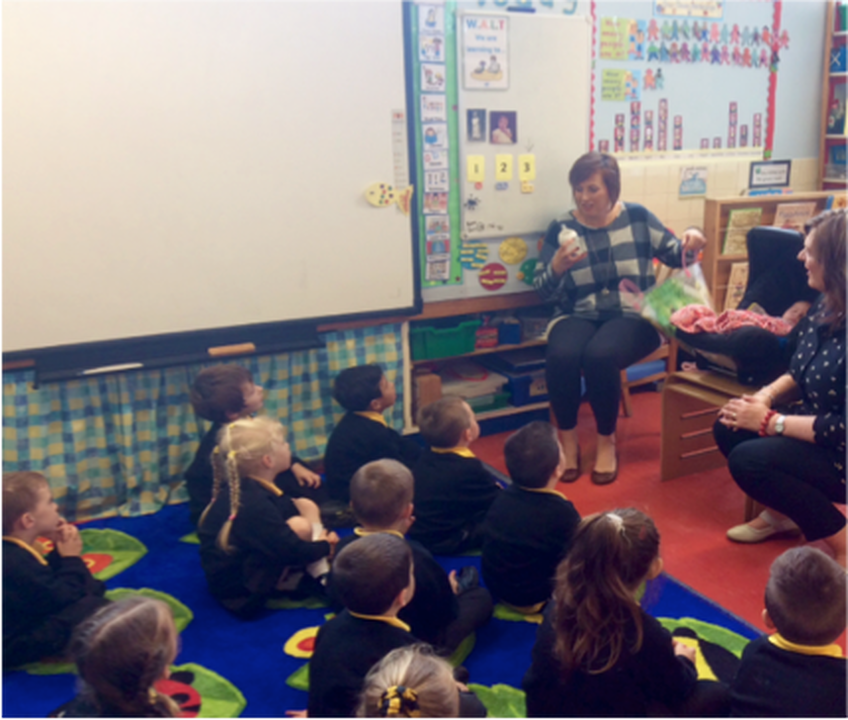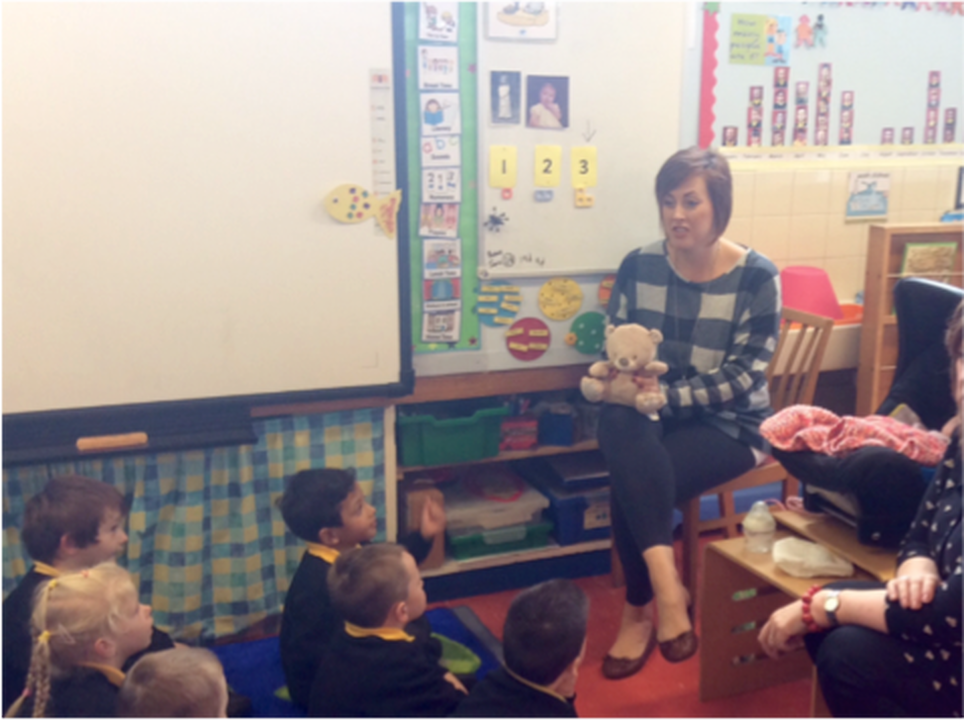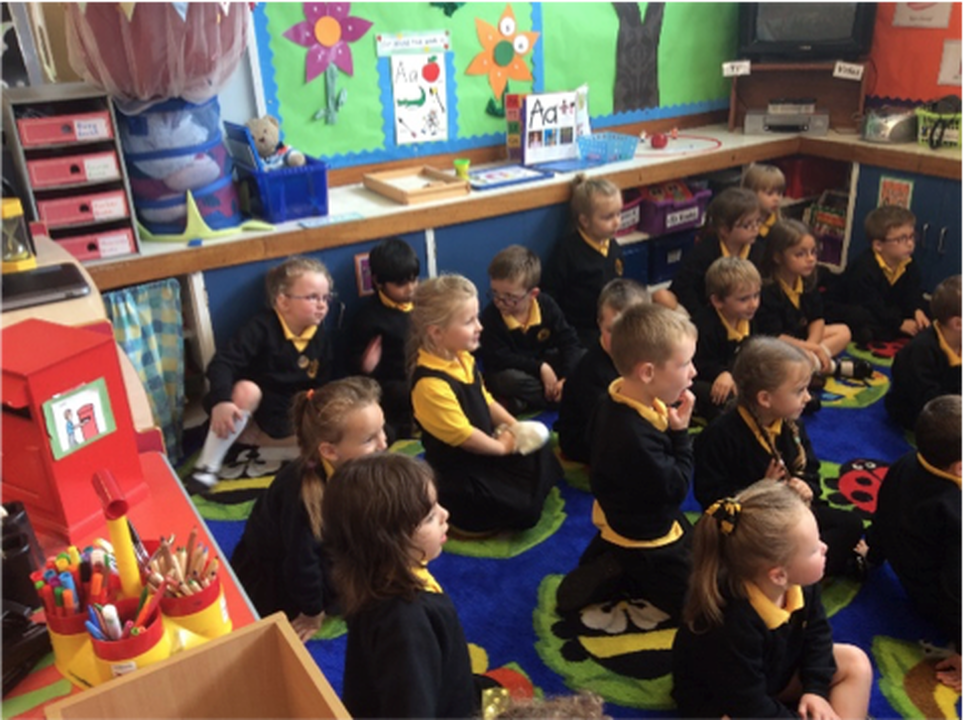 We are learning that we change as we get older.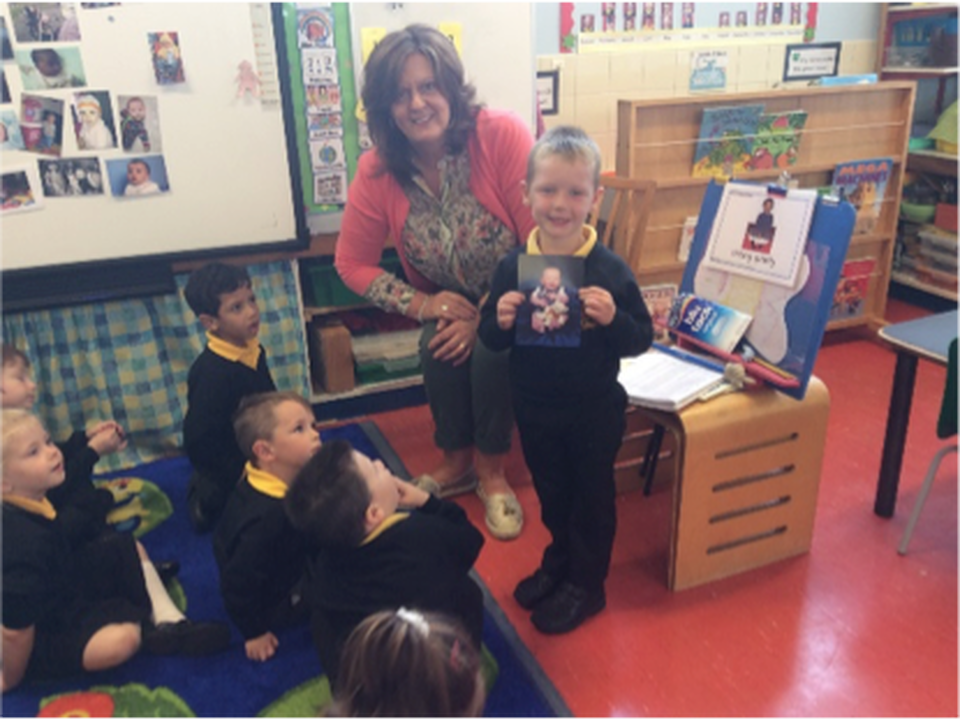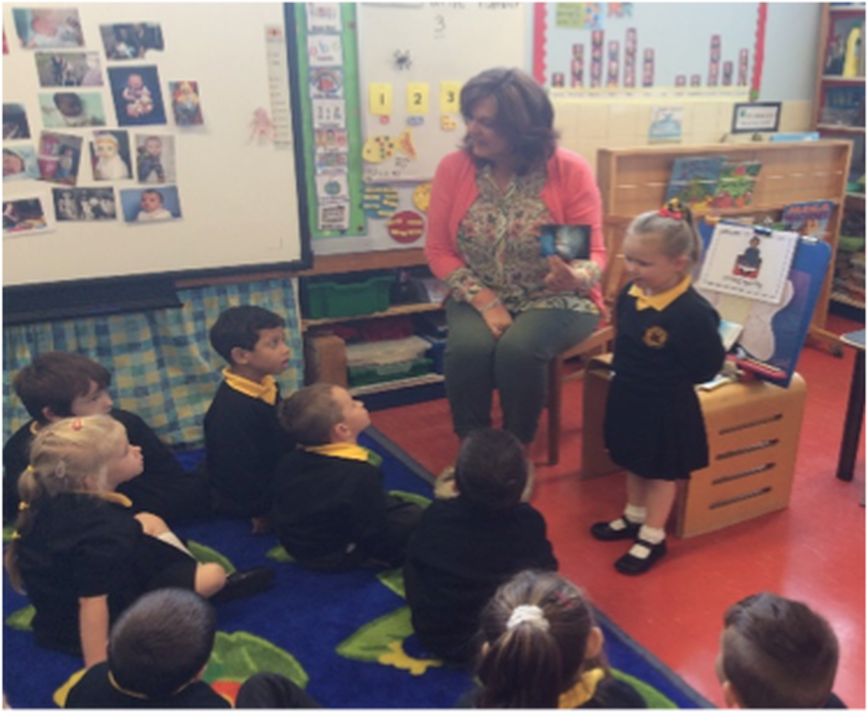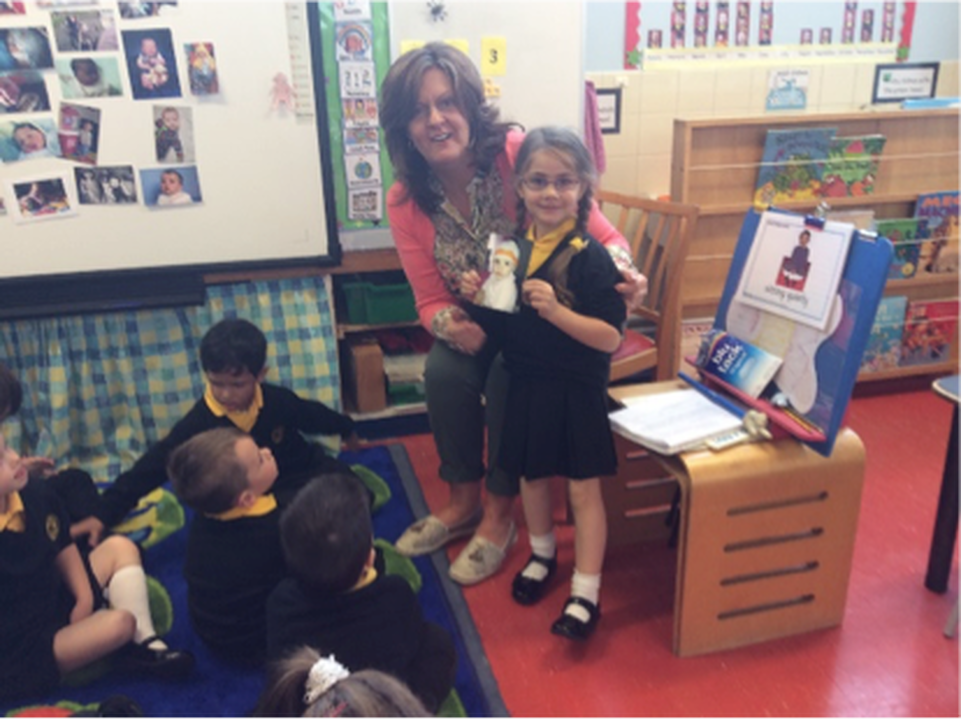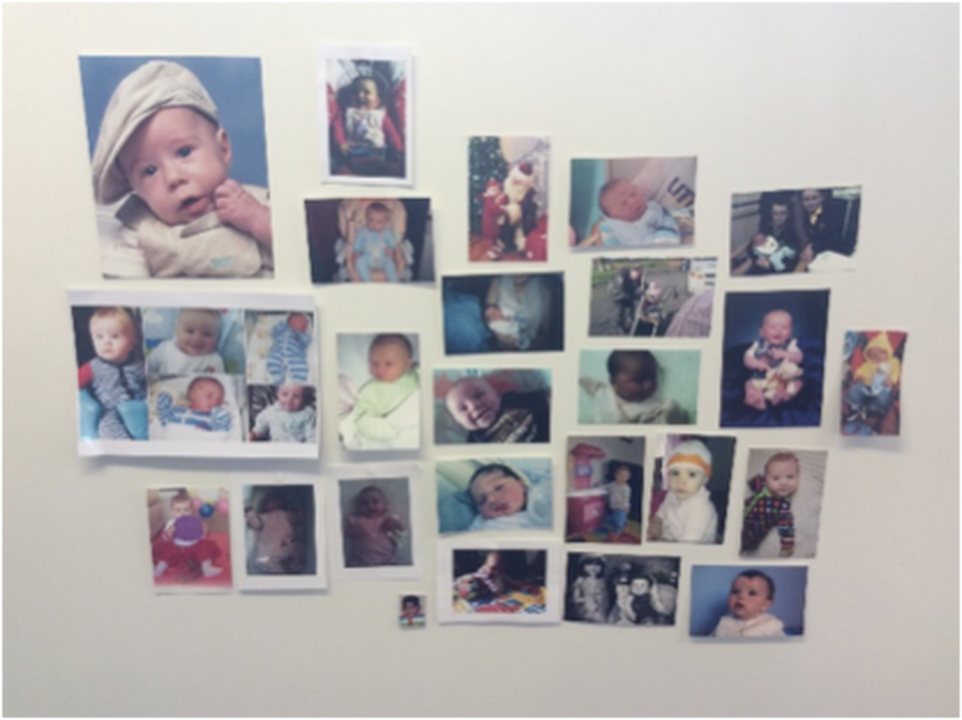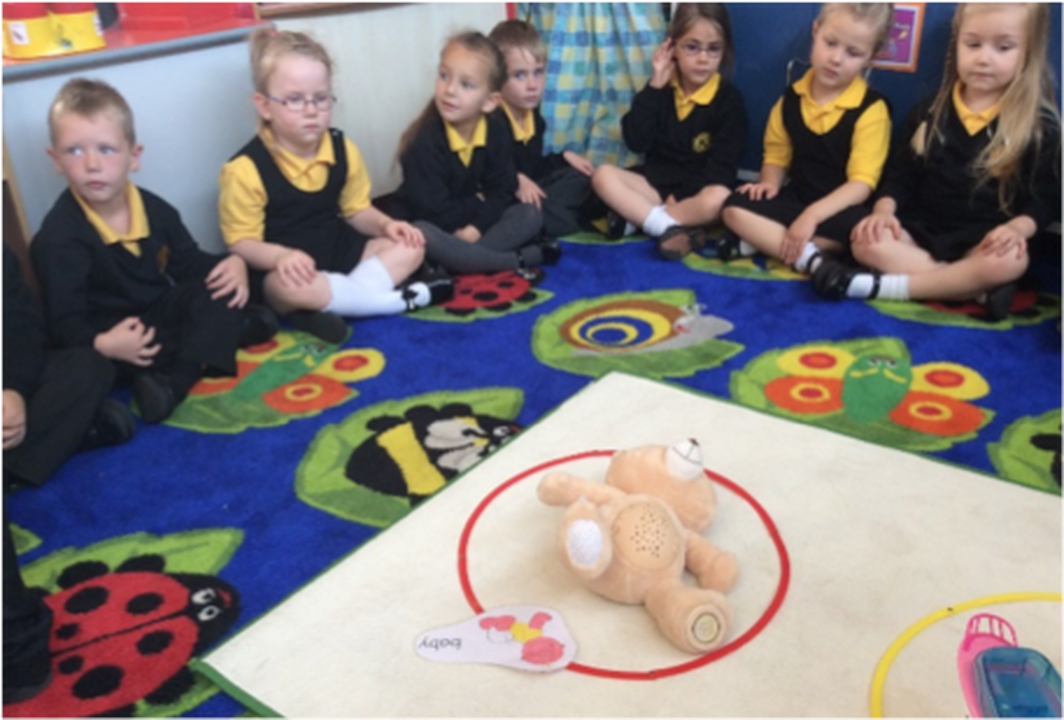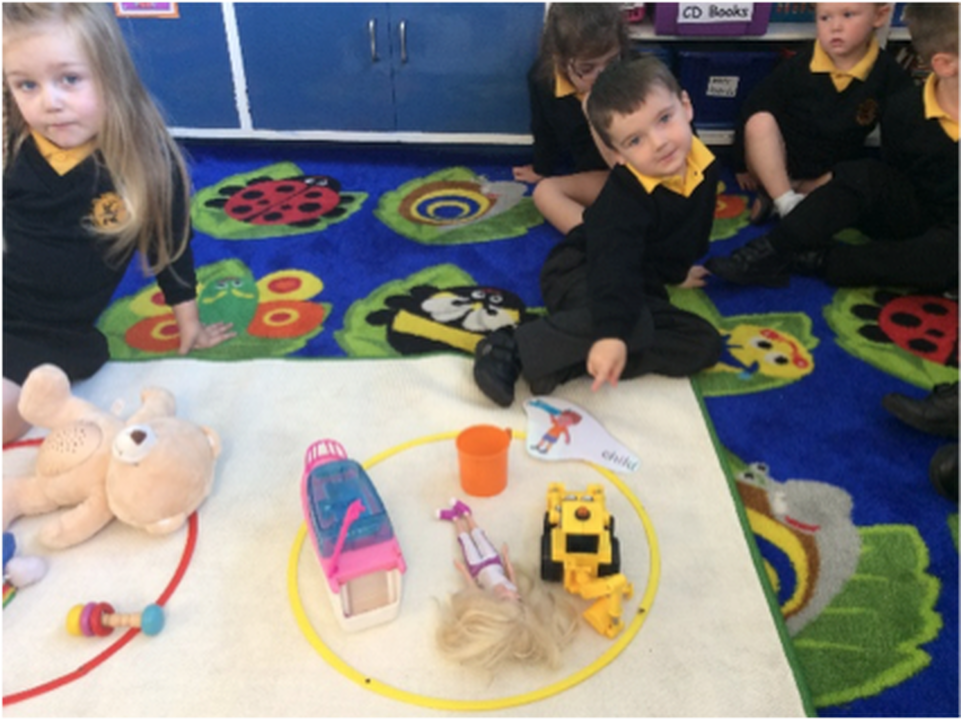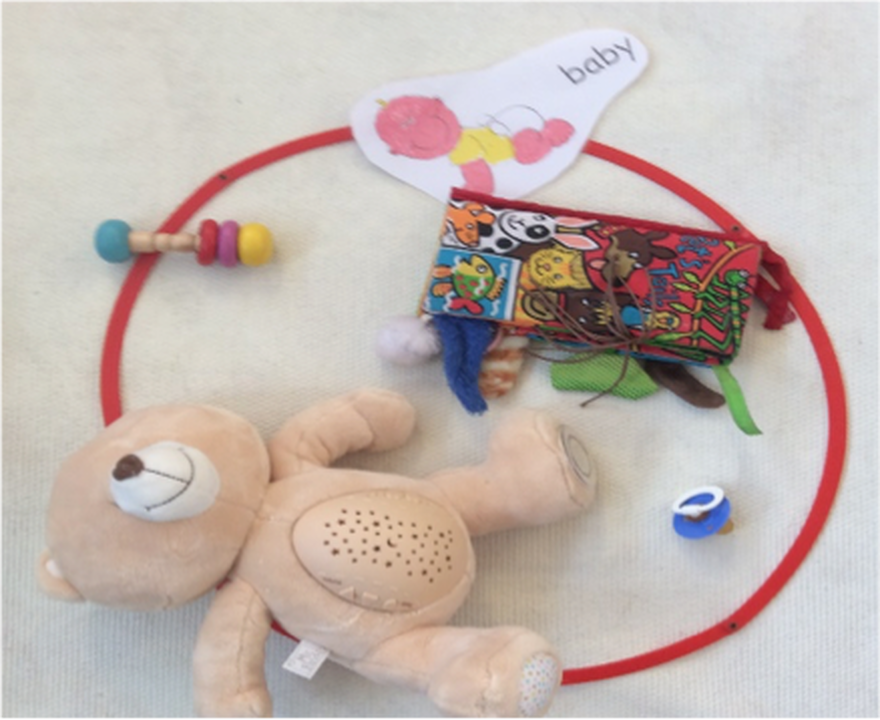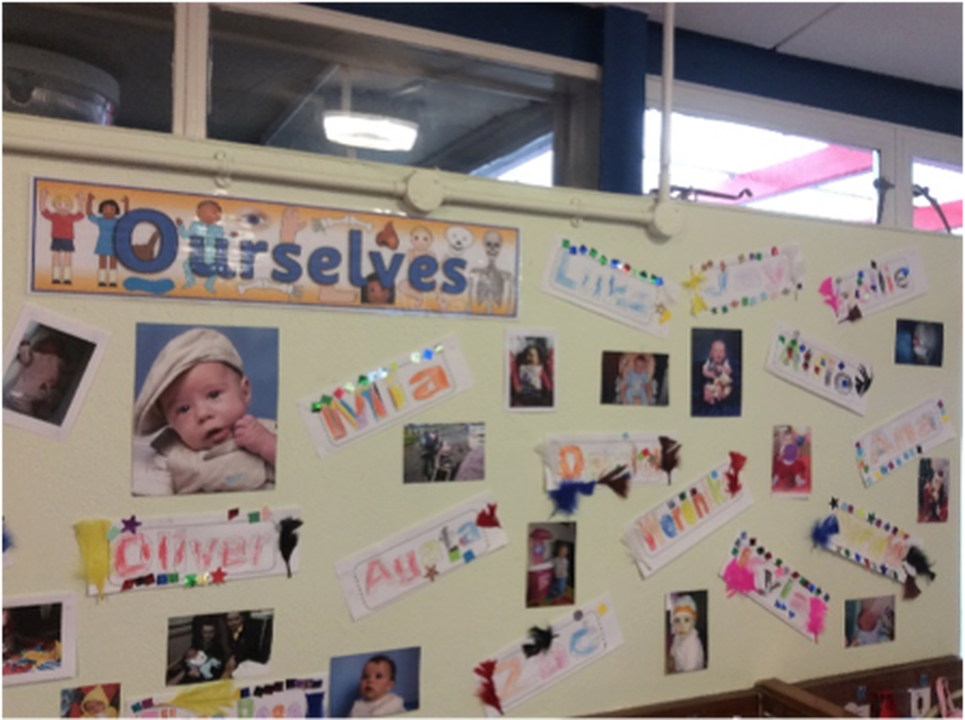 We are learning positional language.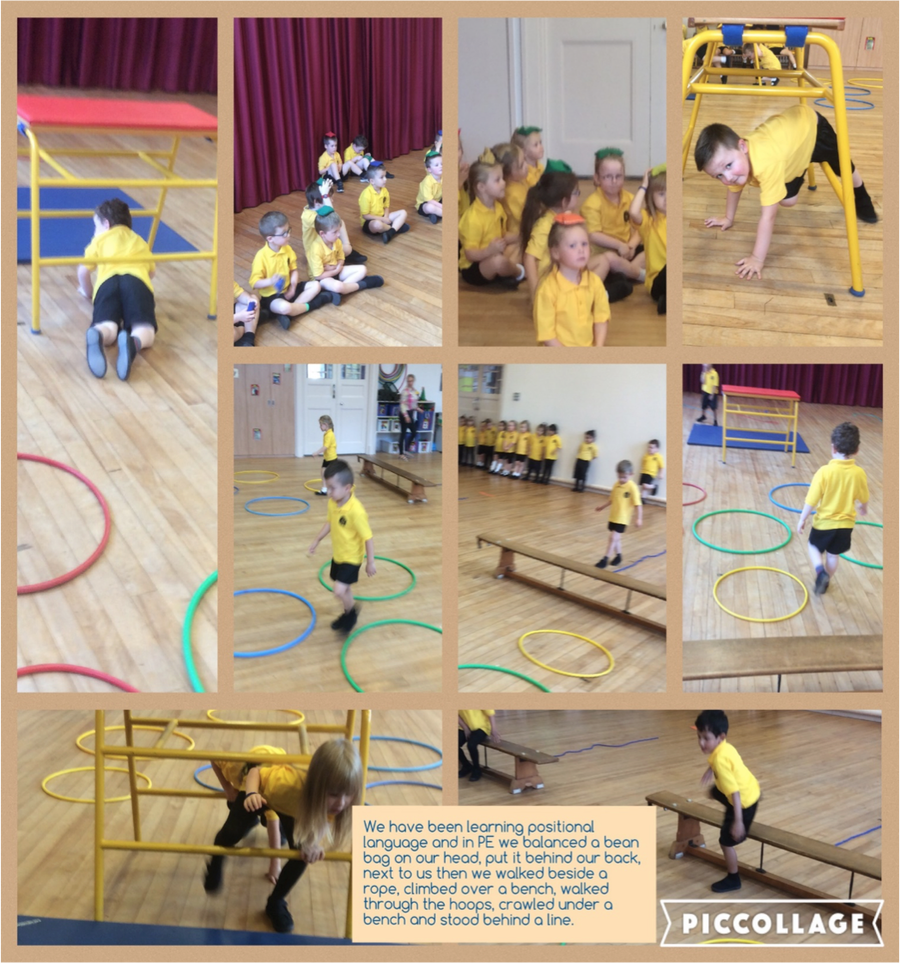 We are learning to count, write numbers and make sets.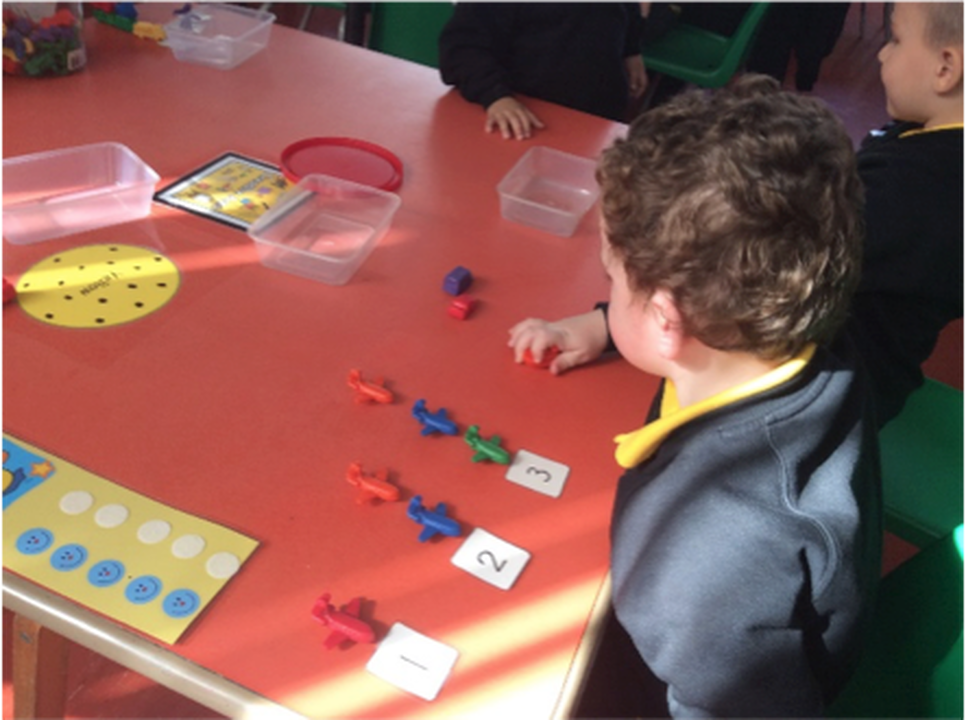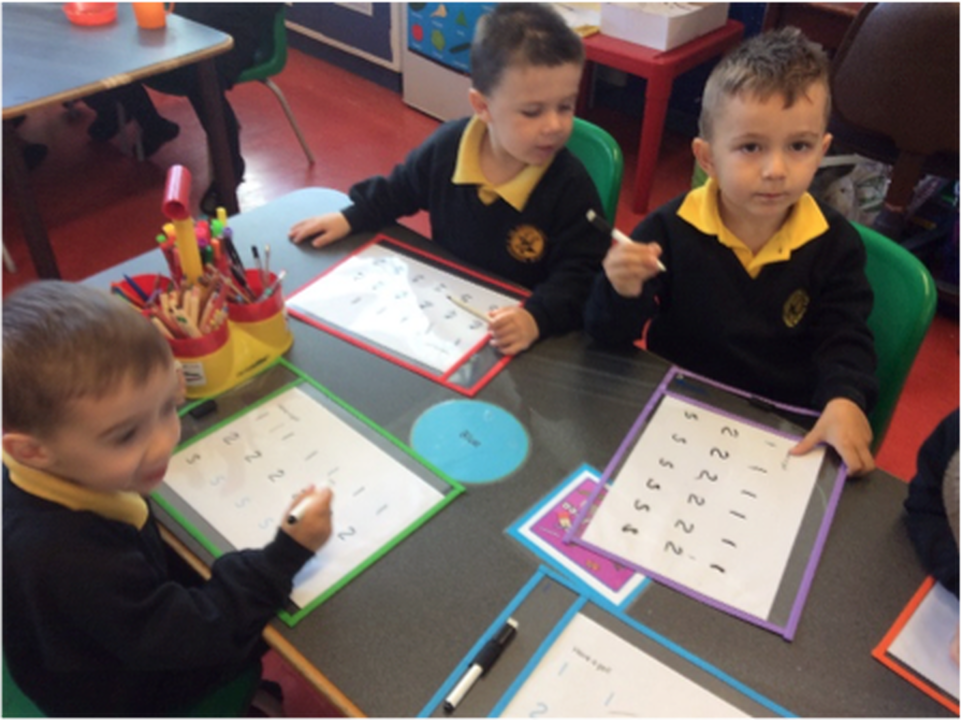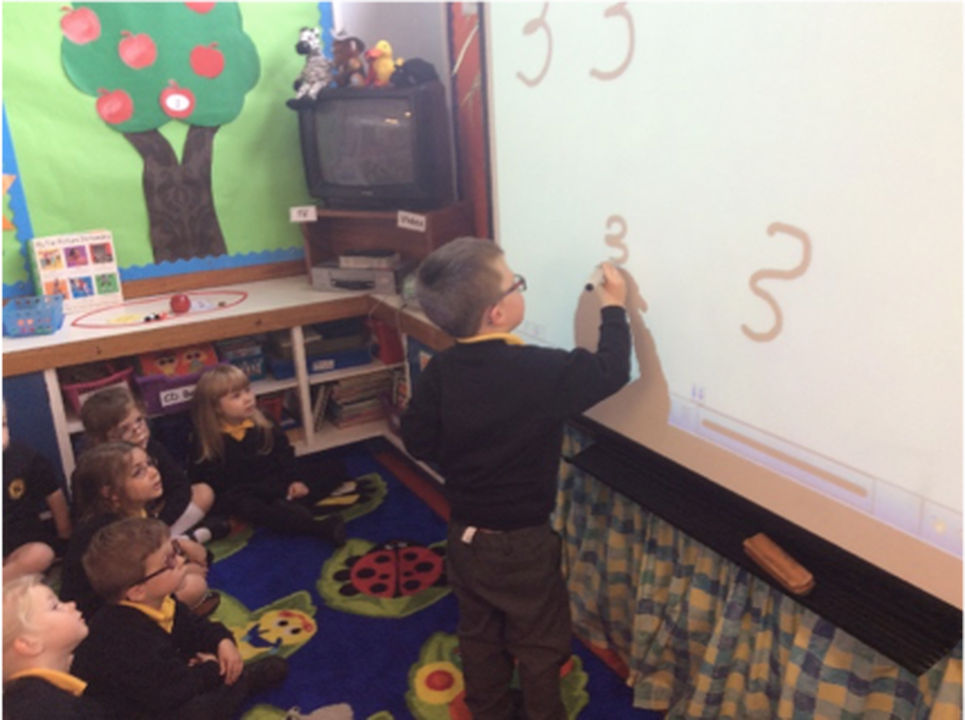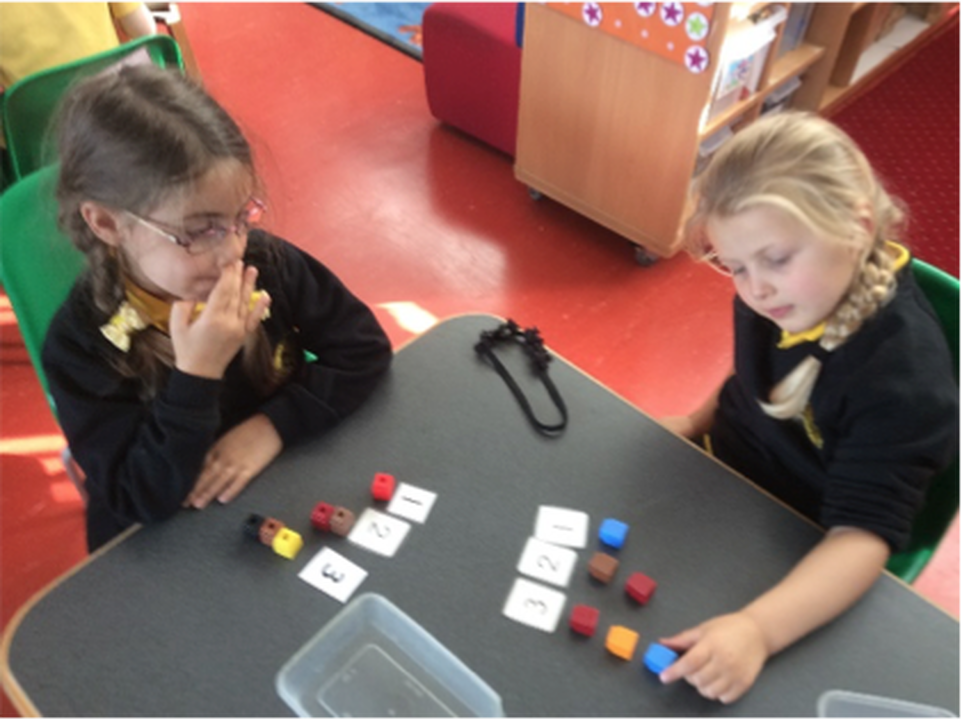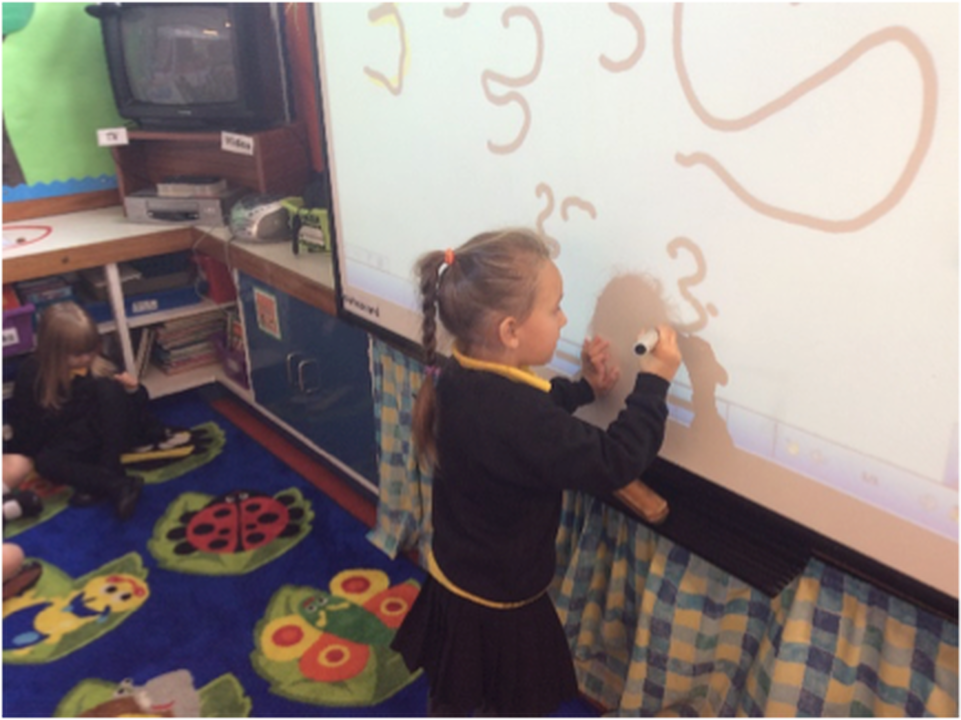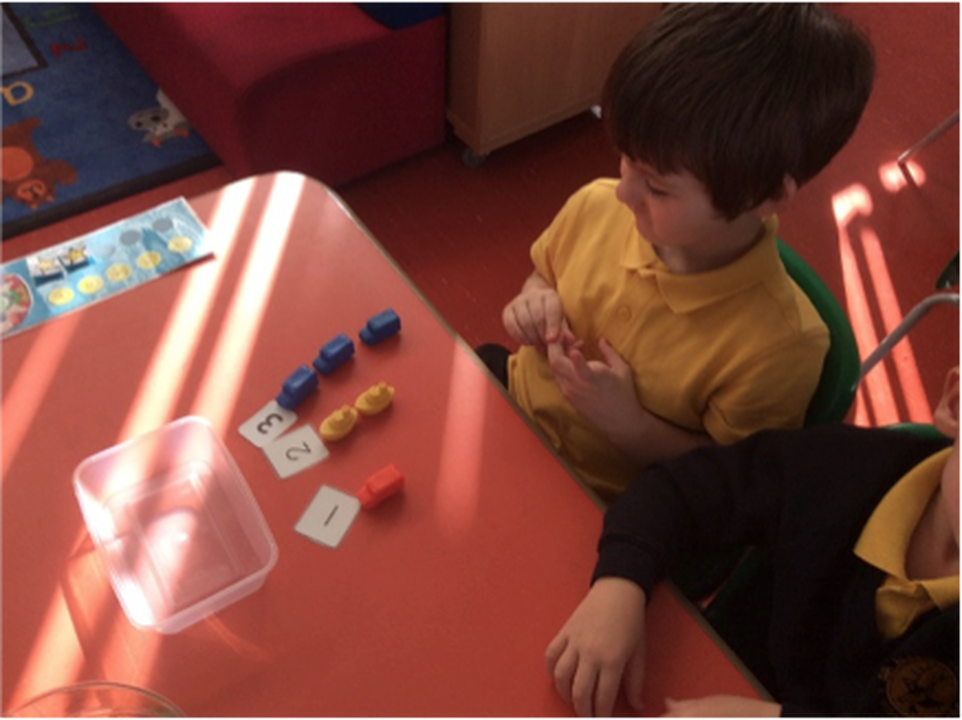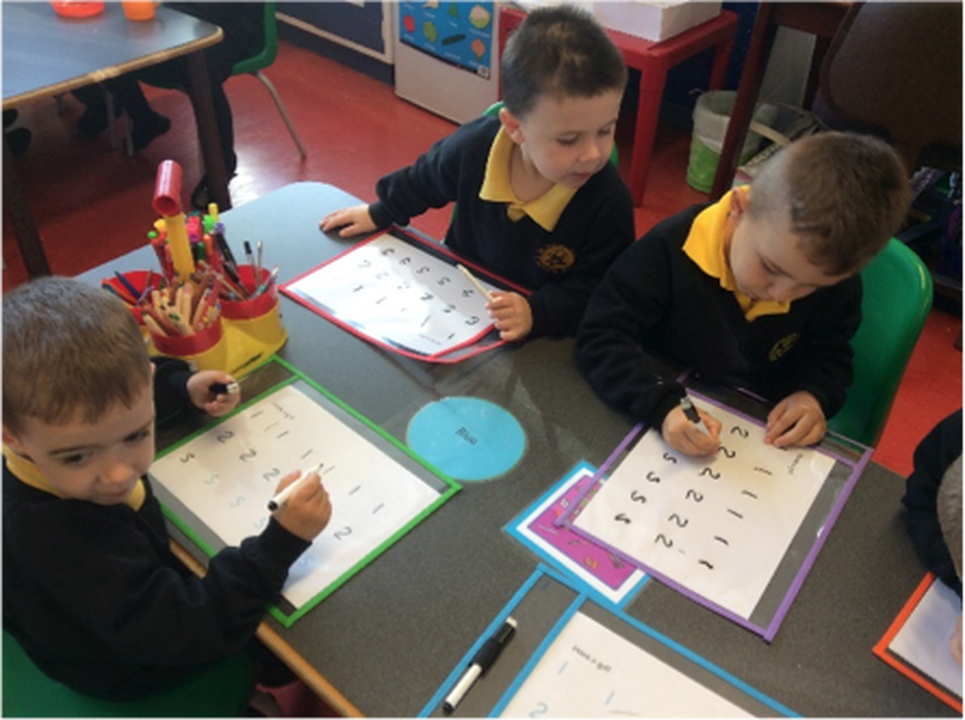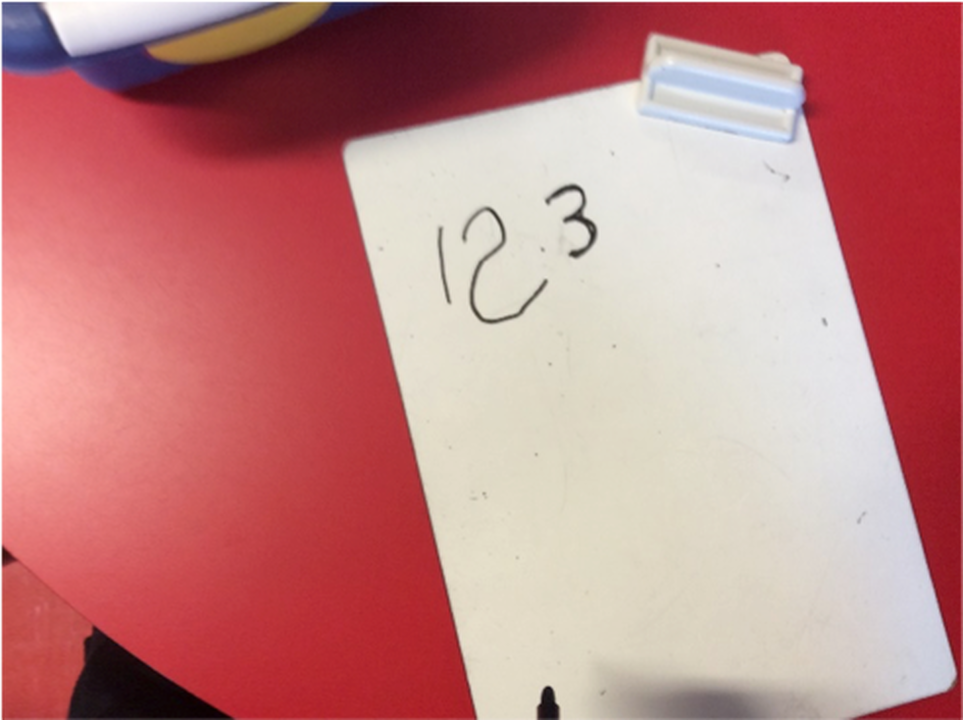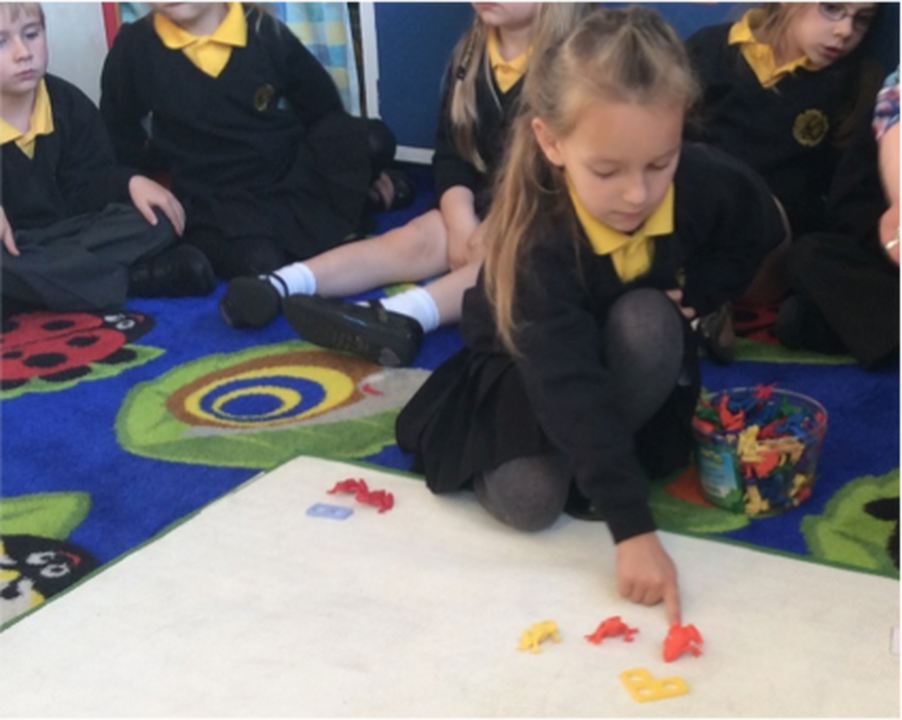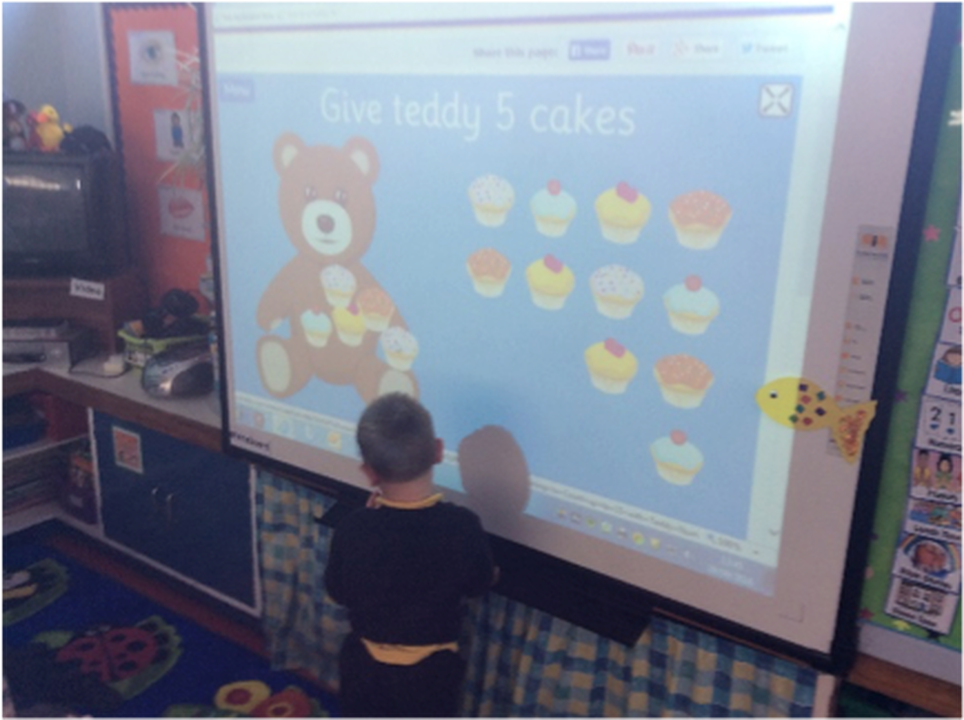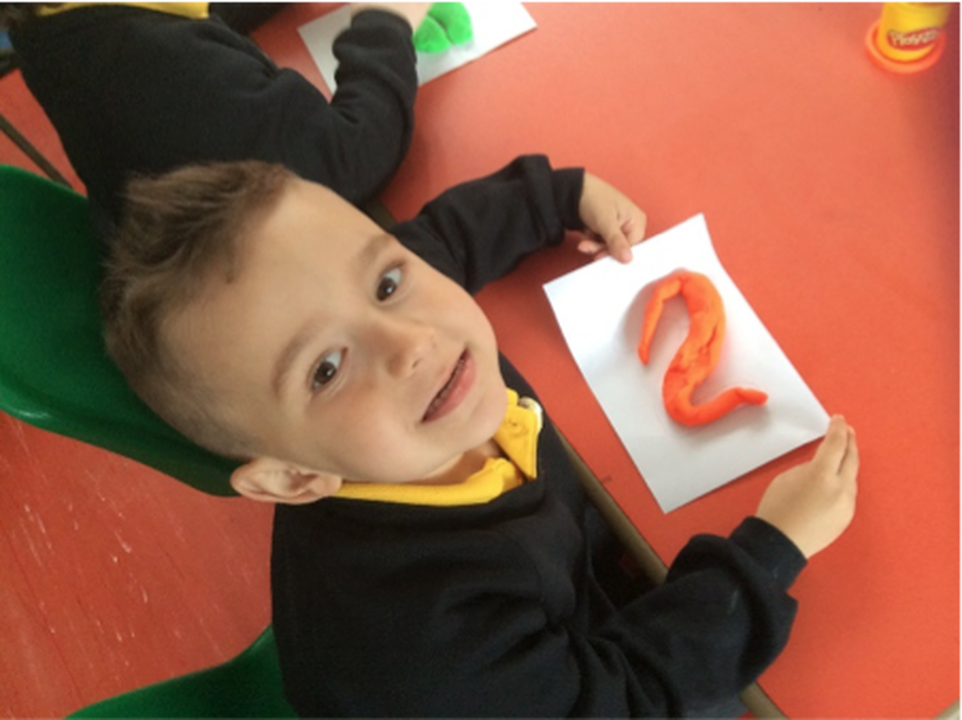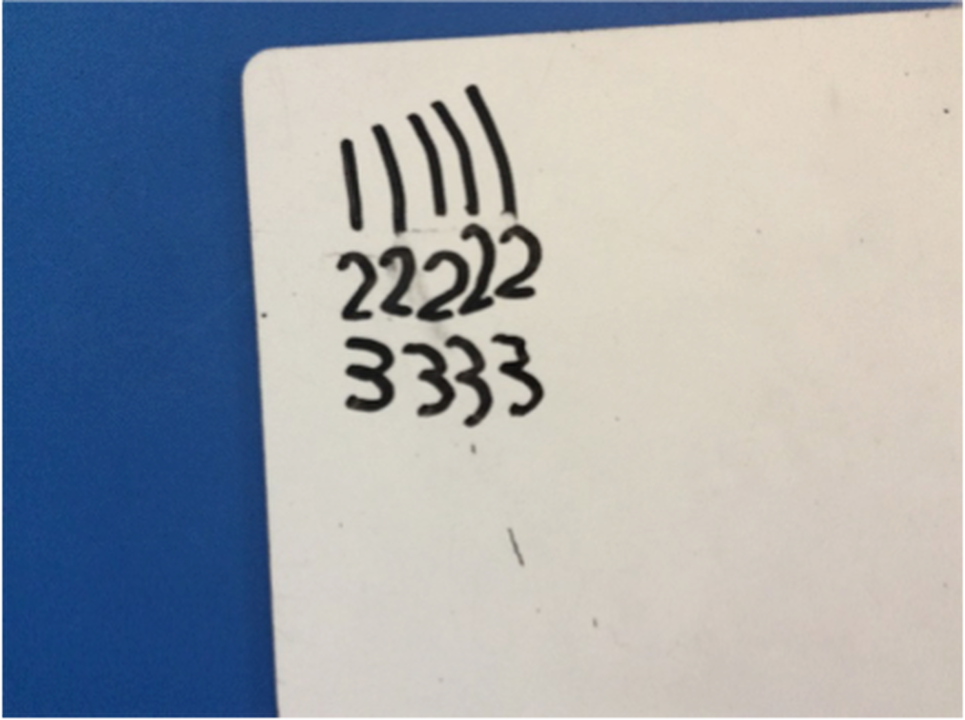 We are learning to sort for colour, shape and size.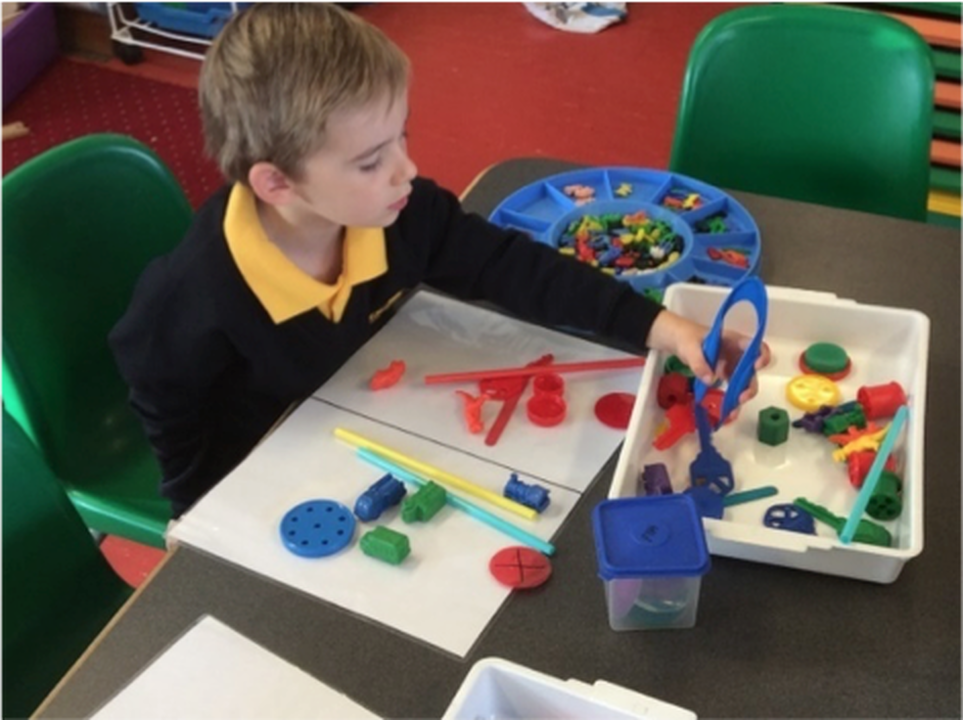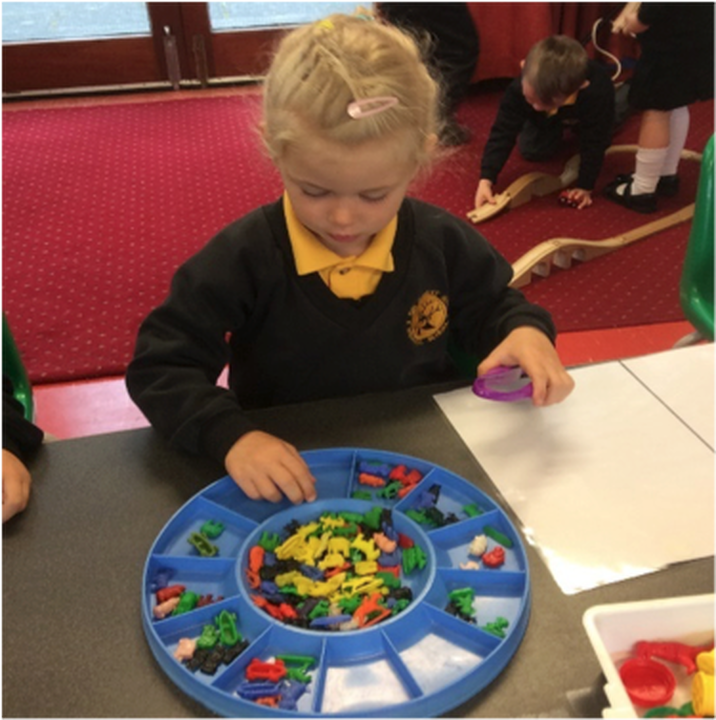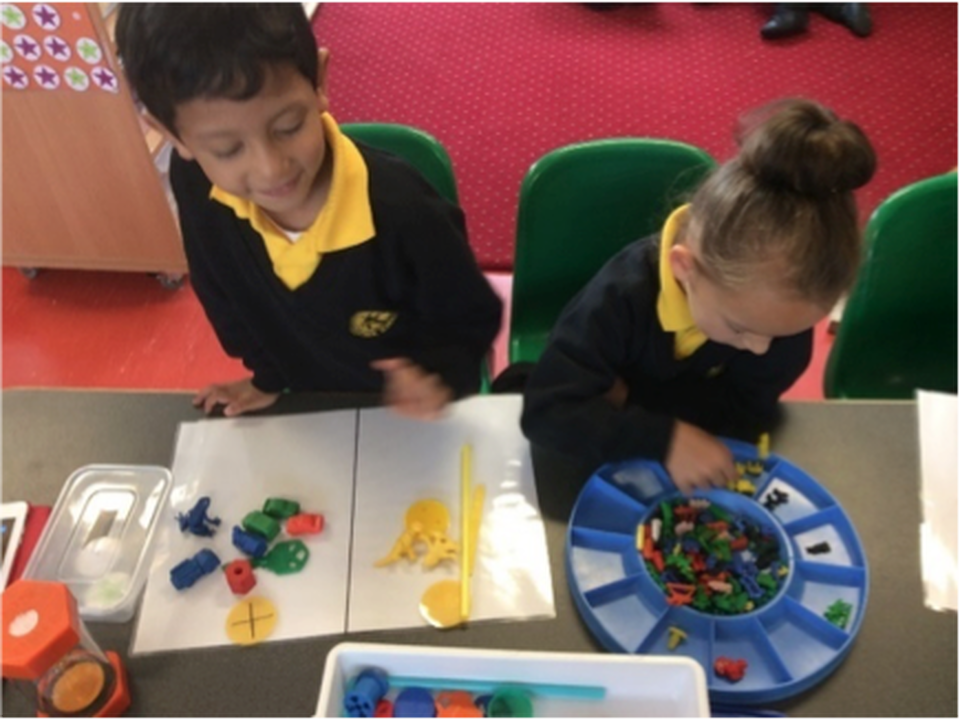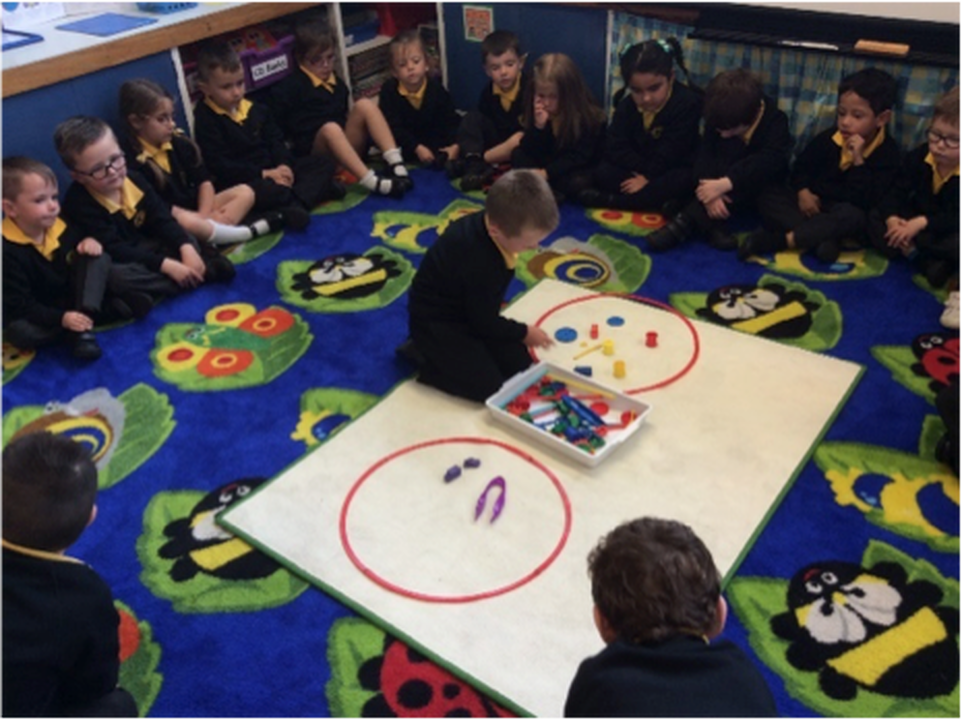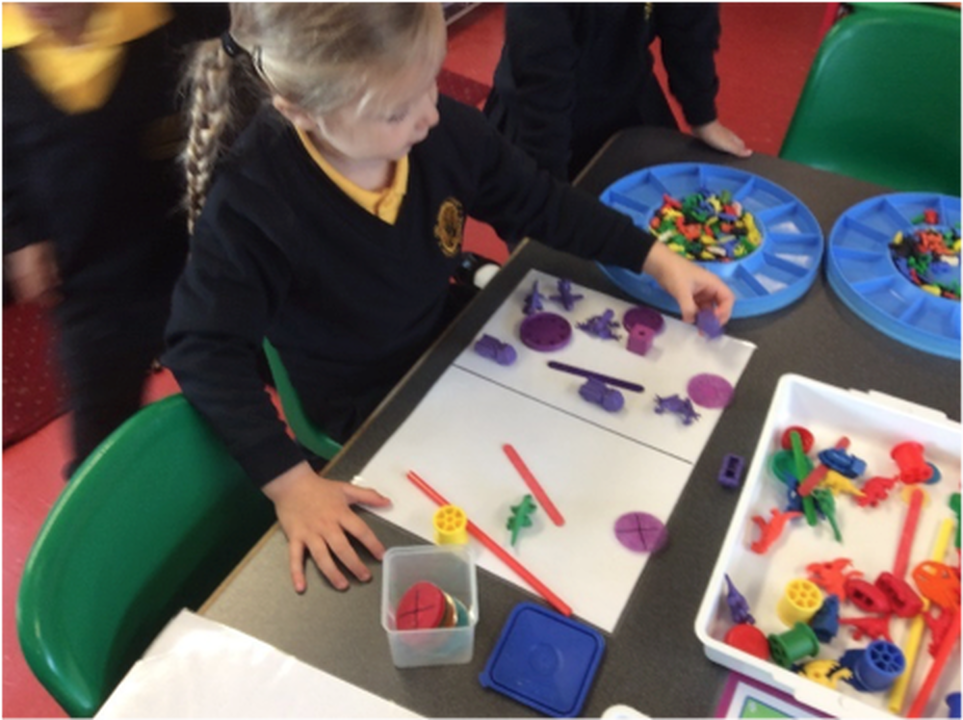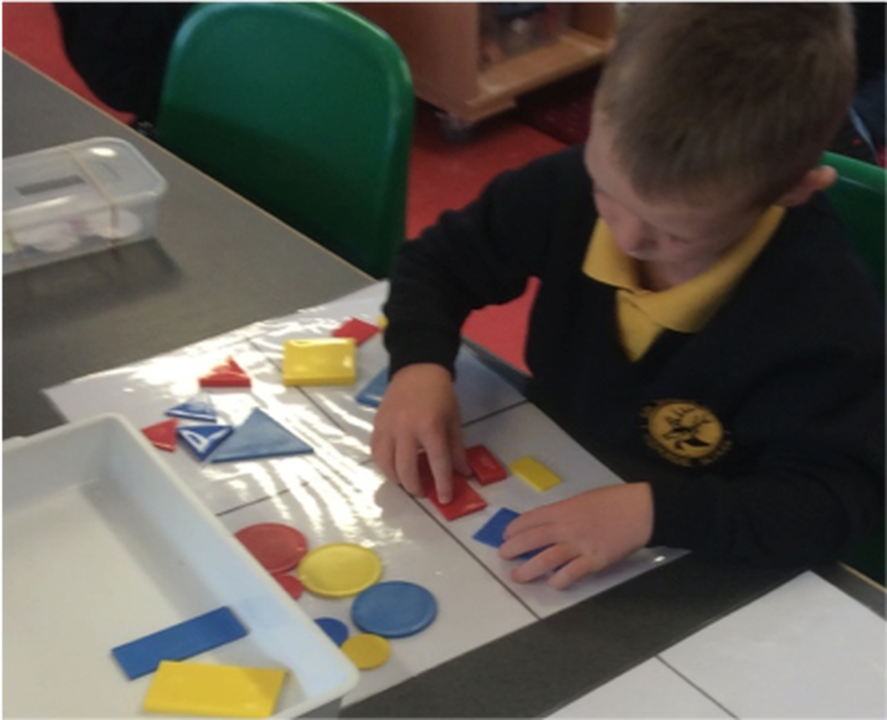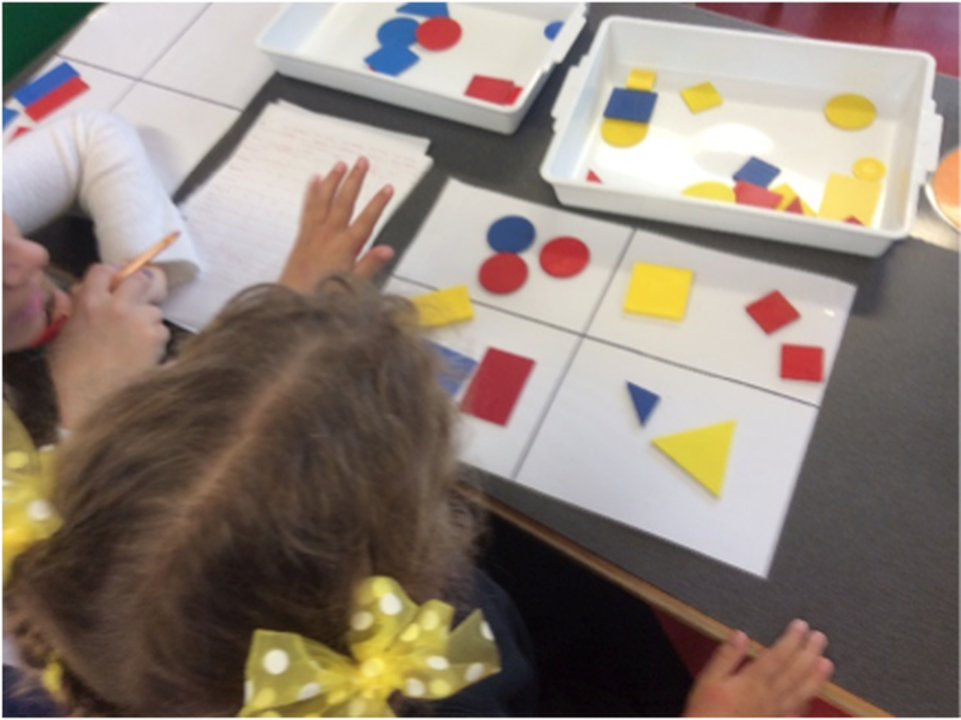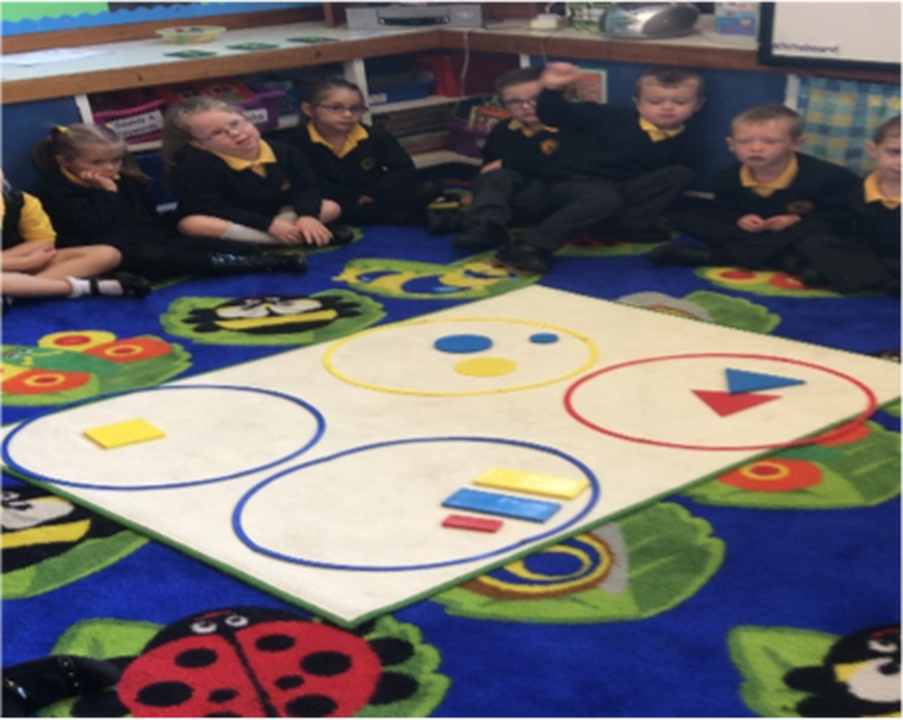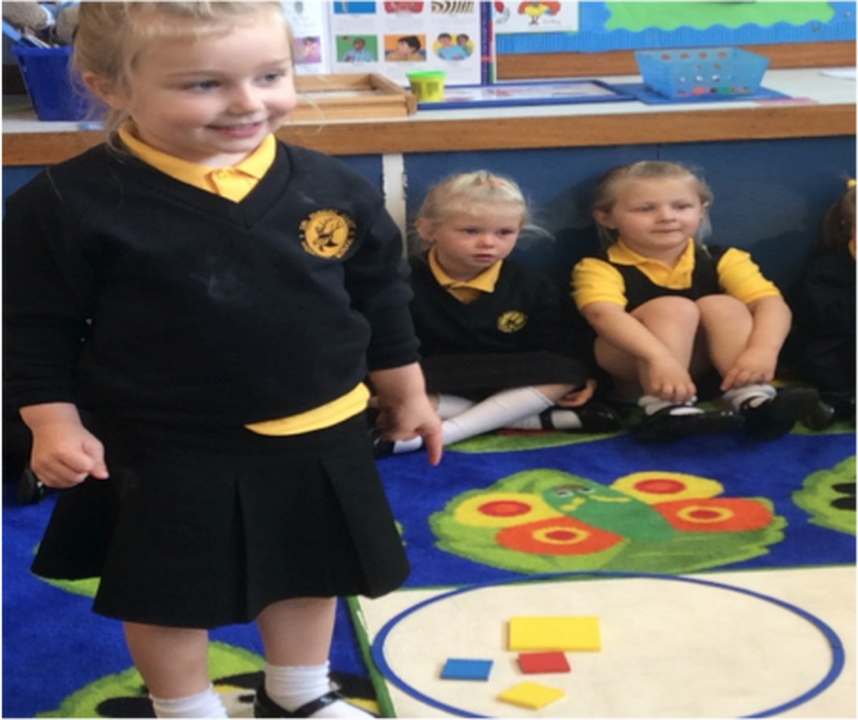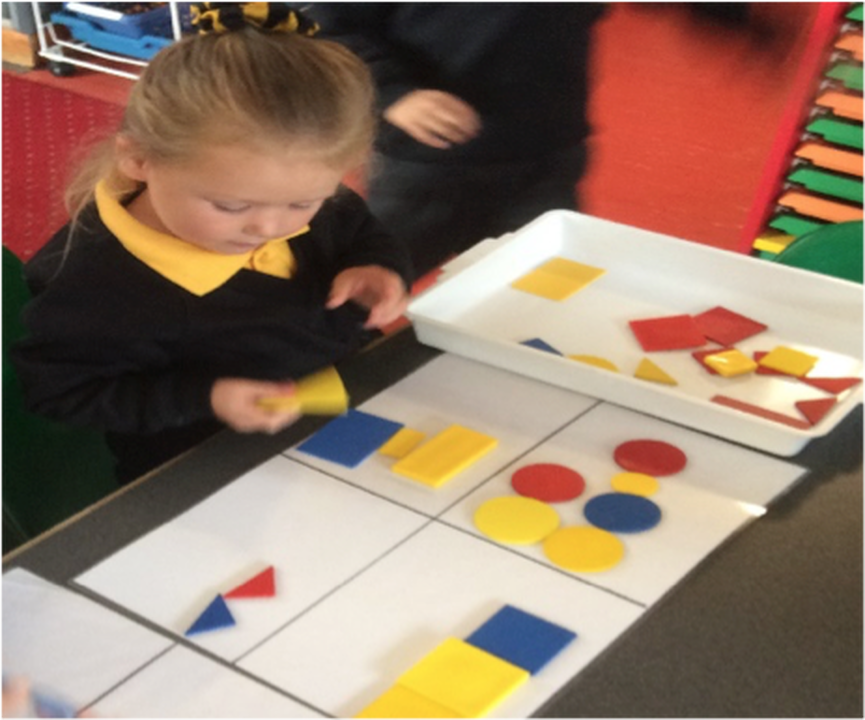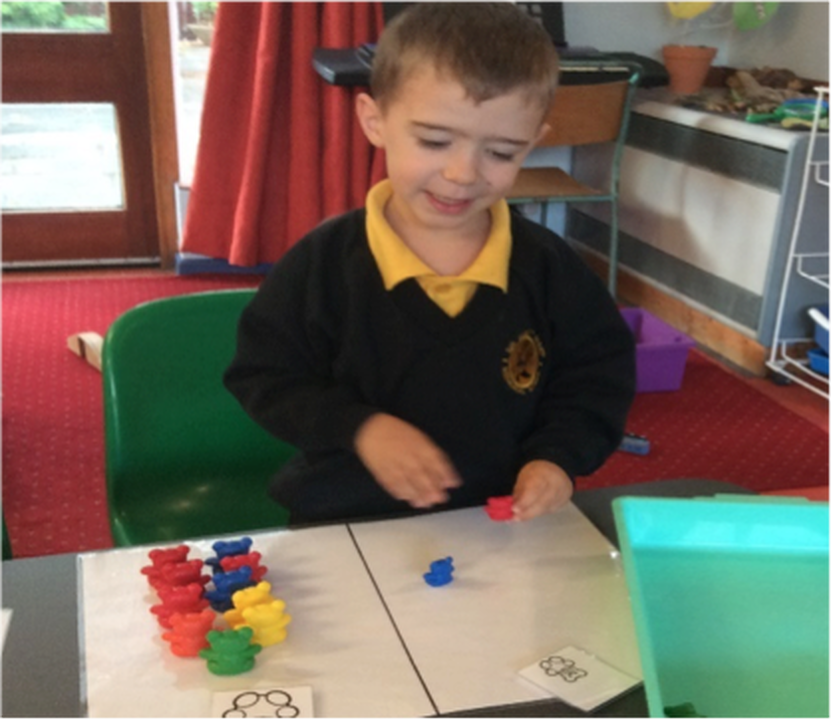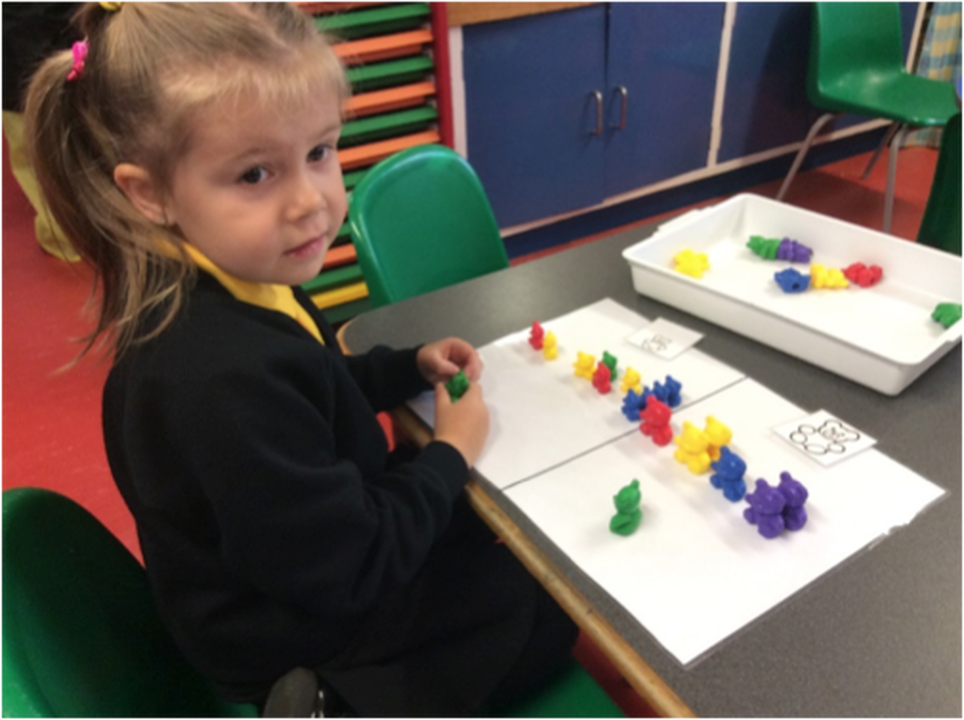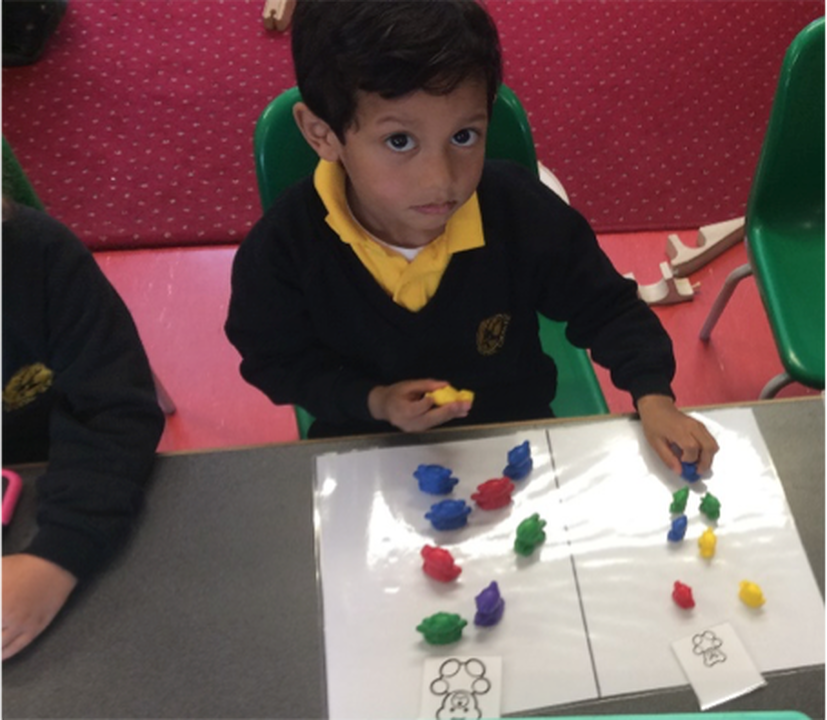 We are filling pots with compost and planting daffodil bulbs.